The Image of the Public Relations Practitioner in Movies and Television
1901-2011

Special Preview Disc 13:30 - 64 Excerpts
1901 – Terrible Teddy, the Grizzly King
Theodore Roosevelt merrily kills a mountain lion in Colorado while his press agent and photographer record the event for posterity.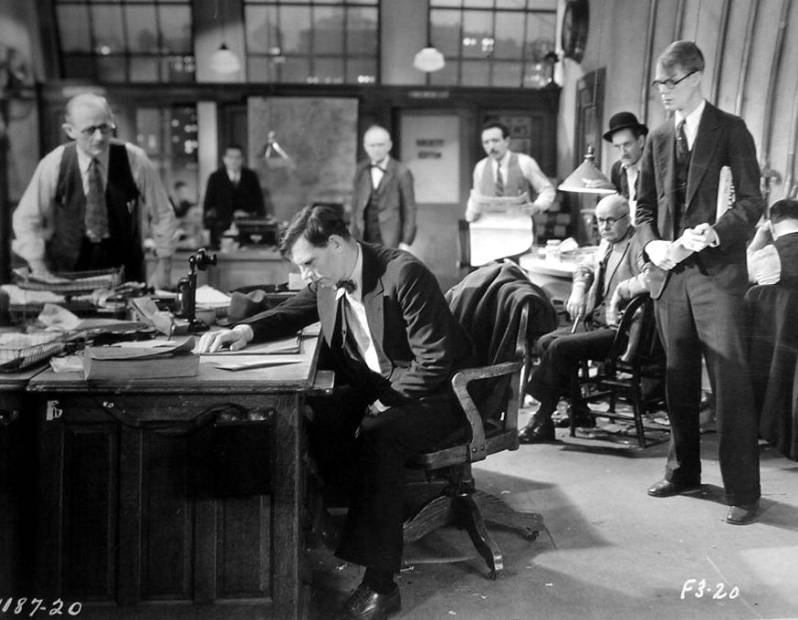 1929 – Gentlemen of the Press
Wickland Snell (Walter Houston), a star reporter, takes a job as a public relations man
to make more money to help his family.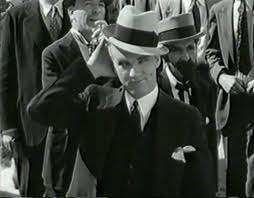 1932 – The Half-Naked Truth New York Publicity Man Jimmy Bates (Lee Tracy) starts off as a barker
at a down-at-the-heels carnival before becoming a powerhouse New York publicity man.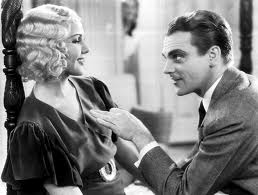 1933 – Hard to Handle
Press Agent Myron "Lefty" Merrill (James Cagney) works his way up from dance marathons
to becoming one of the top public relations man in the country.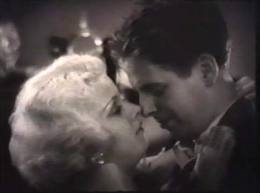 1935 – Another Face Press Agent Joe Haynes (Wallace Ford).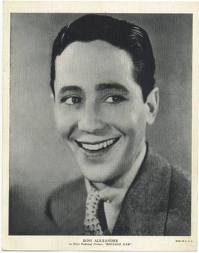 1936 – Here Comes Carter
Public Relations Director for Premium Pictures, Kent Carter (Ross Alexander) gets fired when he refuses to stop a story about an actor
whose former wife is suing him for non-support. ("I'm a press agent, not a suppress agent," he claims).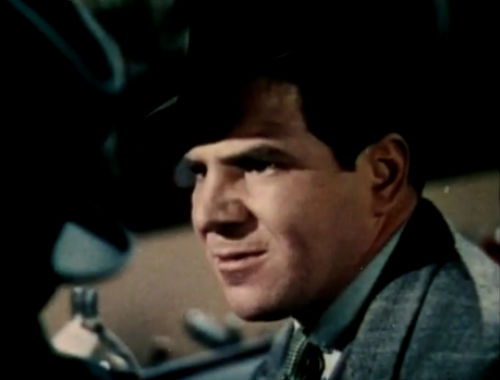 1937 – A Star Is Born Publicity Agent Matt Libby (Lionel Stander) works for a motion picture company.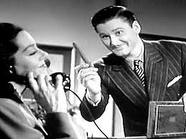 1938 – Four's a Crowd
Public Relations Man Robert Kensington "Bob" Lansford (Errol Flynn) is a former editor and PR legend (based on Ivy Ledbetter Lee).
1947 – The Senator Was Indiscreet
Publicity Director Lew Gibson (Peter Lind Hayes) tries to stop his girlfriend reporter
from exposing one of his clients, a senator.
1947 – Sepia Cinderella
Press Agent Lester Green (Fred Gordon) thinks he's the best press agent in the world. His catch phrase said throughout the film, "Boy, am I a press agent!"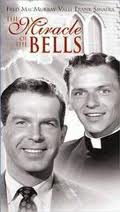 1948 – The Miracle of the Bells
Press Agent Bill Dunnigan (Fred MacMurray), a studio public relations expert, discovers a new actress and when she dies tries to salvage her first and last film.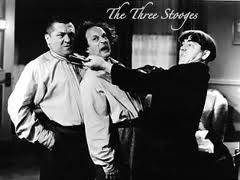 1950 – Studio Stoops
Fake Publicity Men, the Three Stooges, work for a movie studio as exterminators and are mistaken for PR men. They fake a kidnapping of a famous star to get publicity, but find out that the kidnapping is real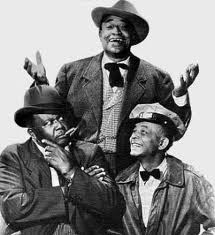 1951 – Amos 'n' Andy: Kingfish Becomes a Press Agent
Kingfish takes a job as a press agent in order to make money to pay Andy off and get his mother-in-law's diamond pin back, but things don't work out.
In the process he pretends to know all of the famous columnists of the day including Walter Winchell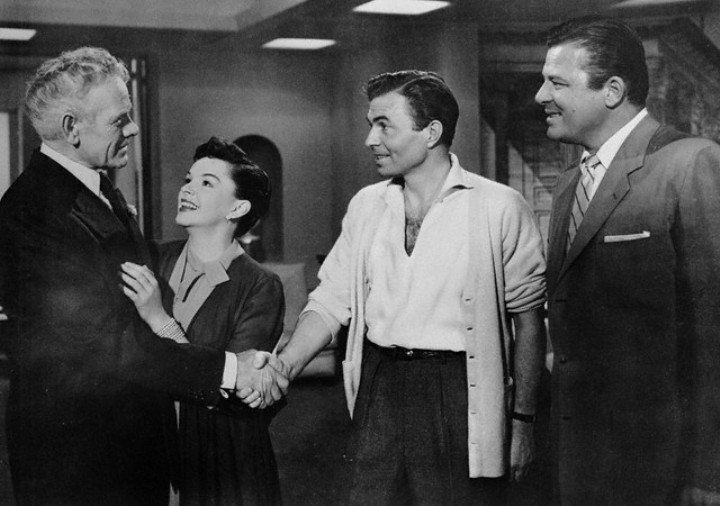 1954 – A Star Is Born
Public Relations Man Matt Libby (Jack Carson) works for a movie studio.
1955 – The Big Knife Studio Press Agent Smiley Cory (Wendell Corey) tries to keep the exploits of his clients out of the paper.
Buddy Bliss (Paul Langton) is a toady of a publicity man, has even gone to jail for hit and run covering up for a studio client.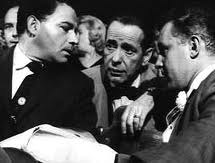 1956 – The Harder They Fall
Sportswriter Eddie Willis (Humphrey Bogart) loses his column when his paper folded so he goes to work as press agent for crooked fight promoter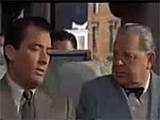 1956 – The Man in the Gray Flannel Suit Public Relations Man Tom Rath (Gregory Peck), works for the United Broadcasting Corporation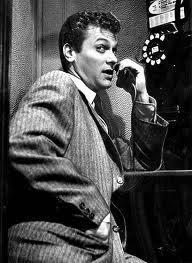 1957 – Sweet Smell of Success
Press Agent Sidney Falco (Tony Curtis) is a cowardly sycophant who makes money by putting items into columns including the the most powerful and influential column written by Gossip Columnist J.J. Hunsecker (Burt Lancaster)
1958 – Make Room for Daddy: Too Good for Words
Publicist-Press Agent Elizabeth "Liz" O'Neal (Mary Wickes) is
Danny's publicist and press agent.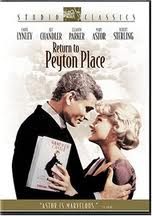 1961 – Return to Peyton Place
New York Publisher-Publicity Man Lewis Jackman (Jeff Chandler) creates a publicity campaign for his newest writer.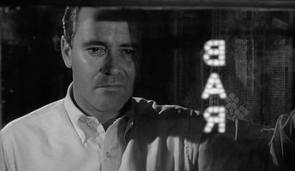 1962 – Days of Wine and Roses
Public Relations Man Joe Clay (Jack Lemmon) is an alcoholic who turns his wife into an alcoholic as well before struggling to regain his sobriety and keep a job.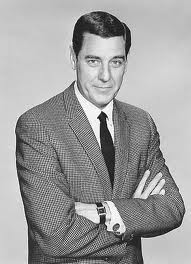 1964 – Mr. Broadway
Public Relations Man Michael Bell (Craig Stevens), a sophisticated Broadway press agent and owner of public relations firm in Manhattan.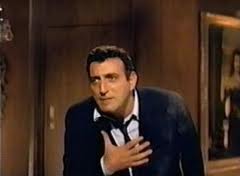 1966 – The Oscar
Publicist Hymie Kelly (Tony Bennett).
1968 – The Secret Life of an American Wife Public Relations Practitioner Tommy Layton (Patrick O'Neal).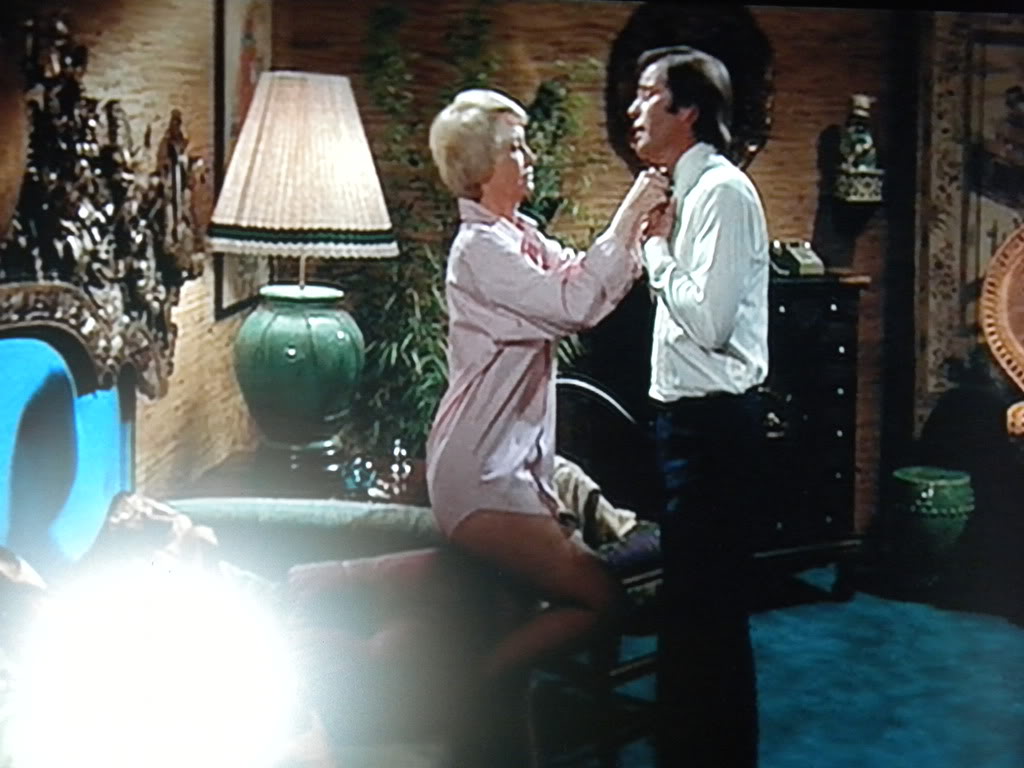 1974 – The Towering Inferno
Bigelow (Robert Wagner), public relations executive for the hotel, is having an affair with his assistant Lorrie (Susan Flannery).
Bigelow shuts off the phones so he and Lorrie can be together without interruption.
As they are getting dressed, Lorrie asks, "Did you leave a cigarette burning?" Bigelow pauses, then says, "That's no cigarette."
Both burn to death in the towering inferno.
1975 – The 2000 Year Old Man: The Animated TV Special
Press Agent Marty for Robin Hood created the image that he stole from the rich and gave to the poor. Actually he stole from everybody and kept everything, but Marty wrote scroll after scroll creating the legend.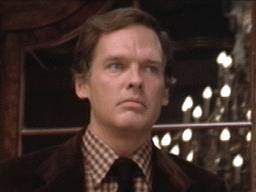 1977 – Washington Behind Closed Doors
Press Secretary Hank Ferris (Nicholas Pryor) handles a lot of dirty tricks for the White House
to give the President a better image and to manipulate the news coverage in the President's favor.
He replaced Bob Bailey (Barry Nelson) who was too honest to stay in the job.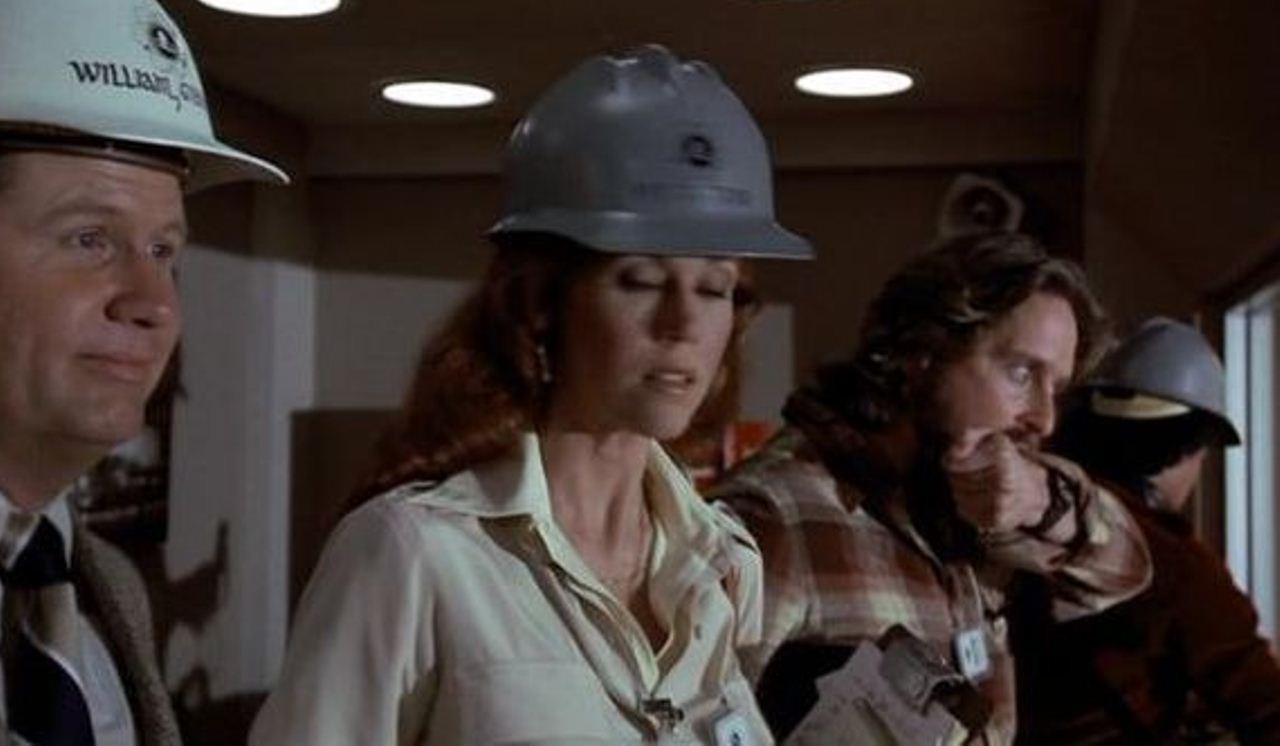 1979 – The China Syndrome
Public Relations Head Bill Gibson (James Hampton) for a nuclear power plant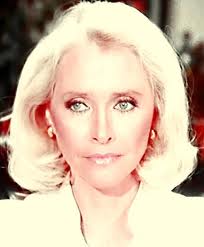 1981 – Dallas: 1981 Public Relations Practitioner Leslie Stewart (Susan Flannery).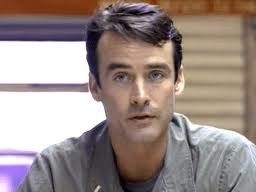 1987 – Full Metal Jacket Public Relations Officer Lt. Lockhart (John Terry).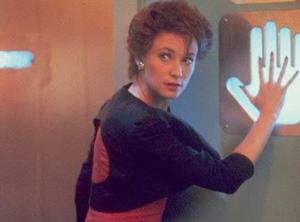 1987 – Making Mr. Right
Public Relations Practitioner Frankie Stone (Ann Magnuson) is hired to humanize an android
for the purpose of space exploration
1988 – The Dead Pool
Police Public Relations Man wants Detective Harry Callahan to play nice with the news media.
1989 – Growing Pains: 1989 A Public Relations team tries to change the image of TV Anchor Maggie Seaver (Joanna Kerns)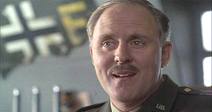 1990 – Memphis Belle Public Relations Military Officer Bruce Daninger (John Lithgow) in World War II.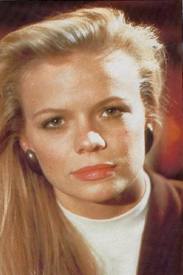 1991 – Palace Guard: Pilot Public Relations Vice President Christy Cooper (Marcy Walker).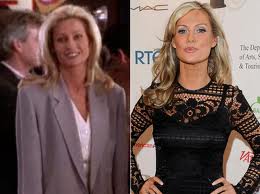 1994 – Major League II Public Relations Practitioner Rebecca Flannery (Alison Doody).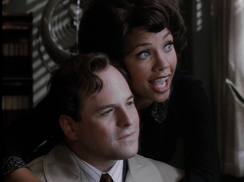 1995 – Bye Bye Birdie
Promoter-Publicists Albert J. Peterson (Jason Alexander) and Rose Alvarez (Vanessa Williams)
create an image for rock-and-roll icon Conrad Birdie who is about to go into the Army.
In one song, they answer reporter questions for Birdie rearranging history as fast as possible.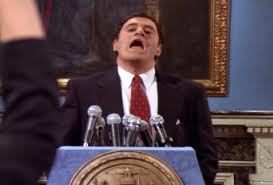 1996 – Spin City: 1996-2002 Press Secretary Paul Lassiter (Richard Kind) for the mayor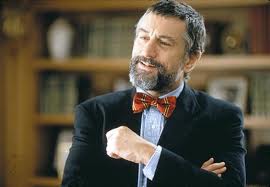 1997 – Wag the Dog
Media Consultant Conrad Brean (Robert De Niro) works with White House Aide Winifred Ames (Anne Heche) to spin control a damaging story on the president.
Director Stanley Motss (Dustin Hoffmann) works with Brean to show video proof of a fake war, a story designed to offset a story that could hurt the presidency.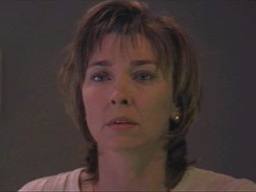 1997 – Air Force One
Deputy Press Secretary Melanie Mitchel (Donna Bullock) is taken hostage by hijackers
who seize the plane carrying the President of the United States and his family. She is assassinated.
On the ground, Assistant Press Secretary (Michael Monks) meets the press.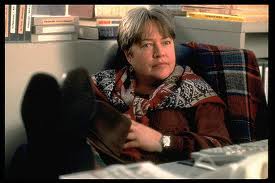 1998 – Primary Colors
Lesbian Media Consultant Libby Holden (Kathy Bates) is drafted to nullify the potent threat of negative media reporting.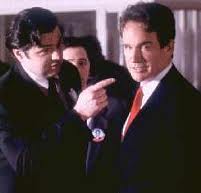 1998 – Bulworth
Press Aide Dennis Murphy (Oliver Platt) tries to keep up with a politician who begins to say exactly what he thinks.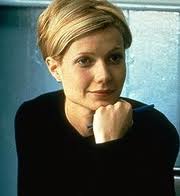 1998 – Sliding Doors Public Relations Woman Helen Quilley (Gwyneth Paltrow) is the lone female in a PR firm that wants to get rid of her.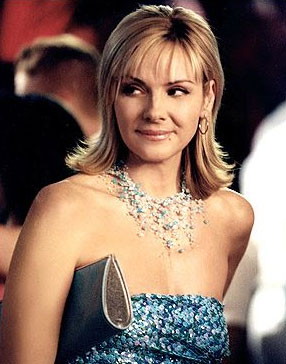 1998 – Sex and the City: 1998-2004 Publicist Samantha Jones (Kim Cattrall) owns her own PR firm and is as sexually active as any womanizing man.
1999 – The West Wing: 1999-2005 Press Secretary Claudia Jean (C.J.) Cregg (Allison Janney).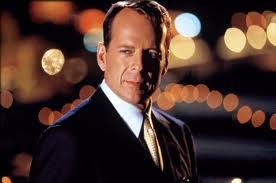 2000 – The Kid
Public Relations Practitioner Russ Duritz (Bruce Willis) is a successful image consultant who also does media training and crisis PR.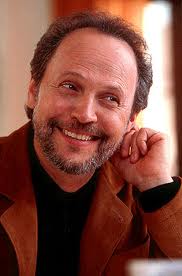 2001 – America's Sweethearts
Movie Public Relations Wizard Lee Philips (Billy Crystal) tries to convince the press that the feuding costars of a new movies are still in love.

2002 – Baby Bob Public Relations Executive Walter (Adam Arkin) is a talking baby's father.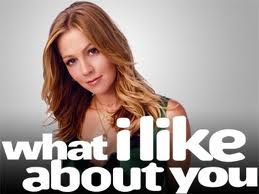 2002 – What I Like About You: 2002-2006 Public Relations Woman Valerie (Val) Tyler (Jennifer Garth).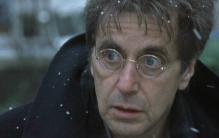 2002 – People I Know
Publicist Eli Wurman (Al Pacino), is a hard-drinking, pill-popping,old-school publicist, one of those guys who when they started in the biz was called press agents. He's washed-up, living on money and sympathy of his last paying client. But he has one last hurrah in him.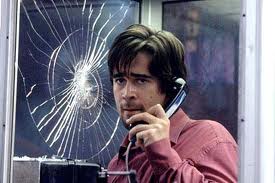 2002 – Phone Booth Publicist Stuart "Stu" Shepard (Colin Farrell) tormented by unseen gunman as he stands in a public phone booth.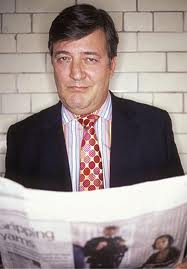 2003 – Absolute Power
Public Relations Practitioners Charles Prentiss (Stephen Fry) and Martin McCabe (John Bird)
run the London public relations company (or "government media relations consultancy")
in London. Prentness is a man without morals whose only objectives are money and power.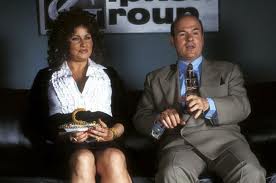 2003 – A Mighty Wind
Publicists Wally Fenton (Larry Miller) and Amber Cole (Jennifer Coolidge).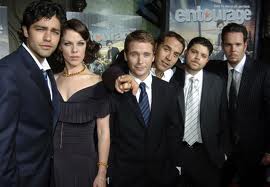 2004 – Entourage: 2004-2011 Public Relations. Publicist Shauna (Debi Mazar) is a tough, pull-no-punches publicist.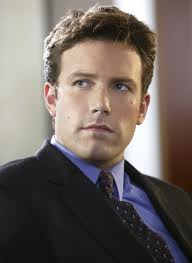 2004 – Jersey Girl
Publicist Ollie Trinke (Ben Affleck), a Manhattan public relations man, loses everything
when his wife dies in childbirth, and then discovers he has only lost a job he hated.

2005 – Jake in Progress: 2005-2006
New York City Public Relations whiz Jake Phillips (John Stamos) tries to shed his lothario ways. PR head Naomi Clark (Wendie Malick) is a late-in-life pregnant battle-ax boss.

2005 – Thank You For Smoking
Chief Spokesperson and Lobbyist Nick Naylor (Aaron Eckhart) the Vice-President of the Academy of Tobacco Studies.
Public Relations Woman Polly Bailey (Maria Bello) works in the Moderation Council in alcohol business,
and Bobby Jay Bliss (David Koechner) promotes the gun business with own advisory group SAFETY.
They frequently meet each other in a bar and they call themselves the Mod Squad a.k.a. Merchants of Death, disputing which industry has killed more people.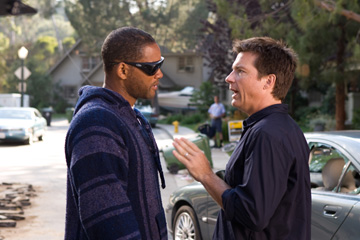 2008 – Hancock
Public Relations Practitioner Ray Embrey (Jason Bateman) tries to rehabilitate the public image of Hancock, an alcoholic, broken-down man with amazing super powers.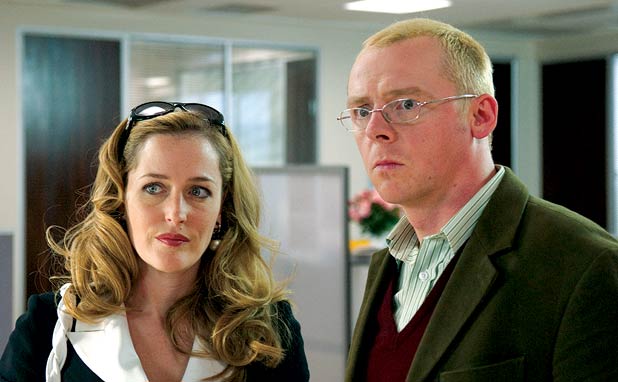 2008 – How To Lose Friends and Alienate People
Publicist Eleanor Johnson (Gillian Anderson) pulls all the strings to get her clients the best publicity in the media. Eleanor is loosely based on
Nadine Johnson, a high powered publicist in New York City.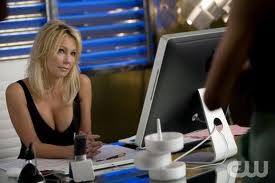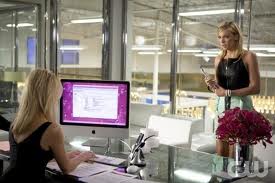 2009 – Melrose Place: Cahuenga
WPK Public Relations Agency Owner Amanda Woodward (Heather Locklear) fires half the staff but keeps on Publicist Ella Simms (Katie Cassidy),
who is an equally ruthless public relations practitioner, cool and blonde, and eager to be another Woodward.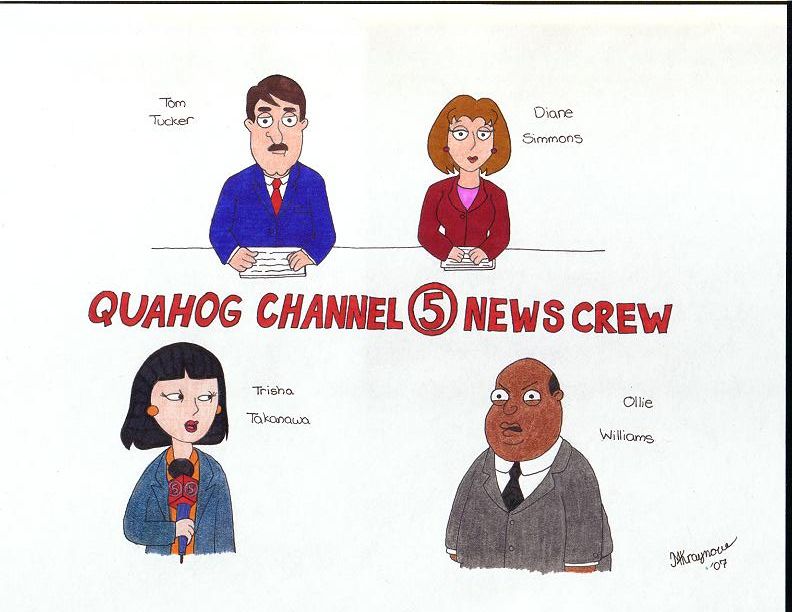 2010 – Family Guy: Brian Writes a Bestseller
Stewie (Seth MacFarlane – Voice) assumes the rule of public relations practitioner
for Brian, the top-selling author.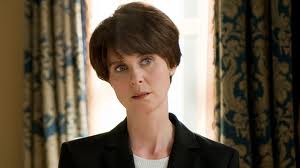 2011 – Too Big to Fail
Public Relations Specialist Michele Davis (Cynthia Nixon) is the lone woman in a sea of men working with the treasury secretary to prevent the nation's financial meltdown.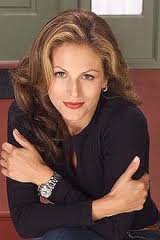 2011 – Blue Bloods: 2011
Deputy Press Secretary Sue Connors (Noelle Beck) for the Mayor.
The police chief's own PR man-speech writer Garrett Moore (Gregory Jbara)
helps him with damage control.
2011 -- Royal Pains: But There's a Catch
Two brothers argue over whether their medical practice needs publicity.