THE IMAGE OF THE WASHINGTON JOURNALIST
IN MOVIES AND TELEVISION
1932-2013

THE 2013 IJPC ASSOCIATES PREMIUM VIDEO
8:20:00 – 126 clips -- Mp4 files available on IJPC Hard Drive



Produced and Written by Joe Saltzman and Liz Mitchell

Edited by Lee Warner
The Image of the Washington Journalist in Movies and TV
1932 to 1995 – 67 clips – 263 Minutes
The Image of the Washington Journalist in Movies and TV
1996 to 2013 – 59 clips – 239 Minutes



This IJPC video compilation for IJPC Associates runs 8:20:00 and contains 126 movie and television clips tracing the image of the Washington journalist in films and television from 1901 to 2013.

This video can be used in a variety of ways. It is the perfect introduction to any communications class on the Washington journalist in popular culture. It could be used in any class on history, media, ethics, communication studies or any class discussing the role of the Washington journalist in our society.
The video is for personal use only and is available only to IJPC Associates. It is not available anywhere else.


NOTE: There is some profanity and nudity in this video. Please screen privately before showing it to your class. For specific information on each film or TV program, check the online IJPC Database.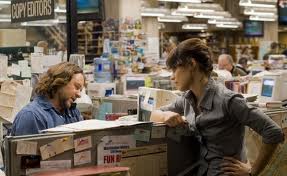 The results of a major study, "The Image of the Washington Journalist in Movies and Television, 1932-2013" will be published in a special edition of The IJPC Journal on "The Image of the Washington Journalist in Popular Culture," in 2014. Joe Saltzman, professor of journalism at USC Annenberg and director of the IJPC, and Liz Mitchell, a USC Annenberg Research Associate examined images of the Washington Journalist in film and television appearing in 126 English-speaking films and television programs from 1932 to 2013. This is the largest study of its kind ever attempted.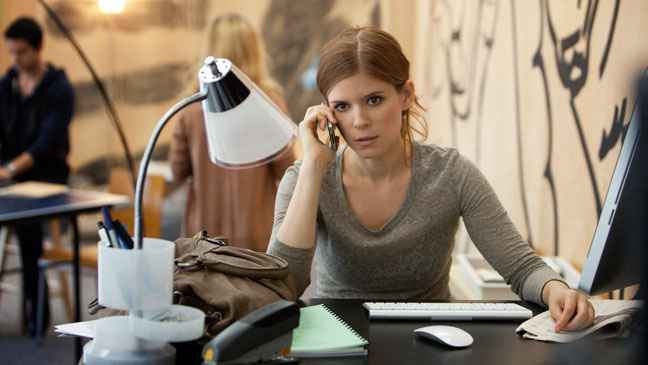 The Image of the Washington Journalist in Movies and TV, 1932 to 1995, 67 clips, 263 Minutes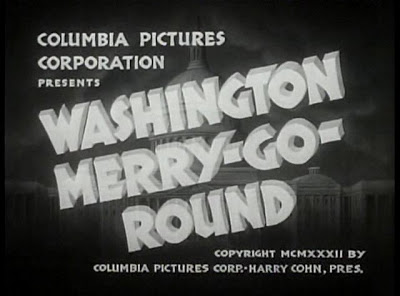 Washington Merry-Go-Round (1932)
Anonymous journalists, political reporters and columnists cover the story of a freshman congressman on a mission to rid Washington of corruption.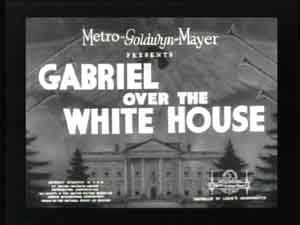 Gabriel Over the White House (1933)
Washington Press Corps Reporter Mr. Thieson (Mischa Auer) asks the President tough questions about the nation's failing economy that he only answers with platitudes and then tells the reporters he will not be quoted.
"How about a glass of beer," asks one reporter. Press Secretary: "This Is the White House." Reporter" "Sorry I thought it was the Senate."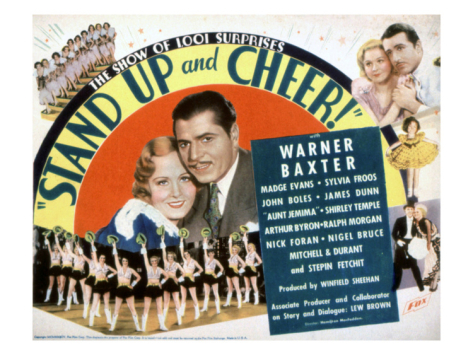 Stand Up and Cheer! (1934)
White House correspondents greet the new Secretary of Amusement, a theatrical producer who President Franklin D. Roosevelt appoints in order to cheer up an American public still suffering through the Depression.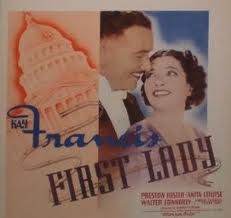 First Lady (1937)
Newspaper Owner of a chain of newspapers, Ellsworth T. Banning (Grant Mitchell) wants to pick the next president of the United States.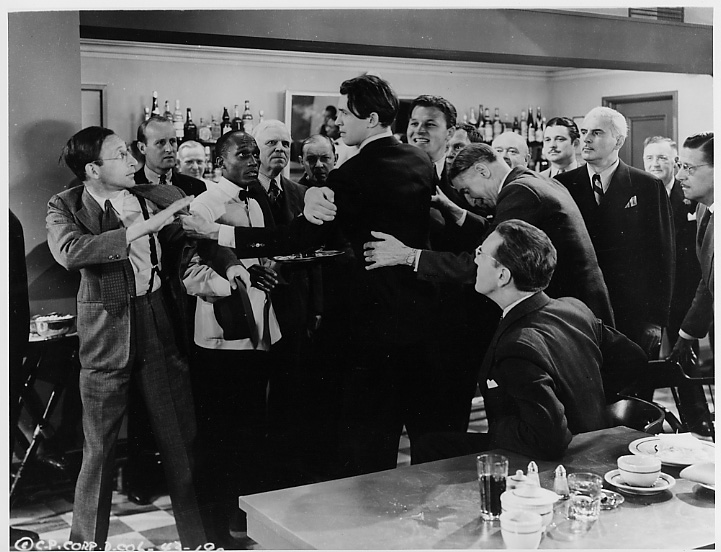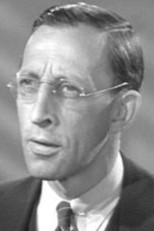 Mr. Smith Goes to Washington (1939)
The Washington Press Corps exposes a naïve, freshman senator – Reporter Diz Moore (Thomas Mitchell), Nosey (Charles Lane), Sweeney Farrell (Jack Carson), Senate Reporters (Craig Stevens, Ed Brewer, Anne Cornwall, James Millican, Mabel Forrest, Nick Copeland, Dulce Daye, Eddie Fetherston, Ed Randolph, Milton Kibbee, Vernon Dent, Michael Gale), Reporters (Clyde Dilson, William Newell, George Chandler, Evelyn Knapp, Dub Taylor, Jack Gardner, Donald Kerr, Eddie Kane, George McKay, Gene Morgan, William Arnold, Matt McHugh, Hal Cooke, James McNamara, Jack Egan, Eddy Chandler), Newsman Ragneer (Allan Cavan), Newsman Chick McGann (Eugene Pallette), Newsman Diggs (Maurice Costello), Newsman (Paul Stanton), Newsman Schultz (Lloyd Whitlock).
H.V. Kaltenborn, who was heard regularly on radio for more than 30 years beginning with CBS in 1928, plays himself broadcasting live Mr. Smith's epic filibuster. Kaltenborn was known for his highly precise diction, his ability to ad lib and his depth of knowledge about world affairs.
Media Tycoon and Political Boss Jim Taylor (Edward Arnold) owns the news media and goes up against Smith's filibuster by keeping any news of what he is doing secret from the public. Jefferson Smith (James Stewart) publishes a paper called Boys' Stuff, and the boys try to publish the truth. But Taylor's henchmen beat them up, steal the papers and silence the opposition.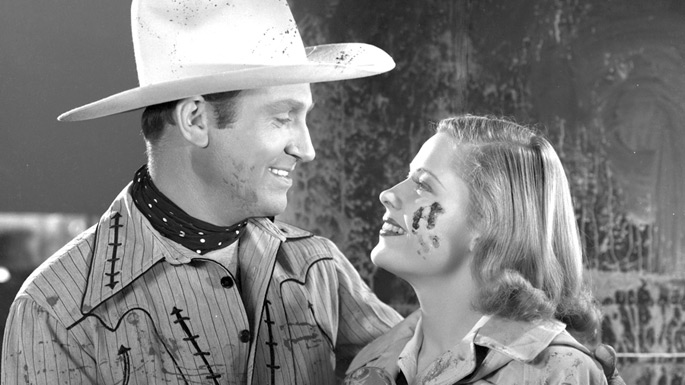 Rovin' Tumbleweeds (1939)
A singing cowboy, Gene Autry, goes to Washington D.C. when he wins a congressional seat to try to help flood victims. The Press meets him after he stars in a rodeo to get public recognition. He ends up marrying radio reporter-commentator Mary Porter (Mary Carlisle), proposing on the air: "Folks if you're as tired of listening to your favorite commentator as I am, you'll be glad to know this is her last broadcast. From now on she'll do her broadcasting from the kitchen because I'm going to marry her." Kiss and fadeout.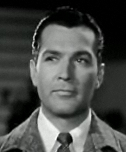 Washington Melodrama (1941)
Editor Hal Thorne (Kent Taylor) in Washington D.C. reports on the national news of the day.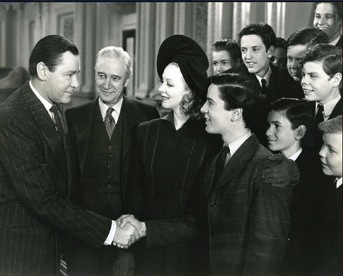 Adventure in Washington (1941)
Washington radio broadcaster Jane Scott (Virginia Bruce) covers Congress gossip and news with a portable microphone and a regular nightly broadcast.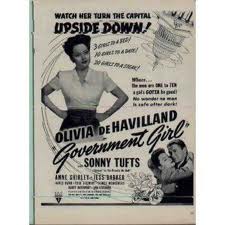 Government Girl (1943)
Washington Correspondent Branch Owens (Paul Stewart) tries to romance a woman although she is in love with her boss who doesn't understand Washington politics. Branch eventually helps her defend her boss when he is called before a Senate committee because of his unconventional methods for manufacturing bombers.

So This Is Washington (1943)

Columnist Robert Blevins (Roger Clark) for The Clarion helps two folksy heroes from his hometown who are in the nation's capital with an invention for synthetic rubber to aid the war effort. They met up with Blevins, the Washington reporter, who is romancing the secretary of the official in charge of soliciting new inventions. She objects to Blevins' attacks on her boss in his columns.

Wilson (1944)

Reporters covering the White House get a surprise announcement: The president is engaged.

The Searching Wind (1946)

Correspondent Cassie Bowman (Sylvia Sidney) returns to Washington from London to write a column on "The Washington Scene." Bowman tells her editor that the newspapers in Harvey chain are "conservative isolationists." Her editor: "You'll have to learn that when you attack what Gus Harvey doesn't like, that is freedom of the press. But when you attack what he does like, you're overthrowing the government." Mainly covers sports and fashions. Column, "The Washington Scene."

The Senator Was Indiscreet (1947)

Washington Columnist-Reporter Poppy McNaughton (Ella Raines), "just about the best newspaperman in town," is trying to find a diary a senator kept on Washington activities that has disappeared. Her boyfriend is Lew Gibson (Peter Lind Hayes), the senator's publicity director. When she tells him she is just quoting what the senator said, he yells back: "You can't go around quoting politicians accurately. That's dirty journalism and you know it."


State of the Union (1948)

Publisher Kay Thorndyke (Angela Lansbury) inherits control of Thorndyke Press ("To print the news as it happens, when it happens, good or bad") when her father Sam Thorndyke (Lewis Stone) dies. She uses her position to back a Republican presidential candidate. Columnist Spike McManus (Van Johnson), "the poor man's Drew Pearson" columnist becomes campaign publicist for the candidate. Thorndyke calls editors of her newspapers together, orders them to deadlock the Republican convention so she can launch her own candidate. The editors object to abuse of media and when they say they can't do what she wants, she fires all of them.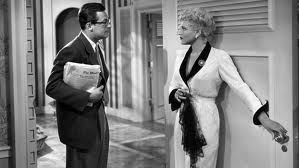 Born Yesterday (1950)
Reporter Paul Verrall (William Holden) in Washington D.C. has been trying to expose corruption in government for years. He's hired at $200 a week to try to refine a salvage man's girlfriend so she will fit into society, and she ends up providing him with the evidence to write the story of his career.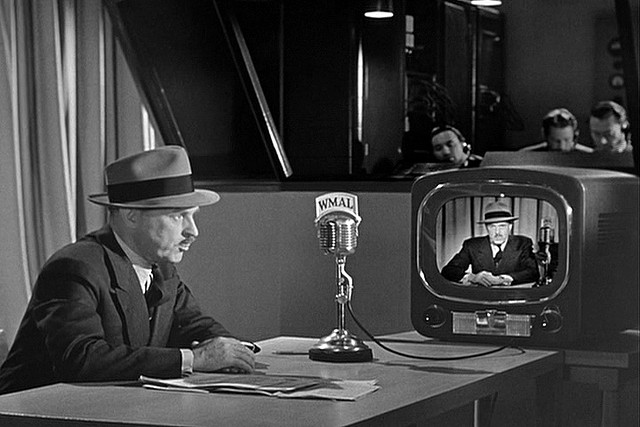 The Day the Earth Stood Still (1951)
Washington Commentators Elmer Davis, H.V. Kaltenborn and Drew Pearson appear as themselves when an alien spaceship lands in Washington D.C.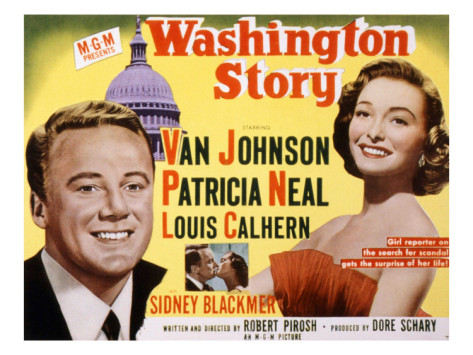 Washington Story (1952)
Washington Columnist-Broadcast Commentator Gilbert Nunnally (Philip Ober) helps Reporter Alice Kinsly (Patricia Neal) who comes to Washington D.C. to "get a sensational series of articles about Washington and I don't care who I impose on to get them." Her plan is to expose one Congressman. Nunnally suggests a Congressman known as "No Comment Jones" because of his refusal to talk to the press. Congressman says he doesn't comment because he has seen too many interviews twisted. She convinces him to talk. "If the good Congressmen always say 'no comment' the bad ones will keep grabbing the headlines." Kinsly pretends she is working for the National Women's Home Gazette. As she falls in love with the Congressman, she also discovers that he is suing Nunnally for libel and the journalist wants dirt on him. Kinsly finally writes an accurate article and the two embrace on the Capitol steps.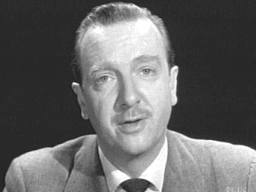 You Are There: The Vote That Made Jefferson President (1954)
TV Newsman Walter Cronkite and CBS Network Correspondents cover historical events. The date is February 17, 1801 and you are there to witness how Thomas Jefferson became President of the United States. Cronkite: "Everything you see here was as it happened that day, except You Are There," and at the end of the program he adds: "What sort of a day was it? A day like all days, filled with those events that alter and illuminate our times...and you were there."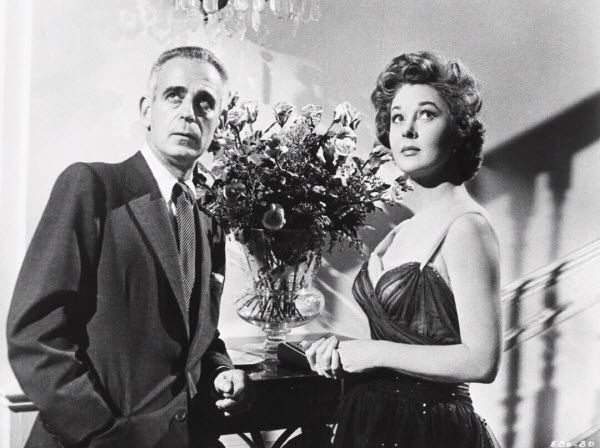 Top Secret Affair (1957)
Magazine Publisher Dottie Peale (Susan Hayward) of Newsworld magazine, which is part of the media conglomerate Peale Enterprises, is angry because the candidate she championed as head of the Joint Atomic International Commission is passed over. She goes after the general who replaced her candidate. At the end of the film, she falls in love with him and does everything she can to fix the damage her magazine has caused.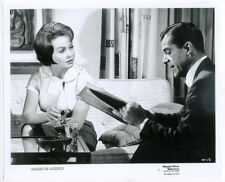 Madison Avenue (1962)
Washington Reporter Peggy Shannon (Jeanne Crain) manipulated by her sometimes lover, an advertising man who uses her to help him steal a major dairy account from a rival, writes an article on "the build-up boys" exposing the tactics of the man she loves. She shows him the article, and says she will give him a second chance by burning it. He won't let her do that.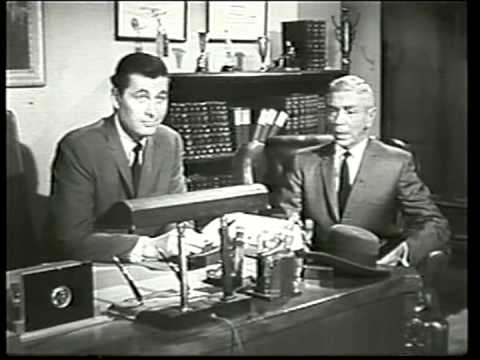 Mr. Smith Goes to Washington (1962-1963)
Washington Reporter Jim Tolliver (Dal McKennon) is interviewing Senator Smith about legislation when Smith's two friends from back home come for a visit touting a new way of making cheap mink coats. Tolliver sees a great story and leaves to write it – but there is more to the story than he thinks.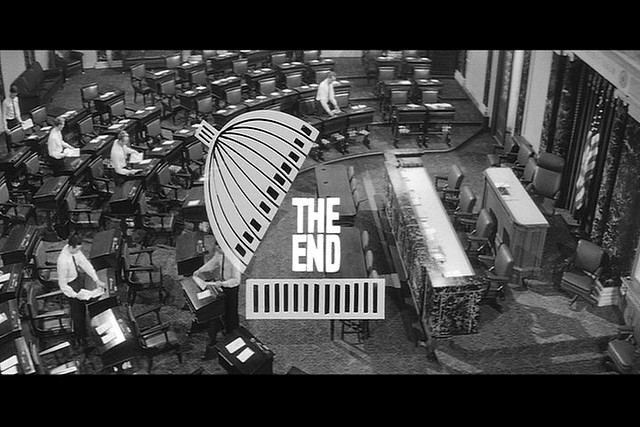 Advise & Consent (1962)
Washington Press Corps cover the Senate investigation to determine if the President's candidate for Secretary of State is qualified. Then the President shows up at the White House Correspondents Association Dinner speaking on the record. President of the WHCA (William Knighton).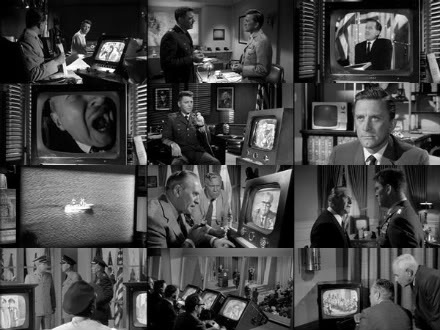 Seven Days in May (1964)
Reporters attend an early televised press conference in which the President of the United States offers some startling news.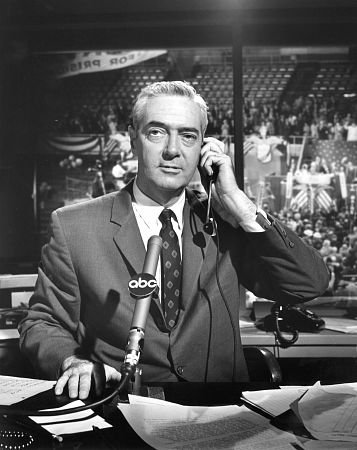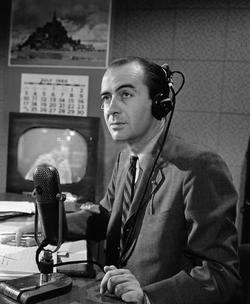 The Best Man (1964)
TV Anchor Howard K. Smith and Reporter Bill Stout play themselves covering a political convention.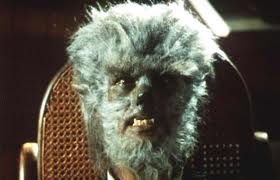 The Werewolf of Washington (1973)
Journalist Jack Whittier (Dean Stockwell) is the youngest member of the Washington press corps when he has a relationship with the President's daughter. As punishment, he is sent to Budapest where he is attacked by a werewolf as he prepares to return to Washington.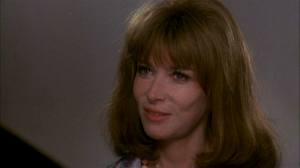 The Internecine Project (1974)
Political Correspondent Jean Robertson (Lee Grant) of The Washington Daily News sleeps with her source. When he complains she was too tough on him when questioning him on a TV program, she says, "There was nothing personal…I was just trying to get the truth. That's what my paper prints, the truth." He answers, "For five thousand years, men and women all over the world have been trying to discover what the truth is. You tell me your paper prints it?" He then says she should give up political reporting and write a cook book because he is sick and tired of aggressive female journalists.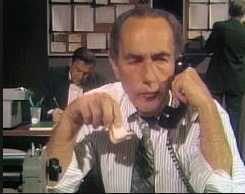 The Missiles of October (1974)
Washington Correspondent John Scali (Paul Lambert) negotiates between the Americans and the Russians in attempt to resolve the Cuban Missile crisis. White House Press Secretary Pierre Salinger (Michael Lerner) handles reporters wanting more information.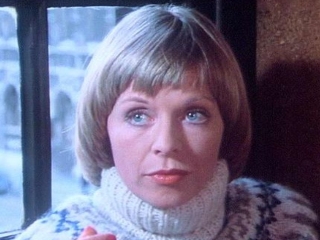 That Lucky Touch (1975)
Correspondent Julia Richardson (Susannah York) of the Washington Post hates arms dealers and the military and tries to do something about it.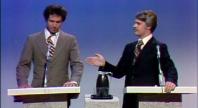 Saturday Night Live: Presidential Debate (1976)
Moderator Jim Leherer moderates the presidential debate between Gerald Ford and Jimmy Carter.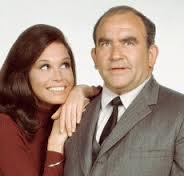 The Mary Tyler Moore Show: The Seminar (1976)
News Director Lou Grant (Ed Asner), a former Washington correspondent, and Producer Mary Richards (Mary Tyler Moore) go to Washington D.C. on a press junket. Mary doesn't believe Lou when he tells her about all of the people, from the President to Eric Severeid, who came to his room while Mary was out on the town, even when he puts Betty Ford on the phone to talk to her.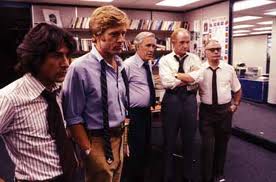 All the President's Men (1976)
Washington Post Reporters Carl Bernstein (Dustin Hoffman) and Bob Woodward (Robert Redford) expose the Watergate scandal while everyone else remains skeptical that "Woodstein" can do the job. Editor Ben Bradlee (Jason Robards) finally decides to let them do the story, something
Metro Editor Harry Rosenfeld (Jack Warden) recommends and almost every other editor is against.
Foreign Editor Scott (John McMartin) makes the case for the Post to drop the story.

Washington: Behind Closed Doors (1977)
The Washington Press Corps, including Joe Wisnovsky (Barry Primus) is critical of the new presidential administration even though a former colleague Bob Bailey (Barry Nelson), now the administration's press secretary, pleads with them to give the new president a chance.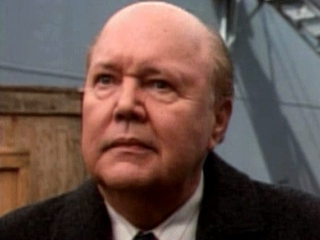 Being There (1979)
Financial Editor Sidney Courtney (John Harkins) of the Washington Post tries to do a phone interview with the elusive Chance, an estate gardener whose simple TV-informed utterances are mistaken for profundity.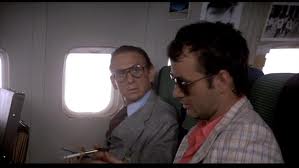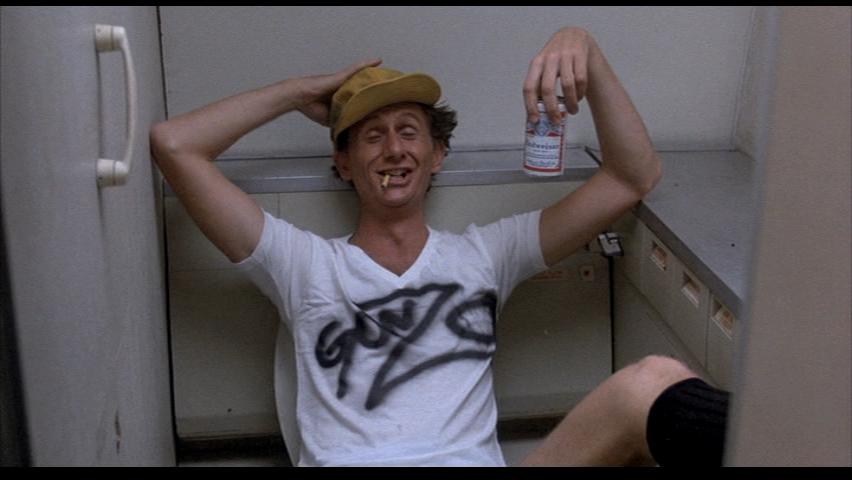 Where The Buffalo Roam (1980)
Washington Post Political Correspondent Harris (Rene Auberjonois) has a headache and Magazine Journalist Hunter S. Thompson (Bill Murray) has just the remedy for it. Harris goes on a trip he will never forget – if he remembers anything that happens on a plane filled with correspondents.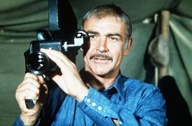 Wrong Is Right (1982)
TV Reporter-Commentator Patrick Hale (Sean Connery) meets with the CIA and the President to expose a conspiracy to kill King Ibn Awad who, when told that the President had issued orders for his removal, made arrangements to deliver two suitcase nuclear bombs to a terrorist with the intention of detonating them unless the President resigns.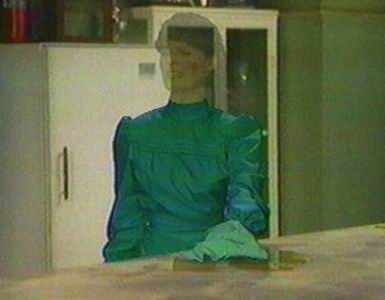 The Invisible Woman (1983)
Investigative Reporter Sandy Martinson (Alexa Hamilton) for Washington D.C. Daily Express becomes invisible when she takes a serum created by her uncle. Editor Neil Gilmore (David Doyle).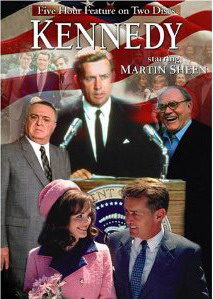 Kennedy (1983)
Reporters quiz President Kennedy on the Bay of Pigs and the steel crisis. Female reporters quiz Jackie Kennedy on her role as First Lady.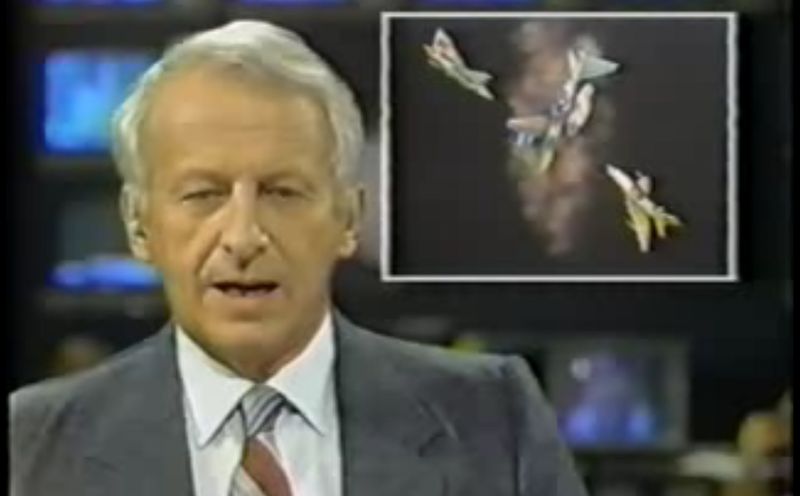 Countdown to Looking Glass (1984)
TV Reporter Dorian Waldorf (Helen Shaver) gets secret information from the White House and is told to get additional information before her piece can air. She is also having an affair with a White House aide who wants her to leave with him. TV Anchor Don Tobin (Patrick Watson) introduces real-life Washington journalist Eric Sevareid who offers TV editorial commentary.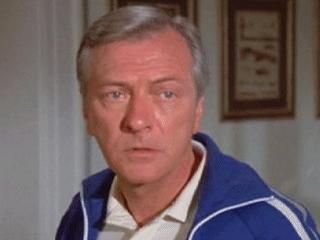 Under Siege (1986)
Editor Warren Richards (George Grizzard) tries to get information as a terrorist attack takes place on the United States.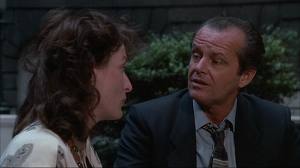 Heartburn (1986)
Washington Columnist Mark Forman (Jack Nicholson) marries a food writer who moves to Washington to be with him.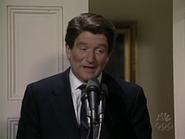 Saturday Night Live: President Reagan Press Conference (1986)
SNL Reporters ask President Reagan (Robin Williams) questions. His advisors are telling him what to say through an earphone when reception problems cause President Reagan to say anything that happens to be on the radio at the time including a weather report, a police response and a basketball game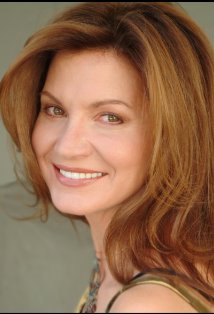 Matlock: The Power Brokers (1987)
Washington Columnist Melinda Stuart (Isabella Hofmann) is accused of murder when her source is killed. Matlock goes to Washington to defend the journalist.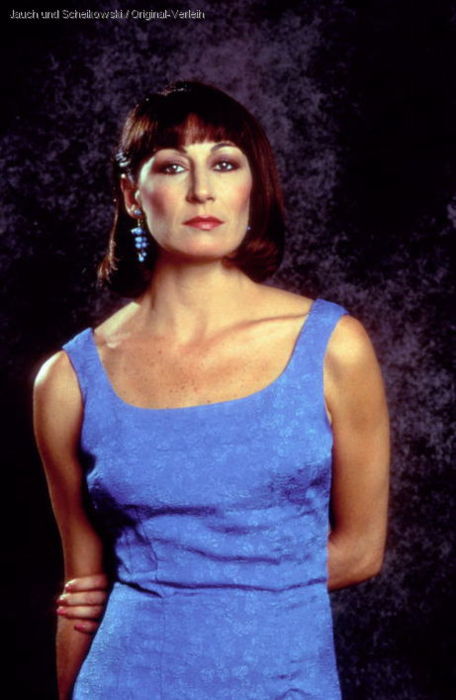 Gardens of Stone (1987)
Reporter Samantha Davis (Anjelica Huston) of the Washington Post is opposed to the Vietnam war in the late 1960s but falls in love with a military officer who is in Washington D.C. before being deployed to Vietnam.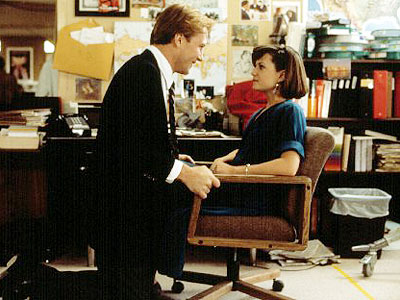 Broadcast News (1987)
TV Anchor Tom Grunick (William Hurt) comes to the Washington Bureau as the new mannequin who reads news. Producer Jane Craig (Holly Hunter) becomes the new anchor's brain in the control room during live coverage of a breaking news event. They make the perfect team – Grunick flawless on camera with Craig feeding him facts and summaries over the headphones, with an assist from her friend and top Reporter-Newswriter Aaron Altman (Albert Brooks).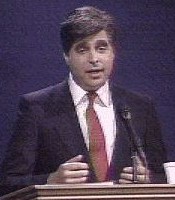 Saturday Night Live: Presidential Debate (1988)
SNL Reporters quiz the two candidates for the presidency.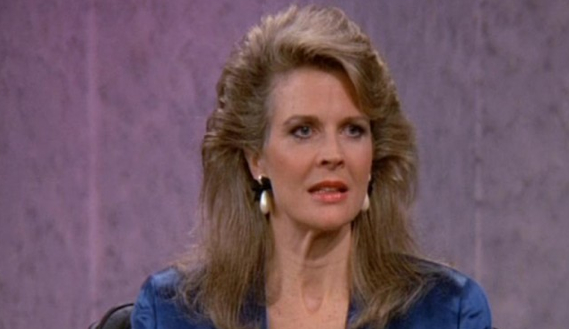 Murphy Brown (1988-1998)
TV Broadcast Journalist Murphy Brown (Candice Bergen) sneaks into the President George Bush (senior) press conference and fights with her print colleagues as the demands to have her question answered by the president. In later years, she has become persona non gratis at the White House when her producer gets her invited to the Clinton White House where she accidentally steals the First Family's cat, Socks. She then will do anything to get the cat back to the Clintons without them knowing she ever had it, eventually using TV Broadcast Journalist Joan Lunden to unwittingly help her.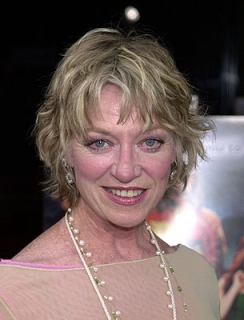 Tanner '88 (1988)
NBC Reporter Molly Hark (Veronica Cartwright) is an unpopular journalist covering Washington politics along with a variety of Washington fictional journalists -- Columnist Taggerty Hayes (Kevin J. O'Connor) and real-life journalists – Columnist Mary McGrory, Hodding Carter, Linda Ellerbee, Art Buchwald.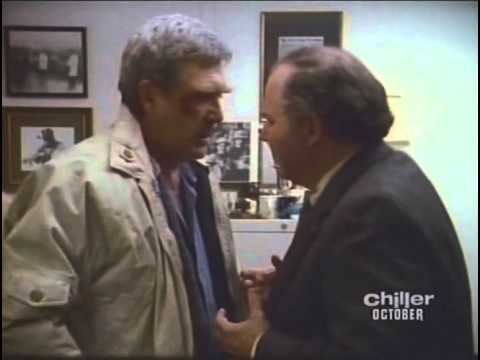 Alfred Hitchcock Presents: Full Disclosure (1988)
Political Columnist-Reporter G. William (Bill, Billy) Howe (Robert Lansing) of the Washington Telegram plans to write an expose and people in Washington will do anything to stop him. Howe was an AP Foreign Correspondent in Vietnam before becoming a political columnist. His car blows up with his estranged wife in it after she tells him she wants to move back in. Police suspect him of the murder. But the publisher of his paper did it because he wanted to make sure Howe would publish his memoir and he was afraid he wouldn't if he was happily married again.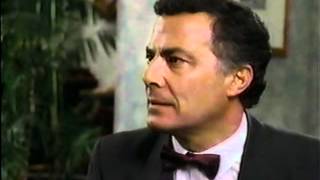 Mission: Impossible: The Fixer (1989)
Columnist-Broadcaster Arthur Six (Richard Romanus) has a long career as a successful Washington columnist and broadcaster and has amassed a lot of sensitive information about important people in the worlds of politics, law and business. He uses this information to blackmail people in high places becoming one of the most powerful men in Washington. The Mission Impossible team is hired to expose him and his methods.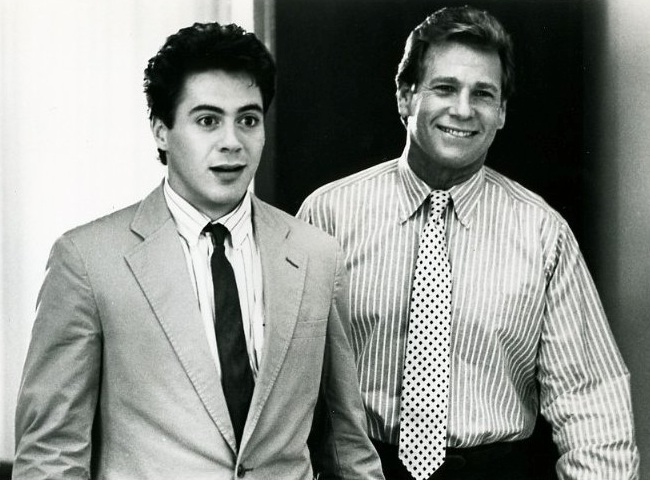 Chances Are (1989)
Washington Post Reporter Philip Train (Ryan O'Neal), a Pulitzer Prize-winning journalist, befriends an aspiring reporter, Alex Finch (Robert Downey), who is the reincarnation of Train's best friend, a deceased lawyer who was killed 23 years ago because of a story he uncovered that would have
destroyed some powerful people. Finch sneaks into the Washington Post as a delivery boy and
walks into an editorial meeting announcing toEditor Ben Bradlee (Henderson Forsythe), "I want to be a reporter."
After Finch gets the goods on a corrupt judge with the help of the lawyer's old photograph, Bradlee gives him a job as a reporter.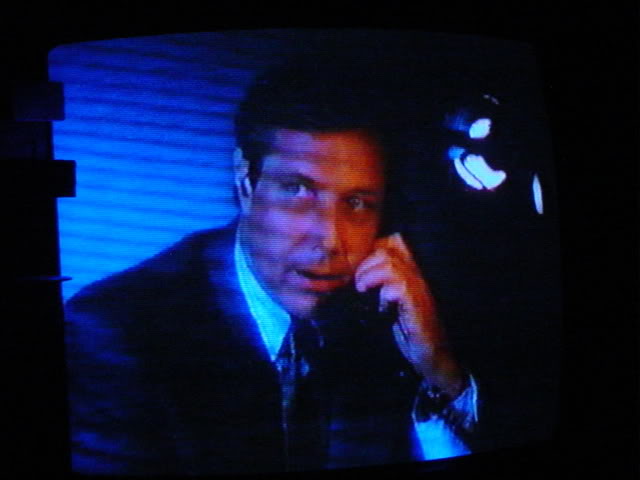 Wired (1989)
Journalist Bob Woodward (J.T. Walsh) is asked by John Belushi's widow to investigate the death of the comedian, even though the two had never met. The comedian's ghost allows Woodward to "witness" his dying moments. The two carry on a conversation in which Belushi accuses Woodward of being a vulture who just wants to nail his widow. Washington Post Editor (Dakin Matthews).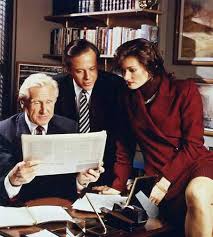 Capital News (1990)
Inside the newsroom of the Washington D.C. Capital newspaper. Jo Jo Turner (Lloyd Bridges) is editor-in-chief surrounded by a hard-working staff which includes Metro Editor Clay Gibson (Michael Woods) and National Editor Edison King (Mark Blum). Reporter Mary Ward (Kathryn Harrold) is meeting with the editor and lawyers to vet her latest hot story. Reporter Ann (Helen Slater) joins the metro staff hoping to make an impression.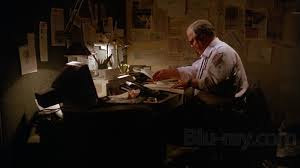 Captain America (1990)
Newsman Sam Kolawatz (Ned Beatty) of the Washington Dispatch is a friend of the President and is given the scoop about a combat superman frozen in Alaska who is thawed out in the present day. The villains have the reporter under surveillance and he inadvertently leads them to the superhero. He also arrives on the scene but is shot and killed.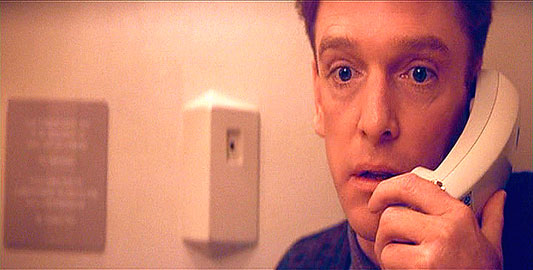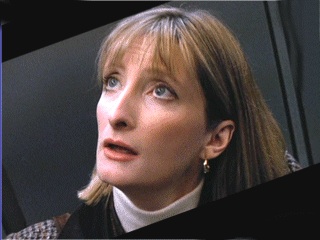 Die Hard 2: Die Harder (1990)
TV Reporter Dick Thornberg (William Atherton) is the obnoxious reporter on a plane who learns about a terrorist attack on Dulles Airport while he is on a plane circling the airport and files a report that causes panic. TV Reporter Samantha Copeland (Sheila McCarthy) is on the ground covering the story.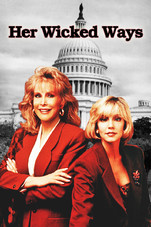 Her Wicked Ways (aka Lethal Charms)
TV Correspondent Tess O'Brien (Barbara Eden), star veteran television news correspondent covers the White House and becomes a reluctant mentor to Melody Shepherd (Heather Locklear), journalism novice who wants her job. Shepherd will do anything to get a story and take over O'Brien's job. She taps into O'Brien's computer to access her files and does everything she can to destroy O'Brien's career before O'Brien gets her revenge.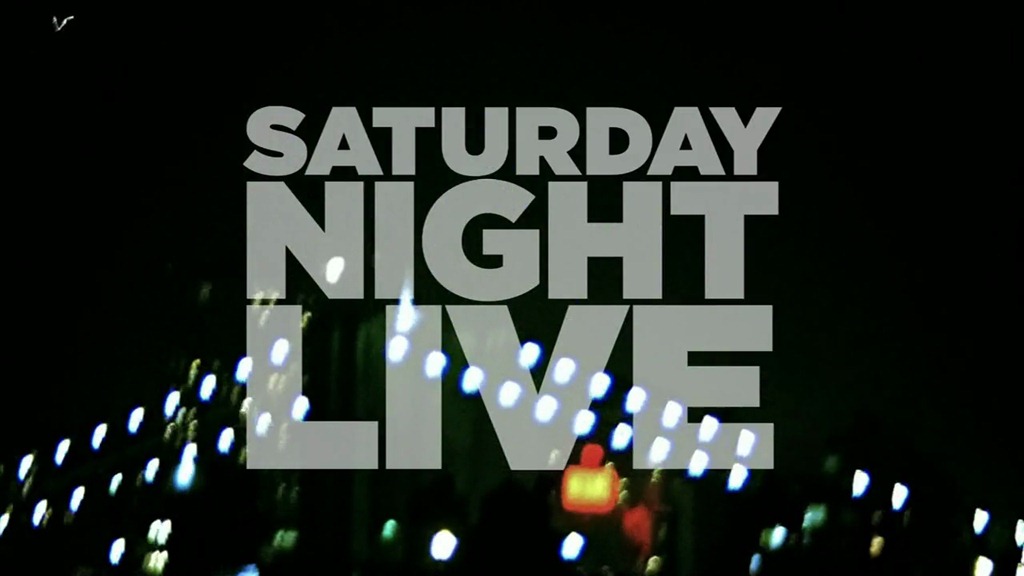 Saturday Night Live: Presidential Debate 1992 (1992)
SNL Reporters quiz the 1992 presidential candidates – George Bush, Bill Clinton and Ross Perot.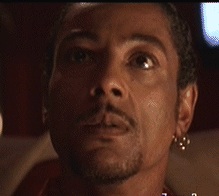 Bob Roberts (1992)
Bob Roberts (Tim Robbins) shows up in Washington D.C. after winning the election and being wounded by an assassin's bullet. The Washington Press Corps is there to interview him. Reporter Bugs Raplin (Giancarlo Esposito) of the Troubled Times is framed for an assassination attempt on the candidate.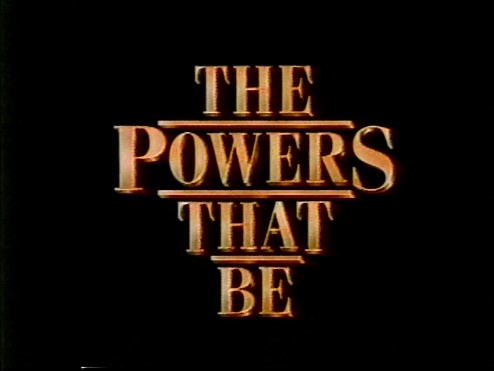 The Powers That Be (1992-1993)
TV Newswoman Faith Daniels reports that Democratic Senator William Powers (John Forsythe) is in disgrace and will lose the election. It turns out to be a nightmare and Powers wakes up in a cold sweat. The Washington Press Corps is covering the election.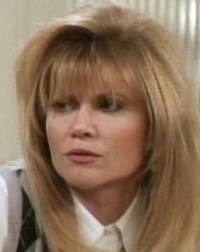 Hearts Afire (1992-1995)
Former Correspondent Georgie Anne Lahti (Markie Post) applies for a job as a press secretary
to aging conservative Southern senator recalling her days as a Washington reporter.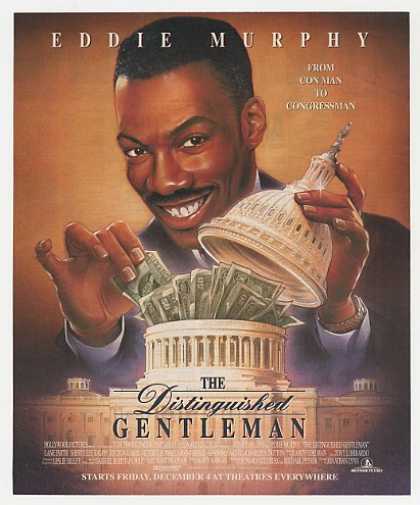 The Distinguished Gentleman (1992)
Washington Press Corps and the national press cover the election of a smooth-talking confidence trickster
who makes his way to Congress. When his brother comes to town, the two take over the news media to fight corruption
and get rid of the Power and Industry chairman, Dick Dodge.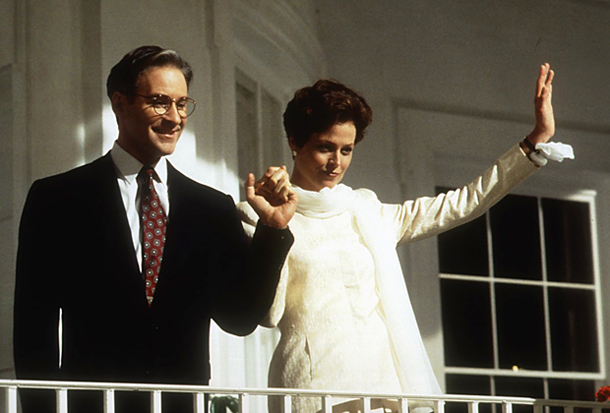 Dave (1993)
Washington Press Corps covers the President when he suffers a stroke, and then, without realizing, his imposter who looks just like him. Real-life reporters playing themselves include Richard Reeves, Helen Thomas and Sander Vanocur.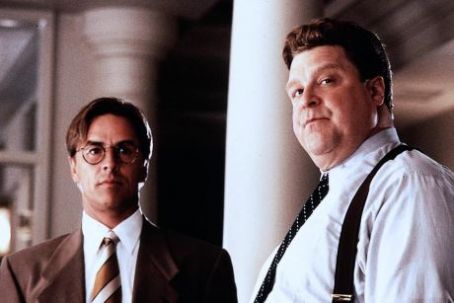 Born Yesterday (1993)
Washington Journalist Paul Verrall (Don Johnson), once a hard-nosed investigative reporter, is hired by a businessman to educate his dim-witted girlfriend. The reporter discovers that she is set up as the businessman's partner and he has been paying off senators to keep a military base open.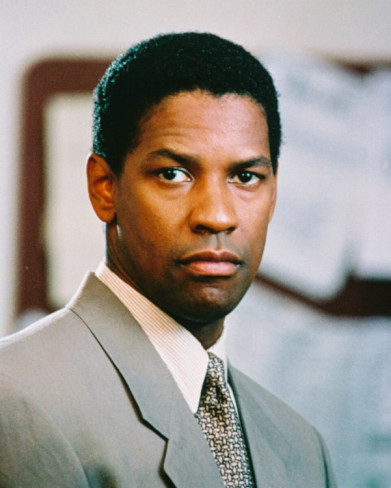 The Pelican Brief (1993)
Investigative Reporter Gray Grantham (Denzel Washington) of The Washington Herald is contacted by a female law student (Julia Roberts) about the deaths of two Supreme Court justices. It turns out to be a political conspiracy and both the journalist and the young woman are targeted for elimination. Washington Herald Editor Smith Kean (John Lithgow) wants to take Grantham off the story, but the reporter refuses to leave it alone. The conspiracy is exposed when a front-page story in the Herald appears with Grantham and the student's byline.
When TV Newsman Edwin Newman interviews Grantham he tells the reporter many think "the student" was a composite of many anonymous sources.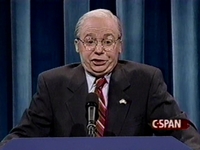 Saturday Night Live: Jesse Helms Press Conference on C-Span (1994)
SNL Reporters quiz Senator Helms (Mike Meyers) after he tells President Clinton and his wife that they will need bodyguards if they ever come to his state.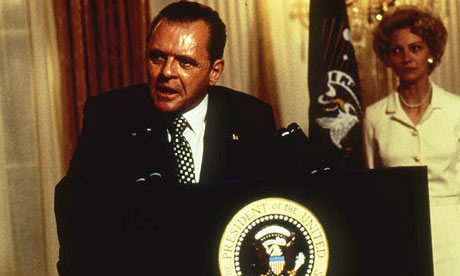 Nixon (1995)
Reporters quiz President Nixon on Watergate, the cover-up and his resignation.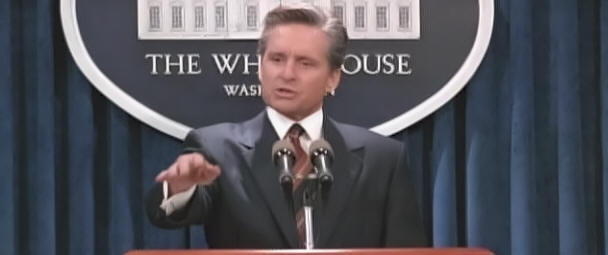 The American President (1995)
Washington Press Corps wants to find out all about the widowed President's new relationship with an environmental lobbyist.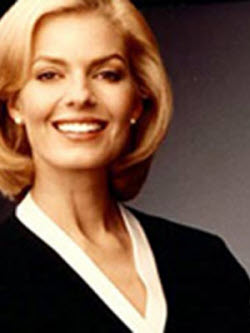 Almost Golden: The Jessica Savitch Story (1995)
TV Reporter-Anchor Jessica Savage (Sela Ward) works her way up to the Washington Bureau where she is given no help and treated like a second-class reporter because everyone thinks she was hired for her looks and nothing else. She is made to look ridiculous on the air, works hard to overcome her inexperience in the nation's capital, which operates as a closed men's club, yet somehow survives, but ends up as a drug addict using cocaine to get her through the next story.




The Image of the Washington Journalist in Movies and TV, 1996 to 2013, 59 clips, 239 Minutes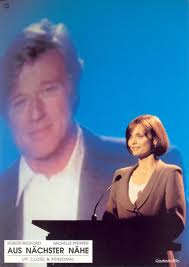 Up Close and Personal (1996)
TV Reporter Tally Atwater (Michelle Pfeiffer) is taught by seasoned journalist Warren Justice (Robert Redford) who is delighted when she is named network I.B.S.Washington Bureau chief. I.B.S. Evening News Anchorman (James Karen) welcomes her to Washington just as news comes in that Justice, now married to Atwater, was killed reporting on a story in Panama. When Atwater is introduced to the network affiliates, she talks about her husband and his philosophy of news.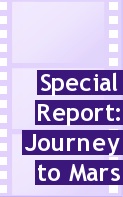 Special Report: Journey to Mars (1996)
Reporters listen to a NASA briefing and cover a conference at the White House on the imminent landing of a spaceship on Mars.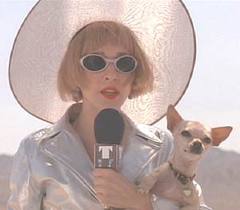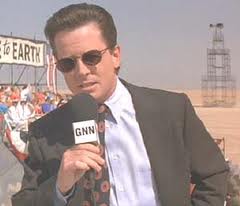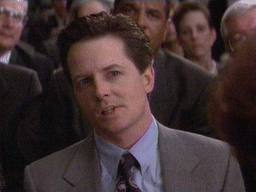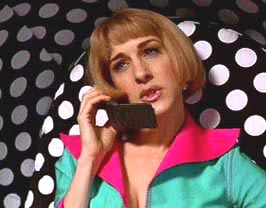 Mars Attacks! (1996)
Reporters Natalie Lake (Sarah Jessica Parker) and Jason Stone (Michael J. Fox) work for GNN and report on the first Martian landing on Earth.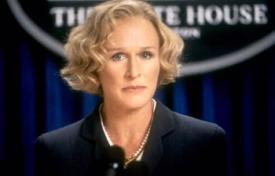 Air Force One (1997)
Reporters quiz the press secretary and the Vice President of the United States about an attack on Air Force One and the safety of the first family.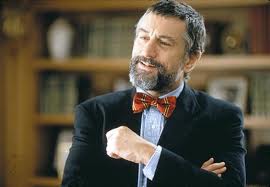 Wag the Dog (1997)
The Washington Press Corps and the news media is manipulated by Conrad Brean (Robert De Niro), a Washington D.C. spin doctor into covering a war that never happened and was created to distract the electorate from a presidential sex scandal.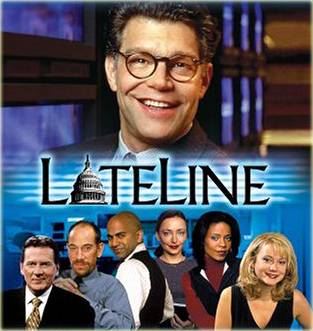 LateLine (1998-1999)
TV Reporter Al Freundlich (Al Franken) works for LateLine, a fictitious TV network's late-night news program based in Washington D.C. Anchor Pearce McKenzie (Robert Foxworth) and. Producer Vic Carp (Miguel Ferrer) run the newsroom. McKenzie, the anchor of the hit news show "LateLine" threatens to quit in a ploy to become the richest anchor in television news. He claims he is going to retire and shocks everyone, including the producer, when he announces on the air that his replacement will be Al Freundlich. Al is the last one to find out that McKenzie is not retiring and that his announcement was a hoax.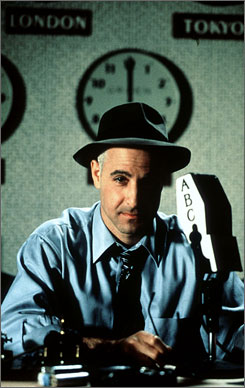 Winchell (1998)
Gossip Columnist Walter Winchell (Stanley Tucci) becomes a political powerhouse and a friend of influential Washington politicians including the President of the United States.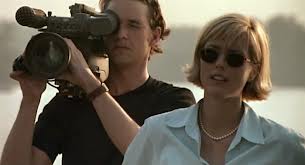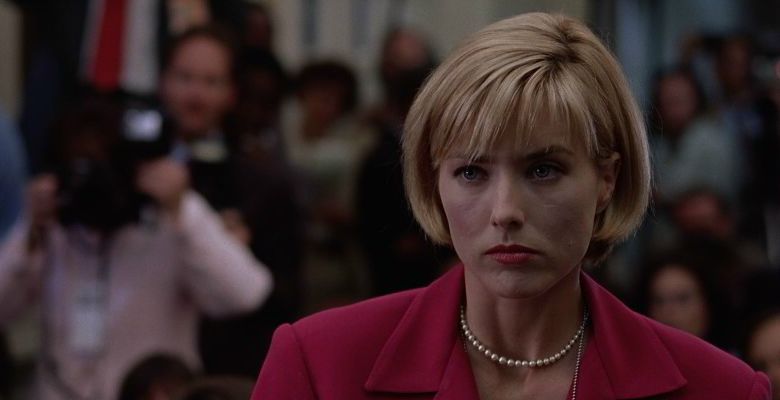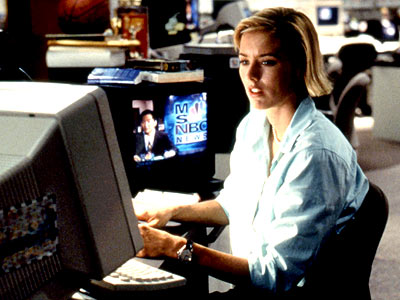 Deep Impact (1998)
Washington TV Reporter Jenny Lerner (Tea Leoni) stumbles into a scoop as a meteor is headed for Earth.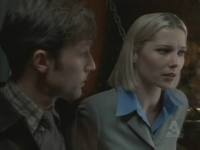 First Wave: Deepthroat (1999)
Reporter Samantha Ray (Stefanie Von Pfetten) of the Washington Examiner is trying to expose a U.S. Senator who is stopping
government-funded space exploration – because he is an alien.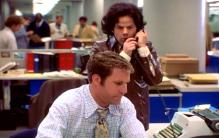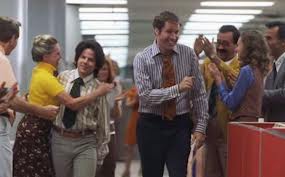 Dick (1999)
Washington Post Reporters Bob Woodward (Will Farrell) and Carl Bernstein (Bruce McCulloch) uncover the Watergate conspiracy aided by two teenage girls (who are Deepthroat) who work at Richard Nixon's White House.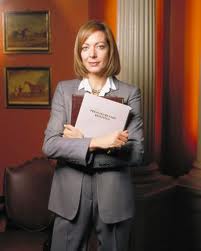 The West Wing (1999-2006)
Journalist Daniel "Danny" Concannon (Timothy Busfield) is the Senior White House Correspondent for the Washington Post and a Pulitzer Prize-winner. He has a long-standing on-again/off-again romance with White House Press Secretary C.J. Cregg. Despite his friendship toward the staff, Danny is the first to break a few of the more controversial stories that arose in the Bartlet White House, and he shows a willingness to criticize the Administration if he feels it is appropriate. In his first appearance, he tells C.J. that he knows that Sam Seaborn has a friend who is a call girl, but he decides to drop the story at C.J.'s urging although he warns her "not everybody is a good guy [like me]" C.J. thanks him by letting him be the first to know of a story that breaks while he is there in her office, "for being a good guy."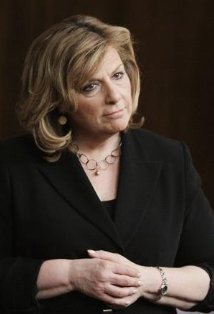 Running Mates (2000)
TV Reporter Jody Daniels (Caroline Aaron) and the rest of the news media cover the presidential election campaign of Gov. James Pryce (Tom Selleck), a Democratic party candidate having a hard time deciding on his vice-president.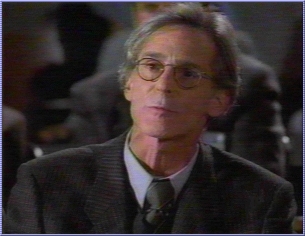 The District: Dirty Laundry (2000)
Reporter Frank Halloran (Steven Marcus) of the Washington Post and the rest of the news media question the police's effectiveness in dealing with guns on the streets of Washington D.C.

An American Daughter (aka Trial by Media) (2000)
TV Journalist Timber Tucker (Jay Thomas) shows up for a Sunday brunch to interview the president's nominee for surgeon general. He brings along a camera crew and finds out that long ago the nominee misplaced a jury summons. Her mistake becomes the scandal of the day and threatens her nomination as the news media go after her.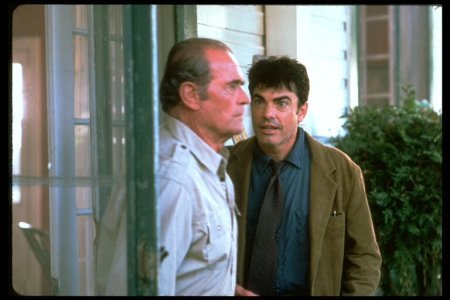 The Last Debate (2000)
Columnist Mike Howley (James Garner) is asked to moderate a nationally televised debate between two presidential candidates. In collusion with fellow newspeople and debate panelists – Barbara Manning (Audra McDonald), Henry Ramirez (Marco Sanchez) and Joan Naylor (Donna Murphy) – Howley formulates a plan that hijacks the electoral process and supports the Democratic candidate.They ask the Republican nominee a number of questions about unsubstantiated charges that he has a propensity for violence. Angry, the candidate leaves the stage in a huff after throwing a microphone. Investigative Reporter Tom Chapman (Peter Gallagher)
writes a book revealing what happened and how the journalists crossed a very important line.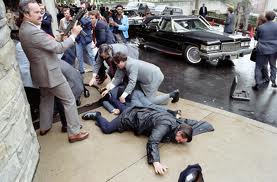 The Day Reagan Was Shot (2001)
Reporters quiz the assistant press secretary about who's in charge after President Reagan is shot. Secretary of State Alexander Haig, furious over the wishy-washy answers given to the reporters, takes over the press conference and destroys his career in the process.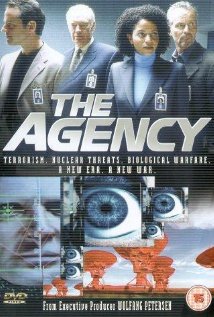 The Agency: Deadline (2001)
Investigative Reporter Salazar (Nicholas Cascone) in Washington D.C. plans to run a career-making story about one of the Agency's great Cold War successes which will expose and cost the life of a now retired Russian general who risked his life to help the CIA. The journalist refuses to kill the story, and the CIA director and his team must do everything they can to protect the Russian, even if it means putting another life in jeopardy.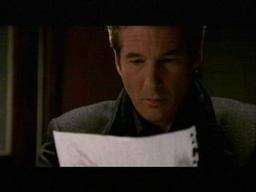 The Mothman Prophecies (2002)
Reporter John Klein (Richard Gere) of the Washington Post is involved in mysterious sightings in the 1960s.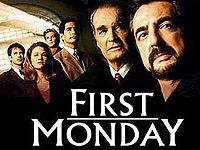 First Monday: Family Affairs (2002)
Reporter David Dahl (Stan Kirsch) of the Washington Post gets incriminating photos of a Supreme Court Justice's uncle talking to a member of the Mafia after the justice had assured everyone during his appointment hearings that no member of his family ever had dealings with the Mafia.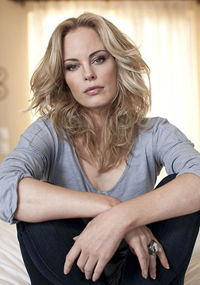 Mister Sterling (2003)
Reporter Laura (Chandra West), a member of the Washington D.C. Press Corps, is an ambitious political reporter who uses an impromptu statement made by Senator Sterling after an on-camera interview to come up with an exclusive story.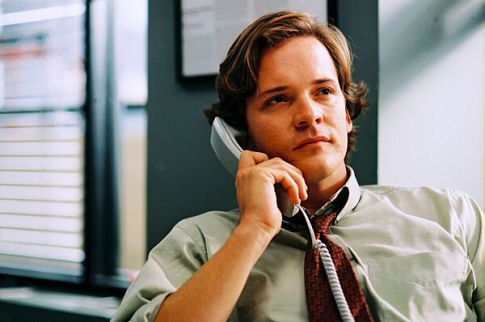 Shattered Glass (2003)
New Republic Editor Chuck Lane (Peter Sarsgaard) discovers that one of his young writers, Stephen Glass (Hayden Christensen) has made-up and fabricated many of his stories.
An angry co-worker Caitlin Avey (Chloe Sevigny) accuses Lane of going after Glass because of jealousy but when she fact-checks his stories, realizes all the accusations are true. The magazine is based in Washington D.C.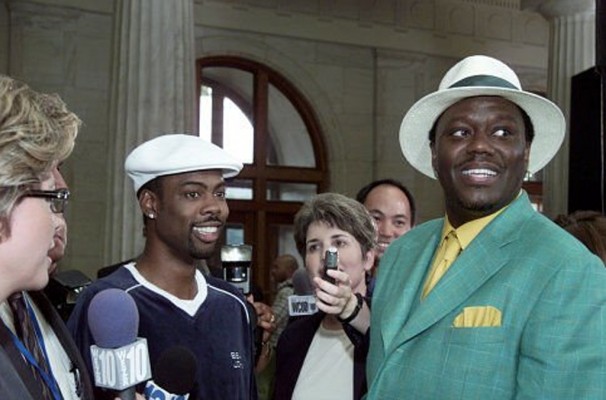 Head of State (2003)
Washington Press Corps and the national media greet the first black president of the United States.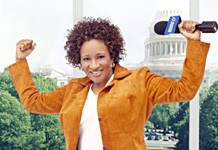 Wanda at Large (2003)
TV Correspondent Wanda Hawkins (Wanda Sykes) is the on-air correspondent for a Washington D.C. political talk show on WHDC. Her honesty conflicts with the show's conservative moderators.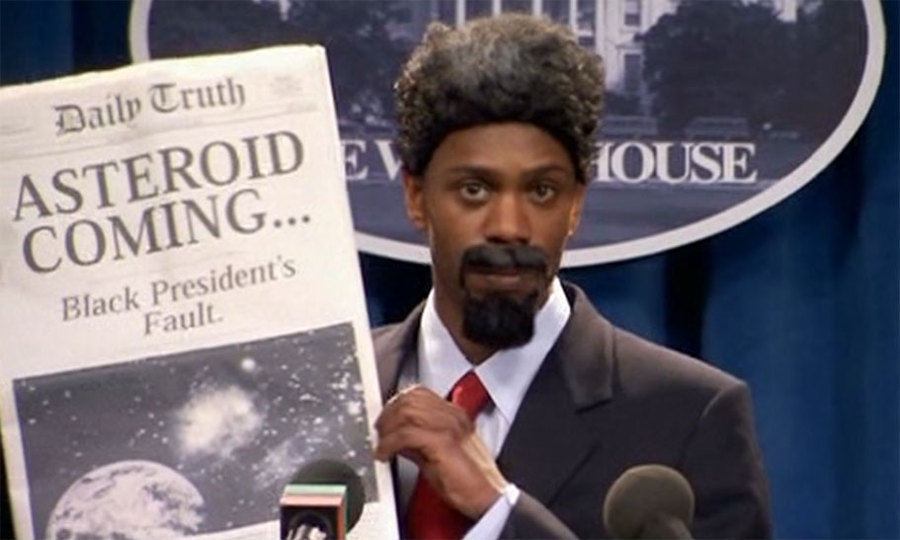 The Chappelle Show: Asteroid is Black President's Fault (2003)
The Black president is blamed for an asteroid coming towards Earth, so he calls a White House press conference to explain his position.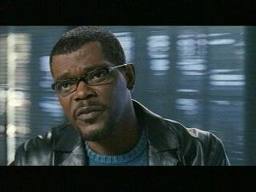 In My Country (aka Country of My Skull) (2004)
Washington Post Correspondent Langston Whitfeld (Samuel L. Jackson) is sent by his editor to cover 1996's South African Truth and Reconciliation Commission Hearings and in the process interviews an Afrikaans poet and South Africa's most notorious torturer.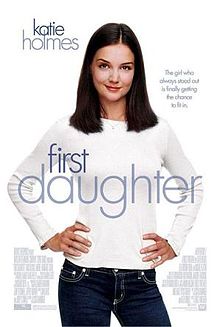 First Daughter (2004)
Washington Press Corps quiz the President's daughter about her plans for the future as the President and the First Lady listen to her answers.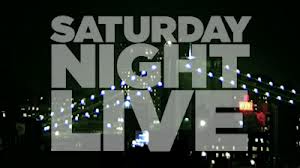 Saturday Night Live: Presidential Debate (2004)
Saturday Night Live: Presidential Press Conference at the White House (2004)
Saturday Night Live: Presidential Press Conference – NBC News Special Report With Tim Russert (2005)
SNL Reporters interview presidential candidates in 2004 and 2005.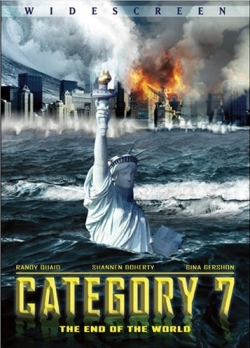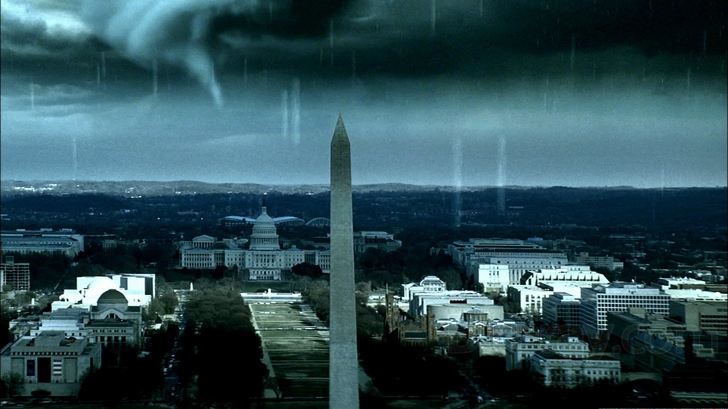 Category 7: The End of the World
Reporters quiz a government official on her reasons for hiring a storm expert asking her if she hired him because he was a former lover.

Medical Investigation: The Black Book (2005)
Washington D.C. reporters want to know why a Congressman and other Washington officials have contacted a mysterious disease. A conflict develops between protecting big-name politicians and finding out the cause of the disease.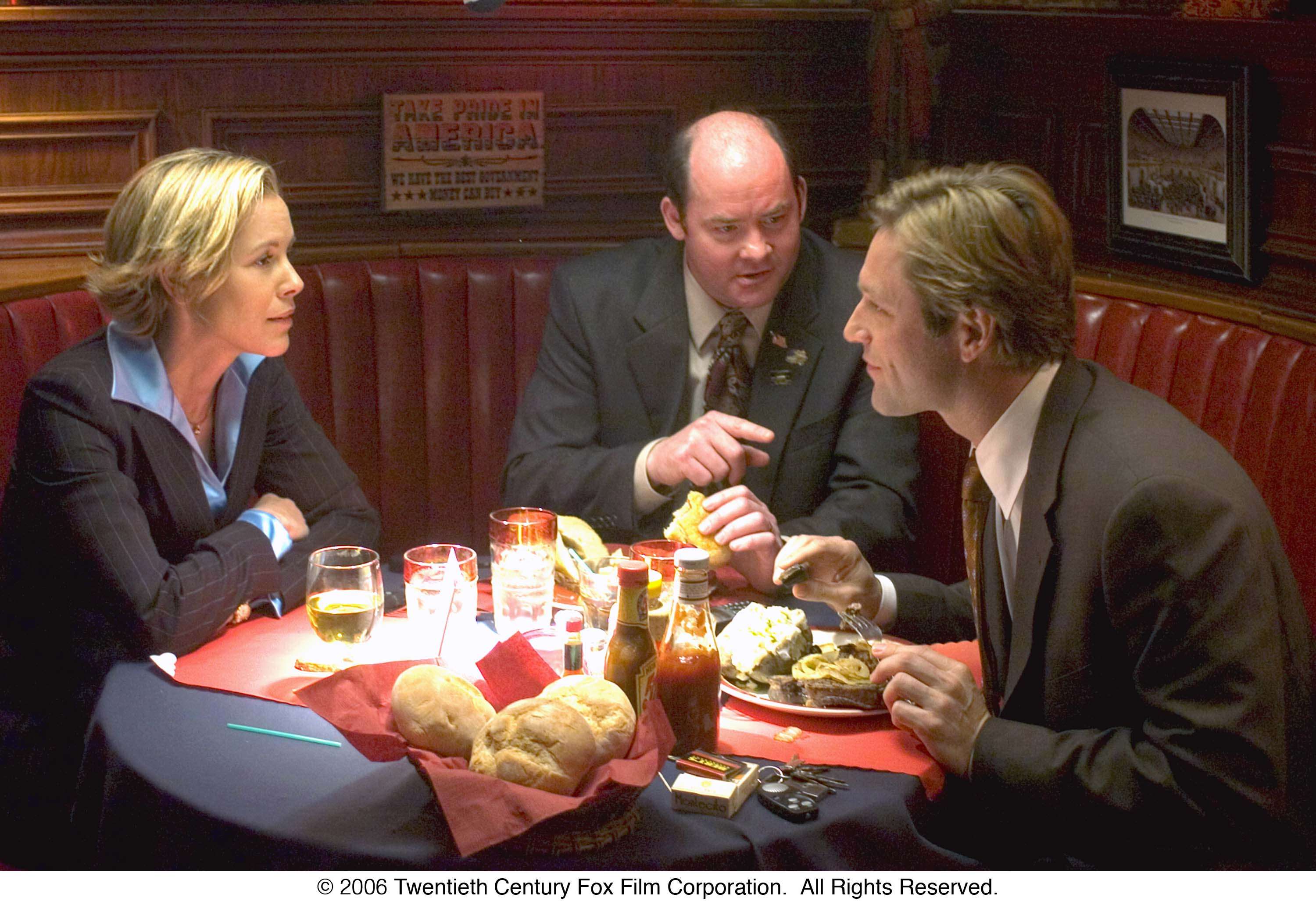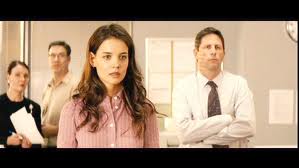 Thank You for Smoking (2005)
Reporter Heather Holloway (Katie Holmes) of the Washington Probe is a top Washington journalist who displays smarmy charm as a duplicitous reporter who romances a lobbyist for cigarette companies. Every time the opportunistic reporter has sex with the lobbyist, he reveals information that ends up being a front-page expose.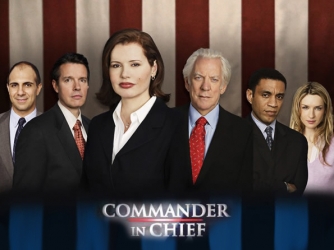 Commander in Chief (2005-2006)
Washington Press Corps covers the first female president.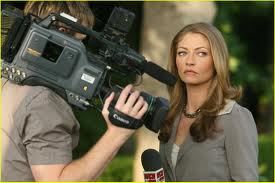 Vanished (2006)
Reporter Judy Nash (Rebecca Gayheart) is all over the case of the missing senator's wife, which is clearly more than just a simple kidnapping. When she isn't working, she is sleeping with her cameraman Adam.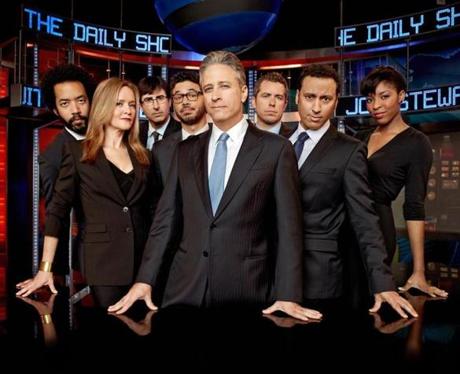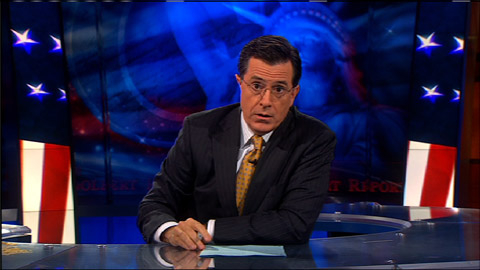 The Daily Show with Jon Stewart: Election Night (2006)
The Colbert Report: Election Night (2006)
TV Anchor Jon Stewart and the Daily Show news staff cover election night, November 2006. Washington Correspondent Samantha Bee reports on election machine fraud.
Commentator Steven Colbert walks off the set because he thinks the new president will destroy the country.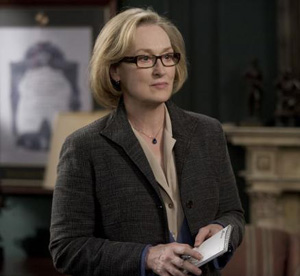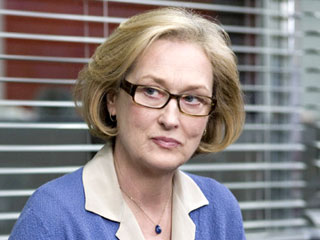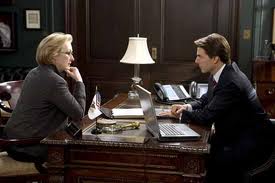 Lions for Lambs (2007)
TV Journalist Janine Roth (Meryl Streep) is a veteran journalist who arrives for a one-on-one interview with a Republican Senator Jasper Irving (Tom Cruise) in his Capitol Hill office for an in-depth conversation about the war in Afghanistan. The senator wants to give the probing journalist an exclusive bombshell story about a new plan to resolve the deadlock in Afghanistan that started "10 minutes ago," but she's not too sure it's a legitimate story and argues with her editor about running it.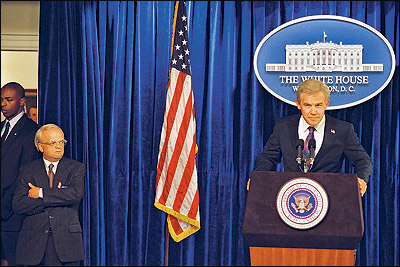 W. (2008)
Reporters ask a confused President Bush about his legacy and place in history.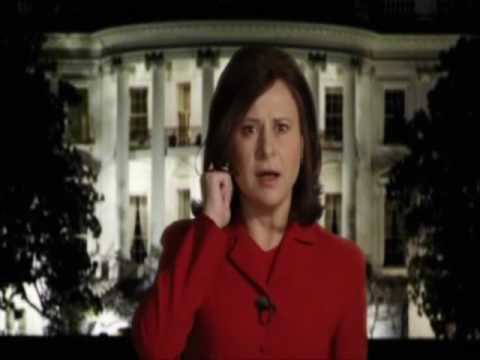 Tracey Ullman's State of the Union (2008)
TV Washington Correspondent Campbell Brown reports from in front of the White House to tell the nation all the news is filled with terror and horror.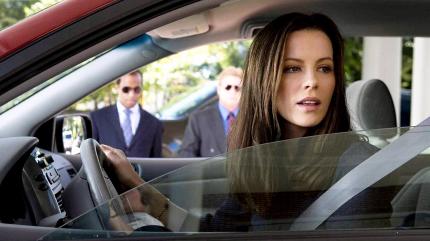 Nothing But the Truth (2008)
Journalist Rachel Armstrong (Kate Beckinsale) who works for the Capital Sun-Times in Washington D.C. exposes a CIA agent's cover and refuses to reveal her source. Although she wins a Pulitzer Prize, she ends up in jail, is beaten up, ruins her marriage, alienates her young son, and costs her embattled newspapers thousands of dollars in fines and legal fees. To make matters worse, when she is released from jail, the angry prosecutor has her arrested for obstruction of justice and convinces her
to agree to two years in prison with the possibility of early parole for good behavior.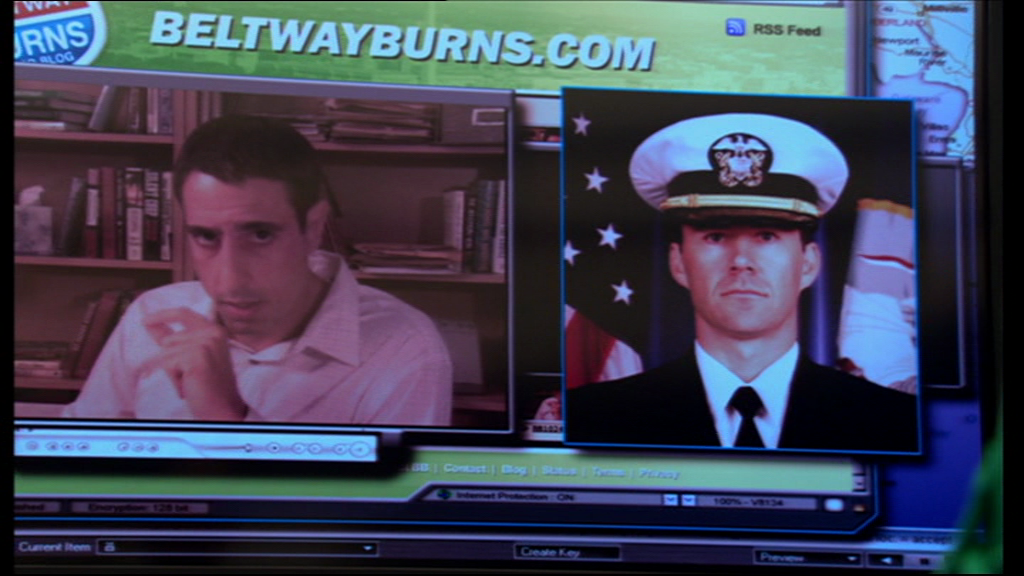 NCIS: The Inside Man (2009)
Blogger Matt Burns (Julian Acosta), who runs the site beltwayburns.com out of Washington D.C., accuses NCIS of a cover-up and then is murdered. Burns, who has been dragging NCIS's reputation through the mud, is seen sitting in his car with his laptop updating his blog with information about investigating NCIS. He mentions heading out to meet a source. Later, his body plummets off a bridge and onto a construction site, impaled on the rebar below. The team finds out Burns ruined a lot of Washington careers through his blog including Federal Appeals Court Judge Thomas Victor who was set to become a Supreme Court nominee before Burns blogged about plagiarism and possible infidelity and Victor was forced to withdraw his nomination. Later it is discovered that Burns made up a lot of his information and lied on his blog repeatedly.
Leverage: The Three Days of the Hunter Job (2009)
TV Newscaster Monica Hunter (Beth Broderick), host of "Hunt for the Truth," which originates out of Washington D.C. and is syndicated in 41 markets, likes to demonize innocent people for ratings. Her tagline: "Join us tomorrow as we hunt for the truth." The TV journalist goes after an innocent school bus driver involved in an accident causing him to attempt suicide. The daughter asks the Leverage team to get her father's good name back. The team realizes that Hunter's archilles' heel is that she wants to be respected by her news colleagues who ridicule her work. They create a fake story so big that if she breaks it she won't be considered a joke by legitimate newspeople. One of the Leverage teams poses as reporter with a scoop that "could bring down the president of the United States." She plans to use the reporter to get the story and then steal the story from her. The Leverage team knows they can convince Hunter it is a real story by creating the illusion that one of her sources knows the truth. "Journalists are lazy. They always go back to the same sources," one tells another.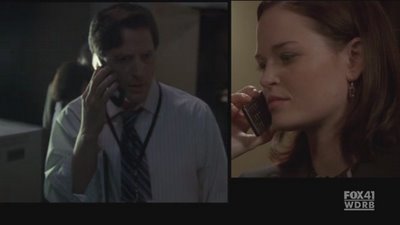 24: Day 7 (2009)
TV Reporter Ken Dellao (Tim Guinee) of CNB contacts the President's daughter and her chief of staff to get an exclusive story. He threatens her with a story that she was responsible for the leak that caused the former chief of staff to resign. He forces her to come to his hotel room, and he says he will reconsider it if she has sex with him. He then tells her he has to go public with the story because it would make his career. She then shows him a cell phone recording she made of their sexual encounter. She tells him she will use the recording to show how he gets his stories and to inform his wife about his extracurricular activities. She then tells Dellao that she doesn't want to see him again at the White House and that he should get another beat. She leaves the angry Dellao alone and goes back to the White House.
State of Play (2009)
Investigative Reporter Cal McAffrey (Russell Crowe) of the Washington Globe is a street-smart reporter who represents the old world of journalism. Della Frye (Rachel McAdams) is a cocky blogger who represents the new generation of reporters. Editor Cameron Lynne (Helen Mirren) makes them work together to come up with a sensational story about a scandal involving a congressman that might include murder. And they do just that.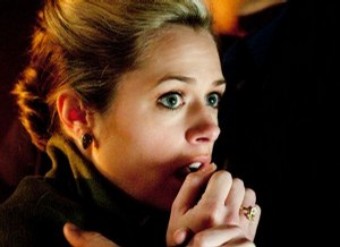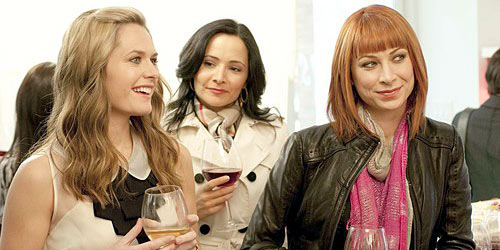 Lucy Smithsonian: Hostile Makeover and Killer Hair (2009)
Columnist-Fashion Reporter Lacey Smithsonian (Maggie Lawson) of The Eye Street Observer in Washington writes "Fashion Bites" when she isn't solving crimes and getting involved with murder. Her frustrated editor is Douglas MacArthur "Mac" Jones (James McDaniel) and her rival reporter who wants her to stay out of his beat
is Tony Trujillo (Mark Consuelos). In "Hostile Makeover" she witnesses the murder of a supermodel.
In "Killer Hair," she solves the murder of a hair stylist. And she falls in love with a cop along the way.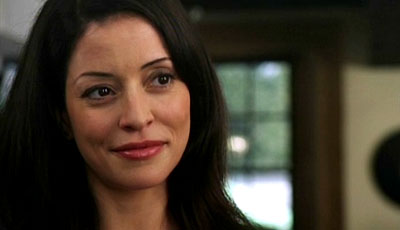 Covert Affairs (2010-)
Reporter Liza Hearn (Emmanuelle Vaugier) writes an article that upsets the CIA. The CIA head meets with her and tries to charm her, but she won't reveal her sources and is willing to go to jail to protect them. He says he is willing to be her source, but not on the record. Kern isn't buying any of this and says she's immune to the seductive ways of the CIA. She can play the game too, only better and with more style. She agrees to balance her coverage if he never calls her again. They shake hands and the CIA head is impressed with her. What no one knows is that Kern is sleeping with blind CIA computer genius Auggie Anderson
who is trying to find out how much she knows about the CIA and who her secrets are since he is not her source.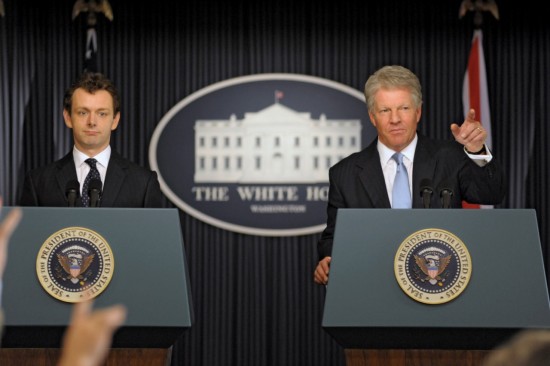 The Special Relationship (2010)
Washington Press Corps and the international news media cover United Kingdom Prime Minister Tony Blair's visit to the United States
to help President Clinton during his impeachment hearings.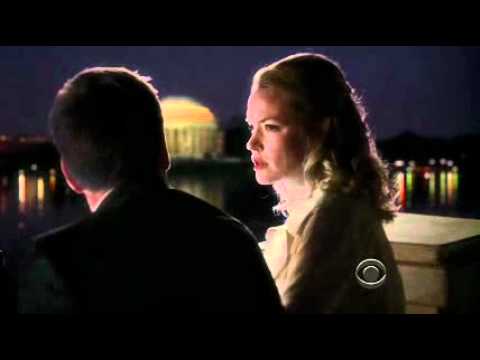 NCIS: Obsession (2010)
TV Reporter Dana Hutton (Ashley Scott) is a ZNN correspondent-reporter who comes to Washington D.C. to find out why her brother was murdered. The lethal injection contained a substance with no antidote. It turns out Hutton has also been injected with the poison. They discover the murderer but it is too late to save Hutton's life.
NCIS: Enemy on the Hill (2011)
Washington TV Reporter Samantha Tate (Sibila Vargas) of ZNN is covering a feature story when a man with a camera gets hit by a truck. He turns out to be a wanted assassin.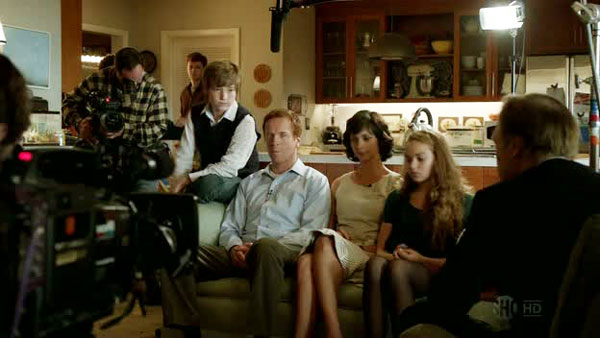 Homeland (2011-)
News Media including Lawrence O'Donnell from MSNBC covers homecoming of Marine Sergeant Nicholas Brody who returns home eight years after going missing in Iraq and being tortured as a prisoner of war. Brody isn't ready to meet the news media and even attacks a reporter with an open-hand hit to the throatwho is trying to interview him
in the backyard while his son looks on. Later, Brody decides to give the press everything the reporters want, playing what the CIA calls, "the hero card."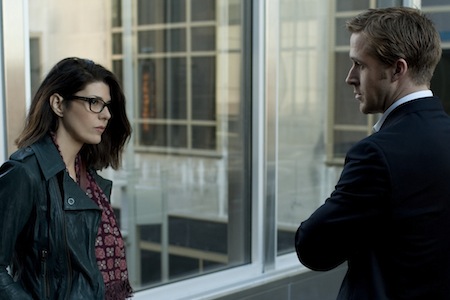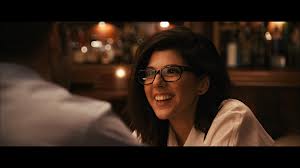 The Ides of March (2011)
Political Correspondent Ida Horowicz (Marisa Tomei) of the New York Times is a harried political reporter covering the presidential campaign.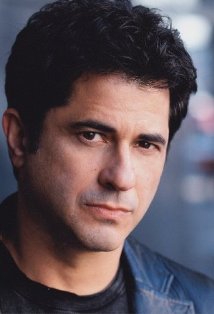 Bones: The Crack in the Code (2012)
Reporter Ezra Krane (Robert Cicchini) of the Washington Standard is one step ahead of the FBI on a serial killer but he won't give up his source,
a computer genius who outfoxes the FBI and finally kills Krane to keep him quiet.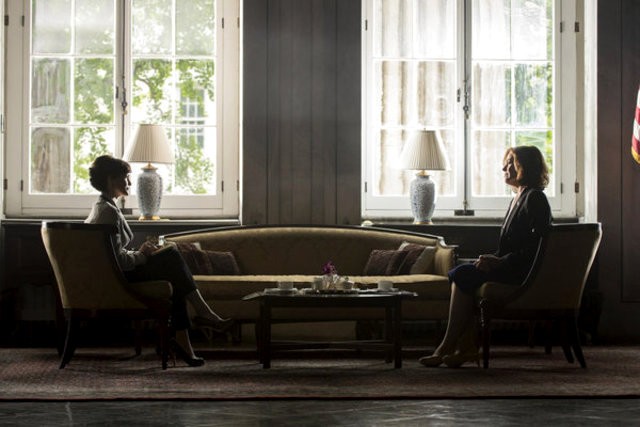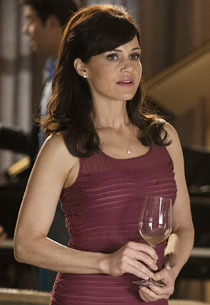 Political Animals (2012)
Columnist-Reporter Susan Berg (Carla Gugino) of the Washington Globe News is a Pulitzer Prize-winning newspaper journalist barred from the White house for six years who has strong-armed her way into a deep-access profile of the female Secretary of State, an aggrieved former First Lady
who lost a tough primary fight to the eventual president and now serves in his cabinet.
Berg has gotten her hands on some sensitive information about the secretary's son and threatens to leak the story unless the secretary of state agrees to an in-depth interview. Berg is also sleeping with her editor Alex Davies (Dan Futterman), who cheats on her with a staff member who runs the newspaper's blog.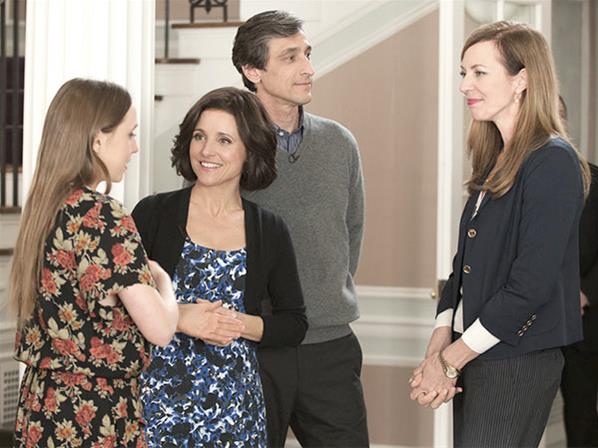 Veep (2012-2013)
Reporter Janet Ryland (Allison Janney) and her producer Cody Marshall want to turn a puff piece on the Vice President into a "rough puff" by winning her confidence and then hitting her with some controversial "gotcha" questions.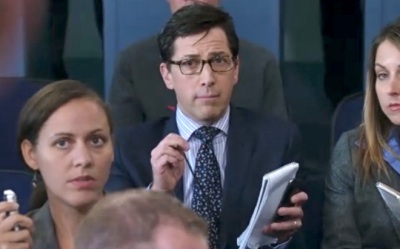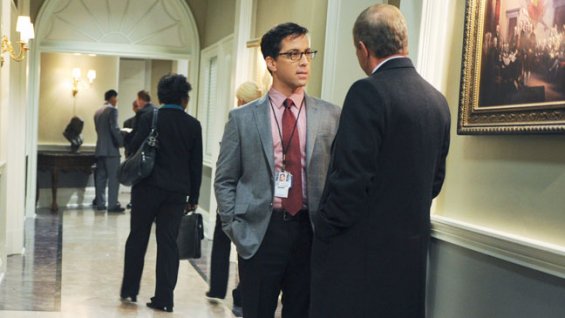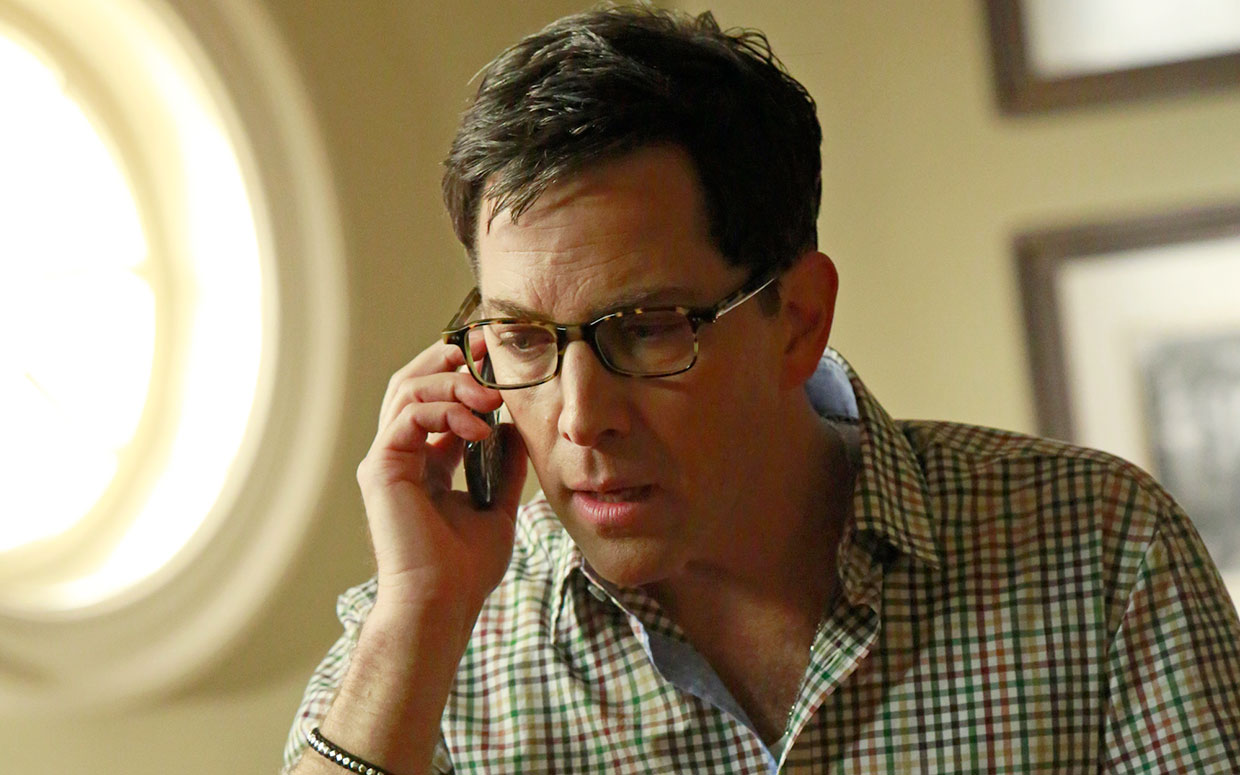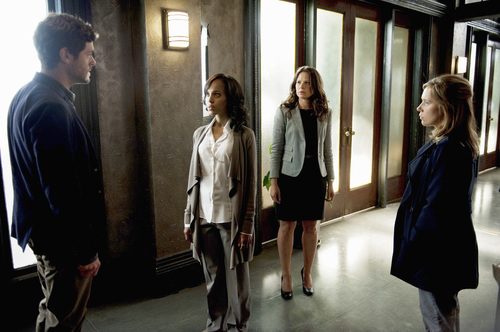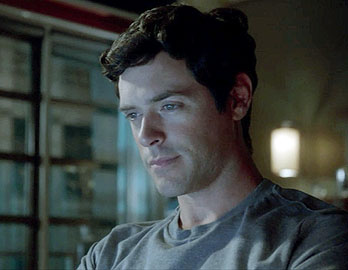 Scandal (2012-2013)
Journalist James Novak (Dan Bucatinsky), wife of White House Chief of Staff Cyrus Beene (Jeff Perry) covers the White House. Reporter Gideon Wallace (Brendan Hines) is shockingly killed by the vice president's right-hand man. In one episode, TV Reporters are filing reports on the married woman, Sarah Stanner, who is said to have had an affair with a Supreme Court Judge nominee. A horde of reporters is standing on the lawn at the family home. When Liv, Harrison, Abby and Olivia Pope show up at the Stanner house there is no way to get by reporters until Olivia says, wait until the top of the hour. They do. The reporters go on camera and they sneak into the Stanners' home.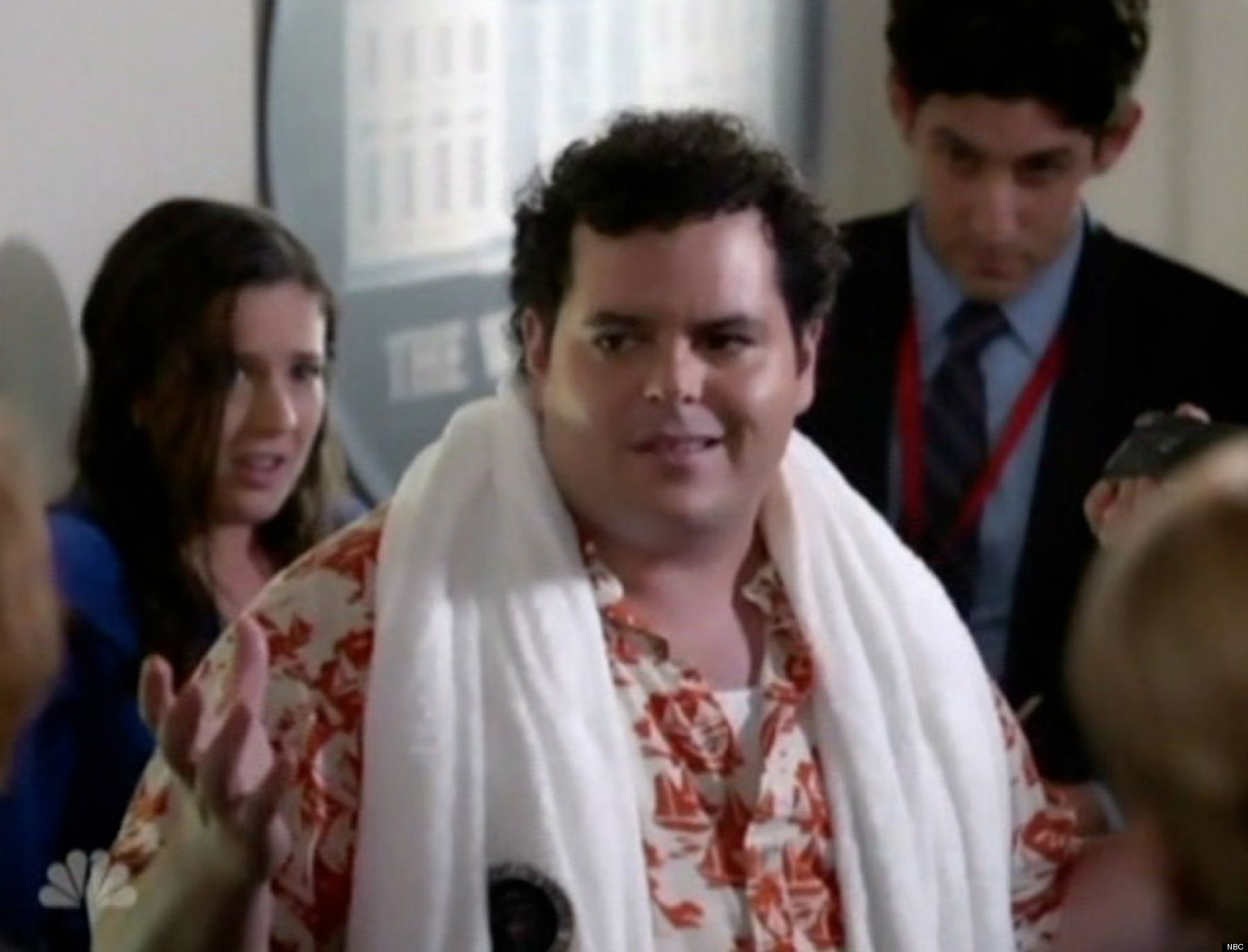 1600 Penn (2012-2013)
Washington Press Corps ambush the president's son and daughter when they make a wrong turn and find themselves in the White House press room. Brother Skip tells the stunned reporters that his sister was just blowing off a little steam when she had a fling with someone she didn't even know resulting in a pregnancy. Then they duck out of the briefing room and watch on TV as the news media feeding frenzy intensifies.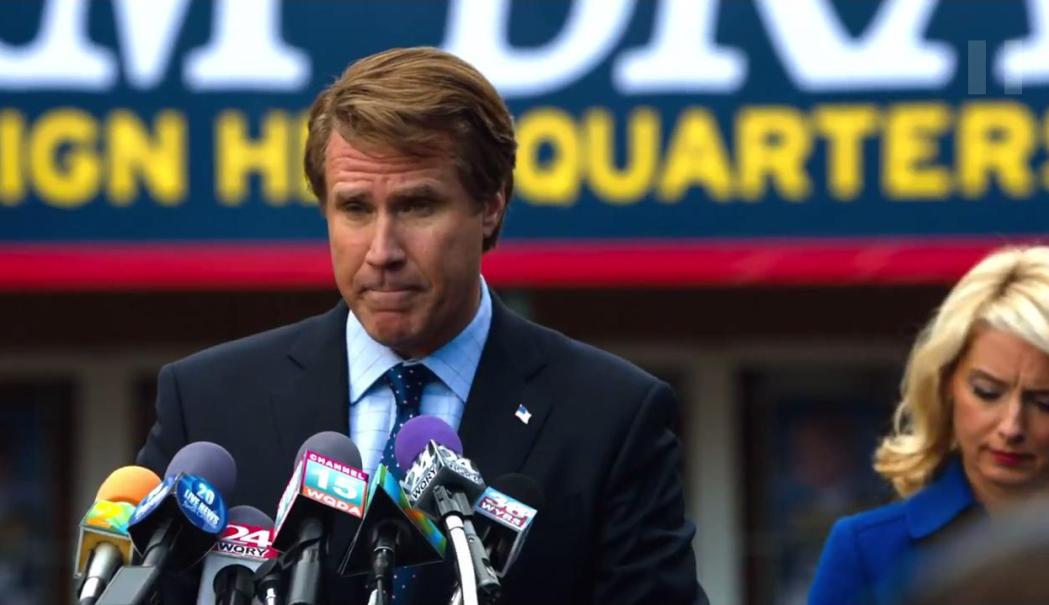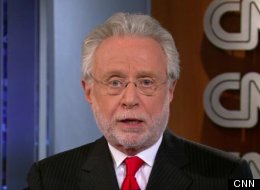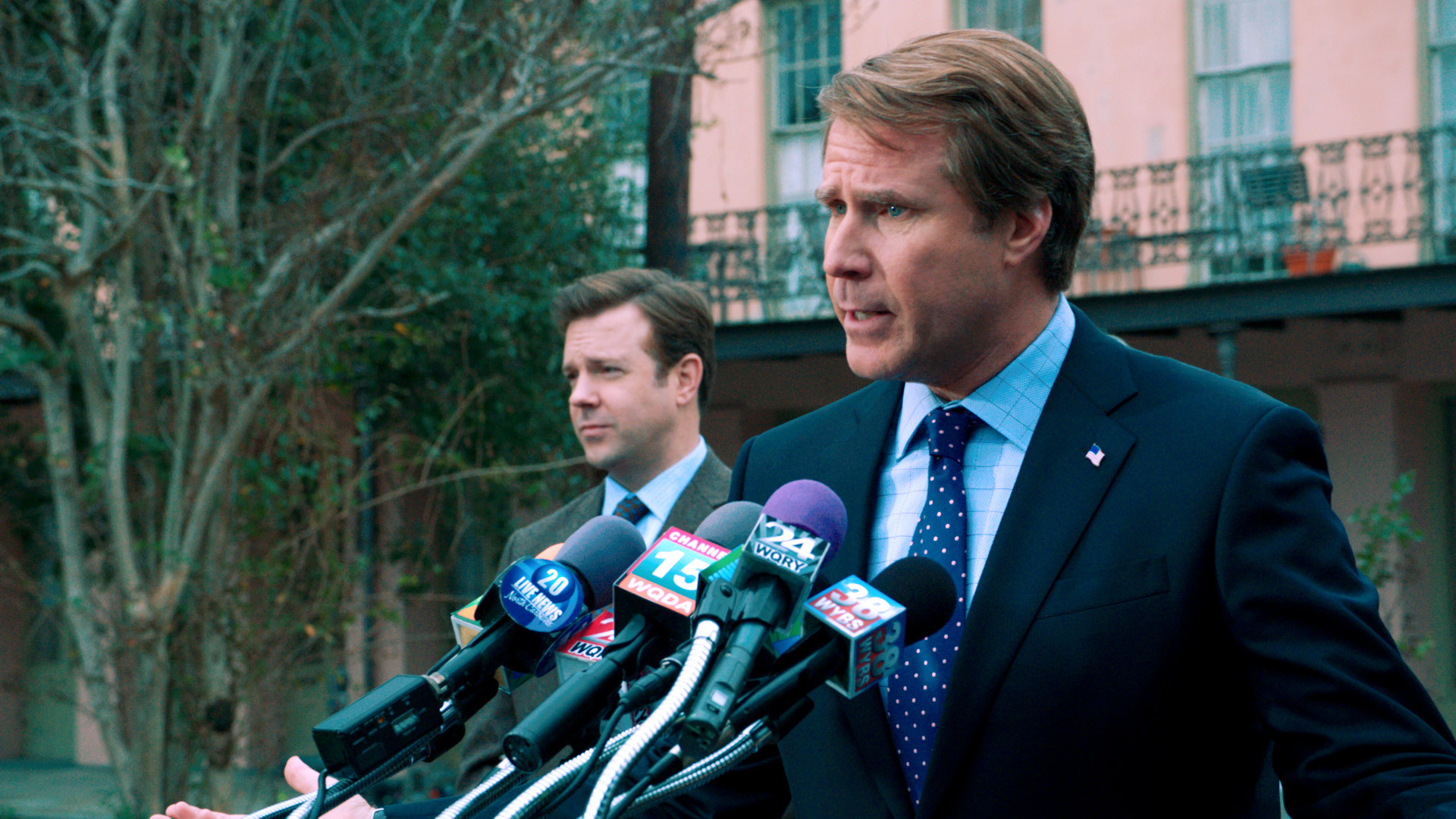 The Campaign (2012)
News Media is there to capture every mistake two candidates running for Congress make. Wolf Blitzer, Piers Morgan,
Bill Maher, Christ Matthews, Dennis Miller and Lawrence O'Donnell are themselves.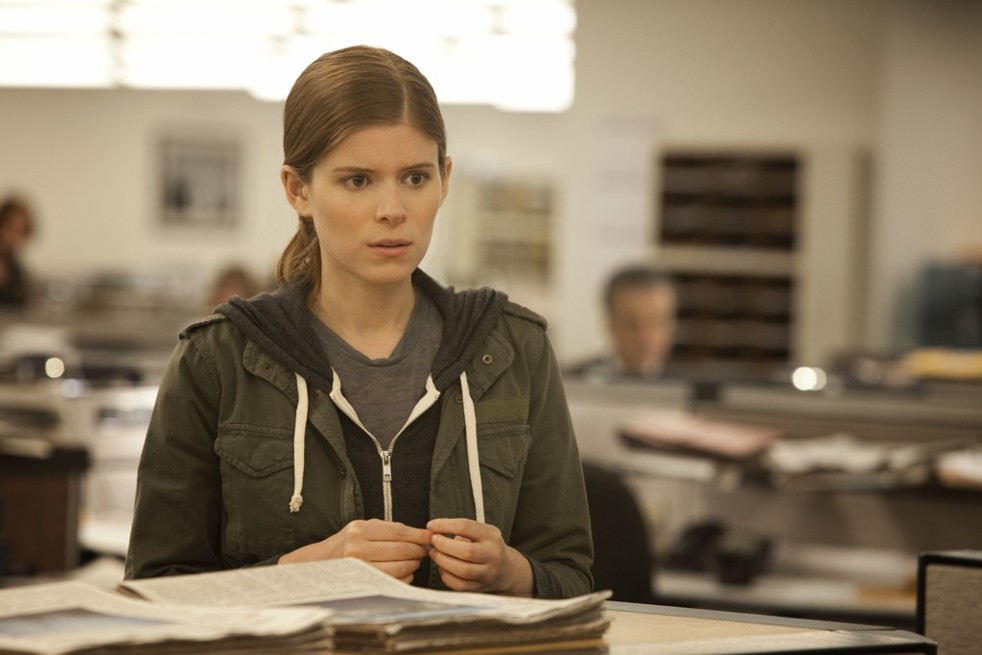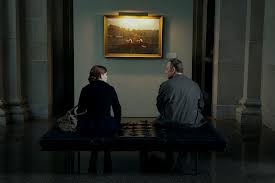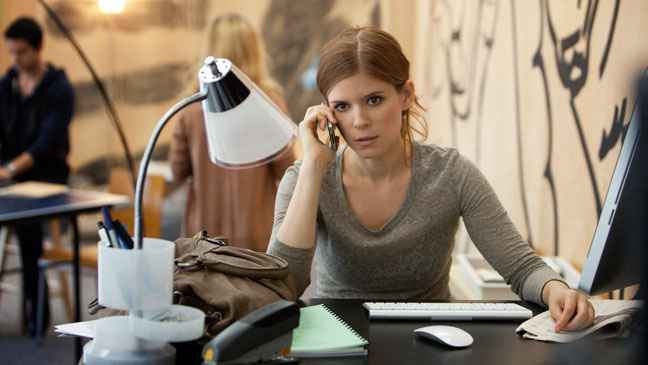 House of Cards (2013)
Reporter Zoe Barnes (Kate Mara) of the Washington Herald is a barely tested young journalist burning to gather scoops and launch a blog on her newspaper's website that will vault her into immediate stardom and journalism celebrity. Desperate for a break, she makes a deal with
House Majority Whip Frank Underwood for information about the legislature and executive branch.
Barnes offers to be his media leak in return for exclusive information.
She also wears push-up bras and offers herself up as a sexual object to clinch her deals. She ends up sleeping with her source.