LOYOLA LAW SCHOOL'S JOURNALIST LAW GRADUATION DINNER
June 17, 2006. Joe Saltzman, director of the IJPC, delivered the keynote speech on "The Images of the Journalist in Popular Culture and Their Impact on the Public, the Media and American Democracy."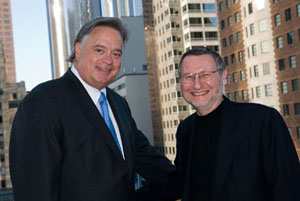 The pilot journalist law program was created to help support journalists who cover the courts on national, regional, or local levels, the Civil Justice Program at Loyola Law School, Los Angeles. The 31 Journalist Law School Fellows selected represented media from around the country. Sponsors included the American Board of trial Advocates, the Association of Trial Lawyers, the Austin Bar Association, the Beverly Hills Bar Association, Consumer Attorneys Public Education Fund, Defense Research Institute, Federation of Defense & Corporate Counsel, The Los Angeles County Bar Association, The Los Angeles Press Club, Loyola Law School and McNicholas & McNicholas.