AEJMC 2004 Convention in Toronto, August, 2004.
"Sob Sisters: The Image of the Female Journalist in Popular Culture," a panel sponsored by the Entertainment Studies Interest Group (ESIG) and the Comission on the Status of Women (CSW), was coordinated by Joe Saltzman, director of the IJPC, USC Annenberg, 1:30 p.m. to 3 p.m. Wednesday, August 4 in Room 250 at the Sheraton Centre Toronto Hotel in Canada.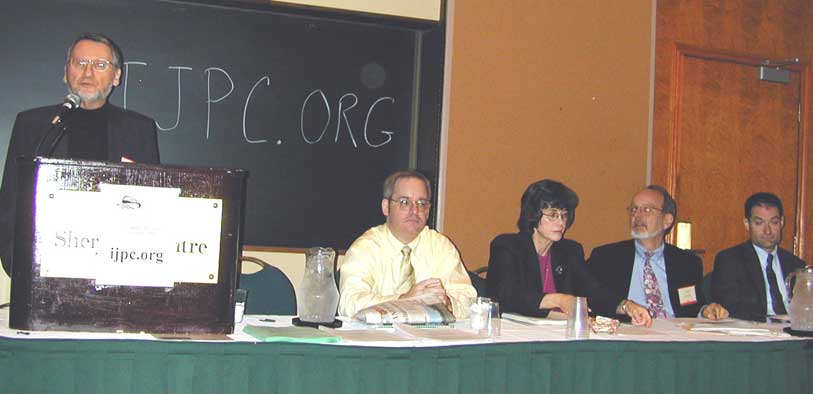 Moderator-Discussant Saltzman with a video presentation,"Sob Sisters: The Image of the Female Journalist, 1929-2003."

Panelist Richard Ness, Assistant Professor of Communication, Western Illinois is the author of the definitive book on journalists in film, From Headline Hunter to Superman: A Journalism Filmography. Presentation: "Silent Sobs: The Female Reporter in Films of the Pre-Sound Era."

Panelist Howard Good, Professor, Journalism Program, SUNY New Paltz. at New Paltz, has written more books on the subject than any one else including Girl Reporter: Gender, Journalism, and the Movies (1998). Presentation: "Torchy Blane: Fire & Ashes."

Panelist Matthew Ehrlich, Associate Professor of Journalism, University of Illinois. Author of the book, Journalism in the Movies. Presentation: "How Hollywood Gave Jessica Savitch a Happy Ending (Almost)."

Panelist Loren Ghiglione, dean, Medill School of Journalism, Northwestern University. Author of The American Journalist: Paradox of the Press. Presentation: "The Brenda Starrs of the Future."

Panelist Sammye Johnson, Professor and Carlos Augustus de Lozano Chair in Journalism, Department of Communication, Trinity University. Presentation: "The Reel World: Images of Women Reporters as Reflectors of Journalistic Practices."

USC Annenberg booth at the convention featured IJPC tapes and other materials.