Sob Sisters:
The Image Of The Female Journalist
In Movies and Television
1929-2007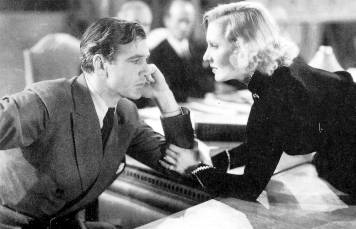 THE 2004 IJPC ASSOCIATES Video
2:41:00 - 136 clips -- Mp4 Files Available on IJPC Hard-Drive
Produced by Joe Saltzman
Edited by Lee Warner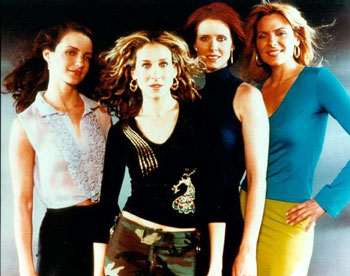 A revised two-hour-and-41-minute compilation for IJPC Associates members containing 136 movie and television clips tracing the image of the female journalist in films and television from 1929 to 2007.
This video can be used in a variety of ways. It is the perfect introduction to any communications class on the image of the journalist in popular culture or the image of the female journalist in popular culture. It could be used in any class on gender studies or one discussing the role of women in film or the image of women in film and television.
We picked the title of Sob Sisters deliberately because that phrase has been used throughout the 20th century as a term of affection and as a term of derision when referring to female journalists. The name came about because editors traditionally used female reporters to cover the human angle or color sidebar of a story. If somebody accused of a crime happened to be a woman, a female reporter might be assigned to play up the emotional aspects of the story. Or if the accused was a man, he might have a wife, girl friend or mother whom the female reporter could interview and play up any heart-tugging angles, any emotional aspect of the story. What they wrote came to be referred to as sob stories and female reporters came to be known, especially in the movies,as sob sisters.
Pioneer female journalist Ishbel Ross tells a story about the origin of the term sob sister that has been picked up by many commentators. She claims the derogatory name dates from the 1907 trial of millionaire Harry K. Thaw who was accused of killing architect Stanford White for being his wife's lover. Four famous female journalists covered the trial – Ada Patterson, Dorothy Dix, Winifred Black and Nixola Greeley-Smith. Male reporters believed that the only reason the four women reporters were there was to give the woman's point of view, accusing them of sympathizing with the adulterous wife, Evelyn Nesbit Thaw. One male seeing the four at the press table, nicknamed them "sob sisters" and the name stuck. Journalism historian Howard Good sums up how female journalists felt about the name: "Most women reporters resented this label because it reinforced the stereotype of women as big-hearted but soft-minded, emotionally generous but intellectually sloppy." Slang dictionaries date the term to about 1925, defining a sob sister as "a woman news reporter who appeals to readers' sympathies with her accounts of pathetic happenings."
The image of the female journalist in popular culture revolves around a dichotomy never quite resolved. The female journalist faces an ongoing dilemma: How to incorporate the masculine traits of journalism essential for success – being aggressive, self-reliant, curious, tough, ambitious, cynical, cocky, unsympathetic – while still being the woman society would like her to be – compassionate, caring, loving, maternal, sympathetic. Female reporters and editors in fiction have fought to overcome this central contradiction throughout the 20th century and are still fighting the battle today.
For many sob sisters, in film and real life, there is a bittersweet aftertaste of giving up a bit too much to achieve equality with males. After all, the image of the male journalist in popular culture was never that appealing to most people, never much of a complete life with domestic comforts and achievements. Most journalists in fiction lead a rather unappealing, self-centered existence filled with deadlines, alcohol, danger, loneliness, lies and distortions, bitter frustrations and either an exciting death on assignment or a sad end to a long career filled with broken dreams and endless what-might-have-beens. Successful female journalists end up with nothing less than the male journalist's present successes and failures, and future nightmares.
Female and male journalists, reaching a kind of equality and truce in the battle of the sexes, find
themselves in fiction wondering if a lifetime filled with the daily stress and pressure of getting the story and getting it fast and right was worth it. Does any journalist currently knocking out newspaper, magazine and TV news stories really want to do that for the rest of his or her life? Would most journalists rather be writing novels or movie and TV scripts or non-fiction books?
The age-old dilemma of a career in journalism vs. a private life with family seems to still be unresolved since most successful journalists find that the only way to be a success is to work at it 24 hours a day, leaving little or no time for personal relationships, marriage, parenting, or anything else that takes time from the seemingly unending professional work.
Many sob sisters have won equality in both image and achievement, but at what cost? At the end of a long day or even worse, a long career, does anyone really want to be Hildy Johnson chasing after one more story or Lois Lane crying her eyes out because the person she loves is out saving the world and doesn't have time for domestic tranquility or Mary Richards, widowed and penniless, trying at the age of 60 to make one more comeback in television news, or Murphy Brown raising a child and battling breast cancer while still holding on to her number one position in TV news, a position any young sob sister or brother would be eager to take away from her?
The images of female sob sisters and male newshounds may differ in particulars, but in the end, they are among the most exciting as well as depressing characters in fiction today.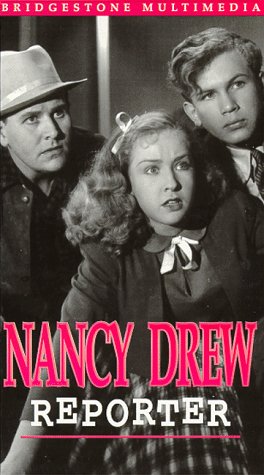 * * *
The premium DVD is for personal use only and is available only to IJPC Associates. It is not available anywhere else.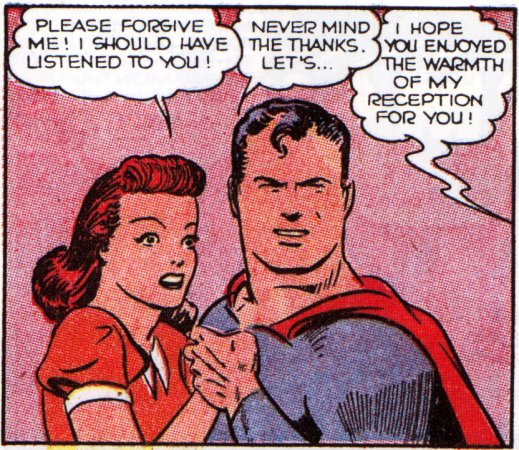 The video includes the following clips:
1939 – Nancy Drew, Reporter
1929 – Big News
1931 – Dance, Fools, Dance
1931 – The Finger Points
1931 – Platinum Blonde
1932 – Forbidden
1933 – The Mystery of the Wax Museum
1935 – Front Page Woman
1936 – Mr. Deeds Goes to Town
1936 – A Woman Rebels
1936 – The Undersea Kingdom
1937 – Back in Circulation
1939 – Adventures of Jane Arden
1939 – Torchy Blane – Smart Blonde
1940 – His Girl Friday
1940 – Arise, My Love
1941 – Meet John Doe
1941 – Superman (Cartoon) – Lois Lane
1942 – Woman of the Year
1942 – Somewhere I'll Find You
1945 – Christmas in Connecticut
1946 – Without Reservations
1947 – The Trespasser
1950 – To Please a Lady
1952 – Washington Story
1957 – A Face in the Crowd
1958 – Another Time, Another Place
1959 - -30-
1965 – The Great Race
1968 – The Legend of Lylah Clare
1969 – The Assassination Bureau
1970-1977 – The Mary Tyler Moore Show
1977-1982 – Lou Grant
1975 – The Lives of Jenny Dolan
1976 – Futureworld
1978 – Superman: The Movie
1978-1980 – Saturday Night Weekend Update
1978 – First You Cry
1979 – The China Syndrome
1979 – The Electric Horseman
1979 – Act of Violence
1981 – Eyewitness
1981 – Absence of Malice
1982 – The Seduction
1982 – I Was a Mail Order Bride
1983 – Heartburn
1984 – A Good Sport
1984 – Her Life as a Man
1985 – A Bunny's Tale
1985 – The Year of the Dragon
1985 – Malice in Wonderland
1985 – Scandal Sheet
1985 – The Howling
1986 – Salvador
1987 – Broadcast News
1987 – Switching Channels
1987 – Warm Hearts, Cold Feet
1987-1996 – Teenage Ninja Turtles Cartoon
1987 – Superman IV
1987 – Robocop
1990 – Robocop 2
1994 – Robocop: The Series
1988 – The Dead Pool
1988 – Tanner '88
1988-1998 – Murphy Brown
1989-1992 – Anything But Love
1989-2007 -- The Simpsons
1988 -- A World Apart
1989 – Margaret Bourke-White
1990 – Navy Seals
1990 – Brenda Starr
1991 – Her Wicked Ways
1992 – To Die For
1992 – Hero
1992 – Coach: To Air Is Human
1992 – Ricochet
1994 – The Paper
1994 – I Love Trouble
1995 – Fast Company
1996 – Devil's Food
1996 – Up Close and Personal
1996 – Scream
1997 – Mad City
1997-2000 – The New Batman-Superman Adventures
1998 – Deep Impact
1998 – Naked City: A Killer Christmas
1998 – Breaking News
1998-2004 – Sex and the City
1999-2001 – The Lot
1999 – Sports Night: Shane
1999 – Muppets From Space
1999 – My Favorite Martian
1999-2002 – 2004-2007 – Family Guy
1999 – Take My Advice: The Ann and Abby Story
1999 – Never Been Kissed
1999 – Three Kings
2000 – Third Watch: Four Days
2000 – Scream 3
2000-2004 – Saturday Night Live Weekend Update
2000 – Running Mates
2001 – Walker, Texas Ranger: 6 Hours
2001 – Charmed: All Hell Breaks Loose
2001 – Nash Bridges: The Messenger
2001 – Osmosis Jones
2001-2007 – Smallville
2002 – Odyssey 5
2002 – Boomtown
2002 – Mr. Deeds
2002 – Chicago
2002 – Life Or Something Like It
2002 – Adaptation
2002-2004 – The Weekend Flash
2002-2006 – Less Than Perfect
2003 – Live From Baghdad
2003 – Wanda at Large
2003 – How To Lose a Guy in 10 Days
2003 – The Life of David Gale
2003 – Secret Santa
2003 – Scary Movie 3
2003 – Veronica Guerin
2004 – Category 6: Day of Destruction
2004-2006 – Saturday Night Live Weekend Update
2004 – Anchorman: The Legend of Ron Burgundy
2004 – Bridget Jones: The Edge of Reason
2005 – CSI: Miami: From the Grave
2005 – Battlestar Galatica: Final Cut
2005 – Hope and Faith: Weather or Not
2005-2007 – How I Met Your Mother
2006 – Commercial: Ambien CR
2006 – Pepper Dennis
2006 – Superman Returns
2006 – The Devil Wears Prada
2006 – Scoop
2006 – Thank You For Smoking
2006 – Blood Diamond
2007 -- Dirt

A sampling of some of the material:

City editor (Purnell Pratt) to Bonnie Jordan (Joan Crawford): "Is this all of it?" Jordan: "Yes, but I could write some more." Editor: "There's your story in the first three paragraphs. You can have the rest of it." -- Dance, Fools, Dance, 1931

Walter Burns (Cary Grant) to Hildy Johnson (Rosalind Russell): "You can't quit. You're a newspaperman." Hildy: "That's why I'm quitting. I want to go someplace where I can be a woman." -- His Girl Friday, 1940 .

Torchy Blane (Glenda Farrell) sitting in car. Her boyfriend, the police detective, tells her: "No, you wait here. This rat hole is no place for a woman." Blane: "But I'm a newspaperman." Police Detective: "You just sit quiet and maybe nobody will notice it."
-- Torchy Blane, 1939

Ella Garfield (Bette Davis) to Curt Devlin (George Brent): "I'm a reporter." Devlin: "No, you're not. You're just a sweet little kid whose family allowed her to read too many newspaper novels." Garfield: "You make me so mad I could spit." -- Front Page Woman, 1935

Bill Moran (Pat O'Brien), the editor, is yelling at his reporter, Timmy Blake (Joan Blondell): "Our policy is that she's guilty." Blake: "How many times have I been wrong when I have a hunch?" Moran: "You've gone soft on me. What kind of a newspaperwoman are you?" Blake: "My job is to tell the truth." Moran: "Your job is to write what I tell you to write." Blake: "Not this time."-- Back in Circulation, 1937
Editor Mac Wade (George Bancroft) to his ace reporter-sob sister Babe Bennett (Jean Arthur ): "What's gotten into you, Babe? I remember the time when you would blast this town wide open." Bennett: "Oh, he's not getting away with anything." Mac Wade: "Listen Babe, get me some stuff on this guy." Bennett: "Can I have a month's vacation with pay?" Mac Wade: "With pay." Bennett: "Leave four columns open on the front page, tomorrow." Mac Wade: "Now you're talking, Babe. I'll keep the whole front page open." -- Mr. Deeds Goes To Town, 1936
Claudette Colbert is distinguished foreign correspondent Augusta Nash, who is toasted by her lover: "Here's to Augusta Nash, career woman, foreign correspondent extraordinaire, ace of newshawks, queen of headlines." -- Arise My Love, 1940
Ann Mitchell (Barbara Stanwyck), just-fired reporter telling off the new managing editor Henry Connell (James Gleason): "Listen, you great big wonderful genius of a newspaperman. You came down here to shoot some life into this dying paper, didn't you? Well, the whole town is curious about John Doe and boom, just like that you're going to bury it. There's enough circulation in that man to start a shortage in the ink market."
-- Meet John Doe, 1941
Clark Kent to sob sister Lois Lane: "...this is the one time I scooped you, Lois." Lois: "Yes, lucky for you I was hurt." -- Superman Cartoon, 1941

Female cub reporter Jan Price talking to Sam Gatlin (Jack Webb), the night editor of the Los Angeles Examiner: "Gee, after all my big-mouth talk, what happens if I can't handle a story?" Gatlin: "Well, in that case, sweetheart, you get your pretty little hide tacked up right in the lobby of the men's room. Come on relax, you'll get all the help you'll need from here on in. We've all been through the shakes of a first big assignment." Later, Gatlin to cub reporter: "I've gone over your story. You're going to lose a paragraph." Cub: "I'm sorry I tried to keep the adjectives down." Gatlin: "Now, look Debbie Reynolds, on this newspaper when you lose only one paragraph, that's all the same as getting a bronze star. You came up with a good angle here and you seem to know your way around a typewriter. Well, Sis, you asked for a chance and you picked the right night." -- –30- 1959
Lou Grant (Ed Asner) talking to his new associate producer Mary Richards (Mary Tyler Moore): "You know what? You've got spunk." Richards: "Well, yes…." Grant: "I hate spunk." -- The Mary Tyler Moore Show, 1970-1977
Jimmy Olson (Marc McClure) asks Lois Lane (Margot Kidder): "How come you get all the good stories." She tells him as she goes into Perry White's office as Editor White (Jackie Cooper) finishes her sentence. She then shows him her story. He glances at it and says: "There's only one "p" in rapist." -- Superman, The Movie, 1978

Jane Craig (Holly Hunter), the top female news producer to the top male executive: "I think it's my responsibility to tell you that." Executive: "OK, that's your opinion." Craig: "I don't agree. It's not opinion." Executive: "You're just absolutely right and I'm absolutely wrong. It must be nice to always believe you know better, to always think you're the smartest person in the room." Craig: "No, it's awful…." -- Broadcast News, 1987
Executive Producer Miles Silverberg (Grant Shaud) to Murphy Brown (Candice Bergen): "Let me remind you about something, Murphy. This is a job, not make believe, we're not doing The Mary Tyler Moore Show here. There's no audience laughing at every cute little thing you say. This is the real world. So when I tell you you're doing a story, you just don't say, "Oh Mr. Grant, I don't want to.' You do it." -- Murphy Brown, 1988-1998.