THE IMAGE OF THE BROADCAST JOURNALIST
IN MOVIES AND TELEVISION
1937-2006


THE 2006 IJPC ASSOCIATES PREMIUM DVD
2:48:00 -- 200 clips -- Mp4 Files Available on IJPC Hard-Drive
Produced by Joe Saltzman
Edited by Lee Warner
A two-hour-and-48-minute video compilation for IJPC Associates members containing 200 movie and television clips tracing the image of the broadcast journalist in films and television from 1937 to 2006.
This video can be used in a variety of ways. It is the perfect introduction to any communications class on the image of the broadcast journalist in popular culture. It could be used in any class on broadcast journalism, media, ethics, communication studies or any class discussing the role of the broadcast journalist in film and television or the image of women in film and television.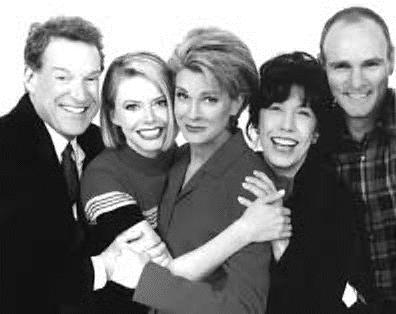 * * *
The image of the broadcast journalist in popular culture is one that builds on the worst characteristics of real-life TV journalists seen on live television news and exaggerates that portrayal into one of the most ridiculed figures in journalism today. Female TV journalists have been singled out for derision as beauties without any brains or news experience. Joining them are the male anchors who, since Ted Baxter in The Mary Tyler Moore Show, have become objects of ridicule, laughable symbols that mock TV anchors on local news broadcasts throughout the country. Of all the images of the journalists in popular culture, the broadcast journalist is the most negatively portrayed time and again.
TV anchors and reporters prove irresistible to many writers in fiction, movies and TV – they are either depicted as attractive airheads who worry more about the way they look and sound than what they are saying or tough-minded professionals who are constantly at odds with producers, news directors and general managers who are only interested in ratings and profits.
Ironically enough, the two most positive images of the journalist in popular culture turn out to be female TV journalists – Mary Richards played by Mary Tyler Moore in The Mary Tyler Moore Show, which was on TV from 1970-1977 and Murphy Brown played by Candice Bergen in Murphy Brown, which was on TV from 1988-1998. Richards starts out as the insecure cub reporter-type working as an associate producer in the Minneapolis WJM-TV newsroom and by the end of the series becomes a self-assured professional ready to move on to bigger things affirmed by Mary and Rhoda, the 2000 TV movie updating her fictional history. Murphy Brown is the old-fashioned reporter who doesn't let anything get in the way of her story or her work as a journalist. She won't let go of the passion that makes her one of the most successful TV reporters in the business and a role model for thousands of women. She got her job at the newsmagazine FYI in 1977, the year Mary Richards was fired from WJM and the same year her boss, Lou Grant, took over as city editor for the Los Angeles Tribune in the Lou Grant TV series.
You really can't blame the public for confusing fictional TV reporters with the real thing. Murphy Brown obliterated the fine line between reality and fiction almost two decades ago. She seems to live in the real world, not the world of TV sitcoms. Real journalists are frequent guests and they talk to Murphy as if she is their equal. Away from the television program, Murphy Brown was treated in the media as if she really existed outside Candice Bergen's persona. And when Vice President Dan Quayle got into a national debate over single mothers with Murphy Brown, reality and fiction became inseparable. Practically every major broadcast journalist appeared on the program during its decade-long run. And when Murphy greets them on camera, it is as if they are old and valued friends. Not only do real-life journalists treat Murphy as an equal, but politicians from both parties also show up to talk with her and about her. If they all accept Murphy as a real-life counterpart, then who is the audience to deny her existence?
Building on stereotypes reinforced by live TV coverage and local TV news programs, the movies and television have created indelible images:
The arrogant male anchor who is lost without his teleprompter and is often the source of ridicule and laughter.
The female TV reporter who usually makes a fool of herself whenever she goes into the field. She can be ruthless as she sleeps her way to the top.
The experienced TV reporter, usually male, who is fed up with the state of television news and constantly bemoans how the Edward R. Murrow legacy is dying.
The unscrupulous producers, news directors and station management who will do anything to get high ratings even if it means destroying people's lives in pursuit of a sensational story.
The heroes are those TV journalists who against all odds work for the public good, putting the public interest above everything else and always trying to do the best job they can. They're working in a medium where ratings are all that matter and celebrity news overwhelms everything else. They often feel as if they're fighting a losing battle.
The villains are those who use the electronic media for their own personal, political or financial gain, who take the precious commodity of public confidence in the news media for their own selfish ends. They are mostly network presidents and station general managers who force news directors and their staffs to do whatever is necessary to get good ratings. In the 1970s, when those who owned television networks and stations discovered that news was Big Business, they decided that it was too important a commodity to leave in the hands of the journalists. For the last 35 years, the non-journalists, the businessmen, the people interested in profits and the bottom line have turned TV news into a shadow of what might have been. They are the true broadcast news villains both in fiction and real life.
Easily the most dominant and damaging image of the TV broadcast journalist in movies and television is that of the anonymous TV reporter chasing after a story. In countless movies, television programs and novels, TV journalists and their camerapersons travel in packs, armed with cameras and microphones. They cover fast-breaking news by crowding, yelling, shouting, bullying, and forcing their way into unfolding news events.
In the end, those are the images that stick in the public's mind as they form opinions about their news media. The anonymous TV reporter is usually the image most people remember when they condemn the news media and everybody in it as arrogant, uncaring journalists who hide behind the First Amendment and free press to achieve their own selfish ends. When we think of journalists, most of us think of a favorite TV journalist whether it be interviewer Barbara Walters or Jon Stewart, who plays at being a TV anchorman, or we think of the persistent anonymous TV reporter jamming a mike in somebody's face while the camera keeps rolling no matter what happens, no matter how excruciating the images. We don't identify with the journalist anymore. We identify with the person who is being pursued by the camera. That person becomes us and we hate the TV journalist for embarrassing us and invading our privacy, we hate the journalist for being judgmental and arrogant. This overwhelms what most of us understand: that we need journalists to give us the news and information so we can make decisions in a democracy. Intellectually we know that to be true and we know that a free press is essential if any democracy is to survive. But when we close our eyes, all we seem to remember are the images of a menacing camera and an overbearing TV journalist, a ridiculously stupid anchorman who only cares about how he looks, or a beautiful female mispronouncing a familiar name or country.
It's enough to make Edward R. Murrow roll over in his grave.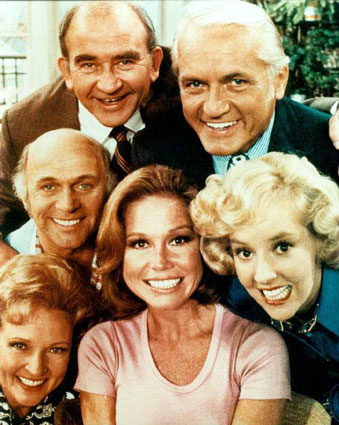 * * *
The video is for personal use only and is available only to IJPC Associates. It is not available anywhere else.

NOTE: There is some profanity and nudity in this video. Please screen privately before showing it to your class. Key clips to check: Salvador, South Park, The Insider, Three Kings, Weekend Flash.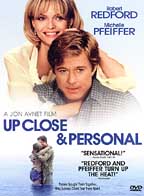 Total Video Time: 2:48:00 -- 200 clips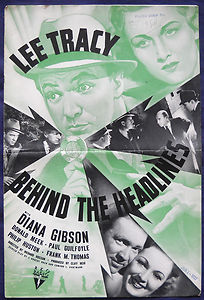 Behind the Headlines (1937)
Radio Reporter Eddie Haines (Lee Tracy) with Station KBC continually scoops the papers with his on-the-spot coverage. His chief rival is New York Star Reporter Mary Bradley (Diana Gibson).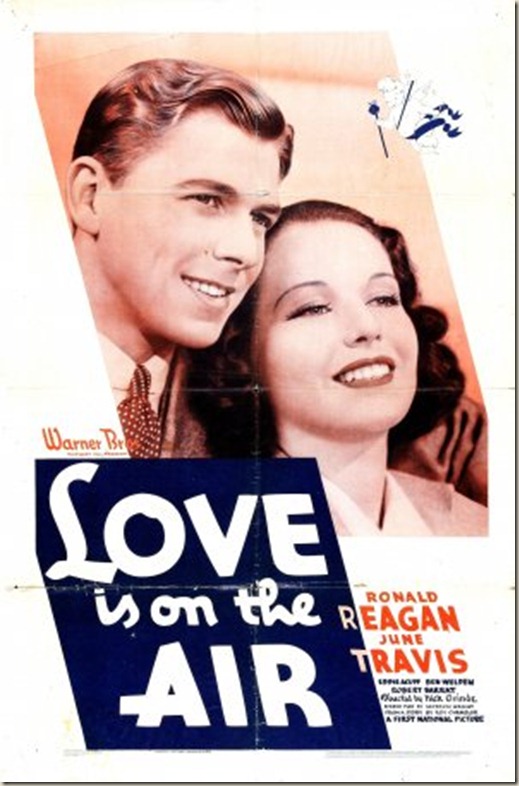 Love Is On the Air (1937)
Reporter Andy McLeod (Ronald Reagan) is a crusading radio announcer who uncovers racketeers and becomes a hero.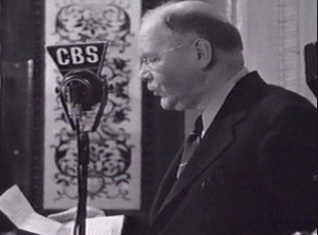 Mr. Smith Goes to Washington (1939)
H. V. Kaltenborn, an American radio commentator. plays himself. The radio journalist was heard regularly on radio for more than 30 years beginning with CBS in 1928. He covers Mr. Smith's filibuster in Congress using the highly precise diction and ability to ad lib for which he was famous.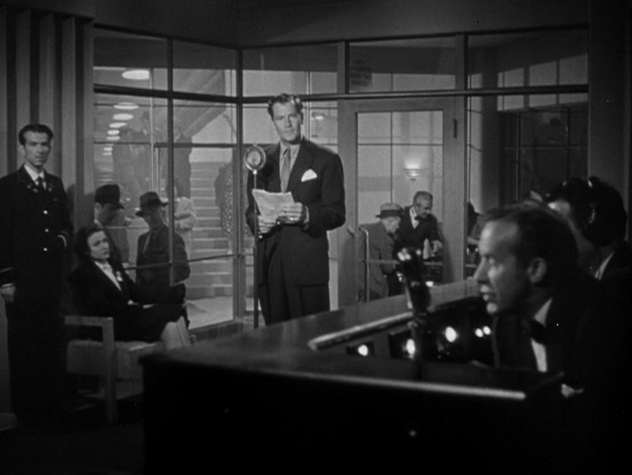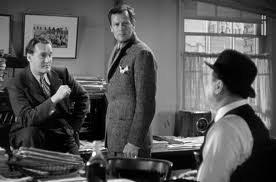 Foreign Correspondent (1940)
Reporter Johnny Jones (Joel McCrea) becomes Correspondent Huntley Haverstock for the New York Morning Globe.
He's given the job by Editor Mr. Powers (Harry Davenport) who wants "a good honest crime reporter" to cover the war in Europe.
Stebbins (Real-life journalist Robert Benchley) is inept foreign correspondent Jones is sent to London to assist.
Scott Ffolliott (George Sanders) is a suave English correspondent, who becomes Jones' ally.

Meet John Doe (1941)
Real-Life Radio Announcers Mike Frankovich, Knox Manning, Selmer Jackson and John B. Hughes cover the John Doe convention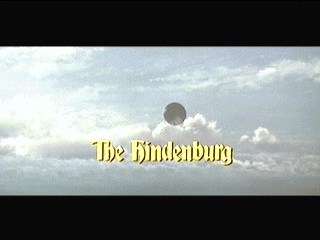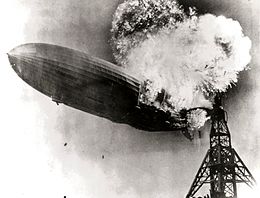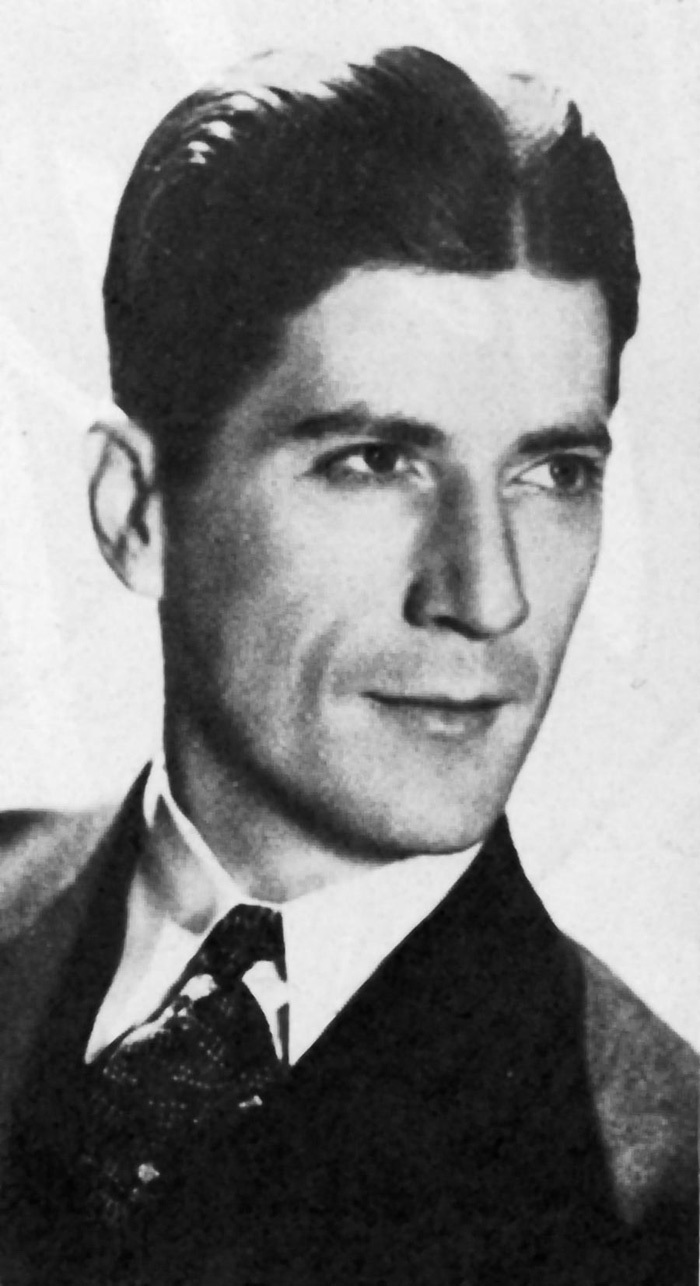 The Hindenburg (1975)
Reporter Herbert Morrison (Greg Mullavey) was the eyewitness reporter covering the crash of The Hindenburg.
The voice of the real reporter (Herbert Morrison) is heard in the closing credits.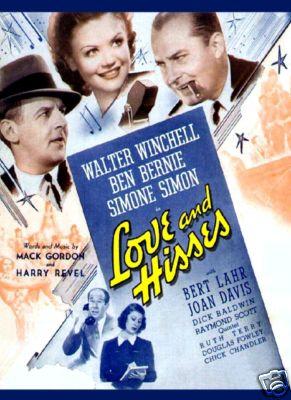 Love and Hisses (1937)
Gossip Columnist Walter Winchell's feud with band leader Ben Bernie is featured in this film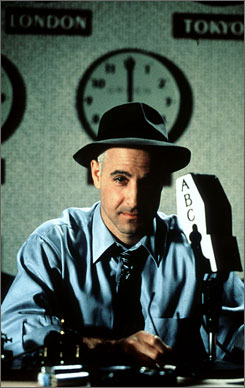 Winchell(1998)
Gossip Columnist Walter Winchell (Stanley Tucci).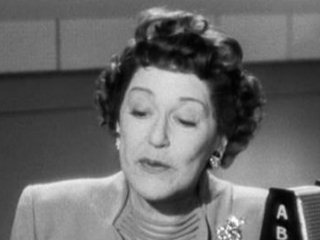 Without Reservations (1946)
Gossip Columnist Louella Parsons doing her nightly radio broadcast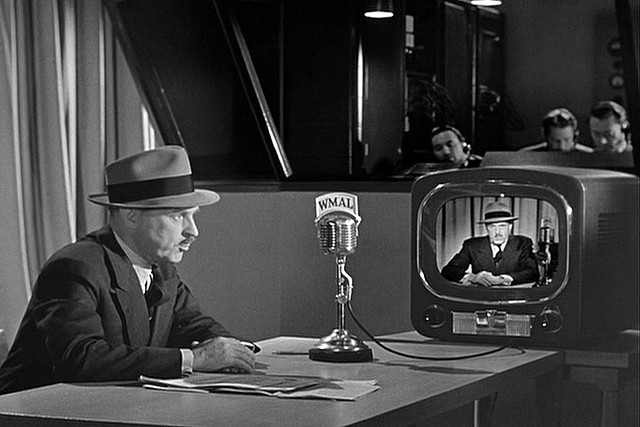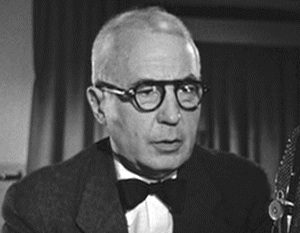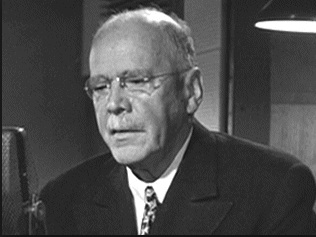 The Day the Earth Stood Still (1951)
Real-Life Newsmen Drew Pearson, Elmer Davis and H.V. Kaltenborn report on an alien spaceship that lands in Washington, D.C.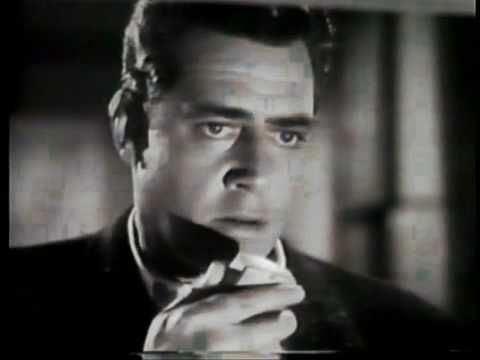 1956 – Godzilla, King of the Monsters
Reporter Steve Martin (Raymond Burr) from United World News risks his life covering the giant radioactive monster, Godzilla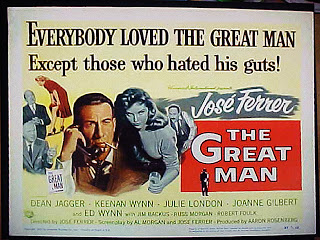 The Great Man (1956)
Investigative Radio Reporter Joe Harris (Jose Ferrer) is assigned to do documentary on recently deceased, beloved media figure and he discovers the man to be a fraud.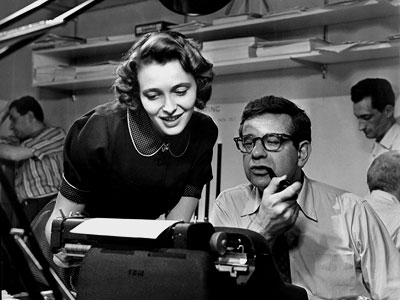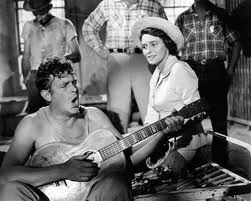 A Face in the Crowd (1957)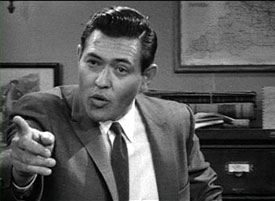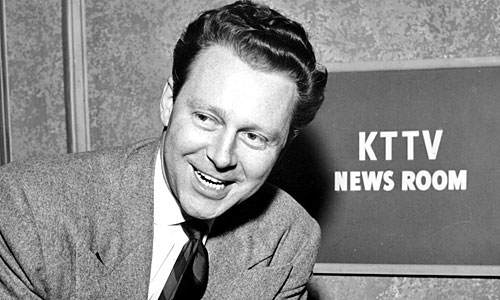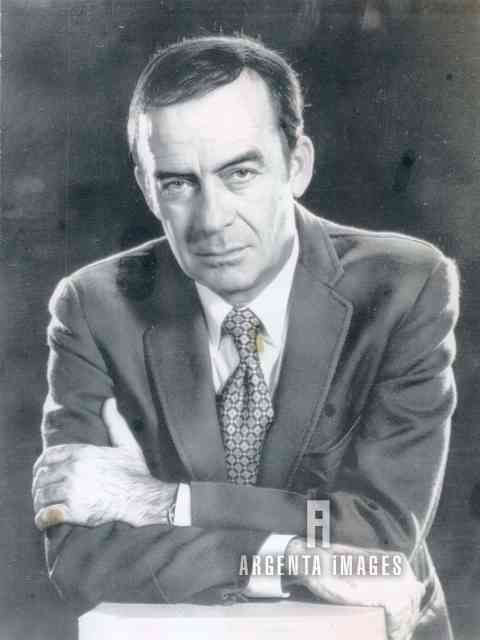 I Want to Live! (1958)
Reporter Edward "Ed" S. Montgomery (Simon Oakland), Pulitzer Prize winner, San Francisco Examiner covers the controversial Barbara Graham case along with real-life reporters George Putnam of KTTV-Channel 11 in Los Angeles and Los Angeles Newsman Bill Stout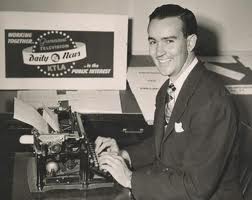 War of the Colossal Beast (1958)
TV Reporter Stan Chambers who works for KTLA, Channel 5, in Los Angeles reports on the colossal beast as if it were a routine news assignment.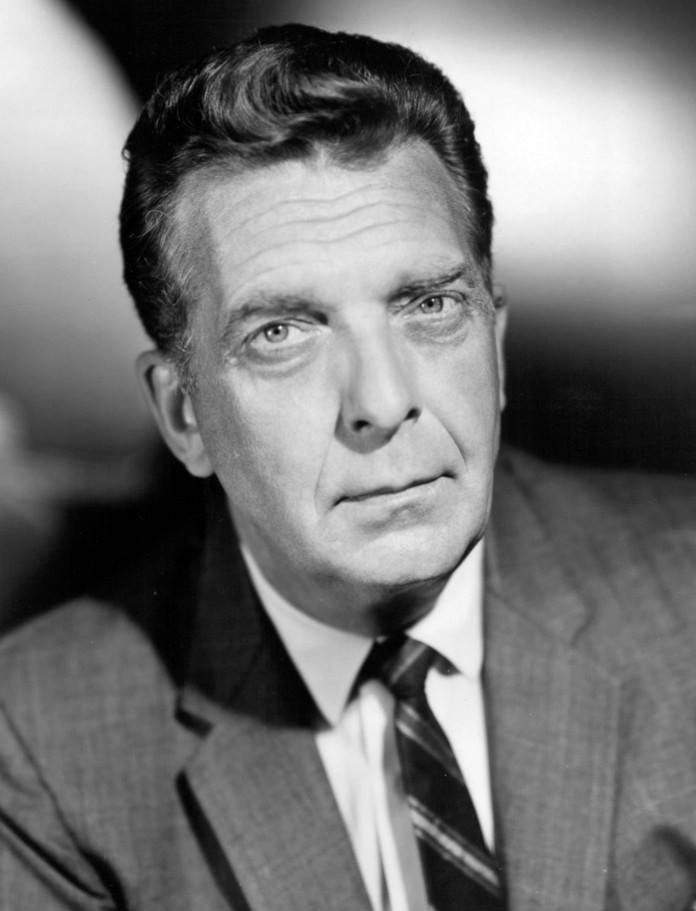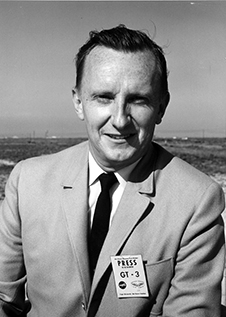 Cry Terror (1958)
TV Newsmen Chet Huntley, Roy Neal as themselves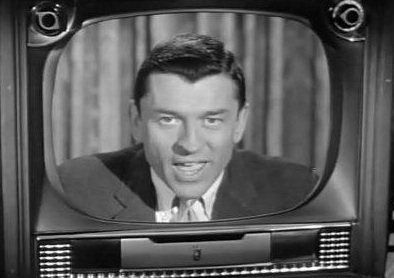 Perry Mason: The Case of the Arrogant Arsonist (1964)
TV Newsman Tommy Towne (Frank Aletter) does a TV commentary called Angel Town and goes after a retired fire chief publicy accusing him of burning his own warehouse. The former chief asks asks Attorney Perry Mason to file a libel suit against the reporter who publicly accused him of burning his own warehouse. The reporter is later killed and the fire chief is suspected of the crime. Mason defends him.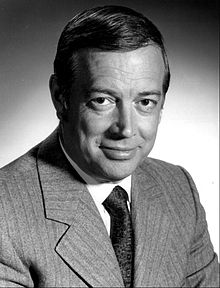 A Global Affair (1964)
TV Newsman Hugh Downs of the Today Show plays himself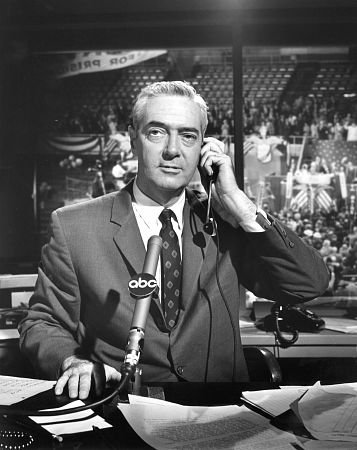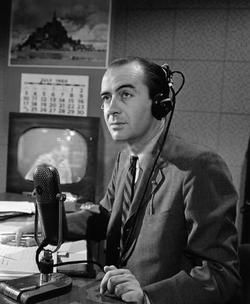 The Best Man (1964)
TV Anchor Howard K. Smith and Reporter Bill Stout play themselves covering the presidential campaign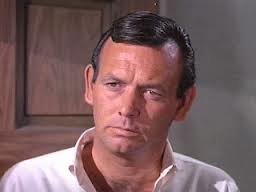 The Shoes of the Fisherman (1968)
TV Correspondent George Faber (David Janssen) is initially contacted by Catholic Church with an offer of an exclusive story on the release of a bishop from a Siberian prison camp. Faber later covers the bishop's election as Pope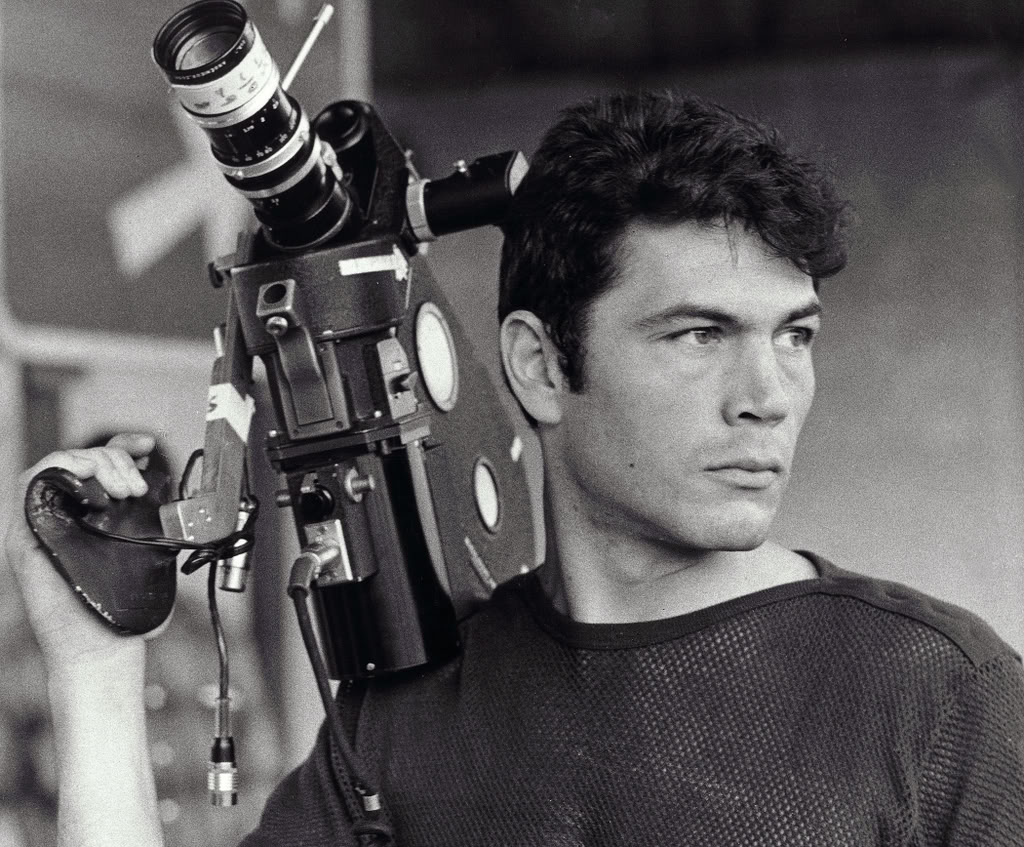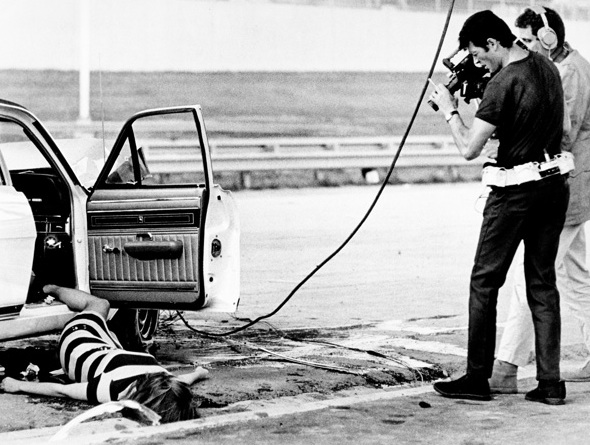 Medium Cool (1969)
TV News Cameraman John Cassellis (Robert Forster) finds himself becoming personally involved in the violence that erupts around the 1968 Democratic National Convention. Cassellis is furious when he discovers station is cooperating with FBI, allowing agents to go through news footage to identify political dissidents.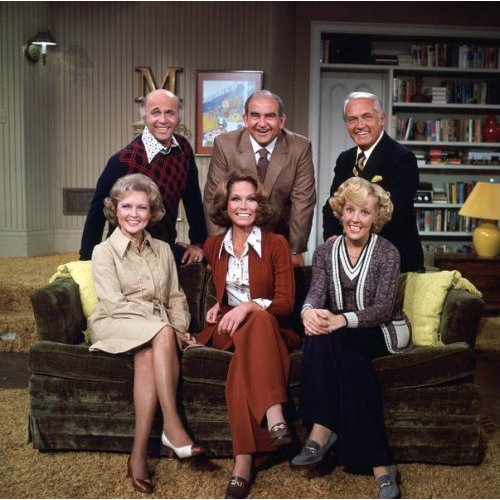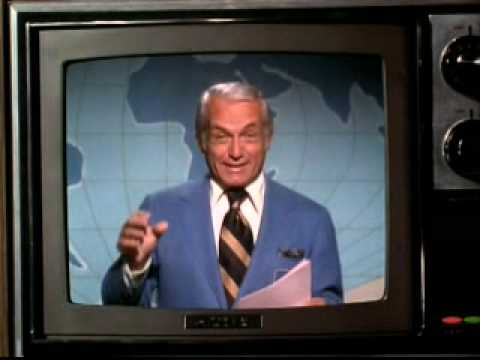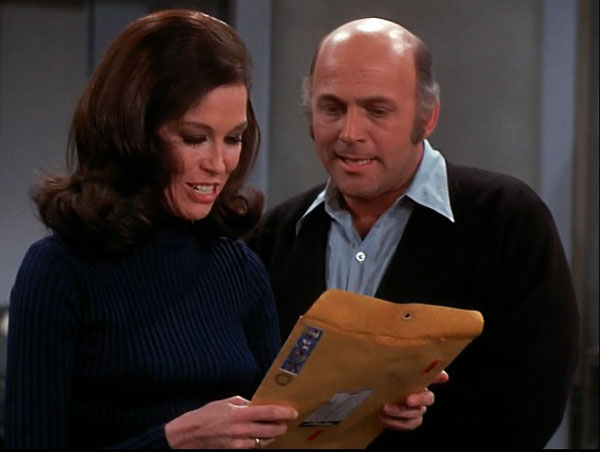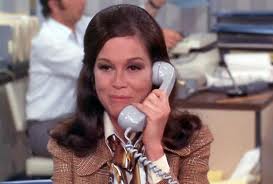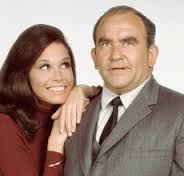 The Mary Tyler Moore Show (1970-1977)
The WJM-TV TV News Staff in Minneapolis, Minnesota: Mary Richards (Mary Tyler Moore) associate producer. Lou Grant (Ed Asner), news director. Ted Baxter (Ted Knight), anchor. Murray Slaughter (Gavin MacLeod), newswriter.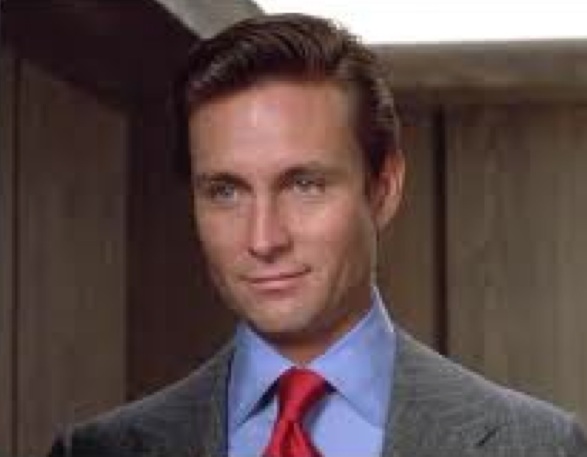 Love Machine (1971)
TV Newscaster Robin Stone (John Phillip Law) sleeps his way to the top of his profession.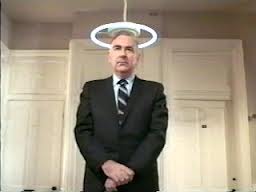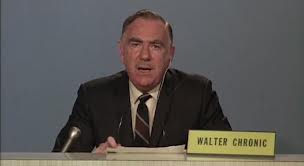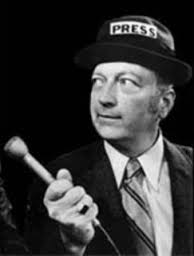 Cold Turkey (1971)
Parody: Correspondents-Anchors Hugh Upson-David Chetley-Sandy Van Andy (Bob Elliott) and Correspondents-Anchors Walter Chronic-Paul Hardy-Arthur Lordly (Ray Goulding).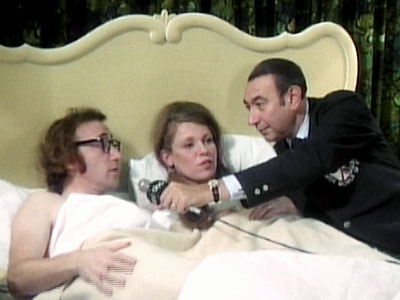 Bananas (1971)
TV Sportscasters Howard Cosell, Roger Grimsby and Don Dunphy, the staff of ABC's Wide World of Sports as themselves. They cover the Assassination of the Week, that of the President of the Latin-American republic of San Marcos. Cosell also hosts the on-camera consummation of a marriage, in the gold and white bridal suite of the Royal Manhattan Hotel, complete with instant replays and quarrelsome, post-encounter statements by the two principals.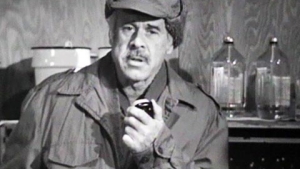 M*A*S*H: The Interview – Clete Roberts (1976)
TV Correspondent Clete Roberts (Himself) arrives at Korea to interview the staff of the 4077th Mobile Army Surgical Hospital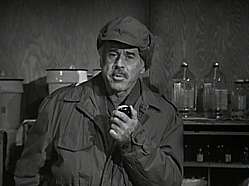 M*A*S*H: Our Finest Hour – Clete Roberts (1978)
TV Correspondent Clete Roberts returns to the 4077th to follow up "The Interview" and update Korean War conditions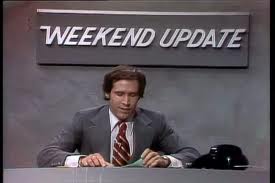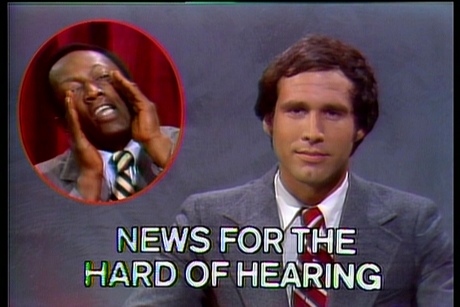 Saturday Night Live Weekend Update – Chey Chase (1975-1976)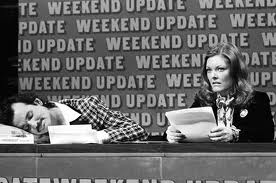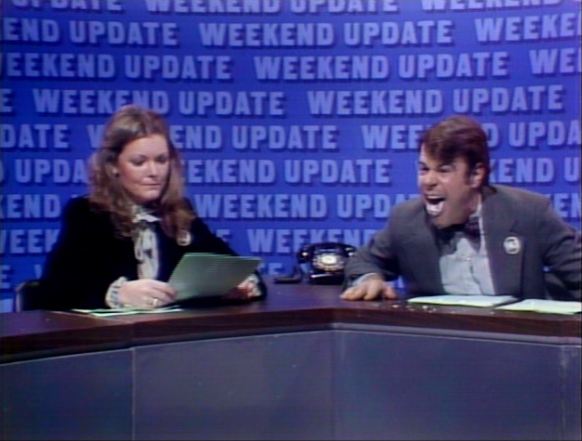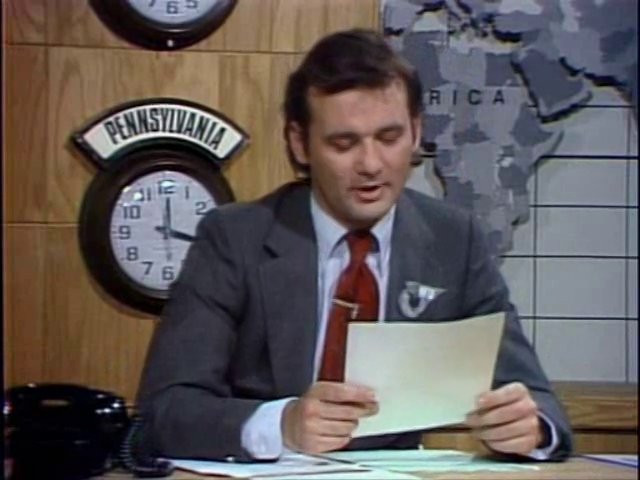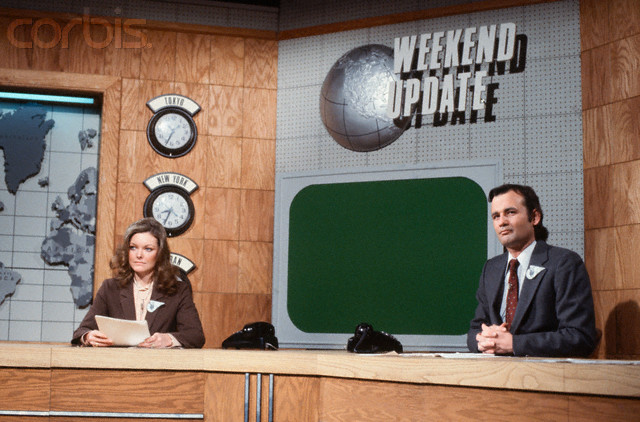 Saturday Night Live Weekend Update – Jane Curtin, Bill Murray, Dan Aykroyd (1976-1980)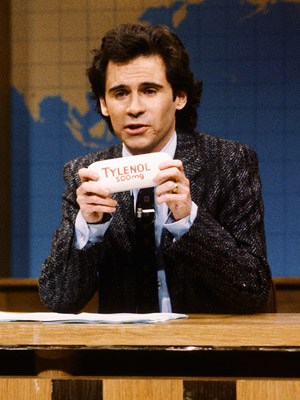 Saturday Night Live Weekend Update – Dennis Miller (1985-1991)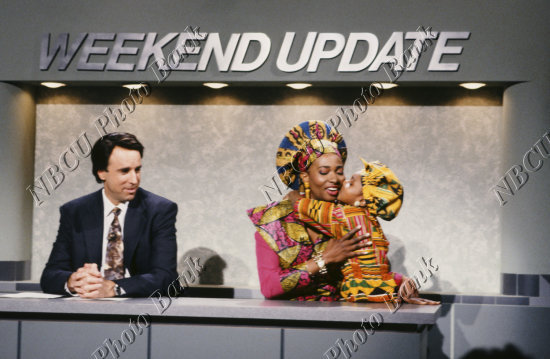 Saturday Night Live Weekend Update – Kevin Nealon (1991-1994)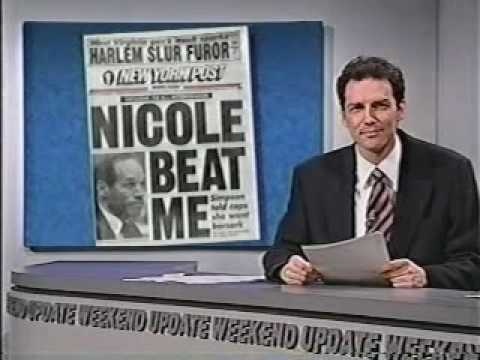 Saturday Night Live Weekend Update – Norm MacDonald (1994-1997)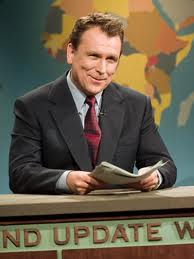 Saturday Night Live Weekend Update – Colin Quinn (1998-2000)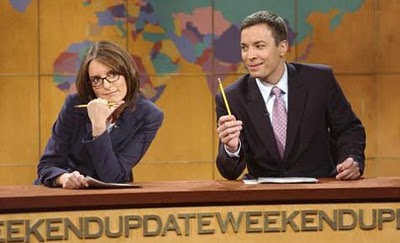 Saturday Night Live Weekend Update – Jimmy Fallon and Tina Fey (2000-2004)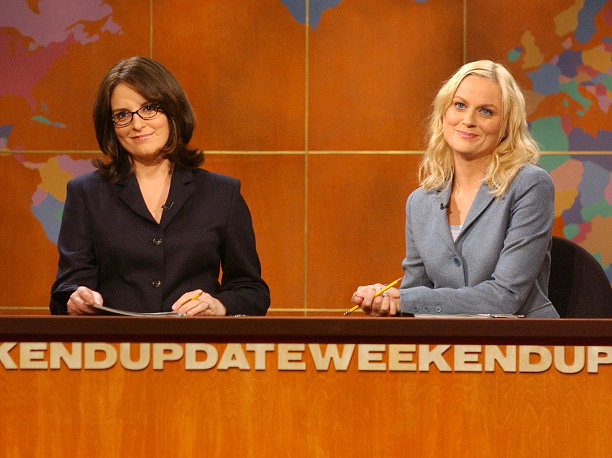 Saturday Night Live Weekend Update – Tina Fey and Amy Poehler (2004-2006)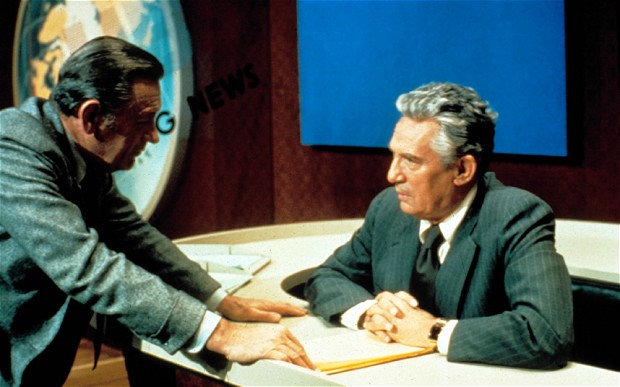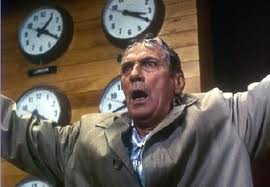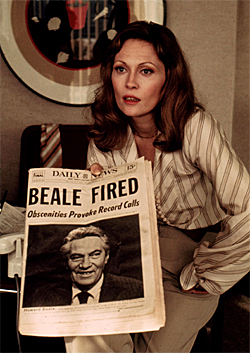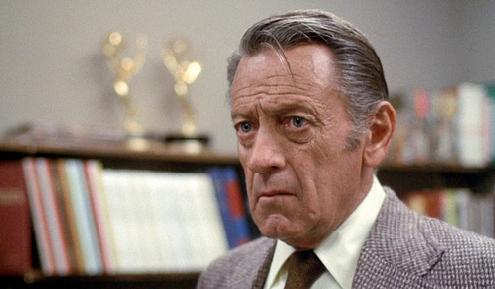 Network (1976)
TV Network Anchor Howard Beale (Peter Finch) goes crazy on the air and mesmerizes audience into collectively responding to his suggestions. He gets viewers to go to their windows and yell, "I'm mad as hell and I'm not going to take it anymore!" UBS Network News Director Max Schumacher (William Holden) represents traditional news following in the Edward R. Murrow tradition. He calls UBS Network Executive Diana Christiansen (Faye Dunaway) "television incarnate...indifferent to suffering, insensitive to joy."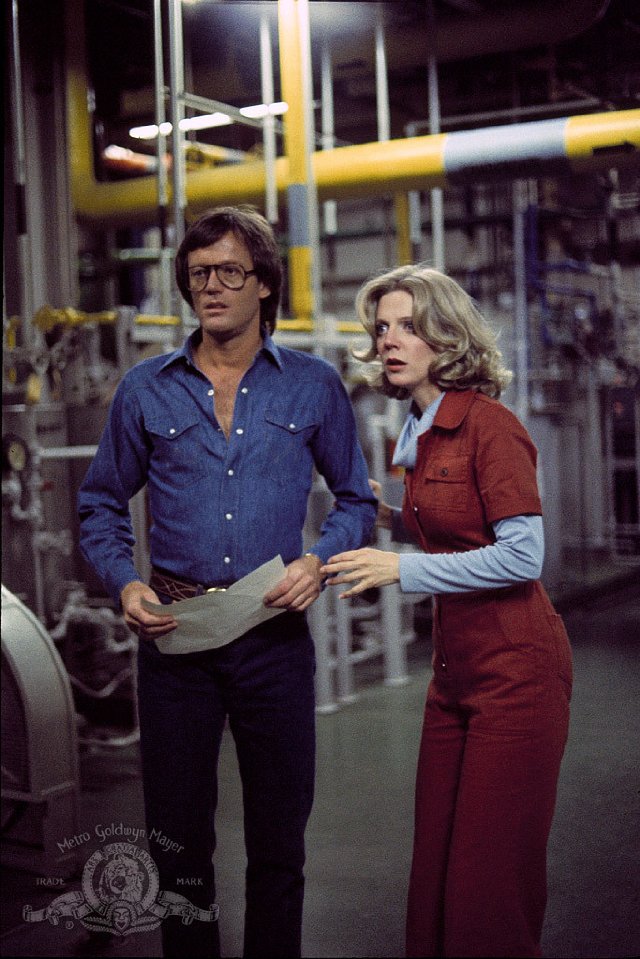 Futureworld (1978)
TV Reporter Tracy Ballard (Blythe Danner) and Print Reporter Chuck Browning (Peter Fonda) work for International News Media Corporation and cover the reopening of a robot-staffed theme park.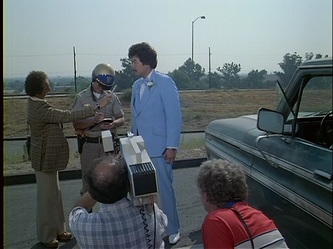 ChiPs: Disaster Squad (1978)
Channel 3 TV News Crew called "The Disaster Squad" is led by Reporter Lee (Harvey Jason) who edits a report to make it look as though the California Highway Patrolman had threatened them with violence. The tabloid journalist also throws a flare into gasoline to start a fire. Eventually he confesses his sins on camera.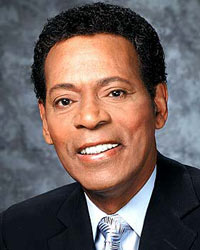 The Rockford Files: The House on Willis Avenue (1978)
TV Newscaster Larry McCormick (playing himself) broadcasts a story complimenting PI Rockford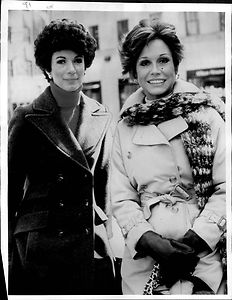 First You Cry (1978)
NBC Correspondent Betty Rollin (Mary Tyler Moore) has a mastectomy and it affects her professional life as well as her private life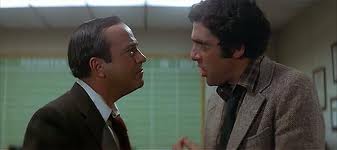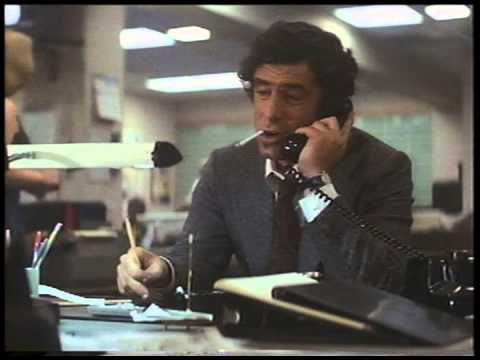 Capricorn One (1978)
TV Reporter Robert Caulfield (Elliott Gould) suspects something is wrong about an NSA landing on Mars. Then his life is threatened. Walter Loughlin (David Doyle) is his skeptical boss who doesn't believe his conspiracy theories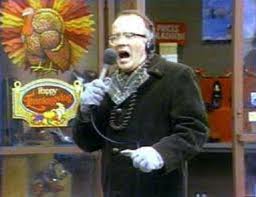 WKRP In Cincinnati: Turkeys Away (1978)
Radio News Director Les Nessman (Richard Sanders) of WKRP delivers a live report on a helicopter tossing live turkeys out of the copter. His report echoes the famous live Hindenburg crash recording.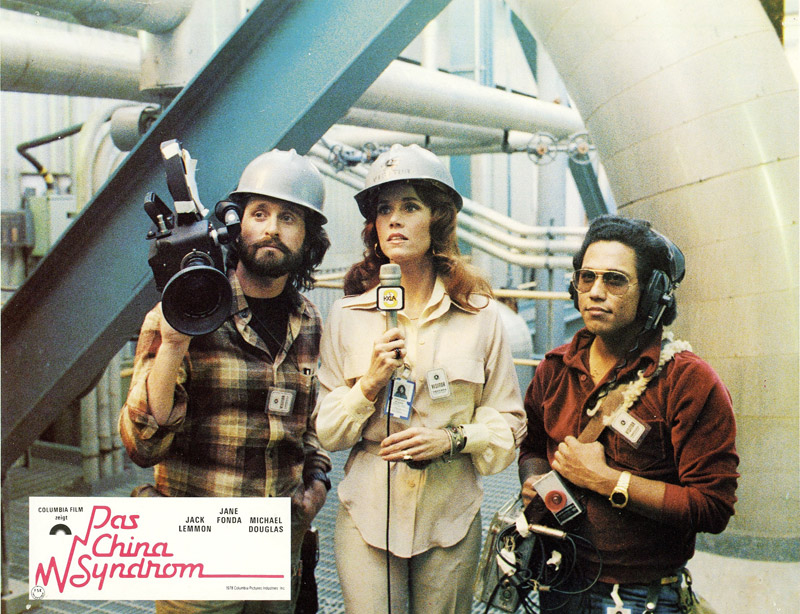 The China Syndrome (1979)
TV Reporter Kimberly Wells (Jane Fonda), for KXLA-3 TV and freelance TV cameraman Richard Adams (Mike Douglas) uncover major scoop involving nuclear plant.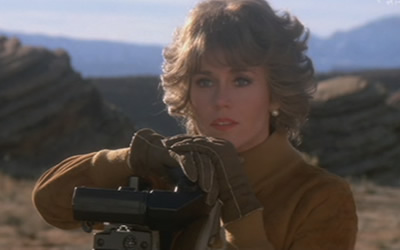 Electric Horseman (1979)
TV Reporter Hallie Martin (Jane Fonda) comes from New York to cover story of former rodeo champion whose career has declined.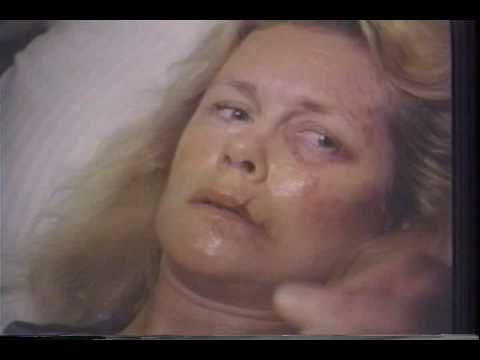 Act of Violence (1979)
TV Reporter Tony Bonelli (James Sloyan), self-proclaimed conservative chauvinist pig teamed with liberal TV Producer Catherine McSweeney (Elizabeth Montgomery), who is divorced and is trying to juggle her job, boyfriend and ex-husband seeking custody of son. Both are assigned to do series on crime because a station executive was mugged. They are told to avoid interviews with cops and psychologists and to focus on victims ("Criers, preferably"). McSweeney clashes with Bonelli for law and order diatribe. He responds with sexist remarks, accusing her of hiding behind NAACP and civil liberties dogma without really understanding life on streets. Each tries to slant story own way. McSweeney then becomes a victim of assault. Bonelli shows up at her apartment with film crew telling them to light her so they can see her bruises. He grills her whether she invited mugging. She admits the attack turns her into a racist and a bigot.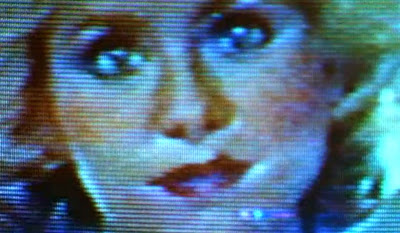 Eyes of a Stranger (1980)
TV Reporter Jane Harris (Lauren Tewes), who is on the program Newspoint, discovers the identity of a psycho killer.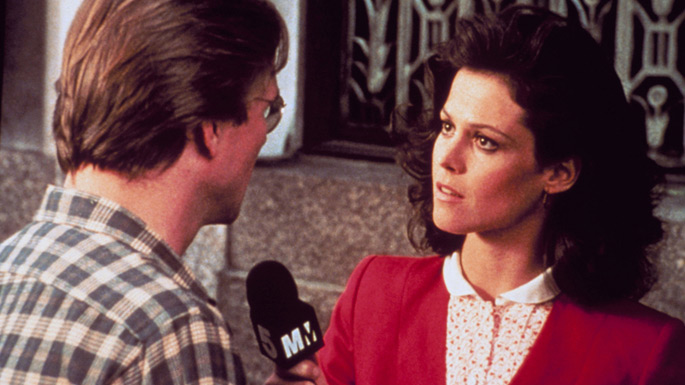 Eyewitness (1981)
TV Reporter Tony Sokolow (Sigourney Weaver) interviews a janitor who claims to be an eyewitness to a murder. But he is only talking to her because he is obsessed with watchingher on TV.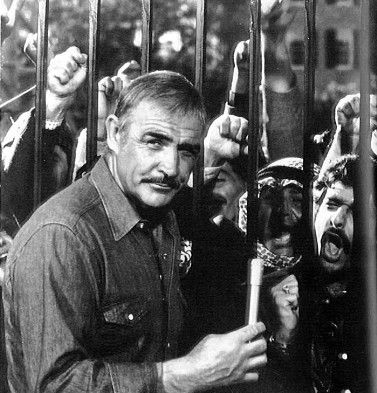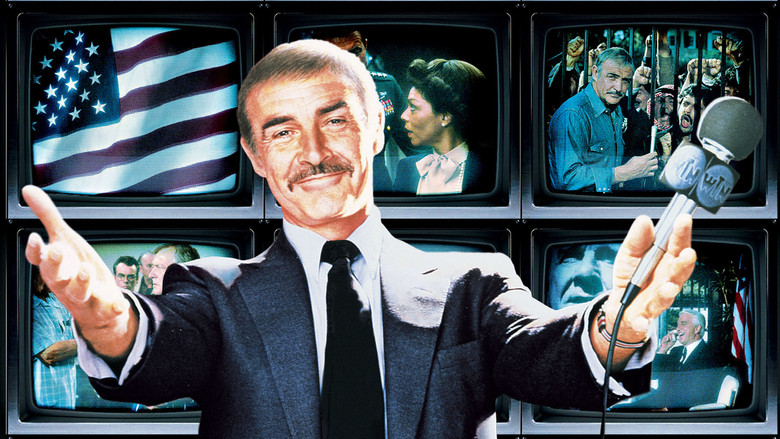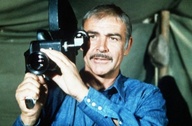 Wrong is Right (1982)
TV Reporter-Commentator Patrick Hale (Sean Connery) covers the world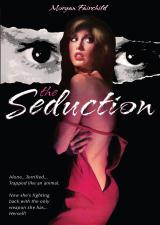 Seduction, The (1982)
TV Anchorwoman Jamie Douglas (Morgan Fairchild) of Transnational Broadcasting Corporation, is pursued by a psychotic photographer.

The Best Little Whorehouse in Texas (1982)
TV News Consumer Reporter Melvin P. Thorpe (Dom DeLuise) reports on the late night news and has a weekly show, "The Watchdog Report." His pressure eventually closes down the famous "Chicken Ranch" whorehouse.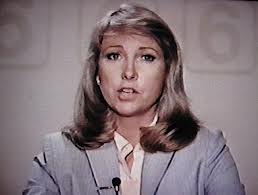 Prime Suspect (1982)
TV Reporter Amy McCleary (Terri Garr) gets a story implicating an upstanding citizen in the sex murder of a young girl.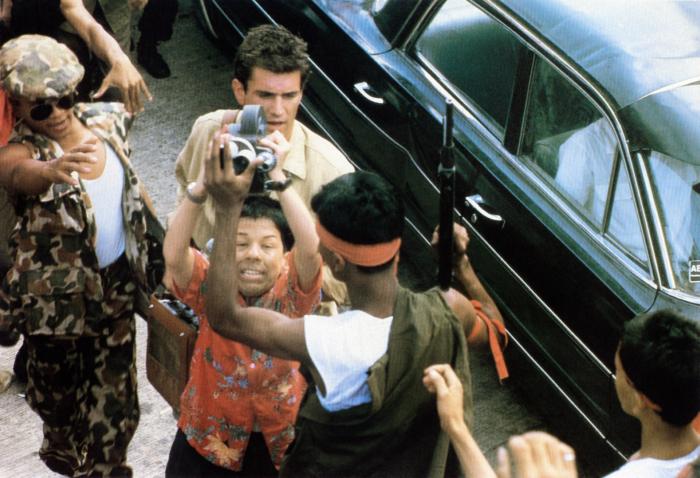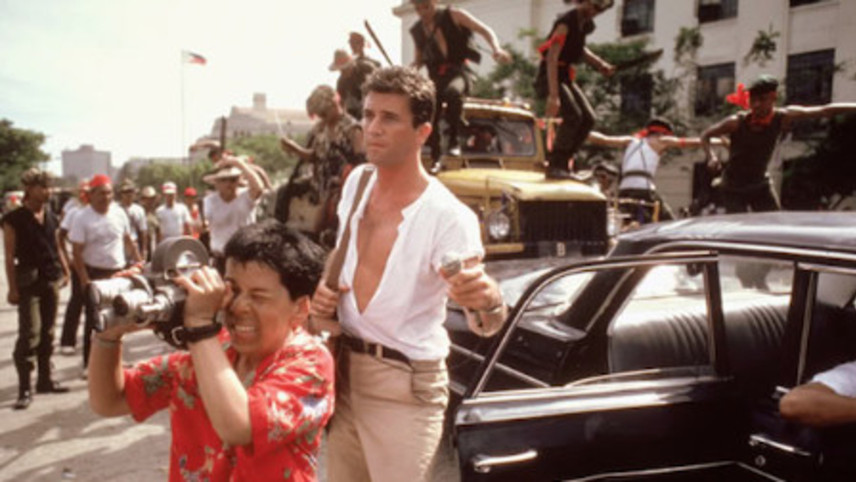 Year of Living Dangerously (1982)
Australian Correspondent Guy Hamilton (Mel Gibson) of the Australian Broadcasting Service, arrives in Indonesia in the mid-1960s. Cameraman Billy Kwan (Linda Hunt) agrees to help him after his first report "wasn't news, it was a travelogue."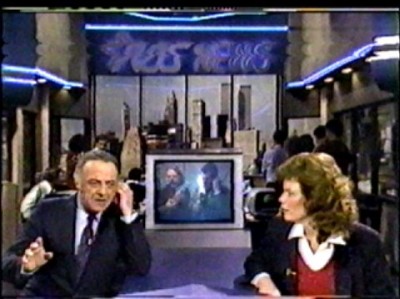 Special Bulletin (1983)
TV Anchor John Woodley (Ed Flanders) is the seasoned RBS Network Anchorman who along with Co-Anchor Susan Myles (Kathryn Walker) report on terrorists threatening to blow up Charleston, SC with a nuclear device if their demands are not met. The bomb goes off accidentally causing chaos.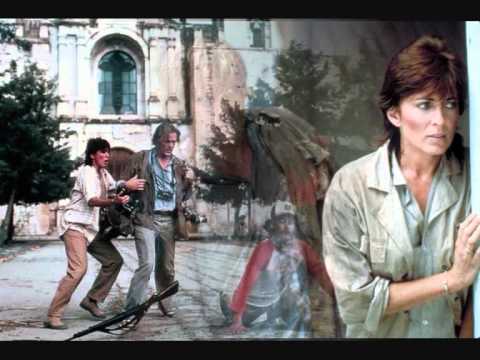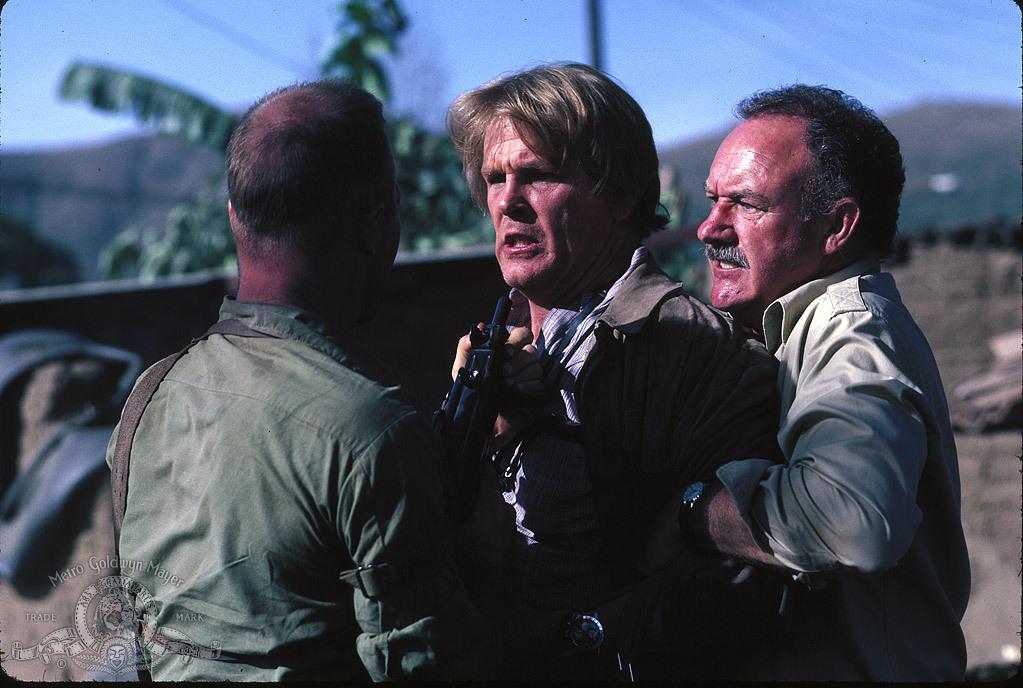 Under Fire (1983)
Photojournalist Russell Price (Nick Nolte) believes in getting the story first is all that matters: "I don't take sides. I take pictures." In Nicaragua he meets Alex Grazier (Gene Hackman) who goes to New York to take a job as a TV Anchorman. The two and Claire (Joanna Cassidy), another journalist. become good friends. Grazier later returns and is killed by a soldier.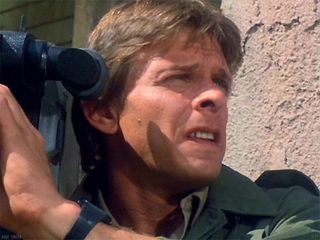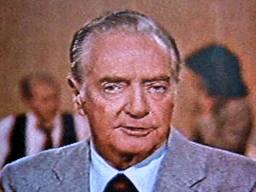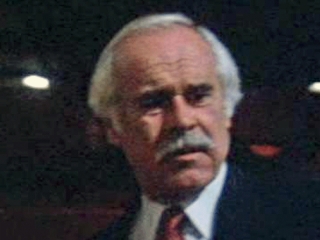 V (1983)
TV Reporter-Cameraman Mike Donovan (Marc Singer) battles aliens who look like friendly humans but are really vicious reptiles. Newscasters Howard K. Smith and Clete Roberts (Themselves)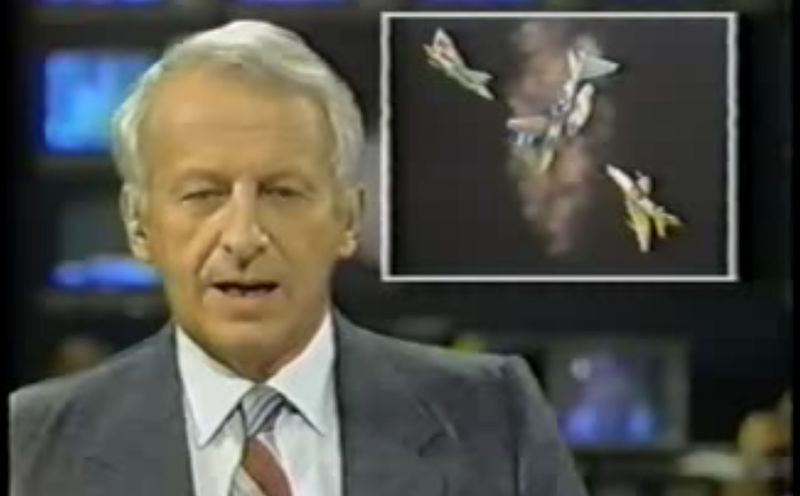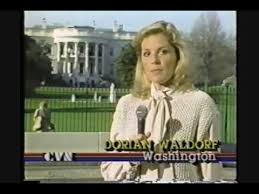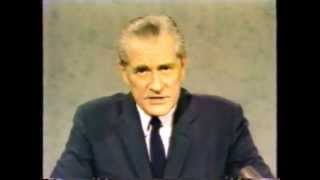 Countdown to Looking Glass (1984)
TV Reporter Dorian Waldorf (Helen Shaver) gets secret information from the White House and it told to get additional confirmation before her piece can air. CVN World News Today news team covers a major disaster. When story turns out to be accurate, her boss TV Anchor Don Tobin (Patrick Watson) regrets that they waited. Commentator Eric Severeid (as himself).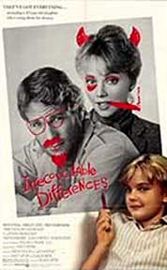 Irreconcilable Differences (1984)
News Media surround a girl who is trying to bring her parents together.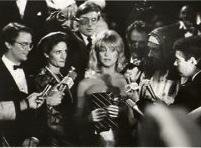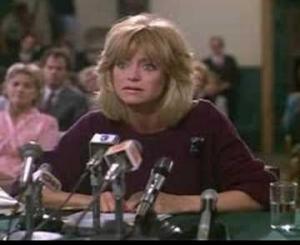 Protocol (1984)
News Media circus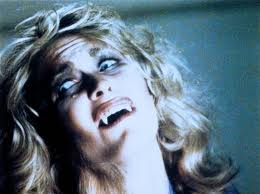 The Howling (1985)
TV Reporter Karen White (Dee Wallace) in Los Angeles is sent to strange California community populated by werewolves, is bitten and turns into a werewolf on camera while delivering the news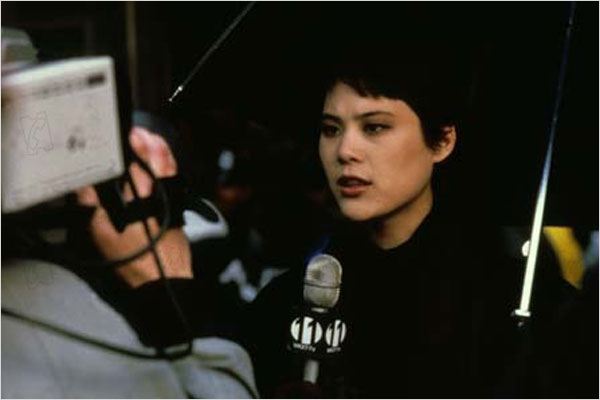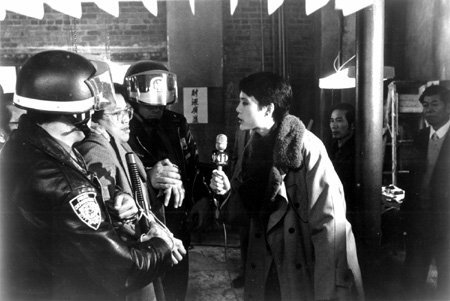 Year of the Dragon (1985)
TV Reporter Tracy Tzu (Ariane) is American of Chinese descent involved with a cop investigating gang activities in Chinatown.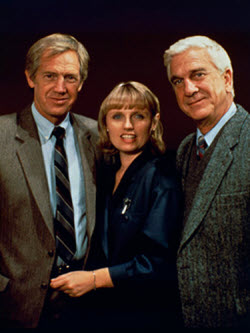 Reckless Disregard (1985)
TV Correspondent-Host of Hourglass Magazine for ABS News, Bob Franklin (Leslie Nielsen) and his staff manipulate the news for higher ratings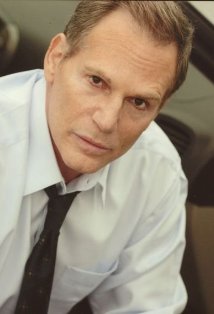 Highway to Heaven: Children's Children(1986)
TV Reporter Dan Rivers (Robert Lipton) is an overzealous reporter who looks for a sensational story and files a half-truthful report on a home for unwed teenage mothers threatening the very existence of the home.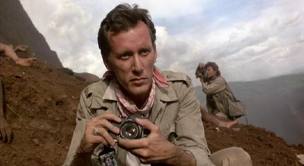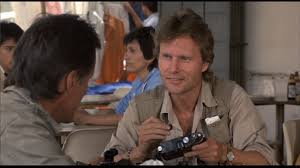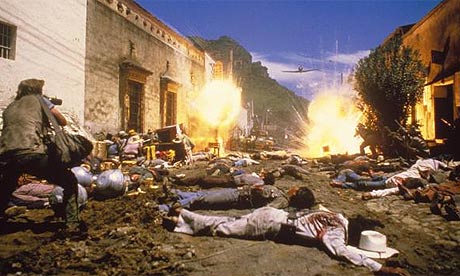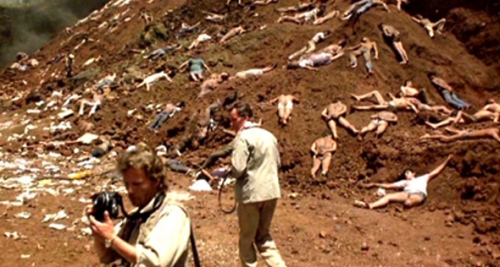 Salvador (1986)
Reporter-Photojournalist Richard Boyle (James Woods) who worked for the Pacific News Service covering Vietnam has been unable to hold a job since his return. He goes to El Salvador to get combat shots he can sell to the Associated Press. Reporter-Photojournalist John Cassady (John Savage) for Newsweek takes Boyle with him to get photos at the dump site for victims of the death squads.
Boyle chews out an anchorwoman, TV Correspondent Pauline Axelrod (Valerie Wildman), for ANS News for not covering what is really happening. Boyle's friend slips acid into her drink causing her to collapse during her stand-up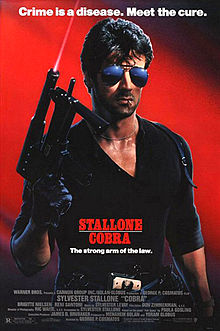 Cobra (1986)
News Media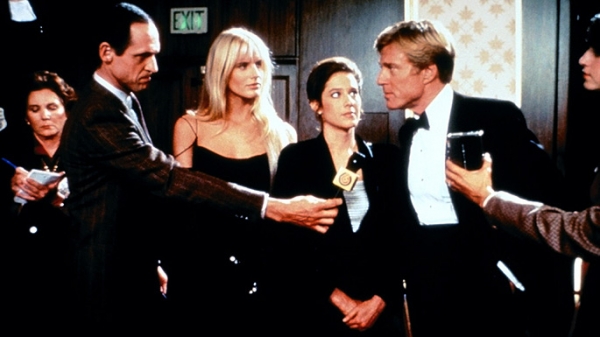 Legal Eagles (1986)
News Media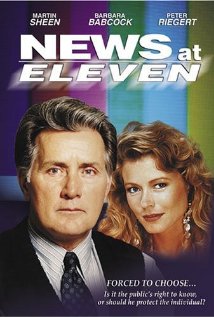 News at Eleven (1986)
Veteran TV Anchor-Reporter Frank Kenley (Martin Sheen) is hired by News Director Eric Ross (Peter Riegert) to return to San Diego to join the "Action News" team.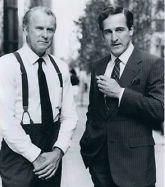 Murrow (1986)
TV Journalist Edward R. Murrow (Daniel J. Travanti) and head of CBS William S. Paley (Dabney Coleman)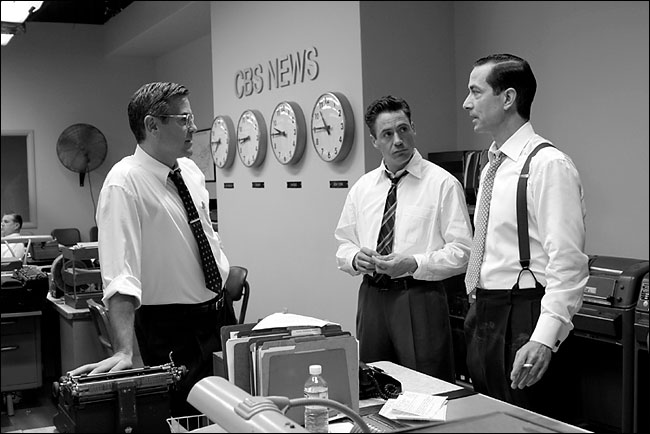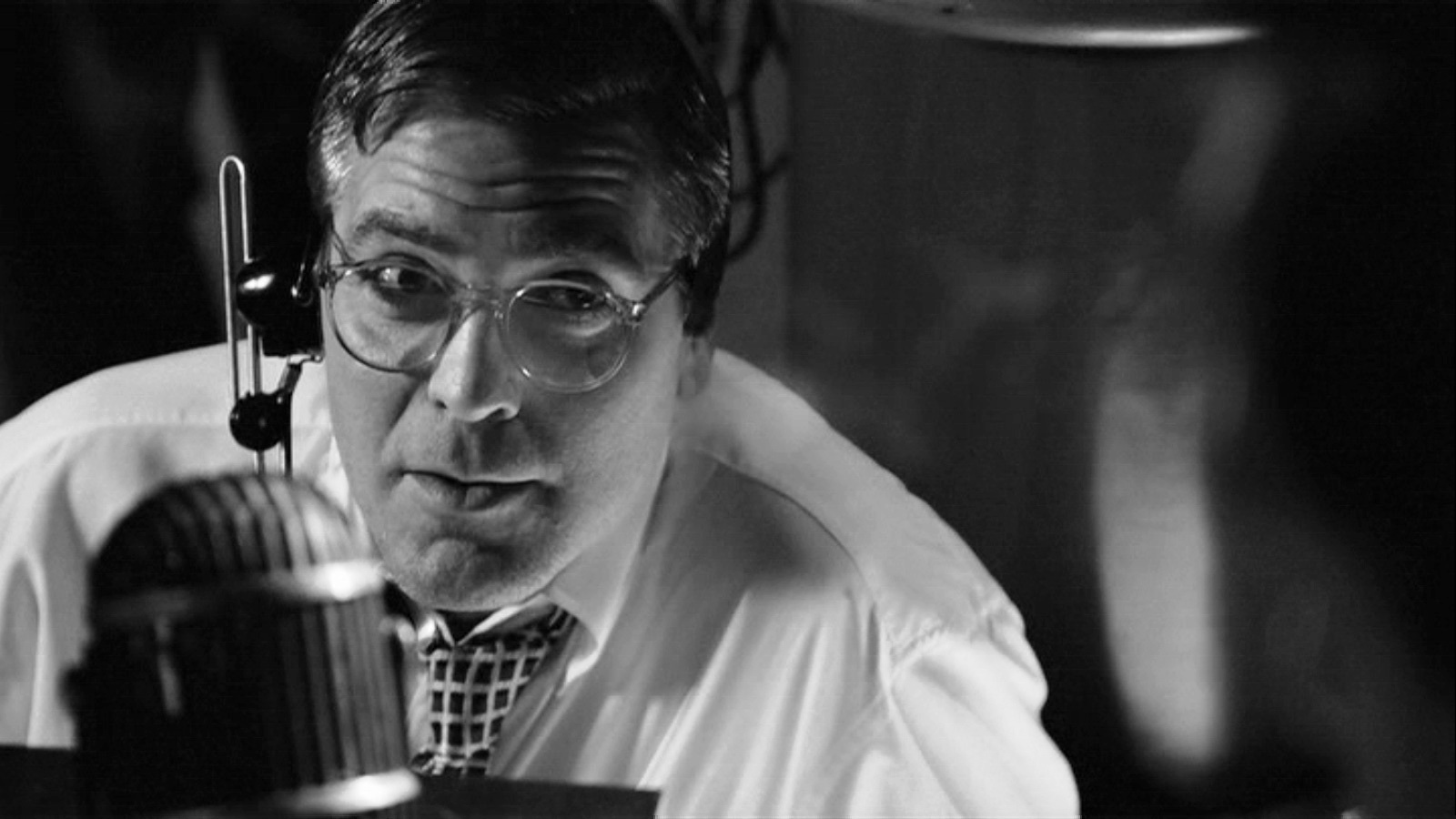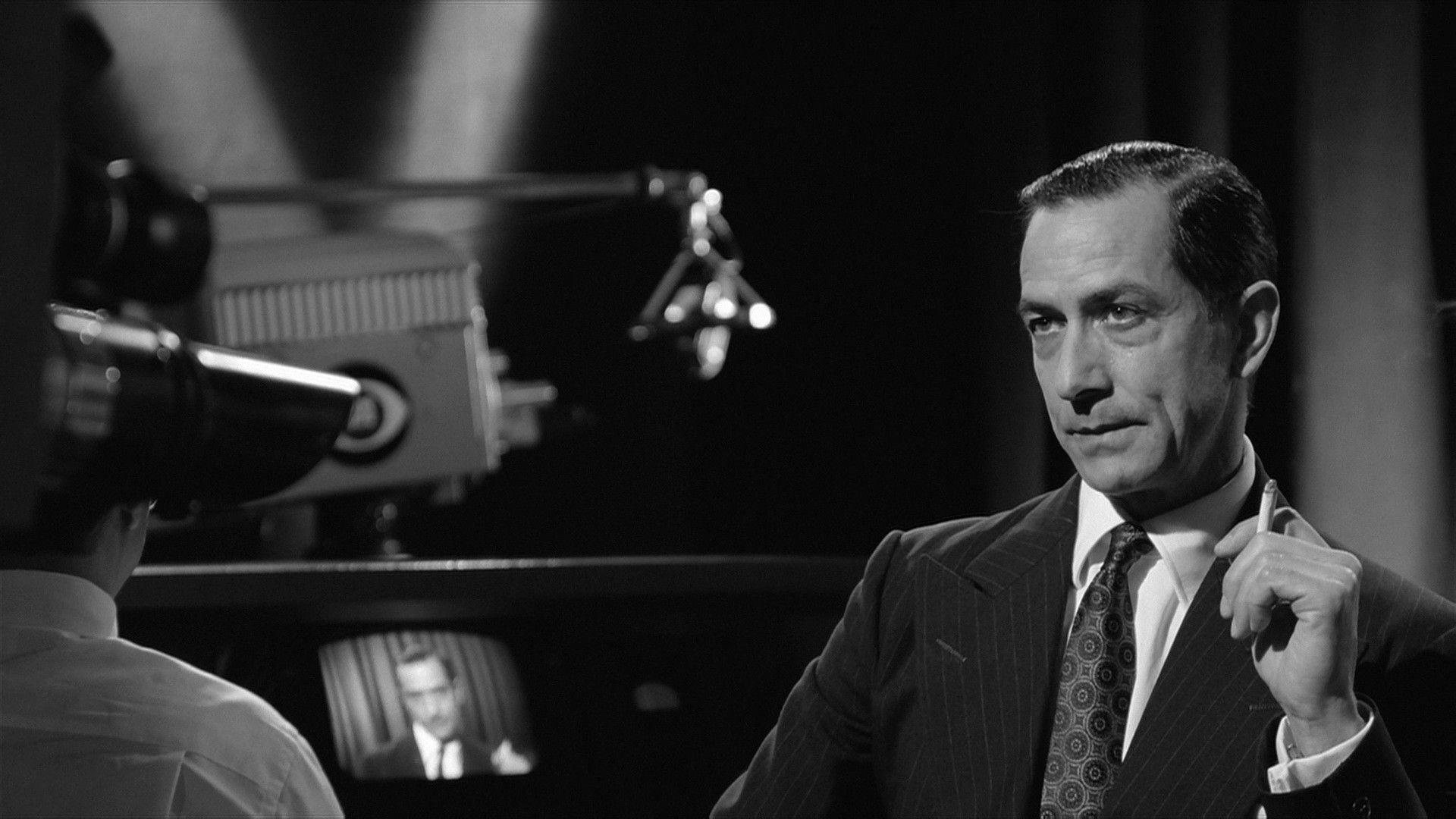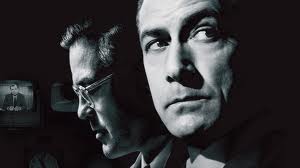 good night, and good luck (2005)
Journalist Edward R. Murrow (David Strathairn) and Producer Fred Friendly (George Clooney), two veteran CBS newsmen, fight Senator Joseph McCarthy.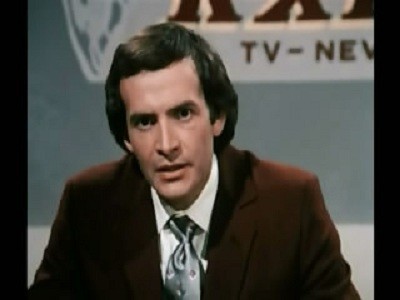 Hunter: Overnight Sensation (1986)
When TV Reporter Raoul Mercado (Michael Wren) is arrested by Hunter, the reporter launches a personal vendetta against the detective, publicly raking him over the coals for his violent arrest record. When Mercado is killed by a car bomb, Hunter is Suspect Number One.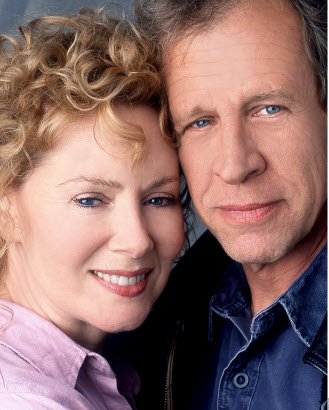 Hunter: Turning Point (1987)
Reporter Ralph Ormond (Richard Gilliland) is determined to make the most of his life after a car bomb meant for him kills someone else.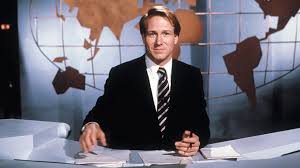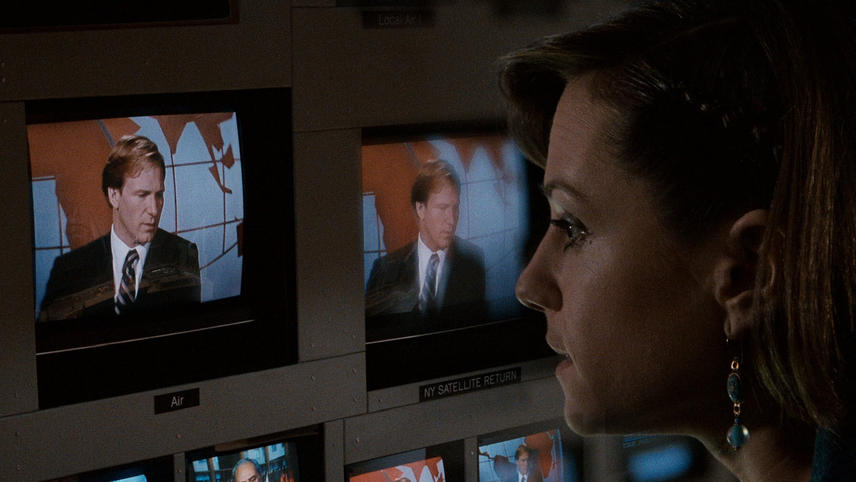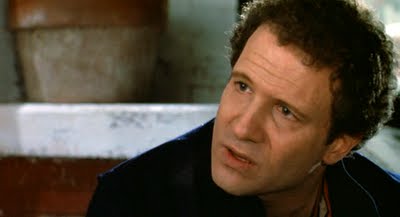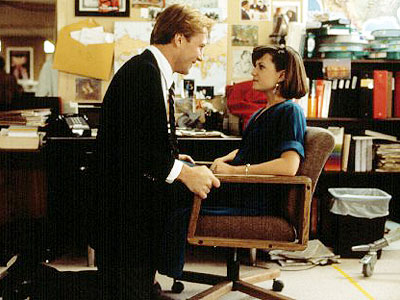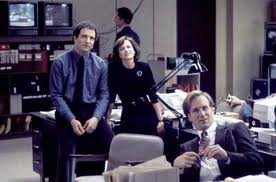 Broadcast News (1987)
TV Anchor Tom Grunick (William Hurt) comes to the Washington Bureau as news reader. Producer Jane Craig (Holly Hunter) and top TV Reporter-Newswriter Aaron Altman (Albert Brooks) try to turn him into a responsible journalist.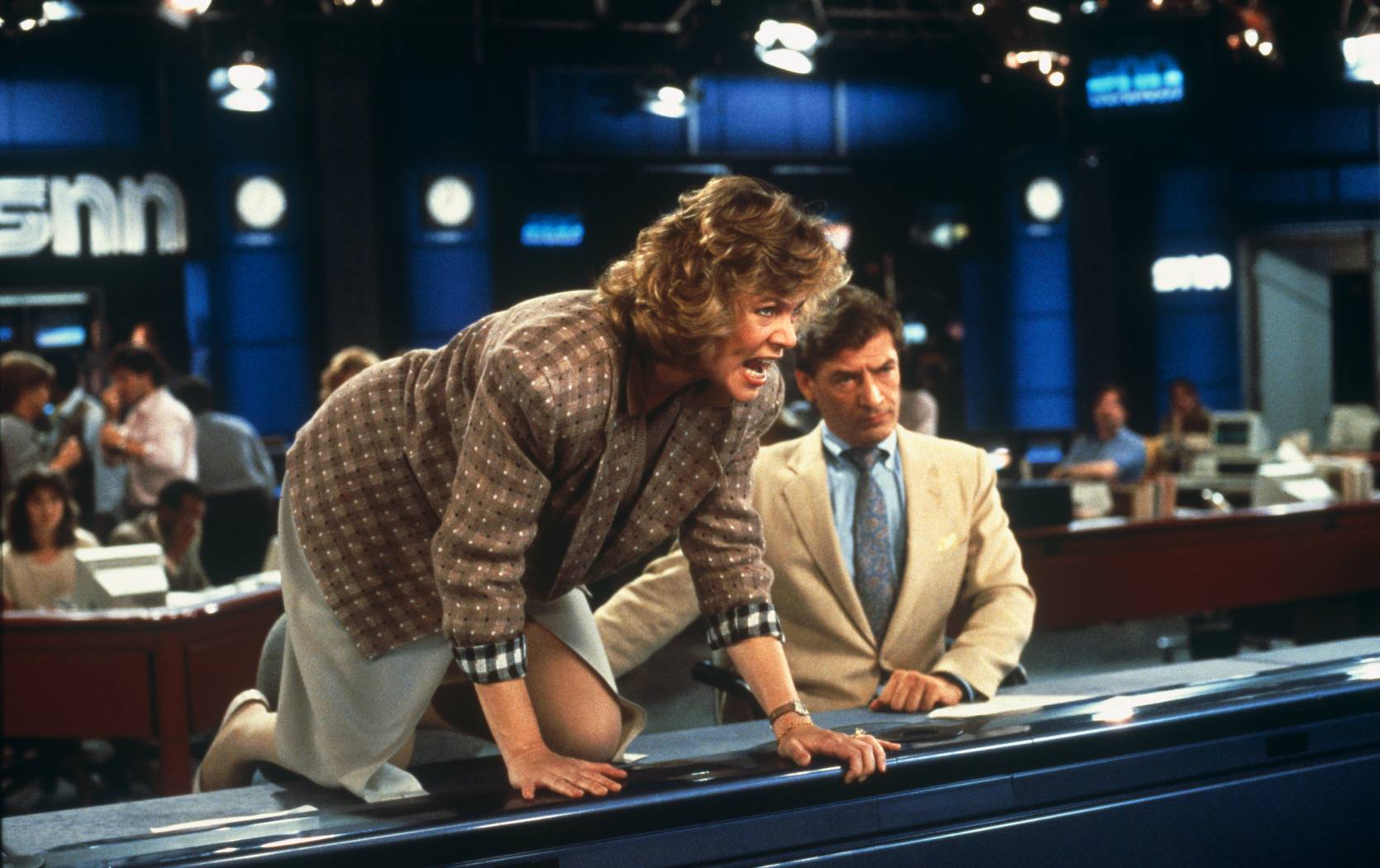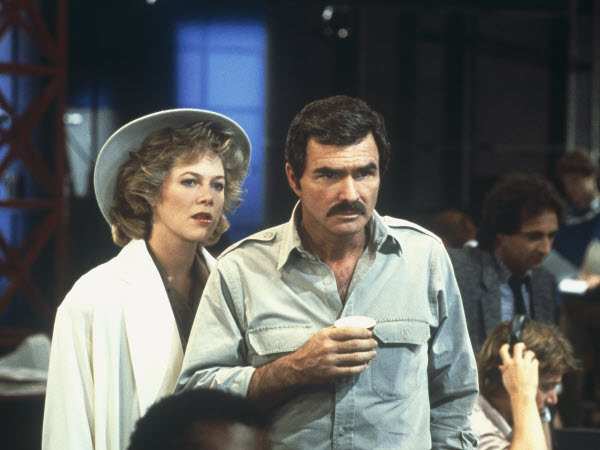 Switching Channels (1987)
TV Anchor-Reporter Christy Colleran (Kathleen Turner) works for the Satellite News Network in Chicago. Her boss is John L. Sullivan IV (Burt Reynolds), the station's slave-driving news director.
She's his ex-wife and wants to leave the profession in this remake of His Girl Friday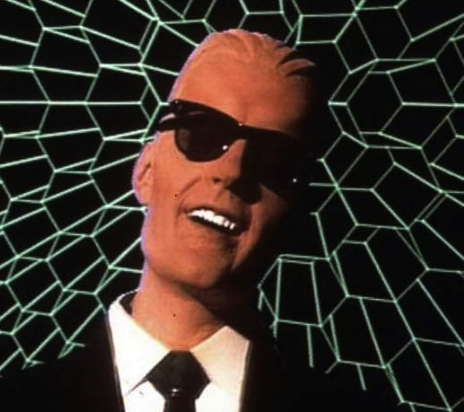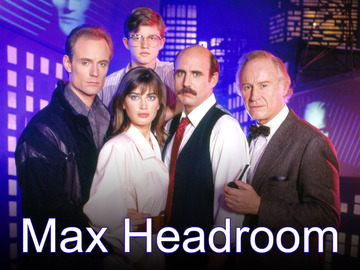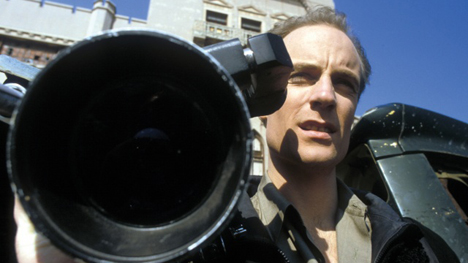 Max Headroom (1987)
Network 23 ace reporter Edison Carter and Max Headroom (Matt Frewer). Controller Theora Jones (Amanda Pays). Producer Murray (Jeffrey Tambor). Ben Cheviot (George Coe)), head of Network 23 and Computer Genius Bryce Lynch (Chris Young)World ruled by Zic-Zac, and other powerful corporations locked in a ruthless competition for consumer dollars and television rating points.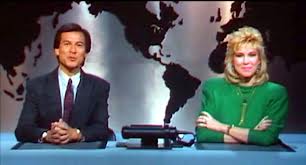 Robocop (1987)
Robocop 2 (1990)
TV Anchors Casey Wong (Mario Machado) and (Jesse Perkins) Leeza Gibbons.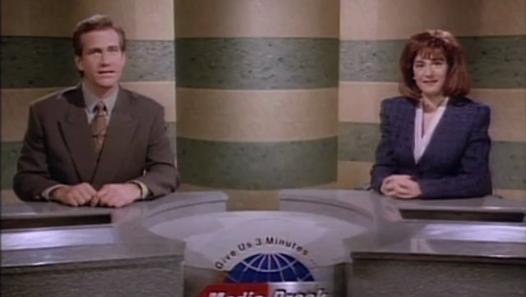 Robocop: The Television Series (1990-1994)
TV Anchors Bo Harlan (Dan Duran) and Rocky Crenshaw (Erica Ehm).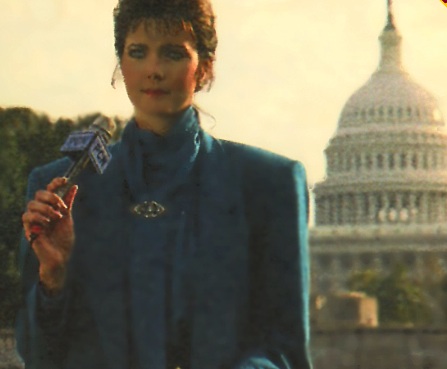 Stillwatch (1987)
TV Reporter Patricia Traymore (Lynda Carter) is a Boston news reporter who does profiles on celebrities and politicians.
She goes to Washington to do a series of profiles on women in government and ends up solving a family mystery.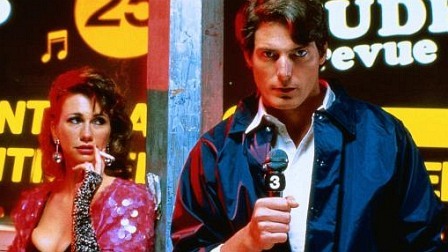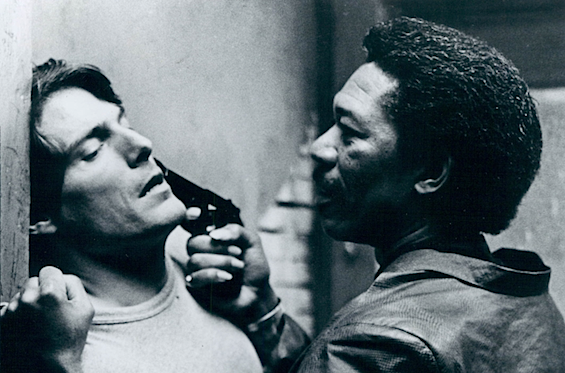 Street Smart (1987)
Reporter Jonathan Fisher (Christopher Reeve), for the New York Journal, under pressure to meet deadline, fabricates the life story of New York City pimp.
The story wins him instant fame and he becomes a TV reporter for Channel 3, a celebrity with his ownTV feature, "Street Smart."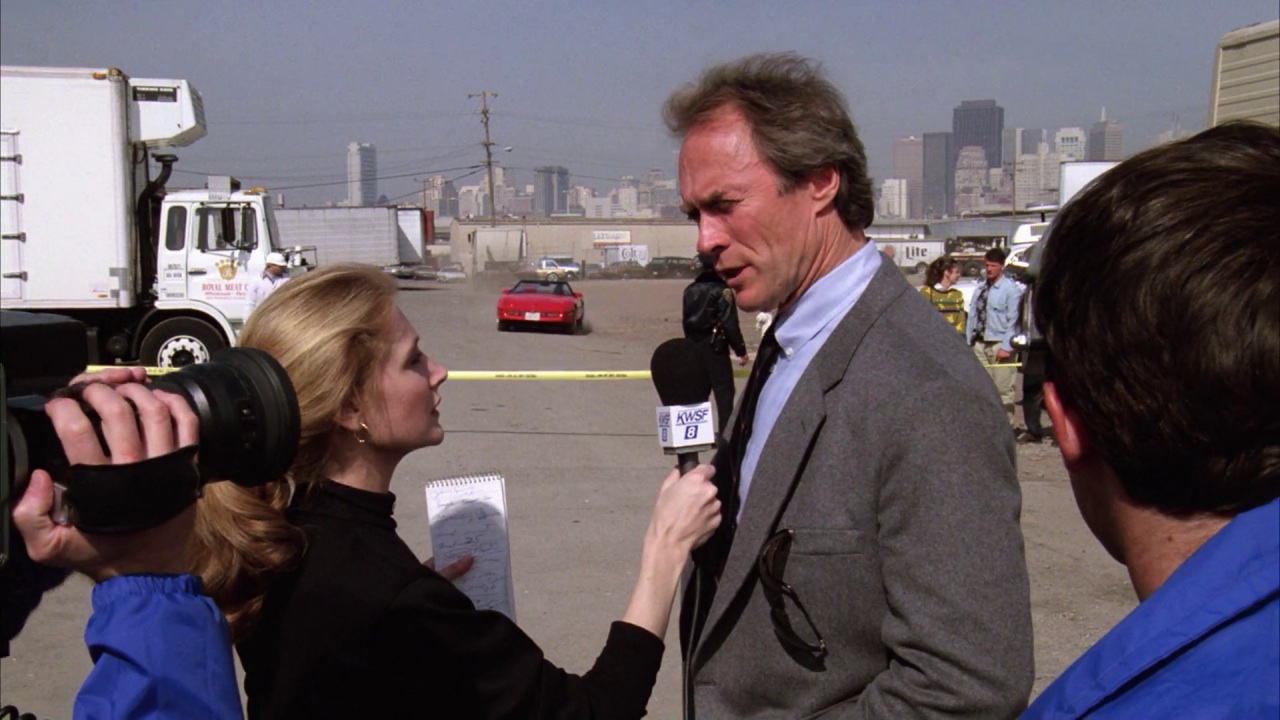 Dead Pool (1988)
TV Reporter Samantha Walker (Patricia Clarkson), for station KWSI, runs afoul of hero cop.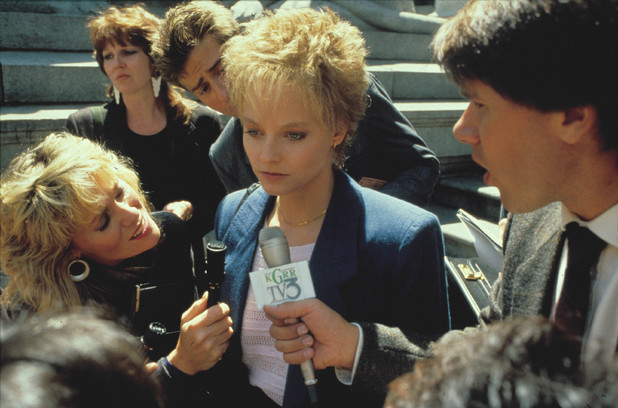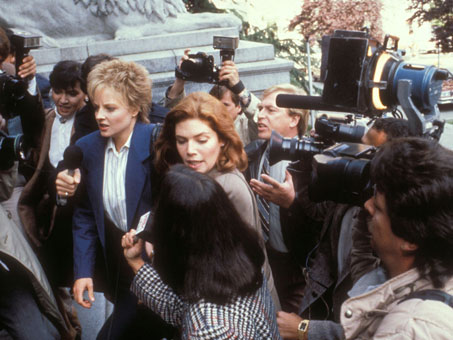 The Accused (1988)
News Media hound a rape victim and the district attorney as they go into the courthouse.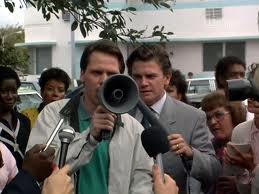 Miami Vice: Hell Hath No Fury… (1988)
Anonymous News Reporters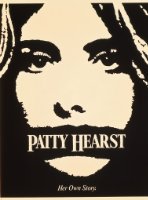 Patty Hearst (1988)
Anonymous News Reporters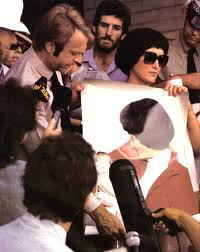 A Cry in the Dark (1988)
Anonymous News Reporters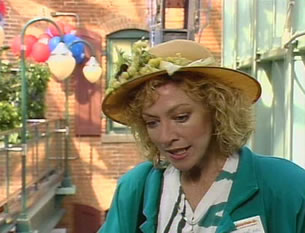 Tanner 88 (1988)
NBC Reporter Molly Hark (Veronica Cartwright) is an unpopular journalist covering Washington politics along with a variety of Washington fictional journalists -- Columnist Taggerty Hayes (Kevin J. O'Connor) and real-life journalists – Columnist Mary McGrory, Hodding Carter, Linda Ellerbee, Art Buchwald.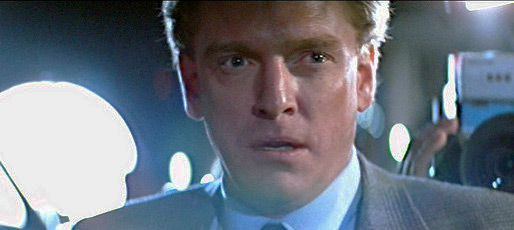 Die Hard (1988)
TV Reporter Richard Thornburg (William Atherton), from KLFW-TV, Channel 14 risks the lives of hostages in the quest for a scoop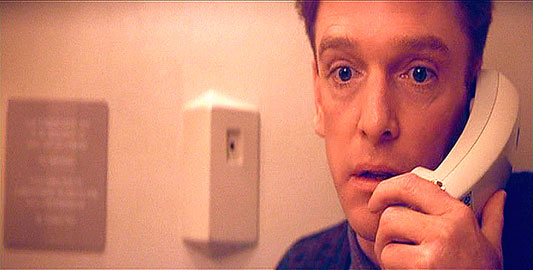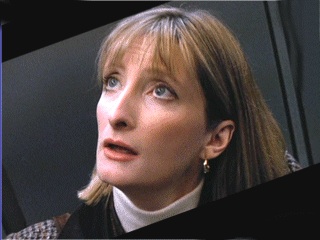 Die Hard 2 (1990)
TV Reporter Dick Thornberg (William Atherton) is the obnoxious reporter on a plane who learns about a terrorist attack on Dulles Airport while he is on a plane circling the airport and files a report that causes panic.
TV Reporter Samantha Copeland (Sheila McCarthy) is on the ground covering the story.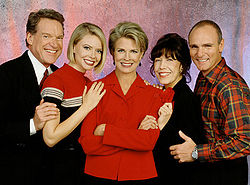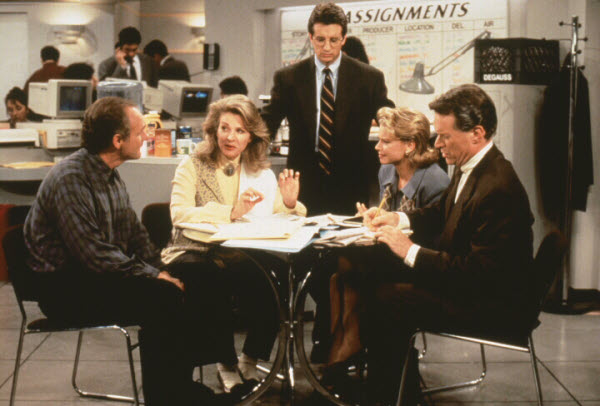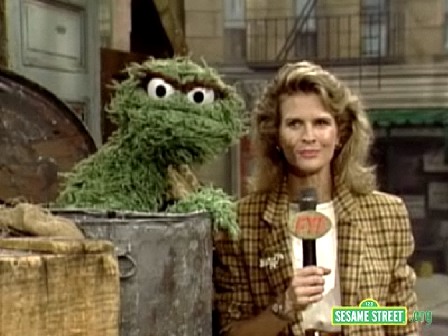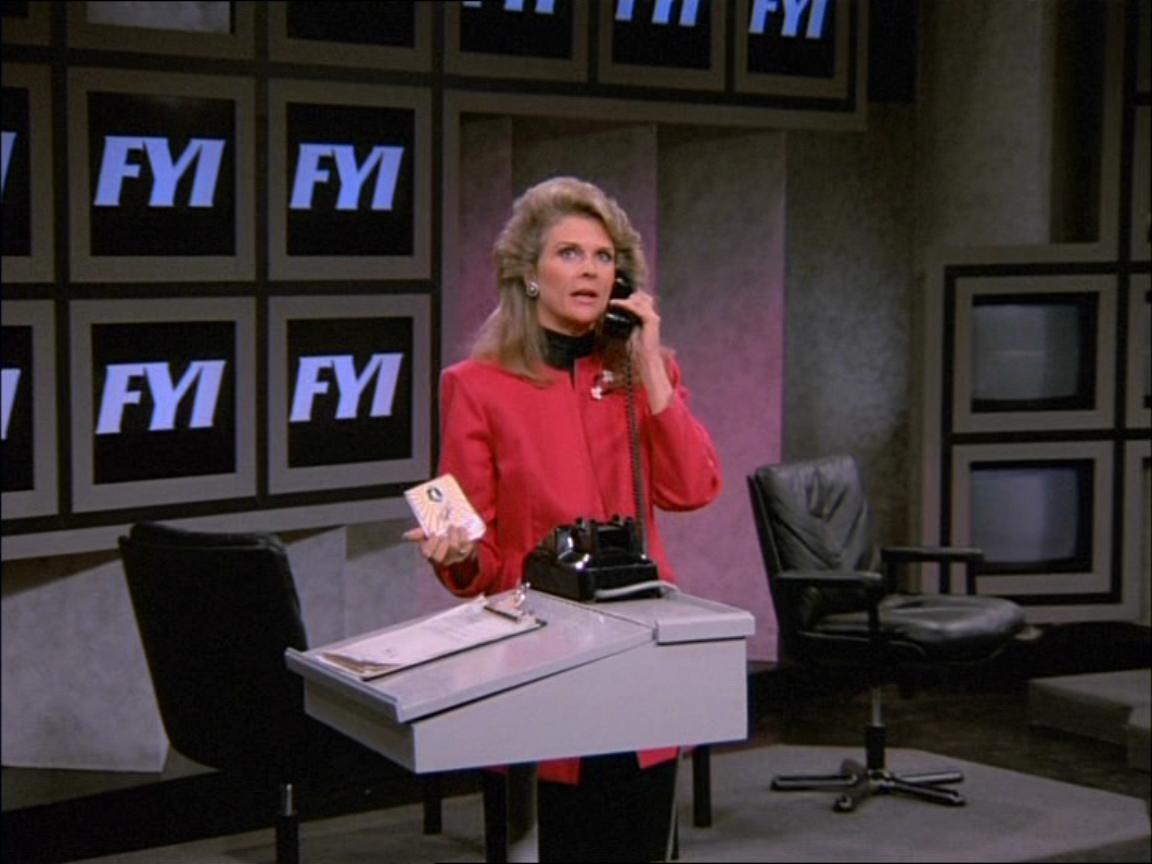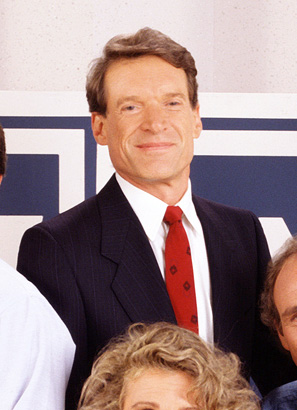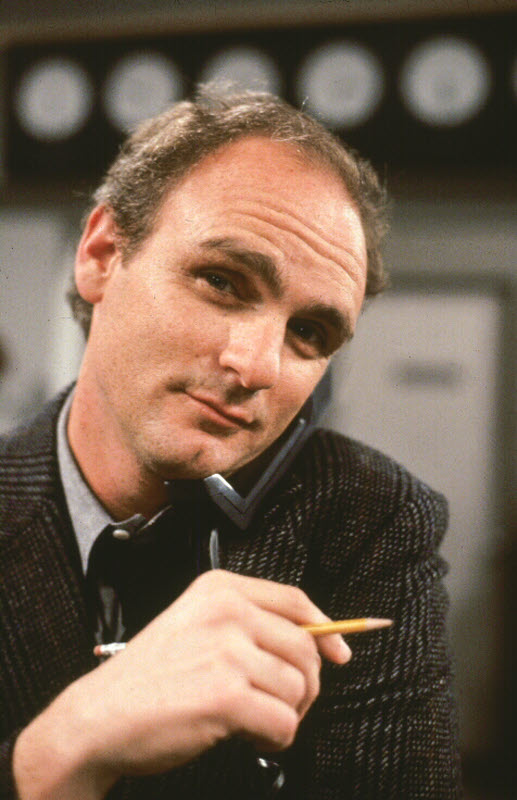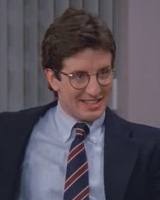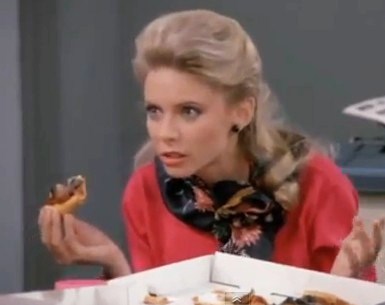 Murphy Brown (1988-1998)
TV News Staff. Reporter Murphy Brown of FYI (Candice Bergen). Anchor Jim Dial (Charles Kimbrough). Investigative Reporter Frank (Joe Regalbuto). Reporter Corky Sherwood (Faith Ford).
Executive Producer Miles Silverberg (Grant Shaud)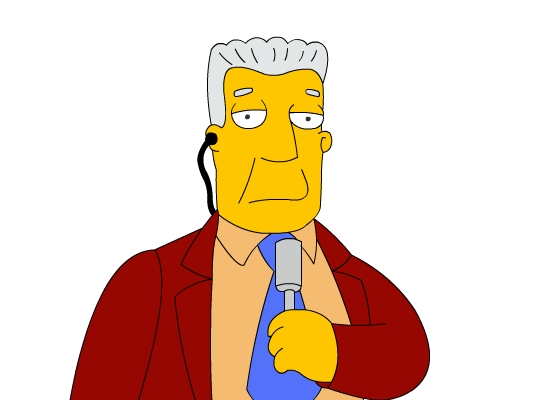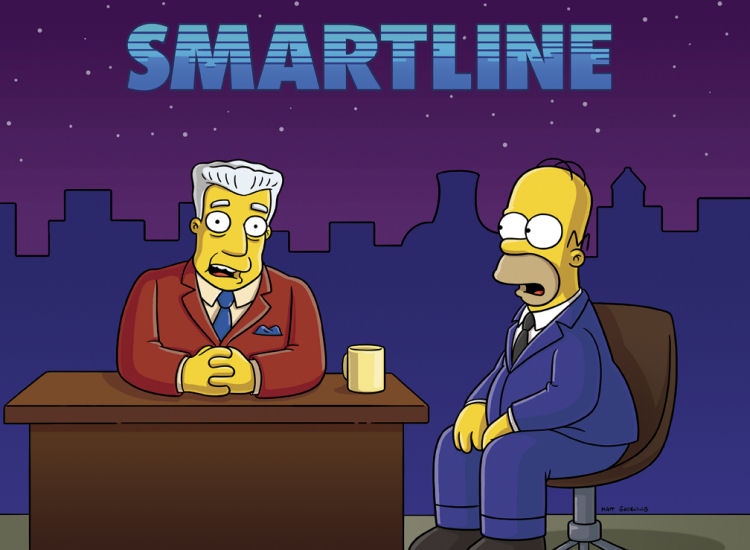 The Simpsons (1989)
TV Anchor-Reporter Kenton "Kent" Brockman (Harry Shearer-Voice) hosts the KBBL-TV Channel 6 weekday news, Springfield News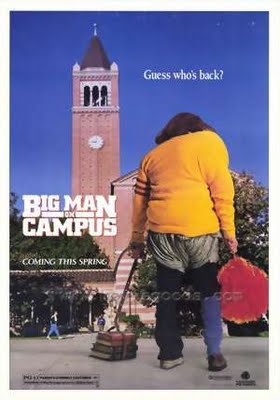 Big Man on Campus (1989)
Anonymous News Media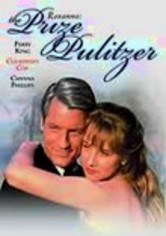 Roxanne: The Prize Pulitzer (1989)
Anonymous News Media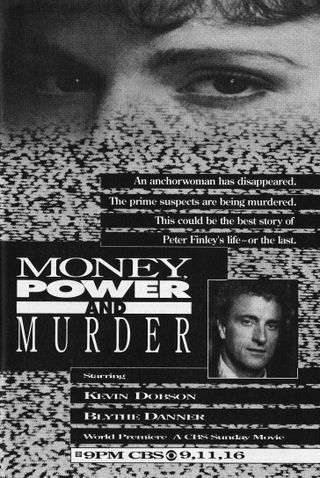 Money, Power, Murder (1989)
Investigative Reporter Peter Finley (Kevin Dobson), on New York cable TV pursues story on religious broadcasters and disappearance of Anchor Peggy Lynn Brady (Julianne Moore) for Global Broadcasting.
Anonymous News Media.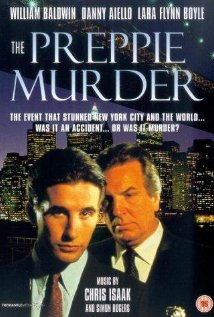 The Preppie Murder (1989)
Anonymous News Media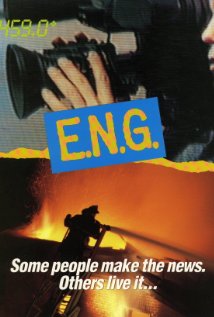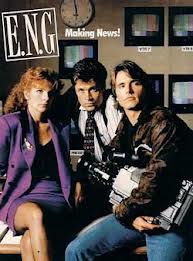 E.N.G. (1990-1994)
Electronic News Gathering: TV newsroom in Ontario. Executive producer Ann Hildebrandt (Sara Botsford). ENG General Manager Kyle Copeland (George R. Robertson). News Director Mike Fennell (Art Hindle).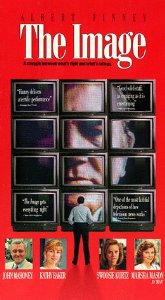 The Image (1990)
TV Correspondent Jason Cromwell (Albert Finney), main correspondent on hit TV newsmagazine show, "Here and Now." Irv Mickelson (John Mahoney), producer and Cromwell's friend, is killed trying to correct a false story. This causes Cromwell to reevaluate what his role as a journalist is. News division president Frank Goodrich (Spalding Gray)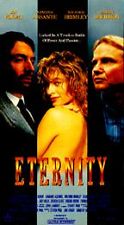 Eternity (1990)
Anonymous News Media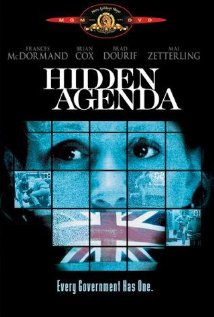 Hidden Agenda (1990)
Anonynous News Media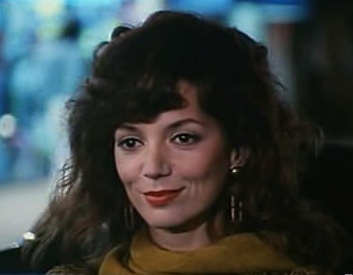 Navy Seals (1990)
TV Newswoman Claire Varrens (Joanne Whalley) and sea-air-land commandos rescue hostages from terrorists armed with Stinger missiles.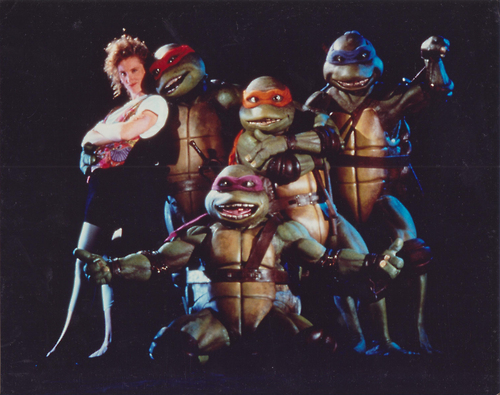 Teenage Mutant Ninja Turtles (1990)
TV Reporter April O'Neil (Judith Hoag), Channel 3 News..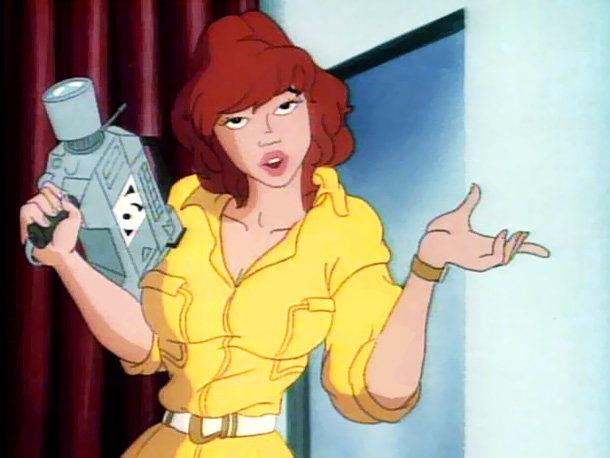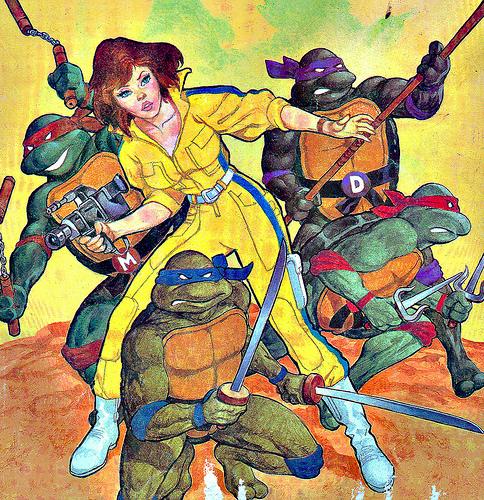 Teenage Mutant Ninja Turtles Cartoons (1987-1996)
TV Reporter April O'Neil (Renae Jacobs) of Channel 6 News helps out the four pizza-loving superheroes called the Teenage Mutant Ninja Turtles (Leonardo, Michaelangelo, Donatello and Raphael)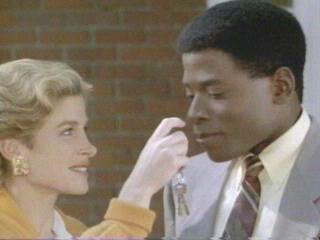 Livin' Large (1991)
TV Anchor Dexter Jackson (Terrence T.C. Carson), an African-American, finds that success is turning him into a TV journalist who is more white than black.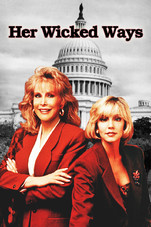 Her Wicked Ways (1991)
TV Correspondent Tess O'Brien (Barbara Eden), star veteran television news correspondent covers the White House while her assistant, Melody Shepherd (Heather Locklear) will do anything to get her job.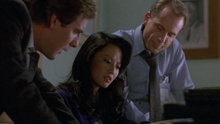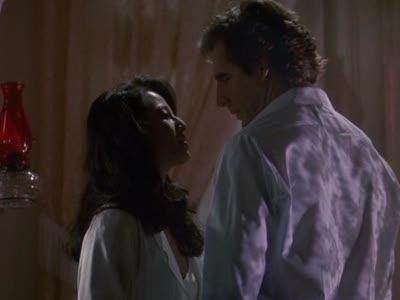 Quantum Leap: Temptation Eyes (1992)
TV Reporter Dylan (aka Dillon) Powell (Harker Wade) in San Francisco protects a beautiful psychic from becoming a serial killer's next victim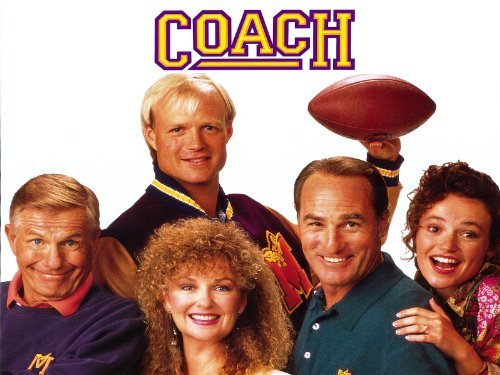 Coach: To Air is Human (1992)
TV Sportscaster Christine Armstrong Fox (Shelley Fabares) for KCCY-TV, Channel 6. Her boyfriend Coach Hayden wins his first football game of the year and proposes to her on his new live television show.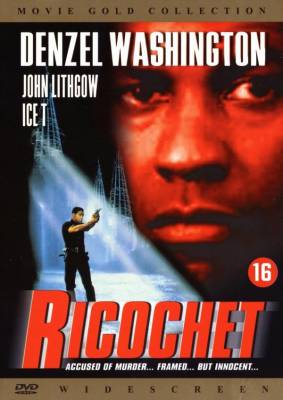 Ricochet (1992)
Anonymous News Media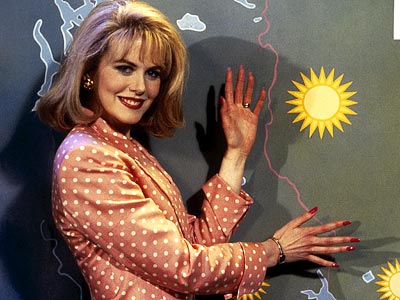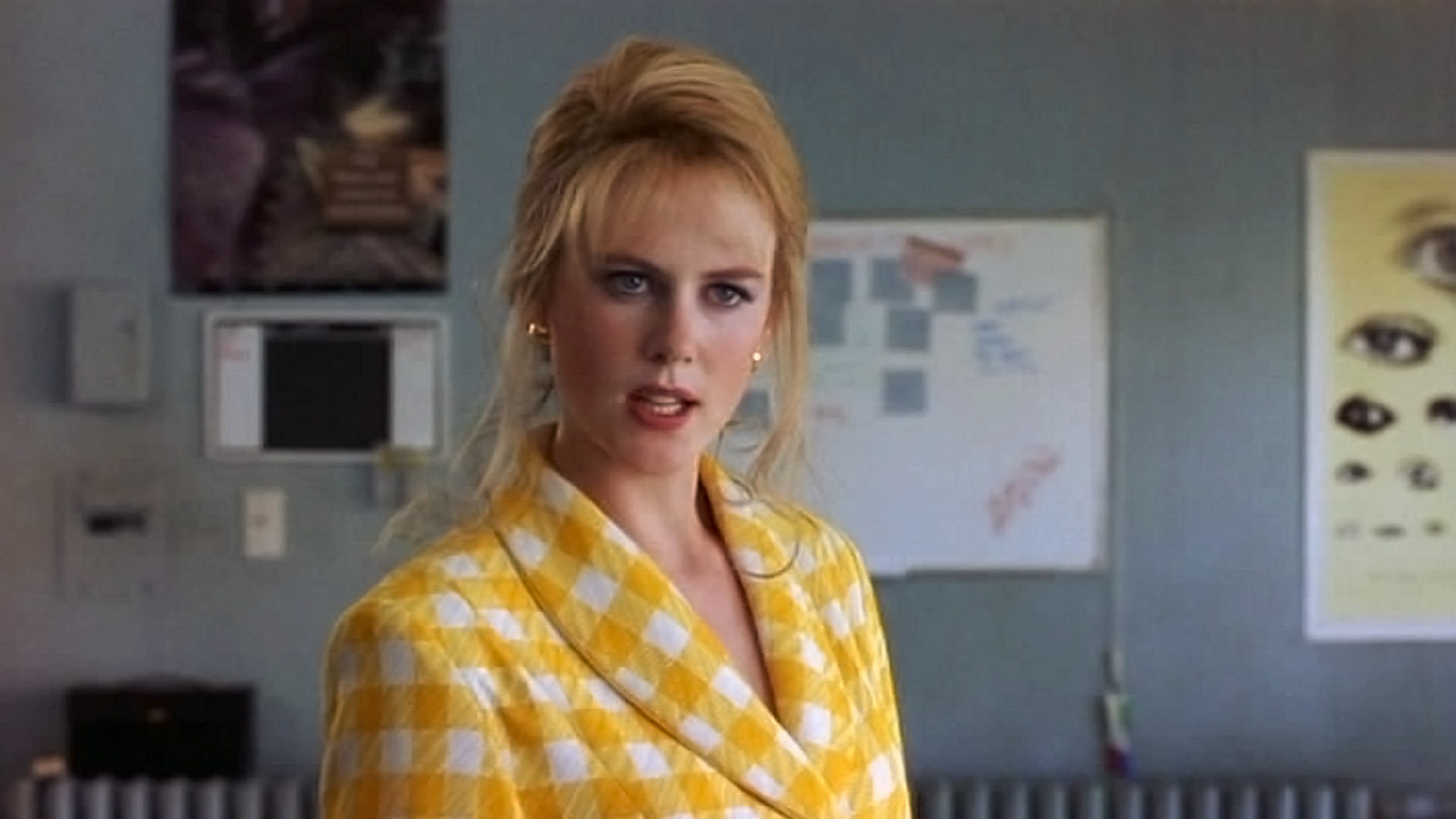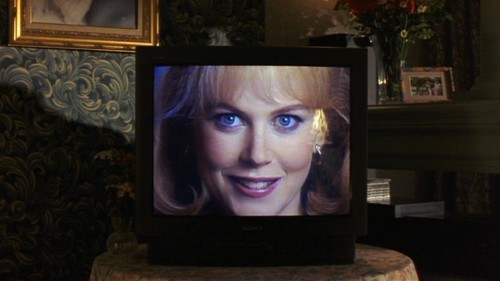 To Die For (1992)
TV Weathercaster Suzanne Stone (Nicole Kidman) will do anything to further her career.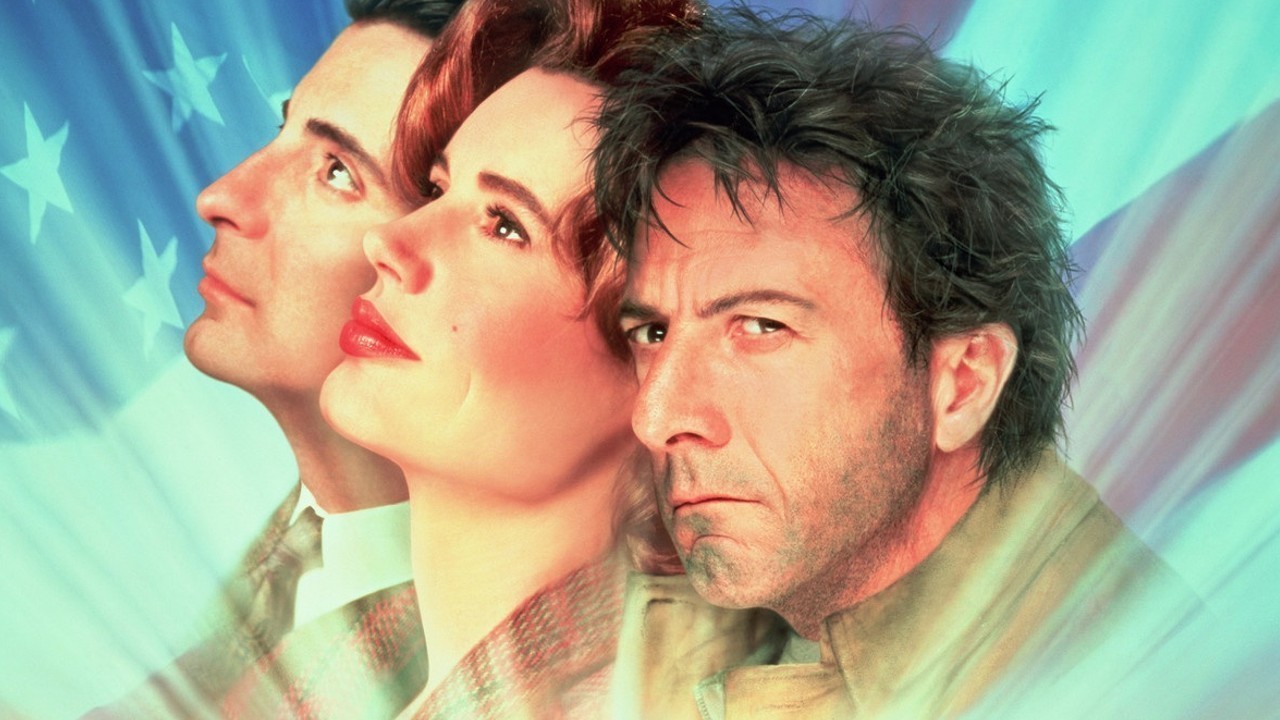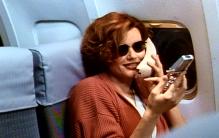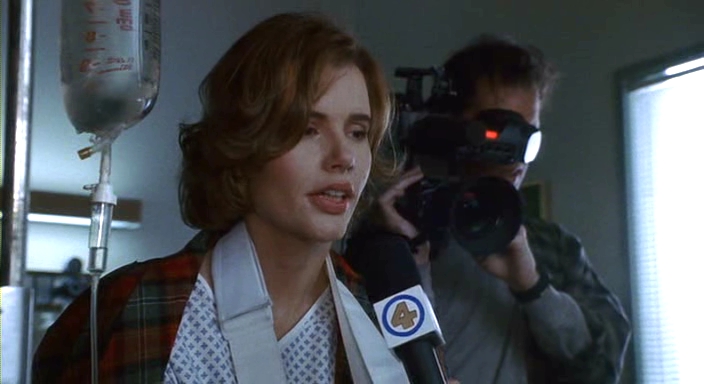 Hero (1992)
TV Reporter Gale Gayley (Geena Davis) of Channel 4 News is involved in a plane crash while returning from awards ceremony, and tries to find mysterious hero who saved her and other passengers. Gayley and her cameraman interview an executive while he is standing on ledge of a skyscraper. The executive jumps while they are filming and she yells to her cameraman: "Did you get that?" Then she adds, "Jesus, did I say that?"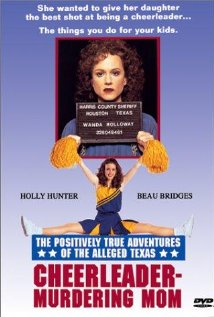 The Positively True Adventures of the Alleged Texas Cheerleader Murdering Mom (1993)
Anonymous News Media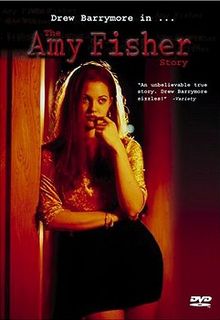 The Amy Fisher Story (1993)
Anonymous News Media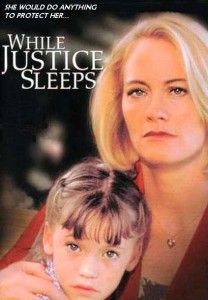 While Justice Sleeps (1993)
Anonymous News Media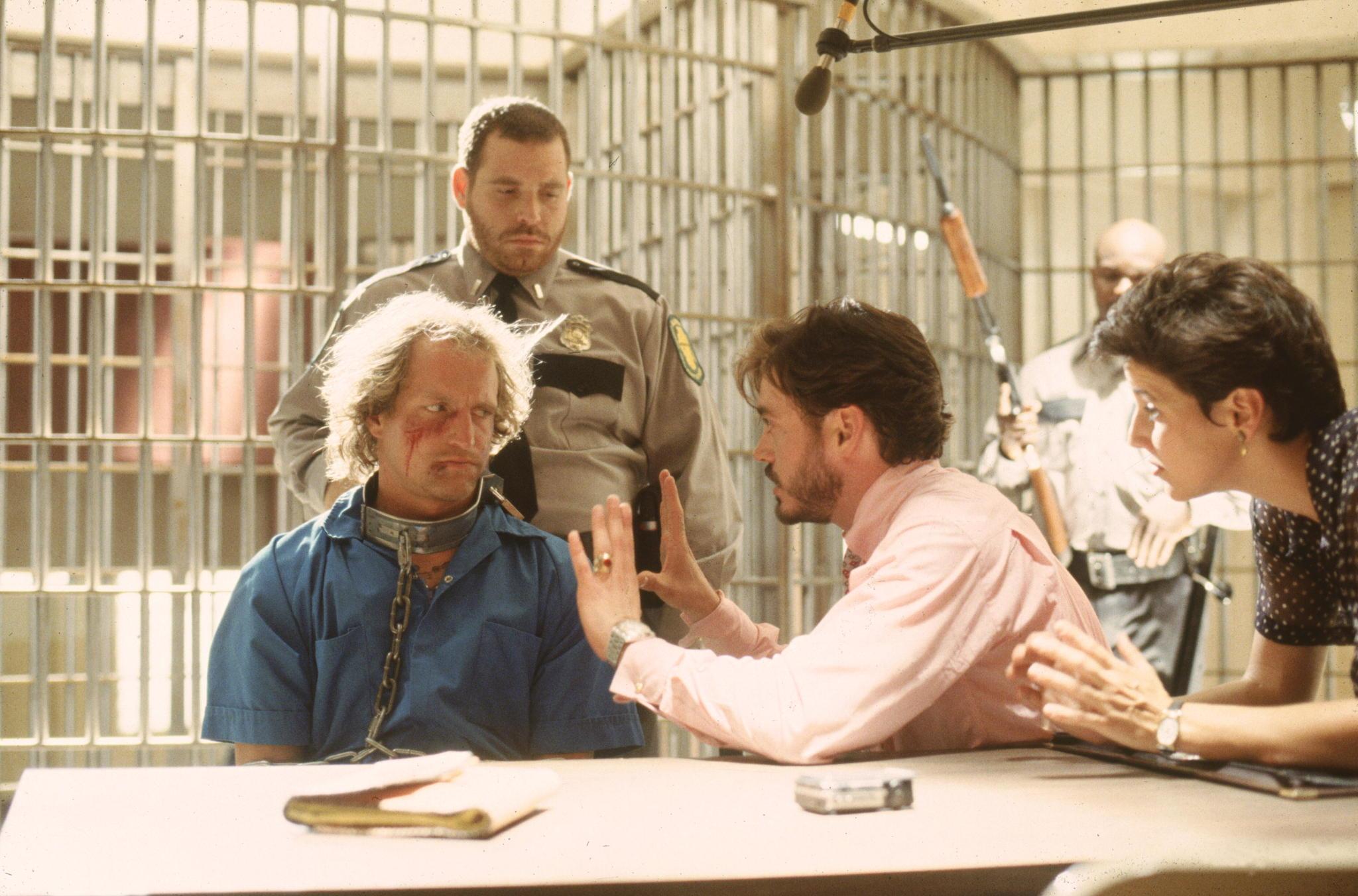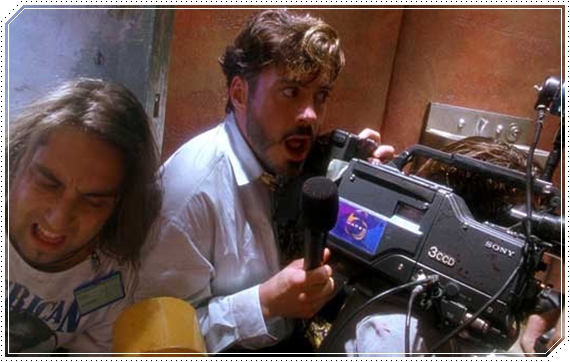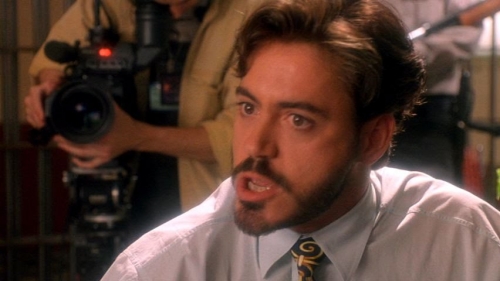 Natural Born Killers (1994)
TV Reporter Wayne Gale (Robert Downey, Jr.), Australian-accented host of American Maniacs follows exploits of two killers and TV exposure of two psychopaths turn them into international superstars.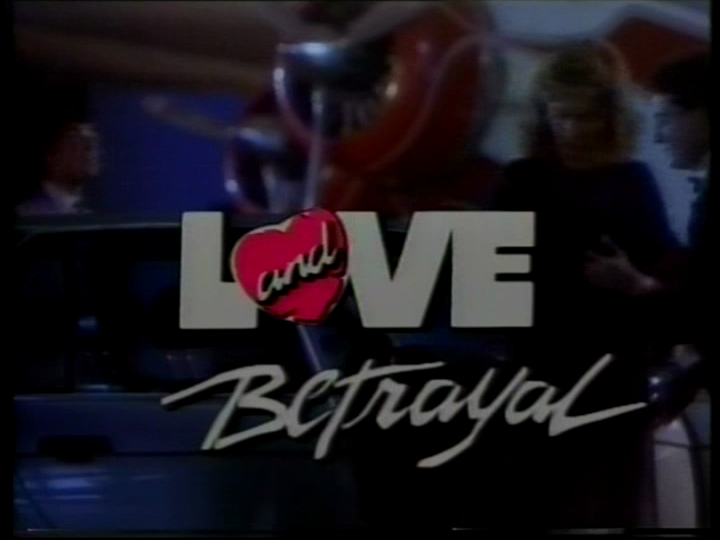 Love & Betrayal (1995)
Anonymous News Media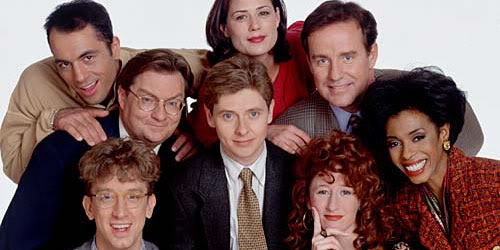 NewsRadio (1995-1999)
News Director Dave Nelson (Dave Foley) of radio station WNYX NewsRadio in New York City. Staff includes Anchor Bill McNeal (Phil Hartman), Reporter Matthew Brock (Andy Dick) and Lisa Miller (Maura Tierney). Station Owner is Jimmy James (Stephen Root).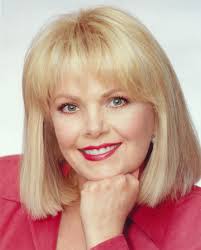 Fast Company (1995)
TV Reporter Frances Hampton-Smith (Ann Jillian) spars with cop investigating murder of a woman who was blackmailing several members of a law firm.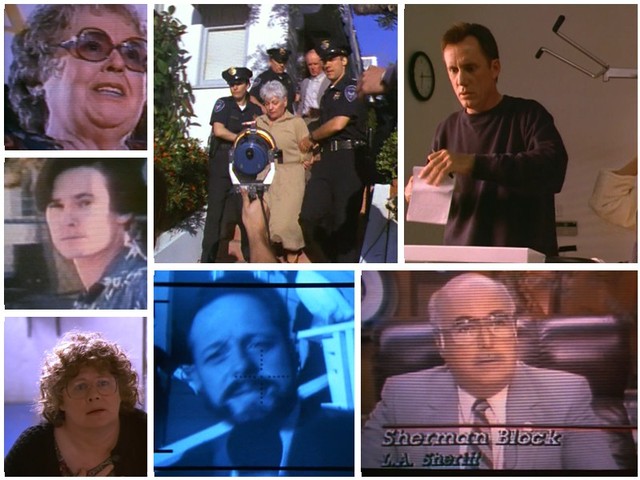 Indictment: The McMartin Trial (1995)
TV Reporter Wayne Satz (Mark Blum) of KABC-TV in Los Angeles contributes to the media circus that develops around the trial of several daycare workers for child molestation. He maintains that he does not make the news but only reports it.He becomes the target of his press colleagues when a reporter from the Examiner discovers he is having an affair with the woman who runs the clinic that initially questioned the abused children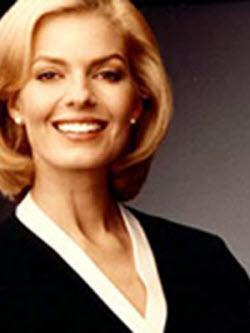 Almost Golden (1995)
TV Reporter-Anchor Jessica Savage (Sela Ward) goes from local news to network facing sexism and taking drugs along the way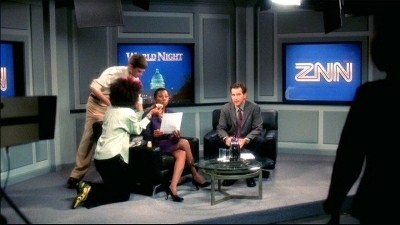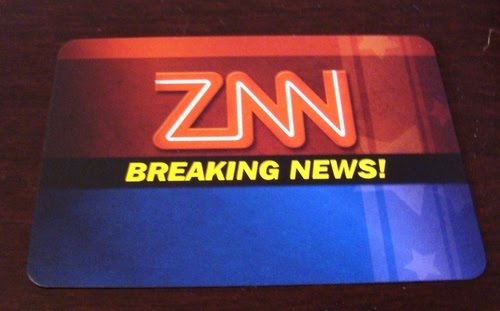 JAG (1995-2004)
News Media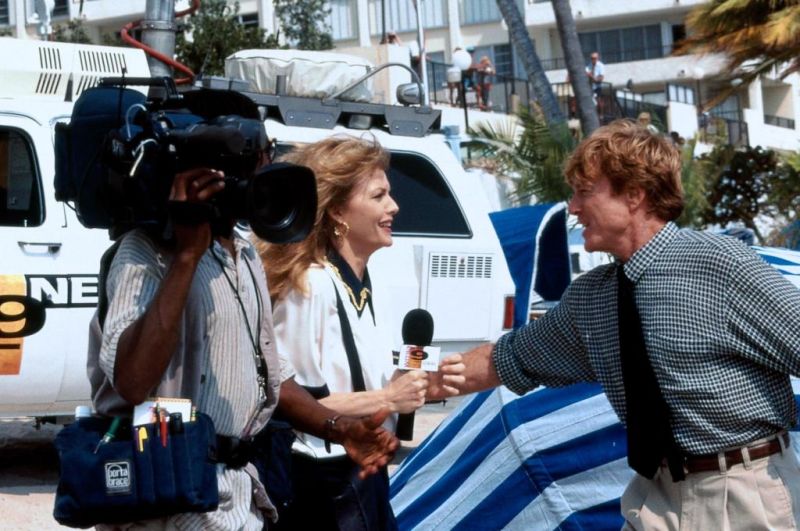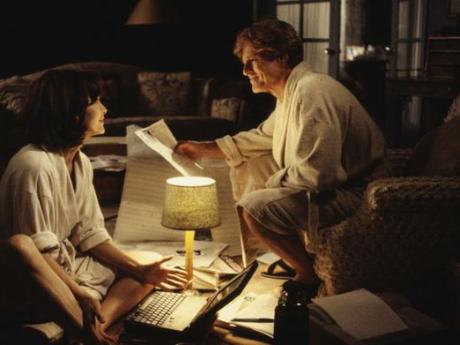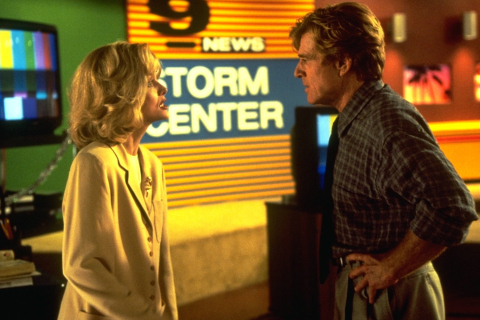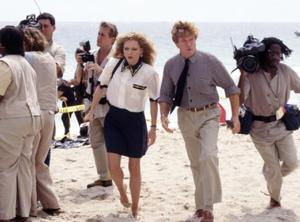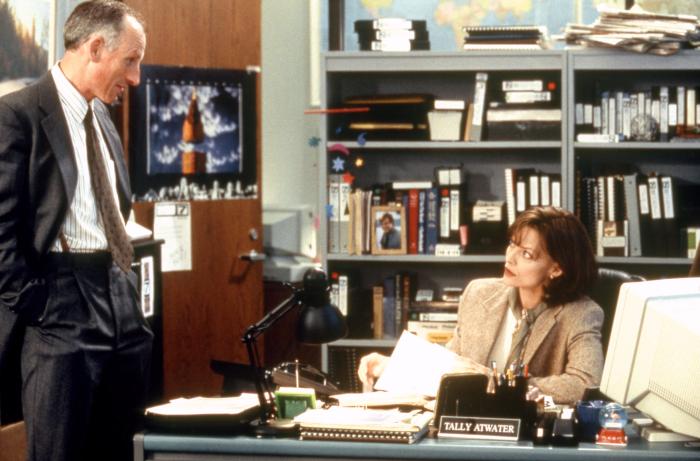 Up Close & Personal Sally (Tally) Atwater (1996)
TV Reporter Tally Atwater (Michelle Pfeiffer) is taught by seasoned journalist Warren Justice (Robert Redford) as she goes from local news to network anchor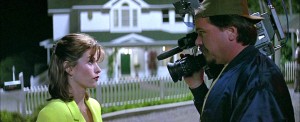 Scream (1996)
TV Reporter Gale Weathers (Courtney Cox), an aggressive field reporter for Top Story, arrives on the scene when heroine is attacked by masked killer who has already killed twice. She abuses her cameraman Kenny (W. Earl Brown)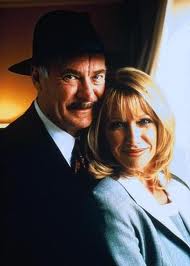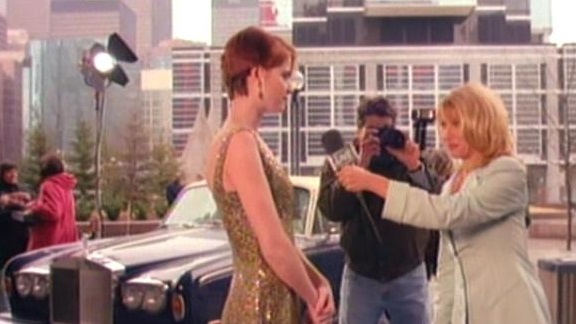 Devil's Food (1996)
TV Reporter Sally McCormick (Suzanne Somers) works at a local station in Syracuse and gets passed up for a network position because she weighs too much. McCormick says she would sell her soul to the devil to remain thin, and the Devil dcides to oblige her


The Newsroom (1996)
The CBC Toronto newsroom headed by an oily news director, George Findlay (Ken Finkleman) with Audrey (Tanya Allen) as the long-suffering intern and Jim Walcott (Peter Keleghan) as the thick-headed anchorman.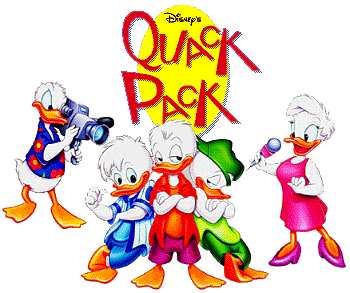 Quack Pack (1996-1997)
TV Reporter Daisy Duck (Kath Soucie - Voice) and Cameraman Donald Duck (Tony Anselmo - Voice) work for a TV News Program called "What in the World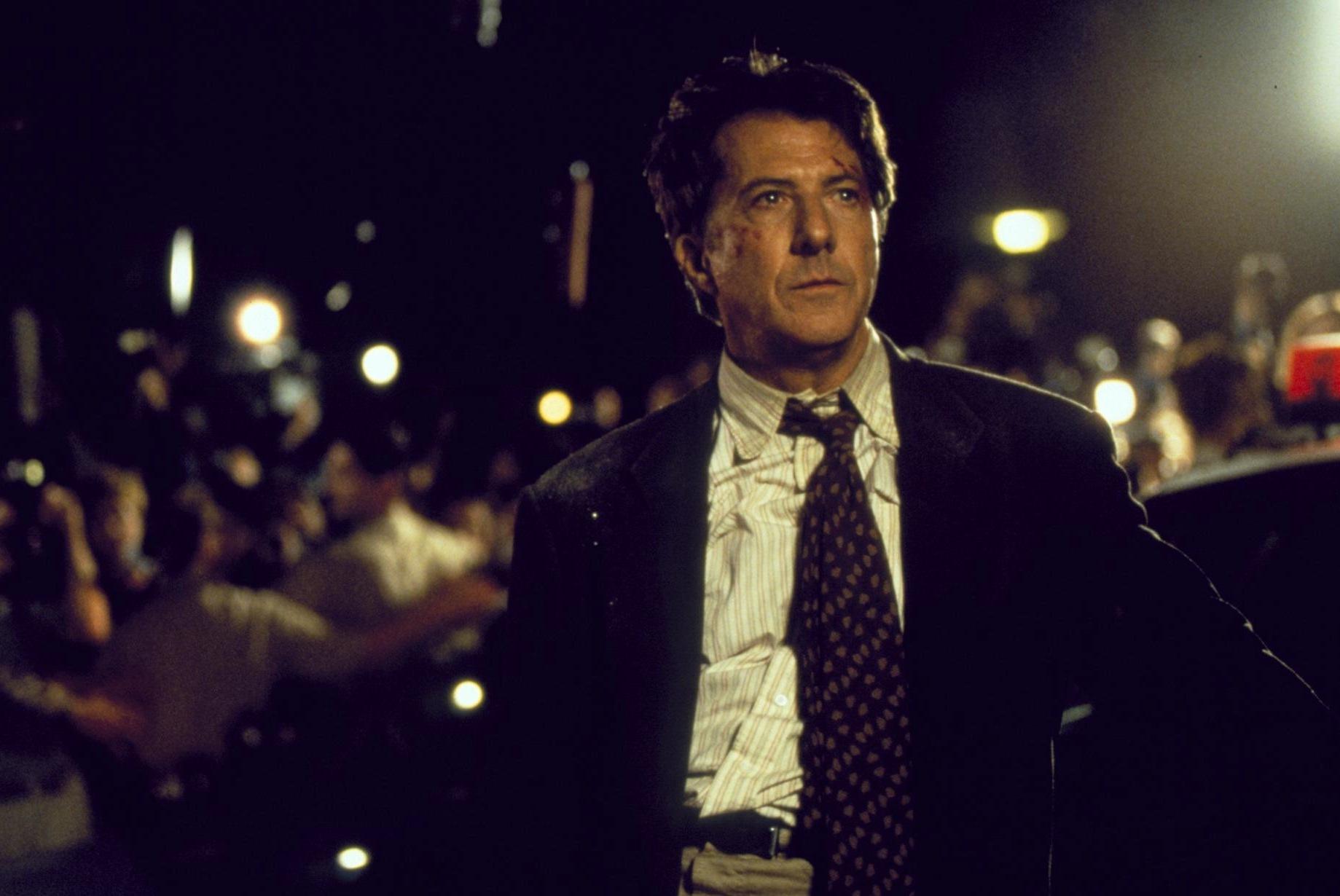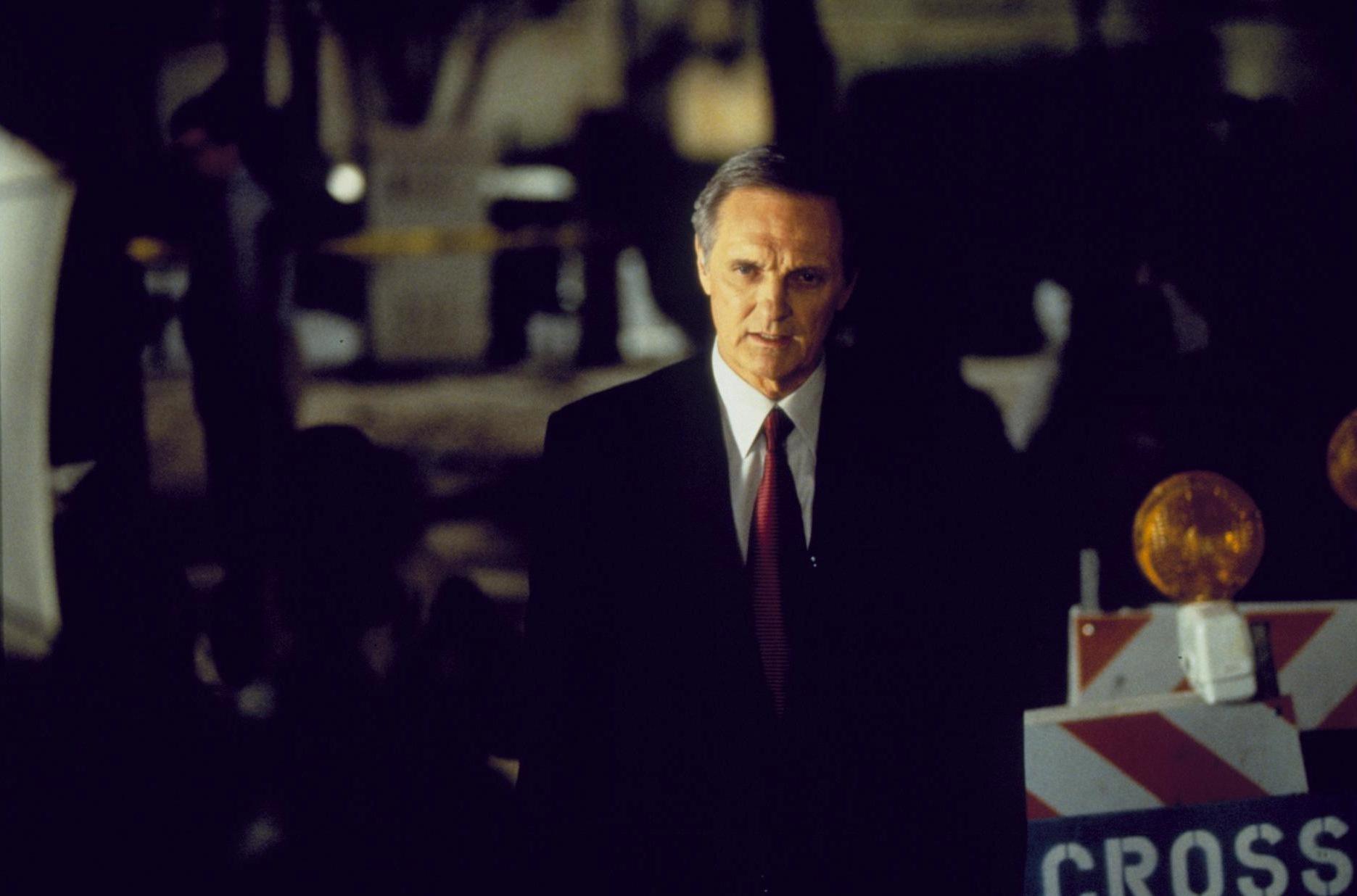 Mad City (1997)
TV Reporter Max Brackett (Dustin Hoffman) is a seamy and ambitious newsman involved in media circus. Anchor Hollander (Alan Alda)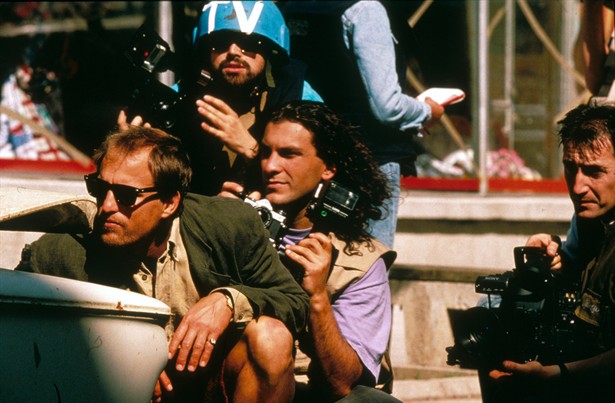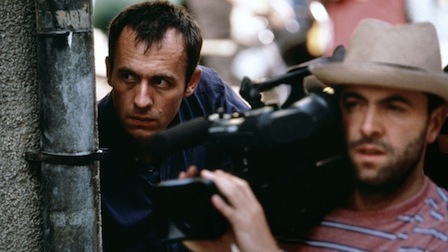 Welcome to Sarajevo (1997)
Reporter Michael Henderson (Stephen Dillane) of ITN and American Star Journalist Jimmy Flynn (Woody Harrelson) meet in 1992 in Sarajevo, the besieged capital of Bosnia-Herzegovina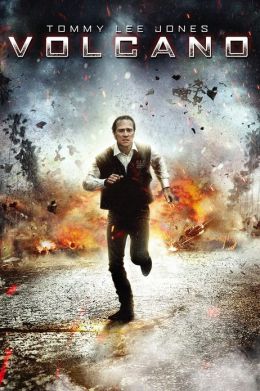 Volcano (1997)
Anonymous News Media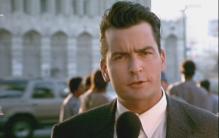 Money Talks (1997)
TV Reporter James Russell (Charlie Sheen) of KJLA Channel 12 News, "The Pulse of LA"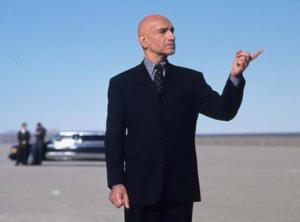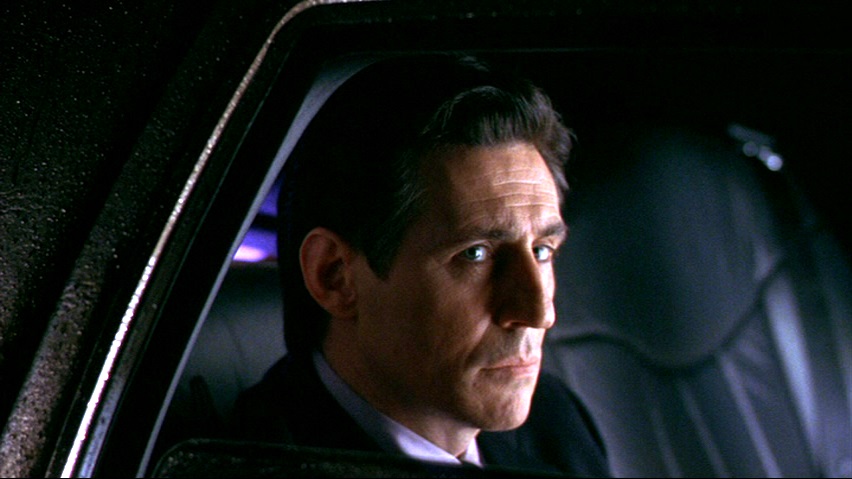 Weapons of Mass Distraction (1997)
News Media tycoons Lionel Powers (Gabriel Byrne) and Julian Messenger (Ben Kingsley) resort to blackmail and mudslinging as they wrestle for ownership of a professional football team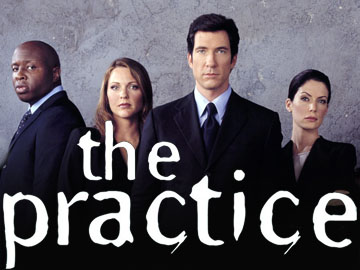 Practice, The (1997-2004)
Anonymous News Media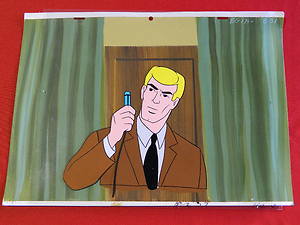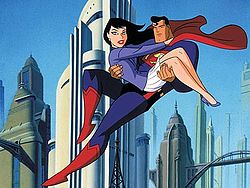 The New Batman/Superman Adventures (1997-2000)
Anonymous News Media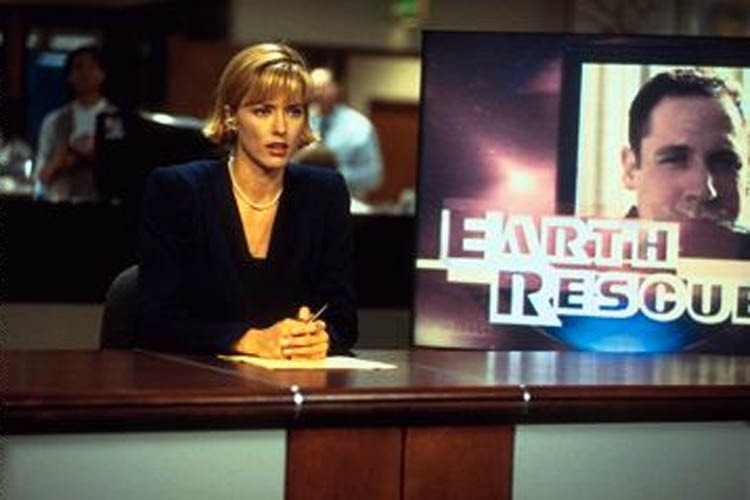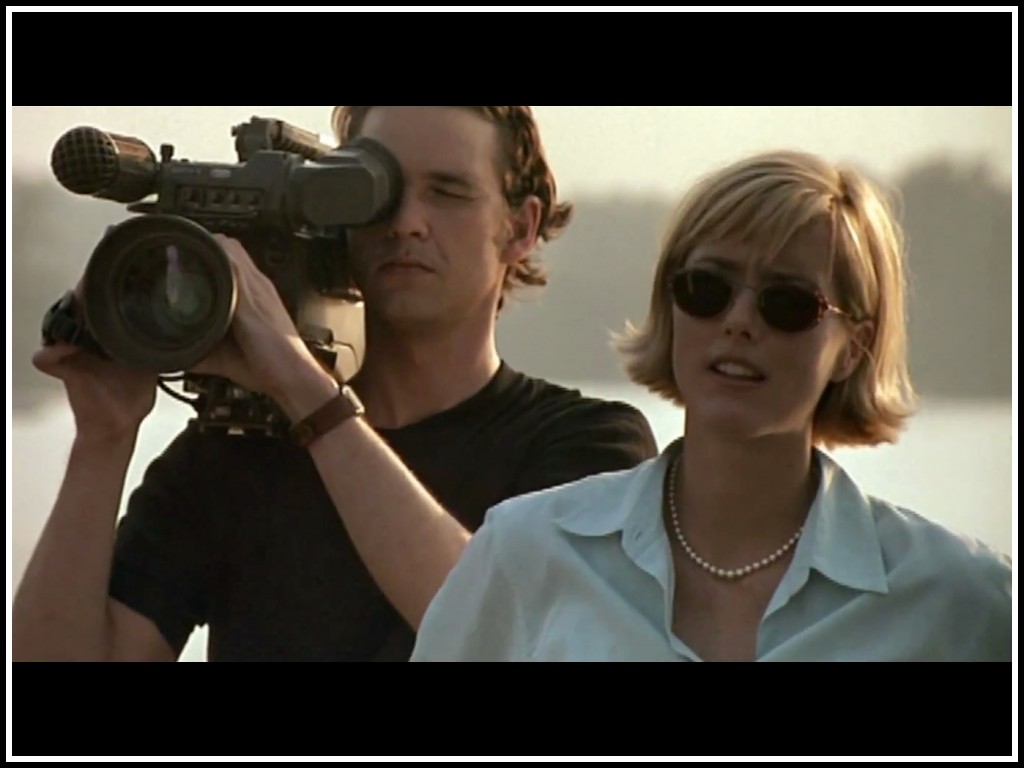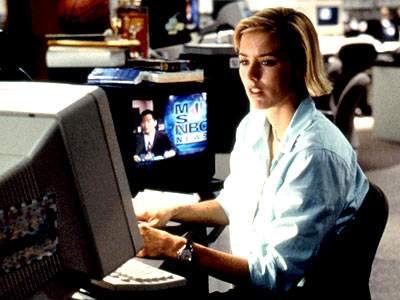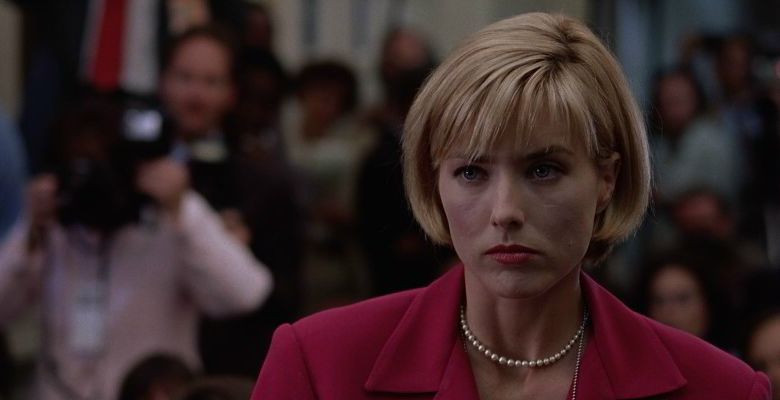 Deep Impact (1998)
MSNBC Reporter Jenny Lerner (Tea Leoni) stumbles into scoop as a comet is headed to Earth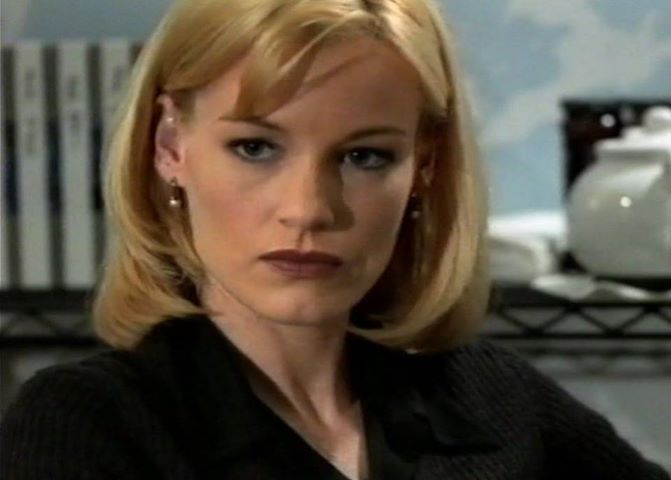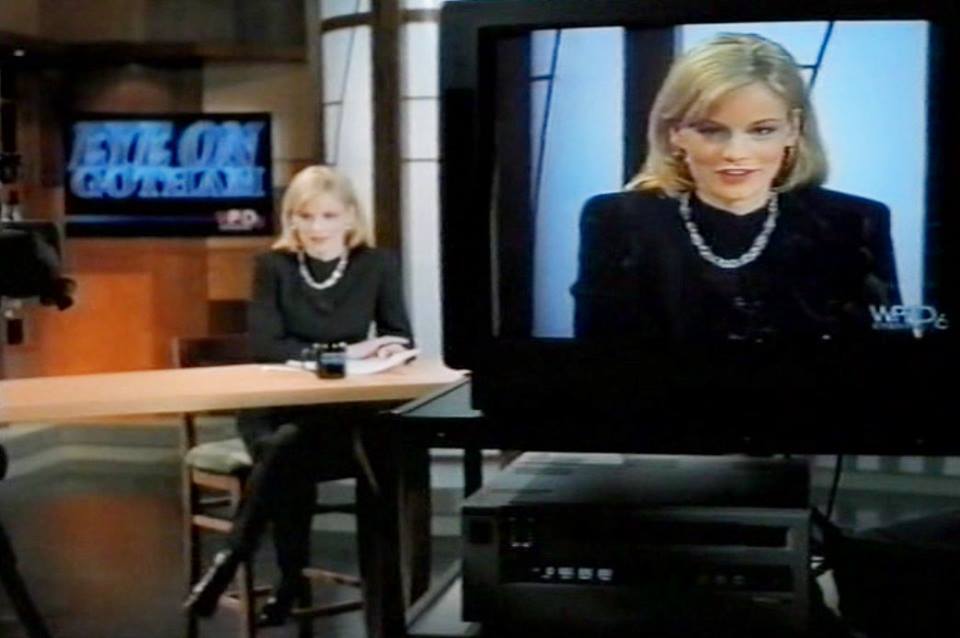 Naked City: A Killer Christmas (1998)
TV Reporter Gerry Millar (Laura Leighton) airs photo of "Soho Slayer" and receives e-mail from killer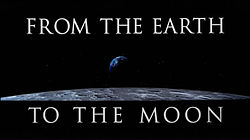 From the Earth to the Moon: We Interrupt This Program (1998)
TV Anchor-Reporter (Lane Smith), a fictional Walter Cronkite-like TV reporter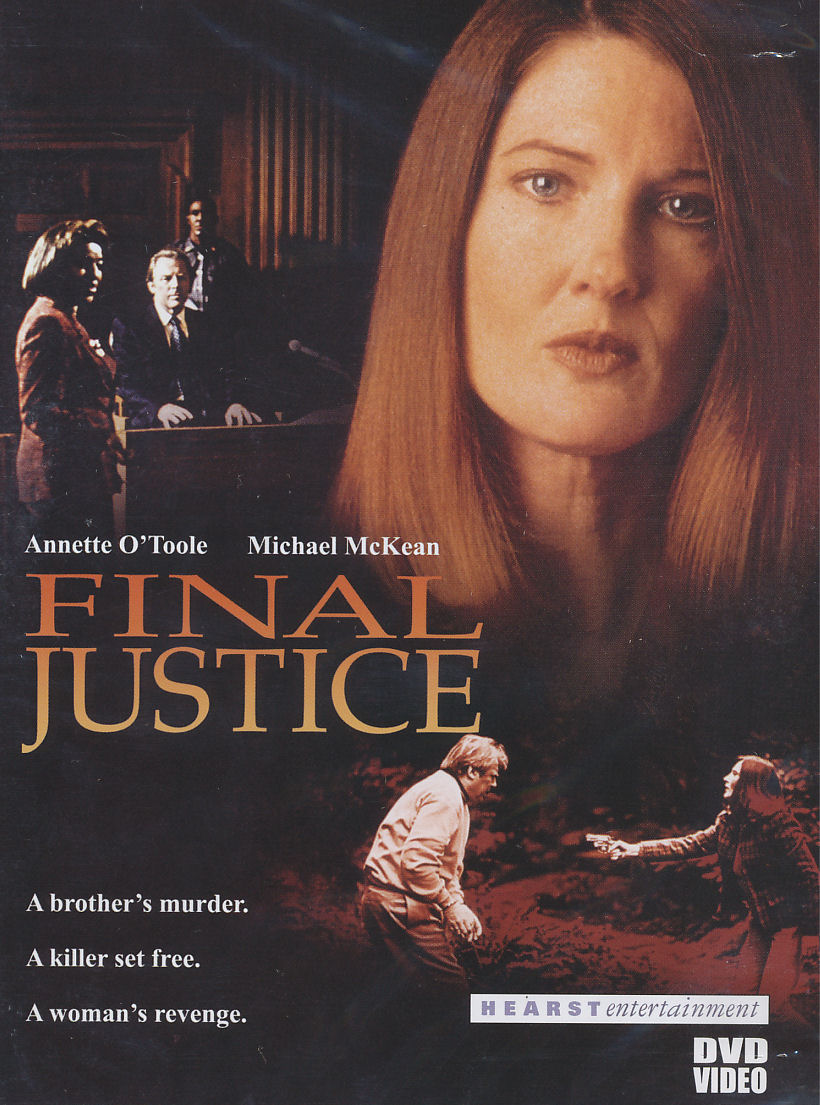 Final Justice (1998)
Anonymous News Media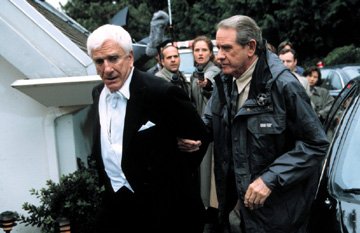 Wrongfully Accused (1998)
Anonymous News Media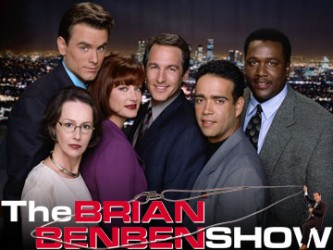 Brian Benben Show (1998)
TV Reporter Brian Benben is a news anchor at KYLA until a ratings slump causes the station to hire new, younger anchors with flashier smiles. Brian is demoted to Features reporter and strikes up a not-so-friendly rivalry with his replacement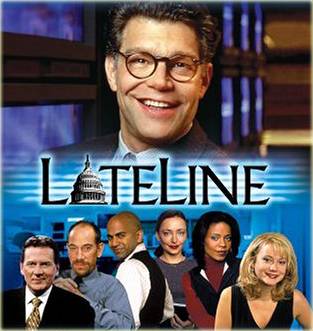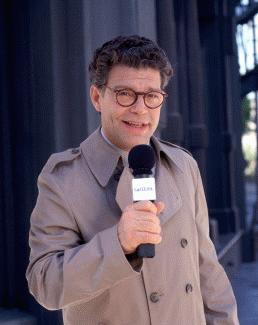 LateLine (1998)
TV Reporter Al Freundlich (Al Franken) works for LateLine, a fictitious TV network's late-night news program based in Washington D.C. Anchor Pearce McKenzie (Robert Foxworth). Producer Vic Carp (Miguel Ferrer)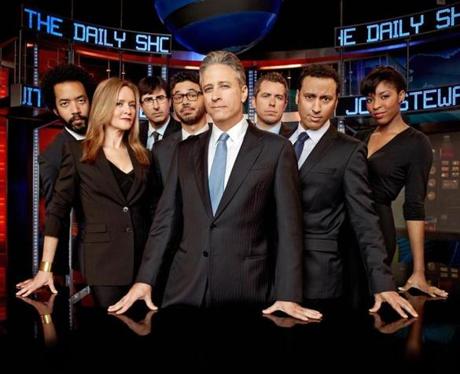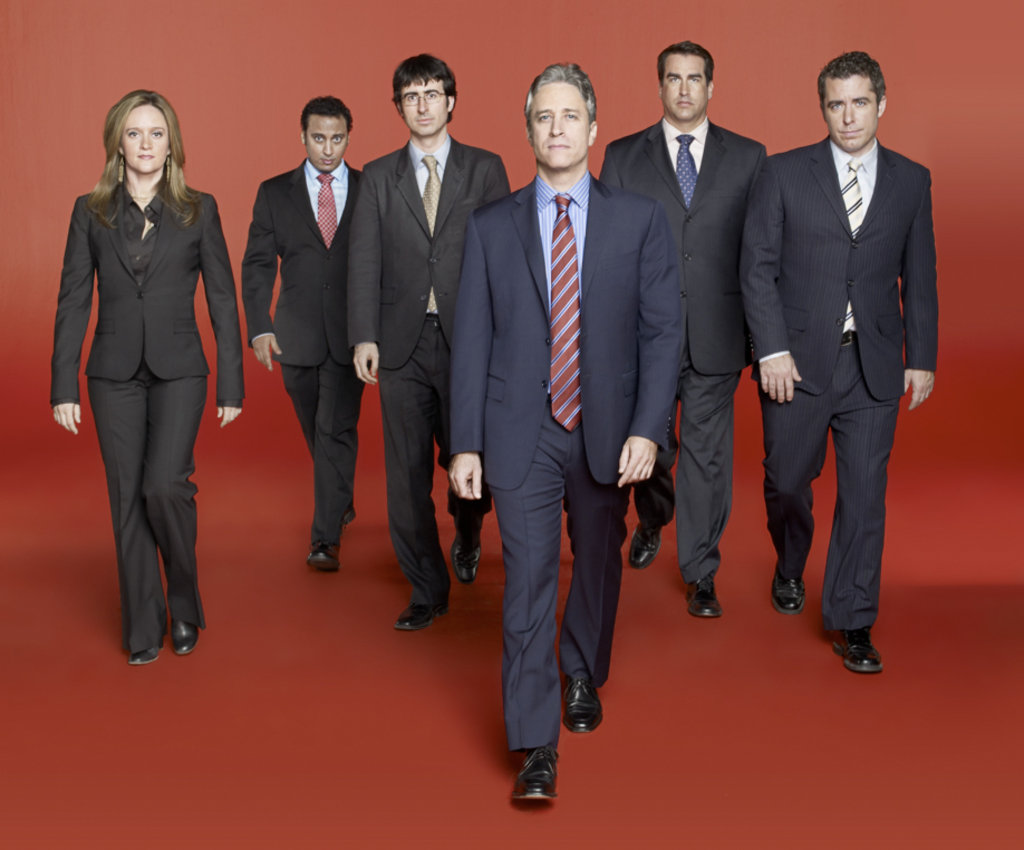 The Daily Show with Jon Stewart (1999-)
TV Anchor Jon Stewart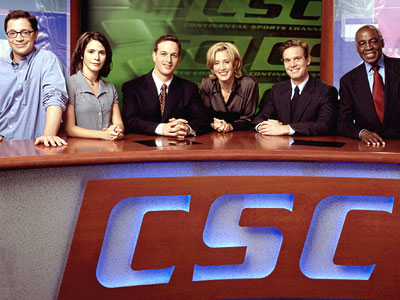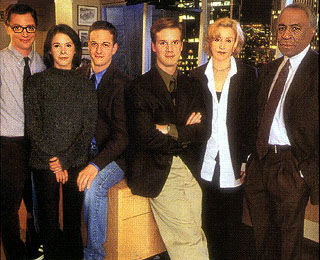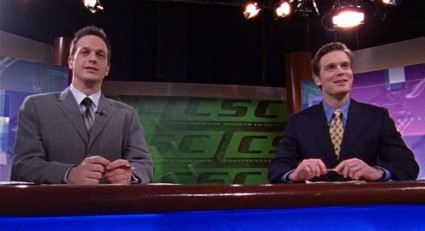 Sports Night: Shane (1999)
TV Sports Staff includes Casey McCall (Peter Krause) and Dan Rydell (Josh Charles), sportscasters on Sports Night team. Managing Editor Isaac Jaffe (Robert Guillaume). Executive Producer Dana Whitaker (Felicity Huffman).Senior Associate Producer Natalie Hurley (Sabrina Lloyd). Associate Producer Jeremy Goodwin (Joshua Malina).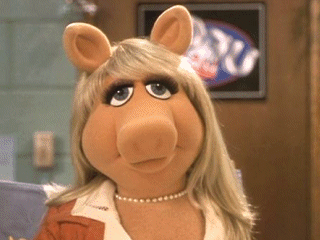 Muppets from Space (1999)
TV Reporter Miss Piggy is a tyro TV reporter of WHHZ-TV 9 working on a big story. "I've got to change into something that says journalistic integrity."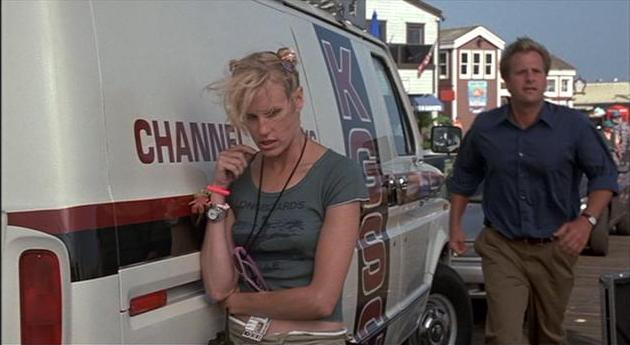 My Favorite Martian (1999)
TV Reporter Tim O'Hara (Jeff Daniels) now is a television newsman working for KGSC-TV.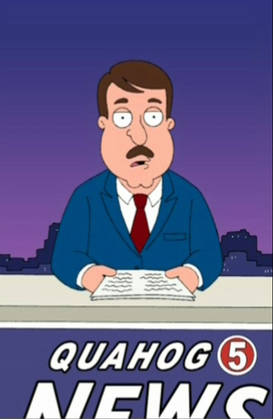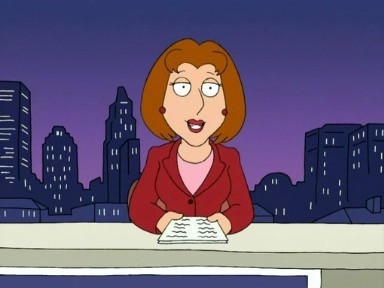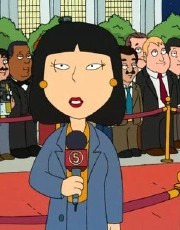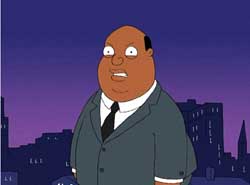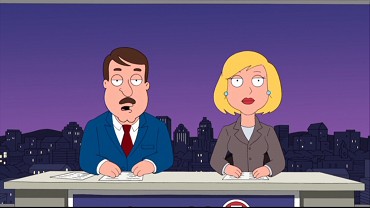 Family Guy (1999)
TV Anchors Tom Tucker and Diane Simmons of Quahog 5-Action News. Asian Reporter Tricia Takanawa. African-American Reporter Ollie Williams. When Diane left,TV Anchor Joyce Kinney joined Tucker as his co-anchor.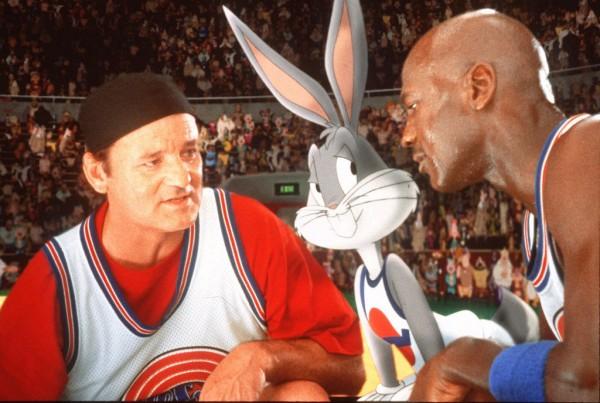 Commercial: MIC (1999)
Michael Jordan and Bugs Bunny are news anchors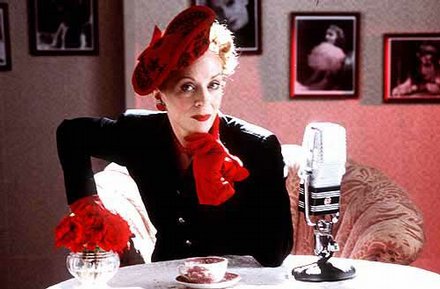 The Lot (1999-2001)
Gossip Columnist Letitia De Vine (Holland Taylor) is based on Louella Parsons-Hedda Hopper columnist. She dispenses gossip about Hollywood and celebrities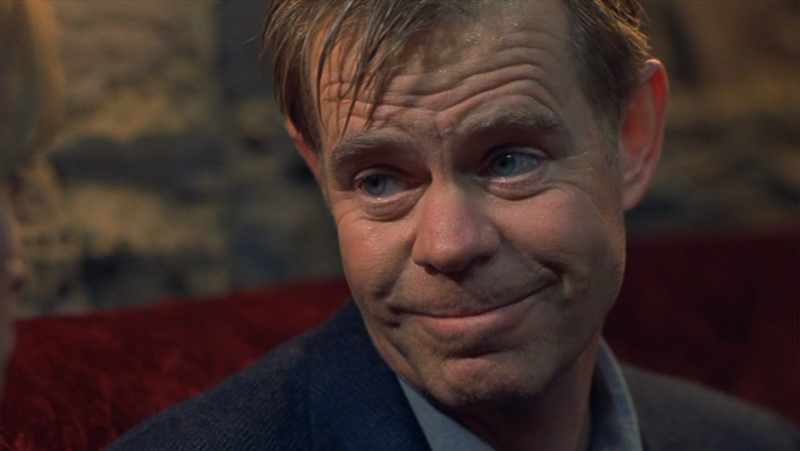 Slight Case of Murder (1999)
Movie Critic Terry Thorpe (William H. Macy) kills his mistress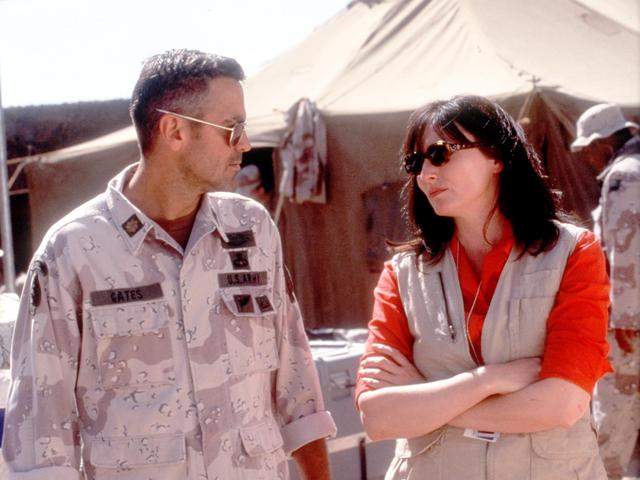 Three Kings (1999)
TV reporter Adriana Cruz (Nora Dunn) will do anything to get a scoop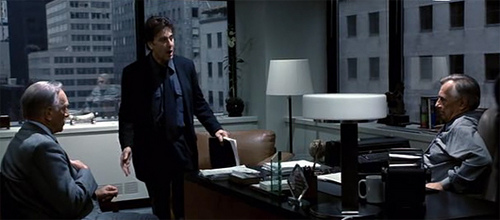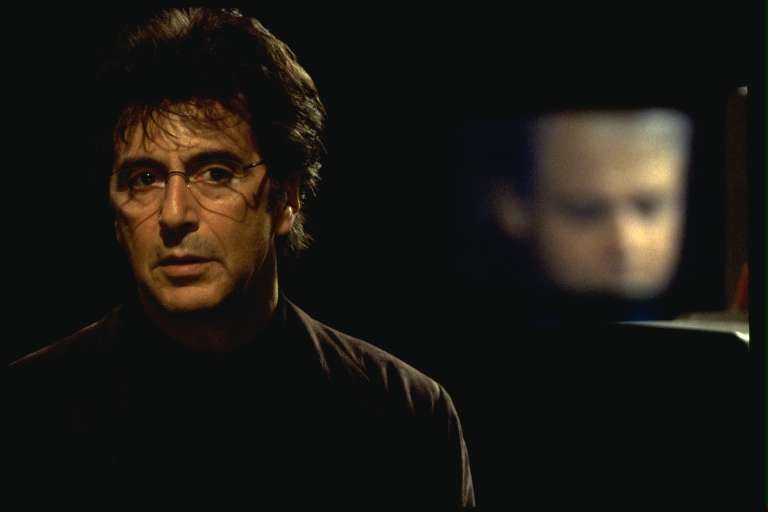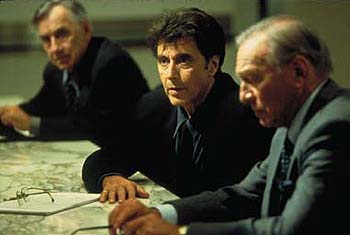 The Insider (1999)
60 Minutes Producer Lowell Bergman (Al Pacino). Executive Producer Don Hewitt ( Philip Baker Hall) and Reporter Mike Wallace (Christopher Plummer) go after the tobacco industry unprepared for the repercussions that follow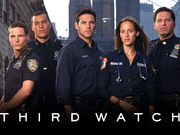 Third Watch: Four Days (2000)
TV Reporter Hayley Friend (Nancy O'Dell) on television and in the field covering the story of racial tensions throughout the city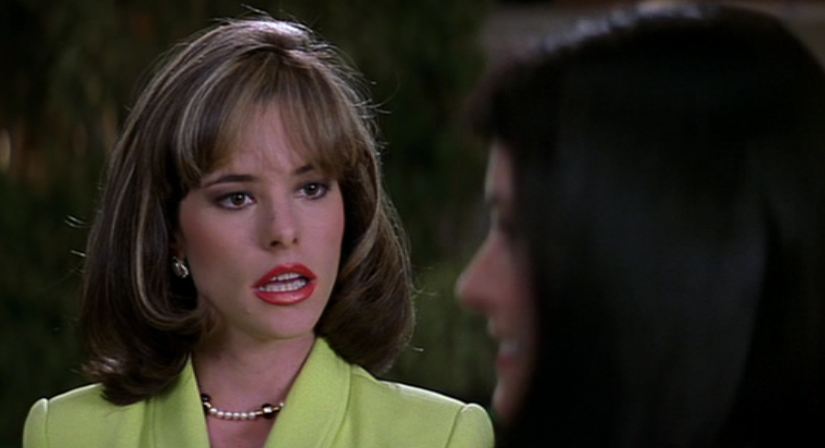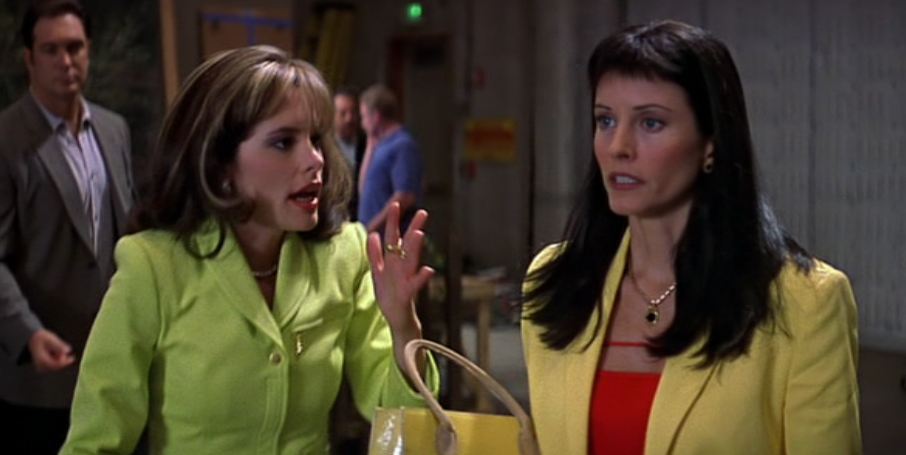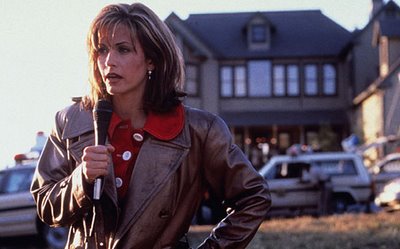 Scream 3 (2000)
TV Reporter Gale Weathers (Courtney Cox Arquette) is not pleased that Jennifer (Parker Posey) is playing her in a film version of her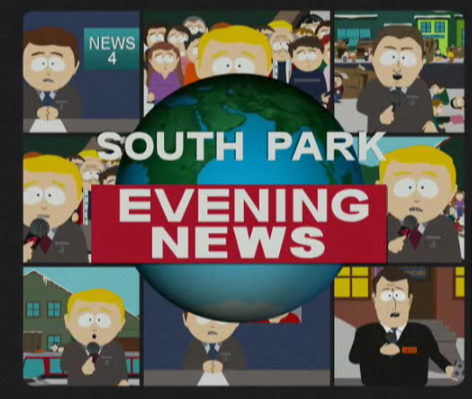 South Park: Contorting Quintuplets 2000 (2000)
News media is attracted by a family of quintuplets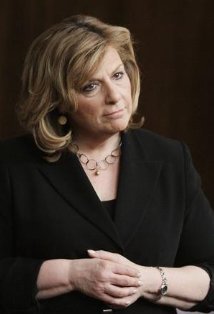 Running Mates (2000)
TV Reporter Jody Daniels (Caroline Aaron) and the news media cover the presidential election campaign of Gov. James Pryce (Tom Sellect), a Democratic Party presidential candidate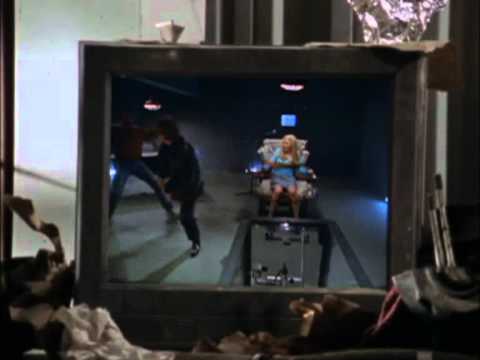 Walker: 6 Hours (2001)
TV Reporter Kelly Santos (Alyce Caron) and the news media report about the kidnapping of a billionaire's daughter.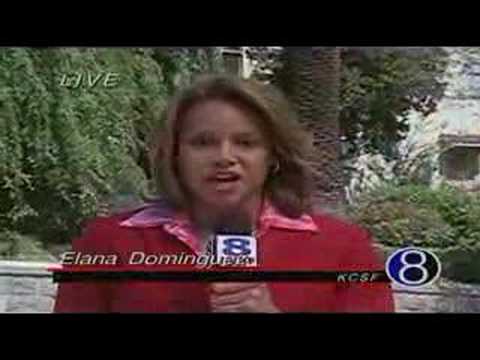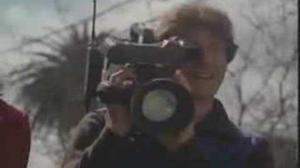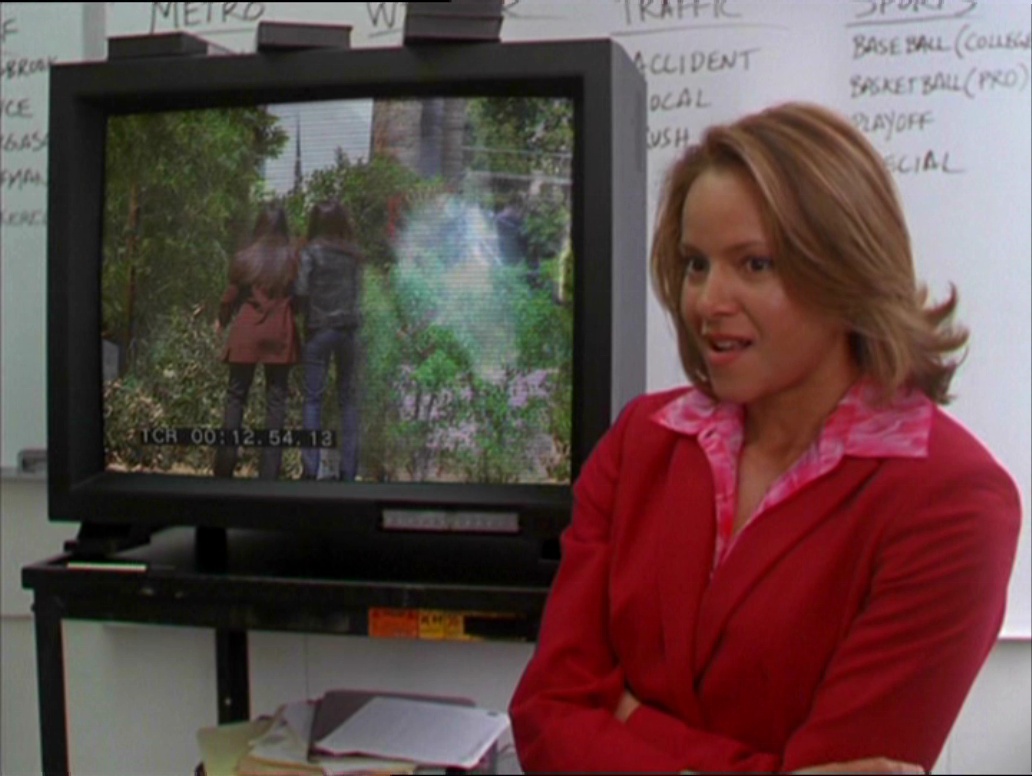 Charmed: All Hell Breaks Loose (2001)
TV Reporter Elana Dominguez (Mercedes Colon) of KSCF 8 TV News and her Cameraman (Mark Bennington) broadcast a live news report showing two of the Halliwell sisters using a spell to vanquish a demon.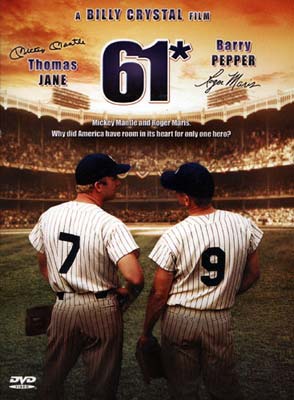 61* (2001)
Anonymous Sports Media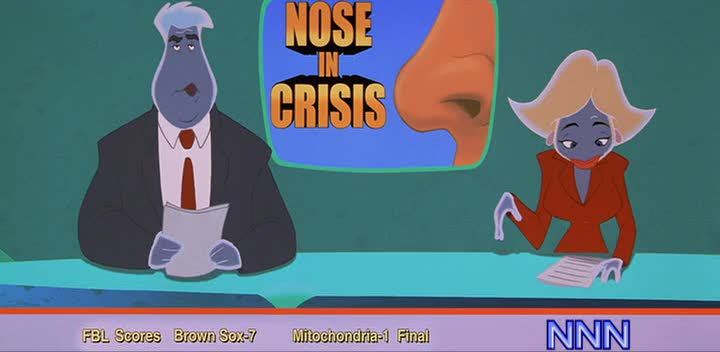 Osmosis Jones (2001)
Male and Female Anchors argue as the end of the world takes place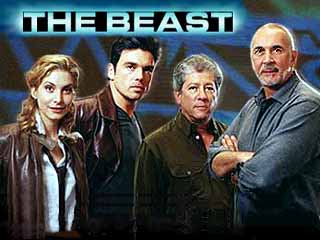 The Beast (2001)
Jackson Burns (Frank Langella), owner and head of WNS, is the boss of a fictional CNS-type 24-hour TV news called "The Beast because of its insatiable appetite for news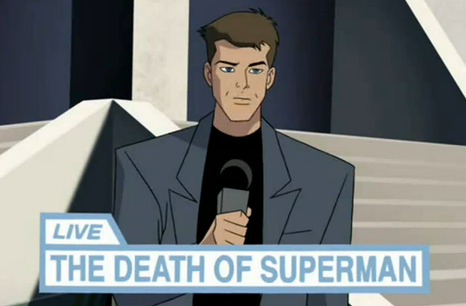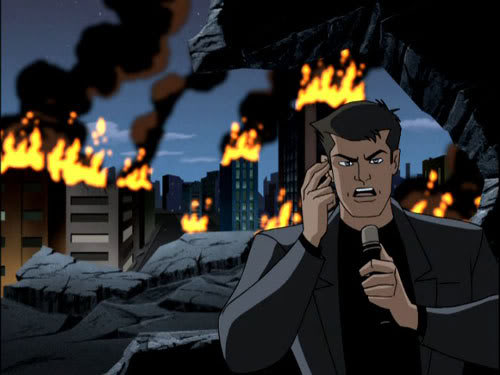 Justice League (2001)
TV Reporter-Anchor Lucas "Snapper" Carr (Jason Marsden - Voice) provides commentary on the animated TV series, "Justice League" and "Justice League Unlimited."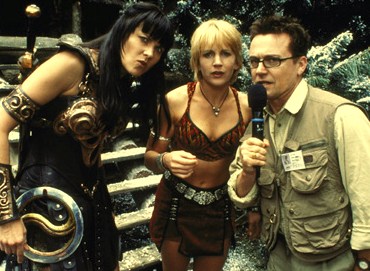 Xena Warrior Princess: You Are There (2001)
Tabloid TV Reporter Nigel (Michael Hurst) tries to get the scoop on Xena and her motivation for her quest to obtain the legendary golden apples from Valhalla. He also wants to know Ares' relationship with Xena, and Xena's relationship with Gabrielle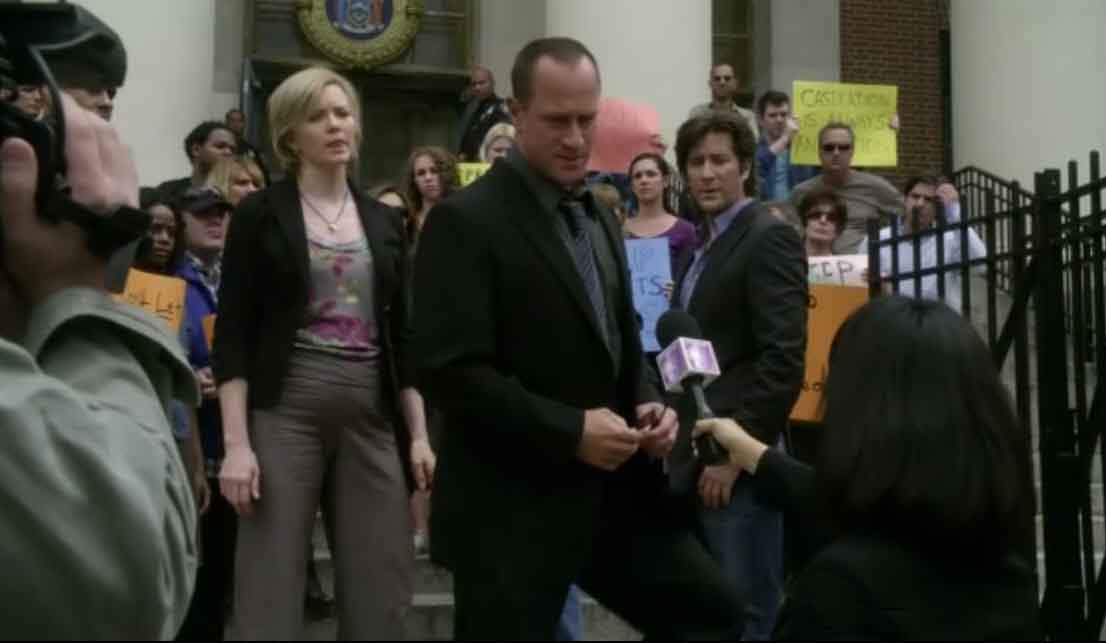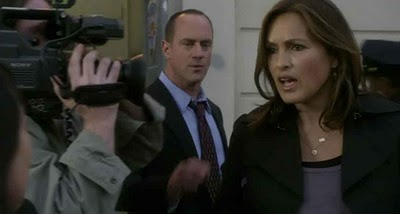 Law & Order: Criminal Intent (2001-2006)
Anonymous News Media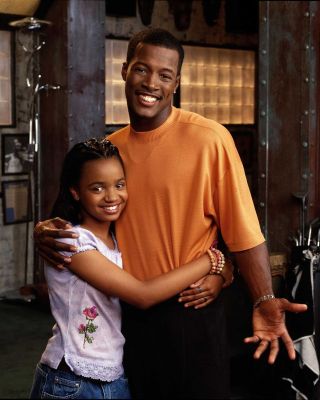 One on One (2001-2005)
TV Sportscaster Flex Washington (Flex Alexander) of WYNX News is a Baltimore sportscaster, carefree bachelor whose life is disrupted when his 14-year-old daughter moves in.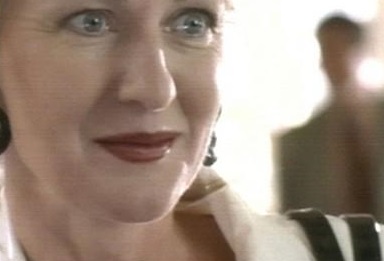 Nash Bridges : The Messenger (2000)
TV Newscaster Inger Dominguez (Caroline Lagerfelt) is protected by Detective Nash Bridges from a deranged fan. Madman guns down five people in elevator, but leaves the news reporter alive. She is more interested in reporting the story rather than catching the killer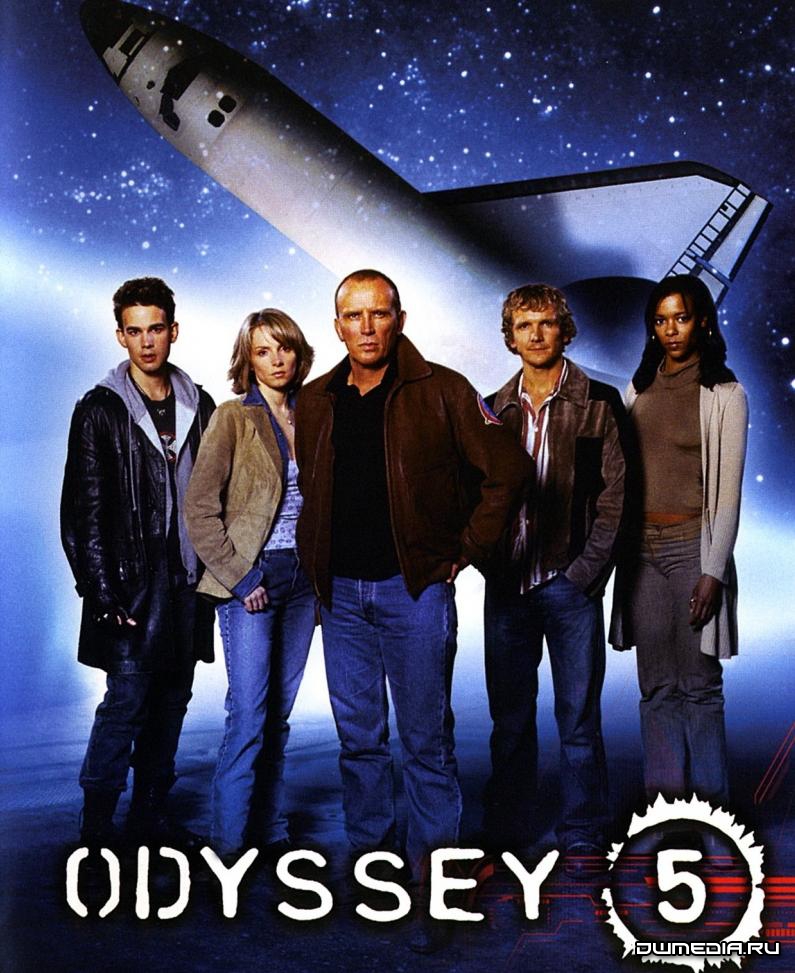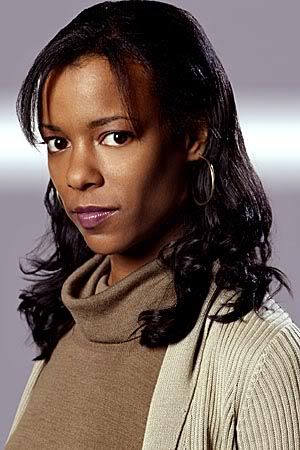 Odyssey 5 (2002)
African-American Female TV Journalist Sarah Forbes (Leslie Silva), current anchor at CNT Cable News Network. Her presence aboard the Odyssey is historic, as it makes her the world's first journalist to fly into outer space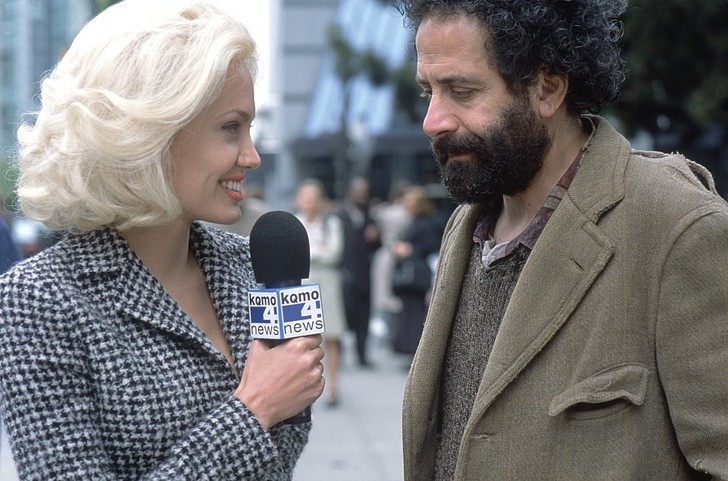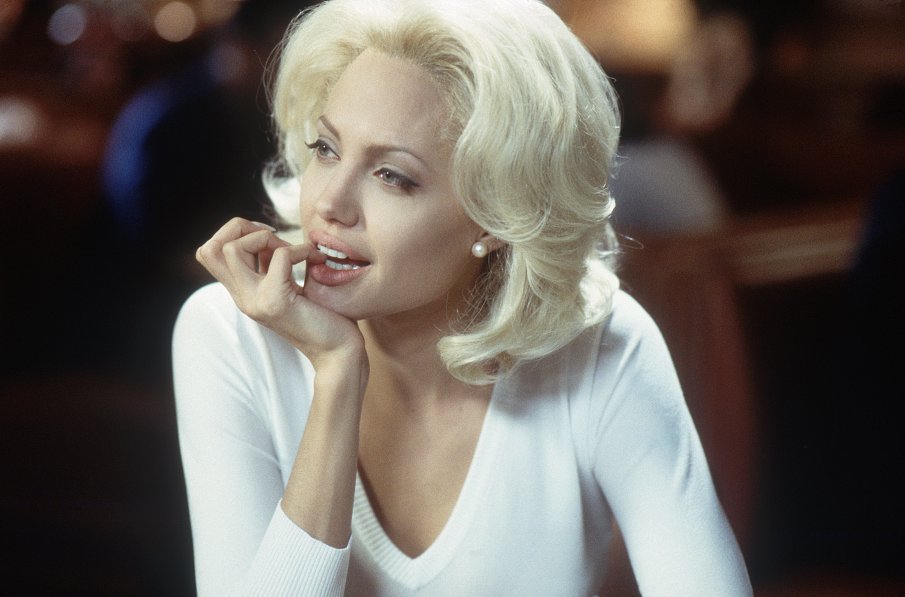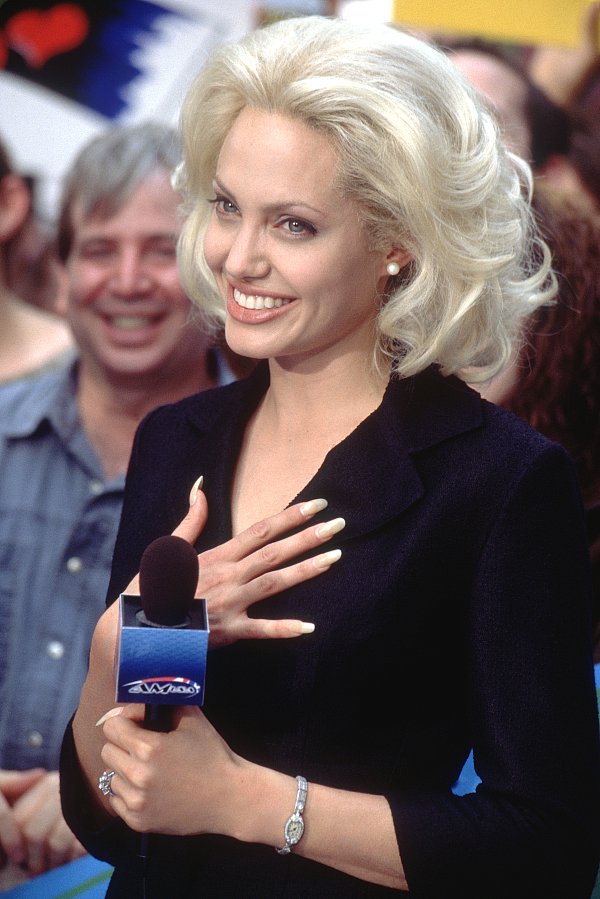 Life or Something Like It (2002)
TV Reporter Lanie Kerrigan (Angelina Jolie) is a Seattle TV reporter whose life is turned upside down when a sidewalk prophet predicts she will die in a week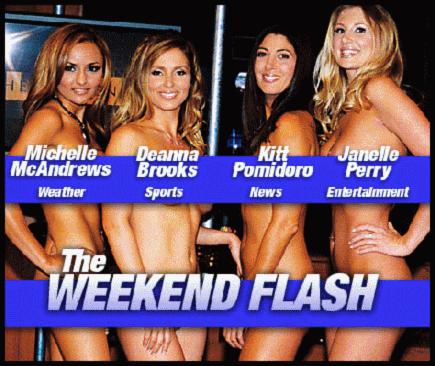 The Weekend Flash (2002-2004)
TV Anchorwomen report on a variety of news stories in the nude: Anchor Kitt Pomidoro, Entertainment Reporters Cala Harvey and Janelle Perry, Sports Reporter Deanna Brooks, Weather Girls Michelle McAndrews, Andrea Lowell, Heidi Hawking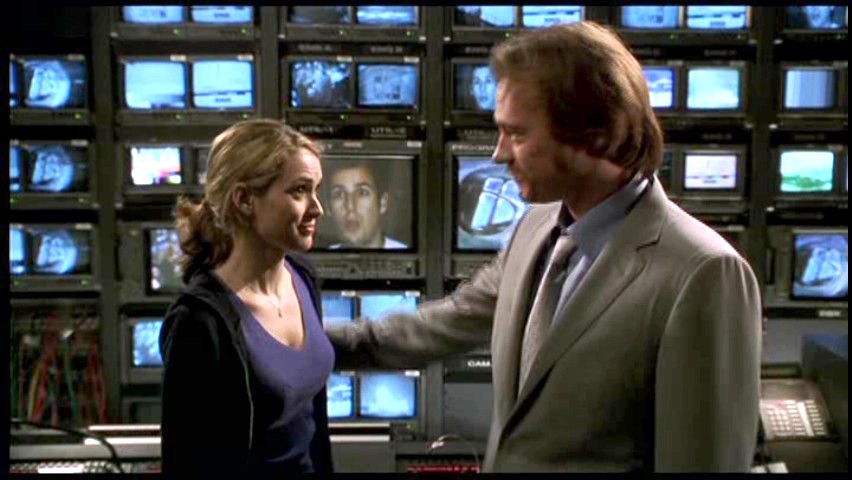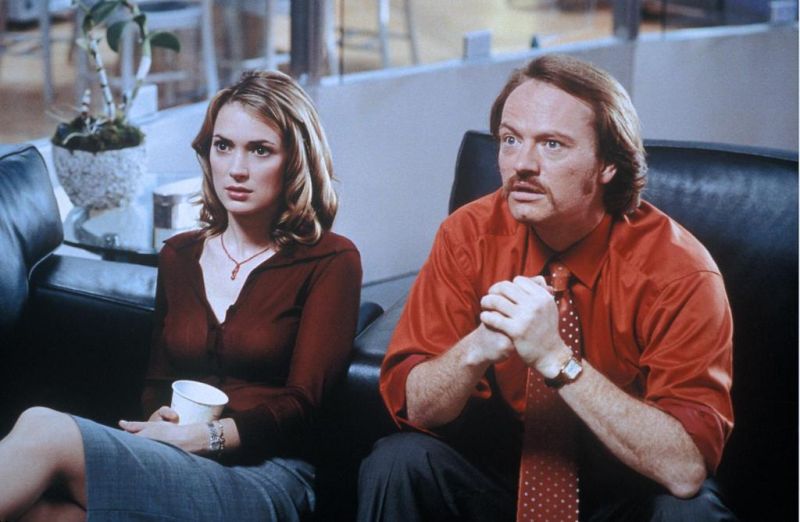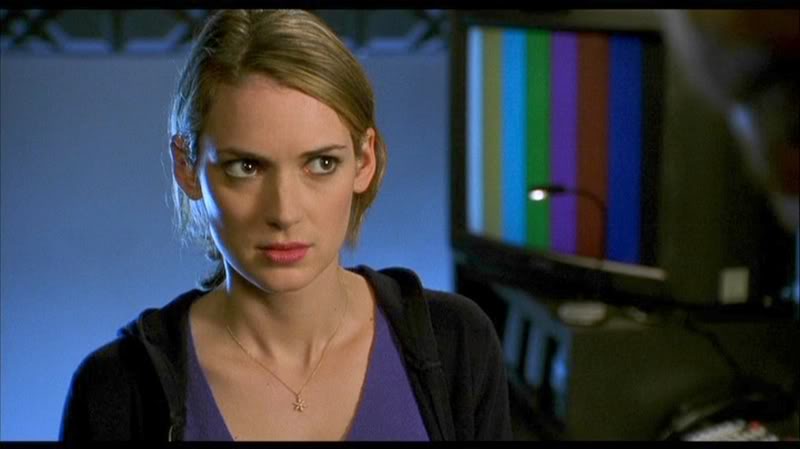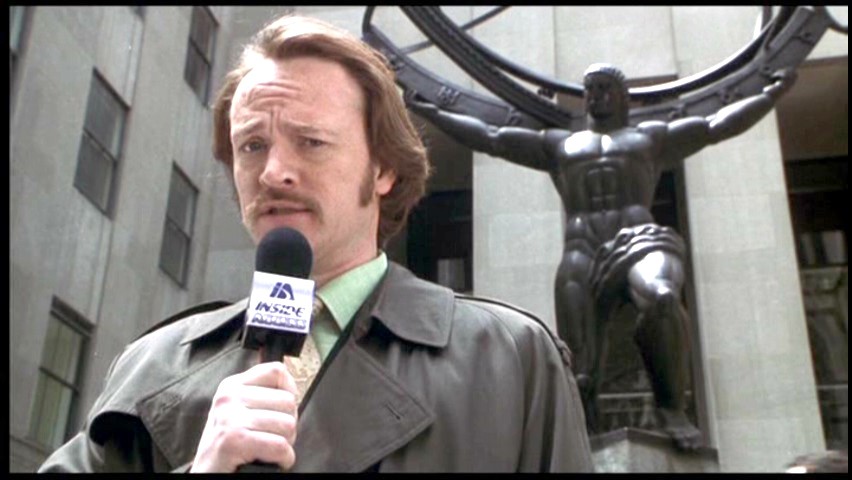 Mr. Deeds (2002)
Tabloid TV Journalist Babe Bennett (Winona Ryder) is sent by Producer Mac McGrath (Jared Harris) of a sleazy tabloid TV show to get the inside scoop on Millionaire Deeds and sends Bennett, wired for sound and picture, to get the story. He is an unscrupulous anchor-producer who edits Bennett's stories into distorted, libelous TV pieces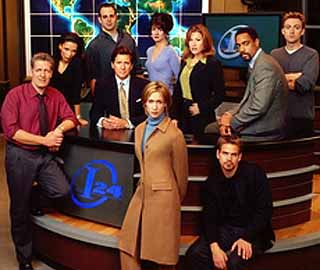 Breaking News (2002)
TV News Staff for I-24, a Chicago-based 24-hour news network includes Anchor Bill Dunne (Tim Matheson)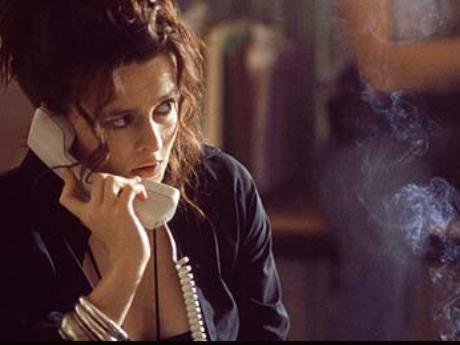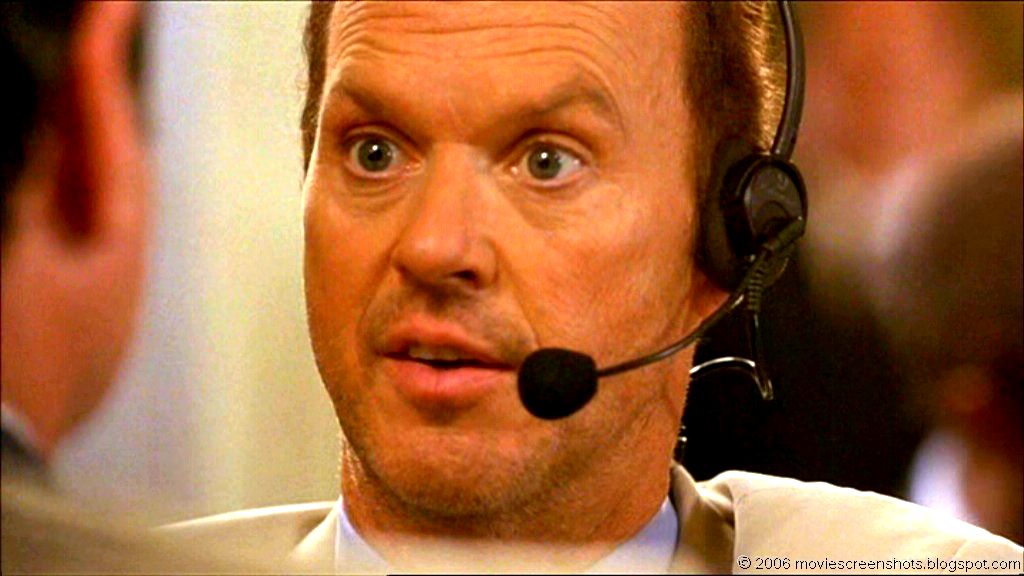 Live From Baghdad (2002)
CNN Reporters wrestle with journalistic ethics and the life-and-death perils of reporting during the Gulf War in 1991. CNN Producer Robert Weiner (Michael Keaton). Producer Ingrid Formanek (Helena Bonham Carter). CNN Anchor Bernard Shaw (Robert Wisdom)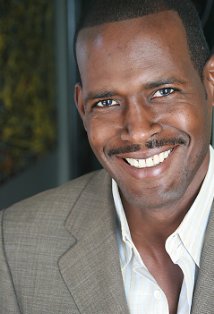 The Good Girl (2002)
African-American TV Reporter (Ken Rudulph)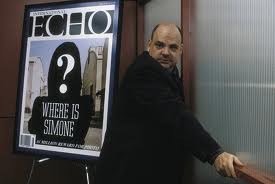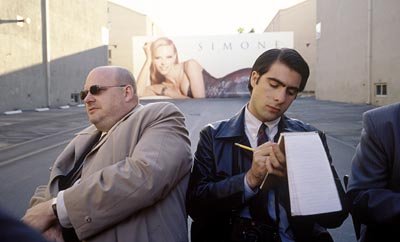 Simone (2002)
News Media circus follow Simone, a computer-generated actress. Tabloid Journalist Max Sayer (Pruitt Taylor Vince) is obsessed with her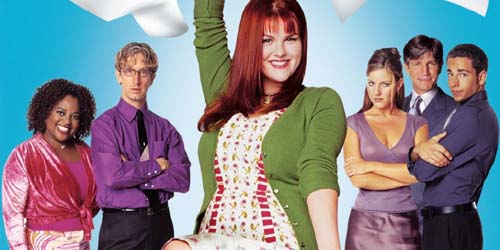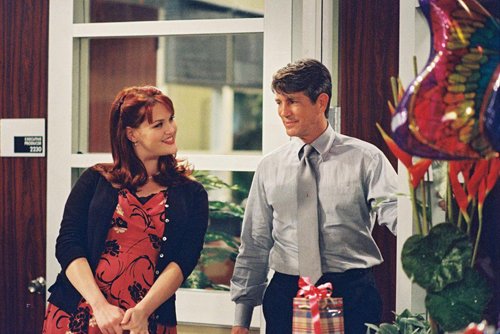 Less Than Perfect (2002-2006)
Claudia "Claude" Casey (Sara Rue) works for handsome news anchor Will Butler (Eric Roberts) at GNB Television Network.
Other staff members include Kipp (Zachary Levi) and Lydia (Andrea Parker), Ramona (Sherri Shepherd) and Owen (Andy Dick).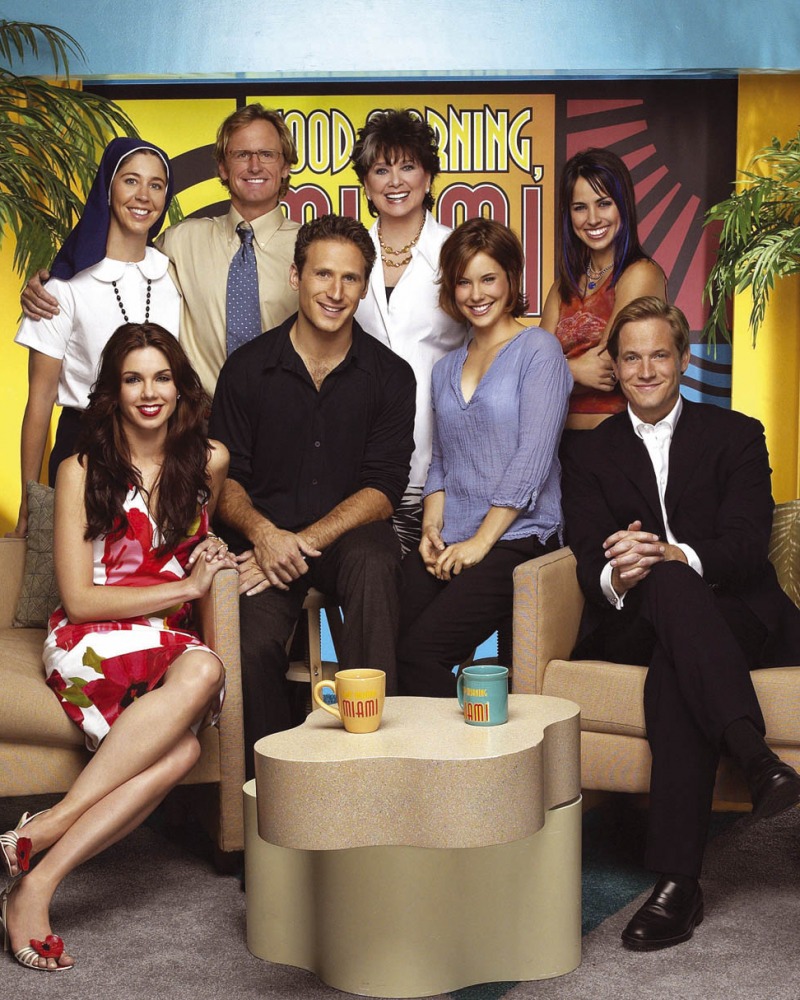 Good Morning, Miami (2002-2004)
Jacob "Jake" Silver (Mark Feuerstein) is executive producer of the lowest-rated morning show in the country. His staff includes pompous anchor Gavin Stone (Matt Letscher) and self-centered co-host Lucia Rojas-Klein (Tessie Santiago), the insecure Station Manager Francis "Frank" Alfano (Jere Burns), the lazy and neurotic assistant Penelope "Penny" Barnes Barrington (Constance Zimmer), a volatile nun, Sister Brenda Trogman (Brooke Dillman), the show's weather reporter. He has to make changes.The only reason he's staying is he's in love with the captivating hairstylist, Dylan Messinger (Ashley Williams).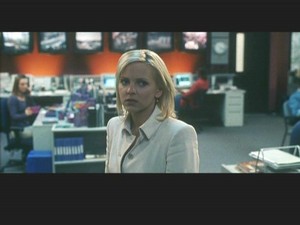 Scary Movie 3 (2003)
TV Anchorwoman Cindy Campbell (Anna Faris), a roving reporter, investigates rumors about UFOs and a videotape that leads to deaths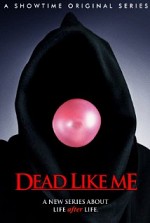 Dead Like Me: Curious George (2003)
TV Reporter Bill "Kostakovich" Bright (Michael Robinson)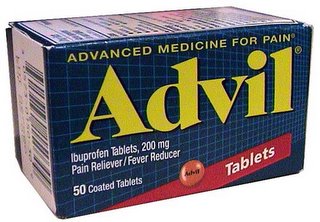 Advil Commercial (2003)
TV Male Reporter has a cold, takes Advil so he can do his job -- it's raining and he has an umbrella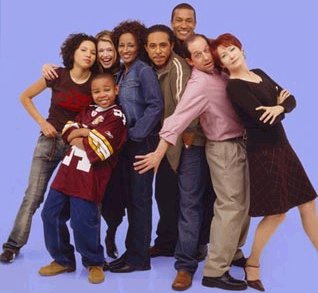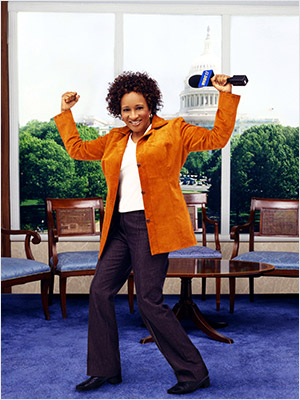 Wanda at Large (2003)
TV Correspondent Wanda Hawkins (Wanda Sykes) for WHDC "The Beltway Gang." Her honesty conflicts with show's conservative moderators -- Rita (Ann Magnuson) and Bradley (Phil Morris) -- on local Washington D.C. political talk show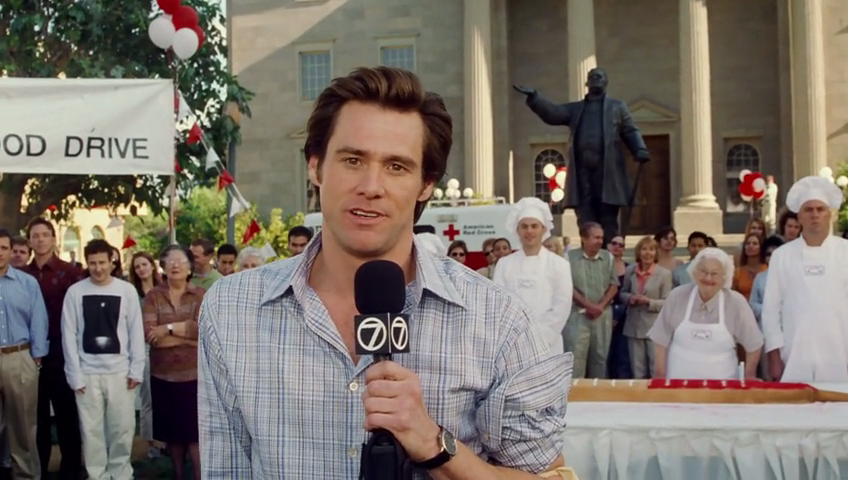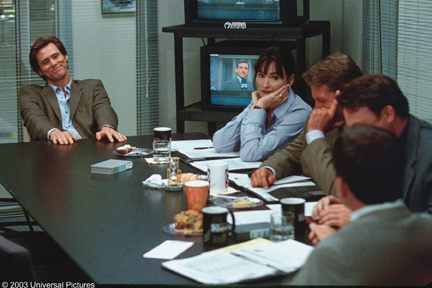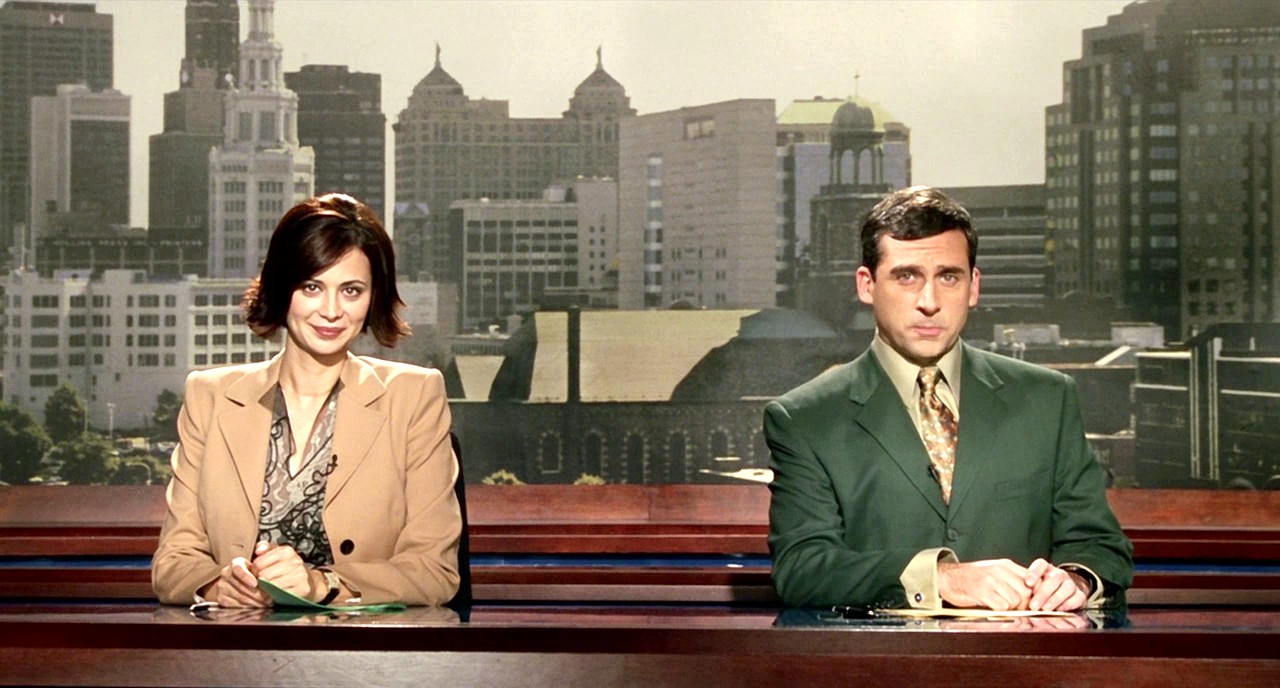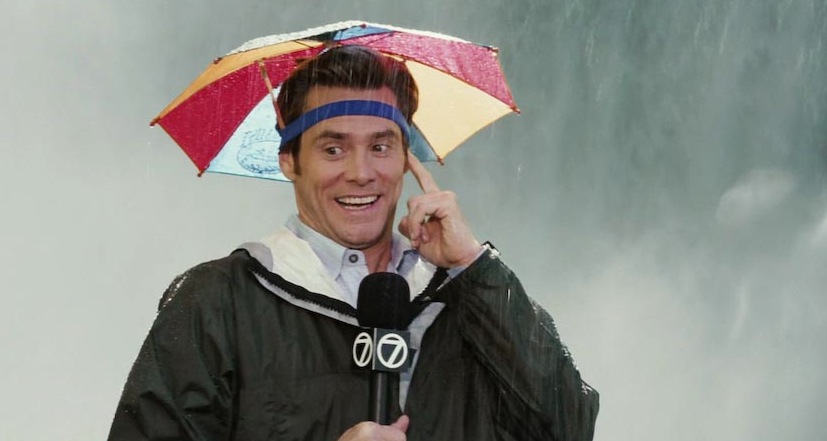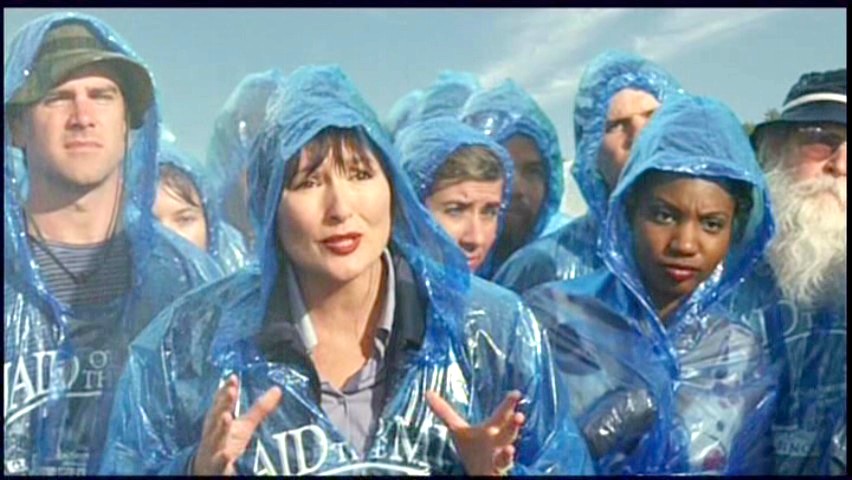 Bruce Almighty (2003)
Reporter Bruce Nolan (Jim Carrey) for a local Buffalo TV-News program always gets stuck with the fluff but wants to be a serious reporter. God takes a break and gives him the reins. TV News Producer Ally Loman (Nora Dunn) and Anchor-Reporters Evan Baxter (Steven Carell) and Susan Ortega (Catherine Bell)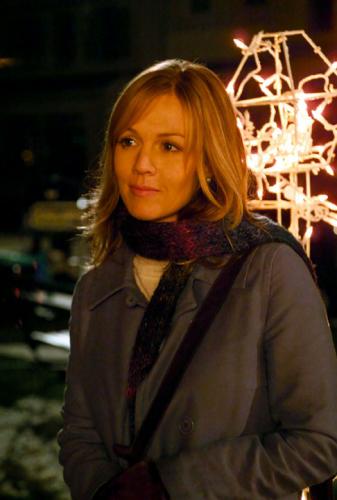 Secret Santa (2003)
Investigative Reporter Rebecca Chandler (Jennie Garth) of the Indianapolis Tribune learns the true meaning of Christmas while trying to uncover the identity of a mysterious philanthropist. Editor Scotty (Cody Fleetwood).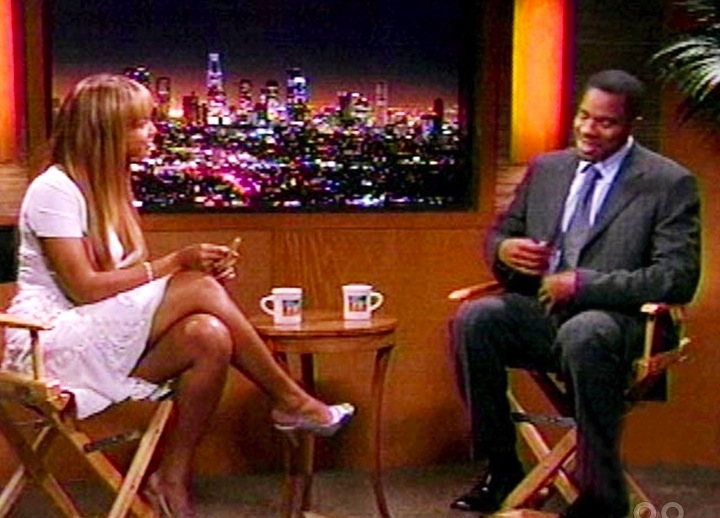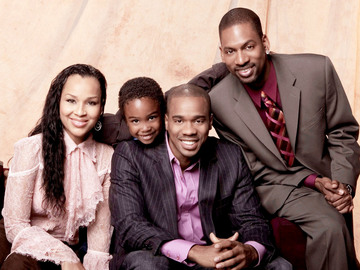 All of Us (2003)
Entertainment Reporter Robert James (Duane Martin) for the local Los Angeles television station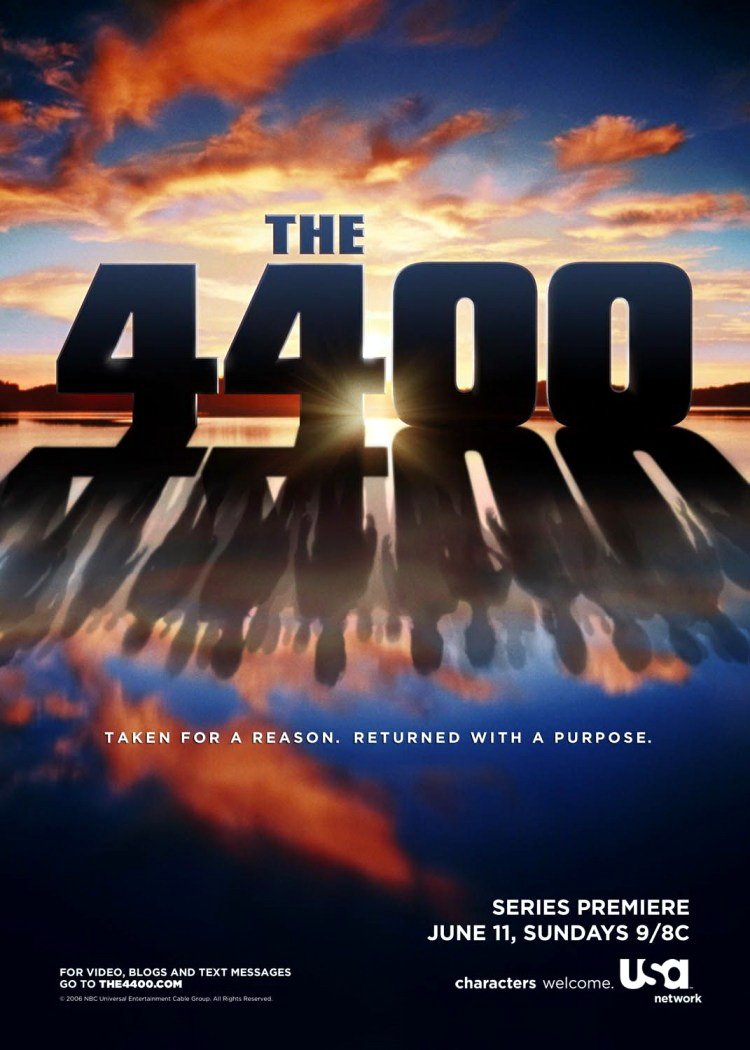 4400 (2004)
Anonymous News Media. TV Journalist Barbara Yates (Helen Shaver) who released classified information telling everyone where the 4400 are resulting in a series of fire-bombings that threaten the lives of the 4400. She is eventually blackmailed by authorities into leaving TV.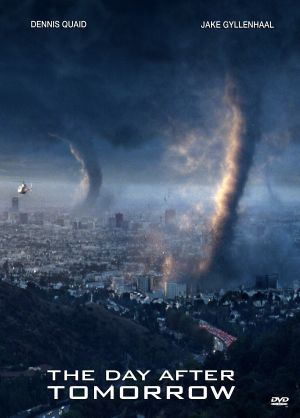 Day After Tomorrow (2004)
Anonymous News Media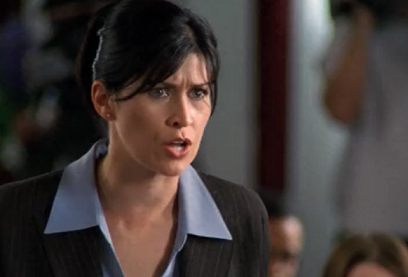 Category 6: Day of Destruction (2004)
TV Reporter Amy Harkin (Nancy McKeon) of WNEW TV News tries to keep up with developments as Mother Nature goes on a rampage.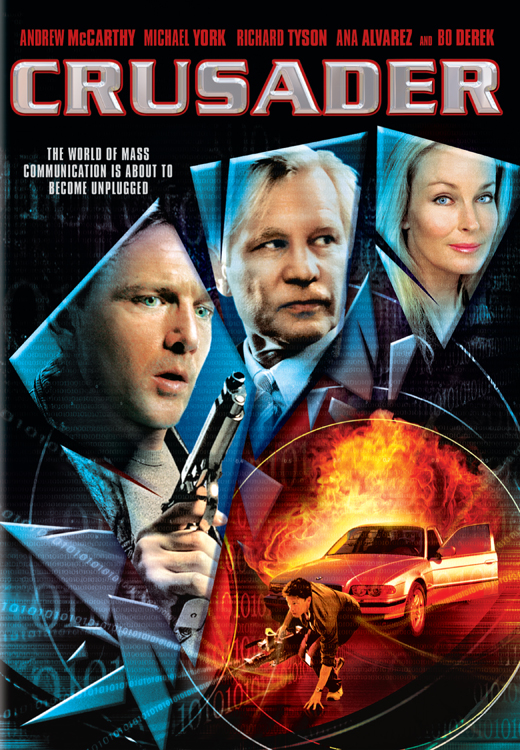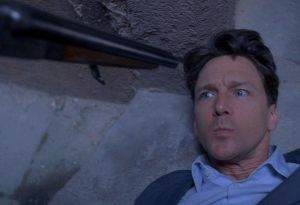 Crusader (2004)
TV Reporter-Anchor Hank Robinson (Andrew McCarthy) of Vision TV 7 uncovers a secret that affects the telecommunications industry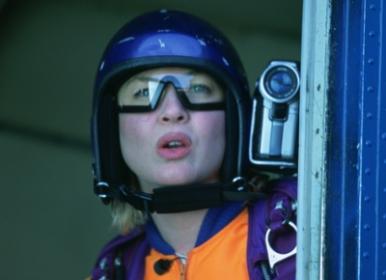 Bridget Jones: Edge of Reason (2004)
TV Reporter Bridget Jones (Renee Zellweger) makes a fool of herself as a features reporter on television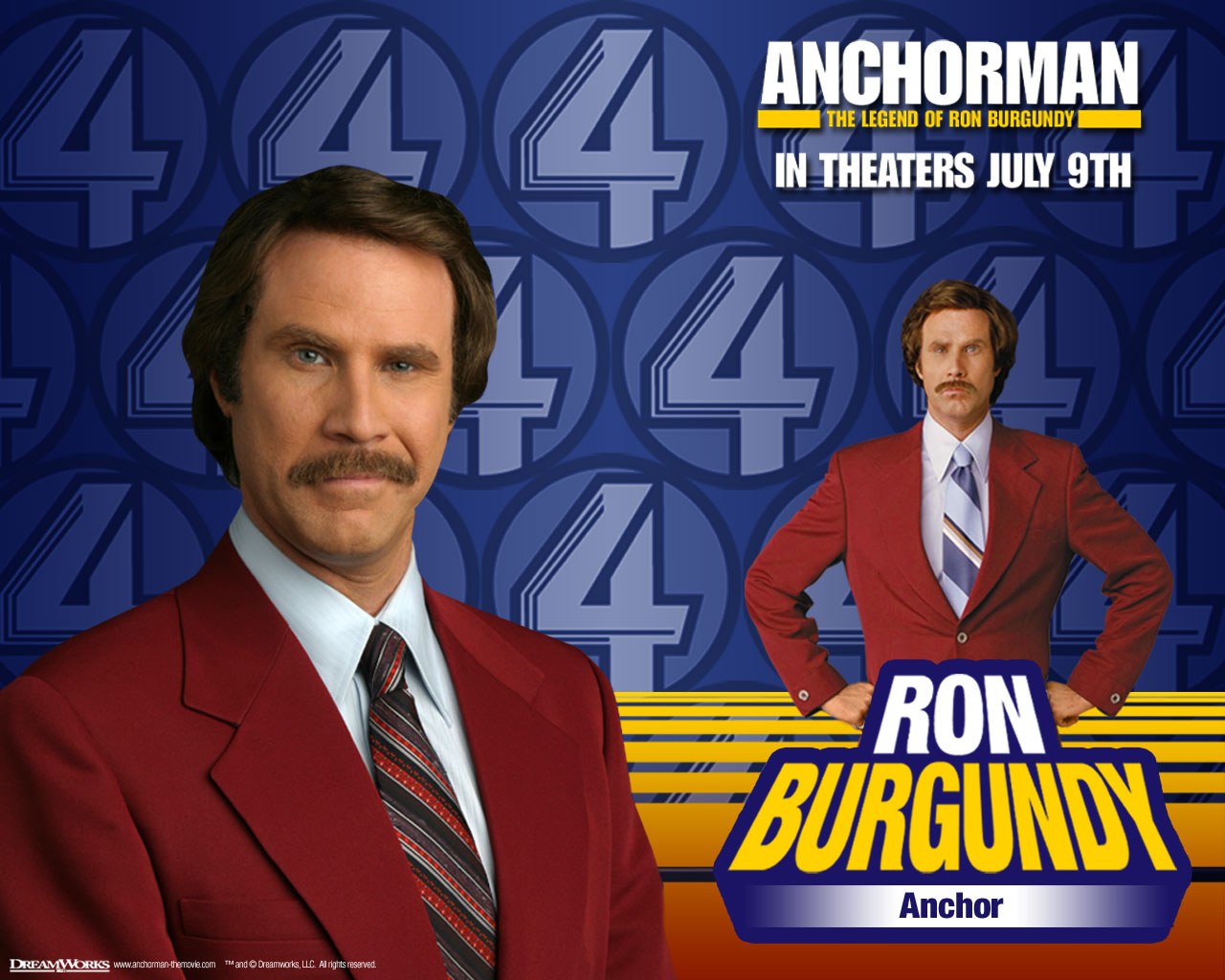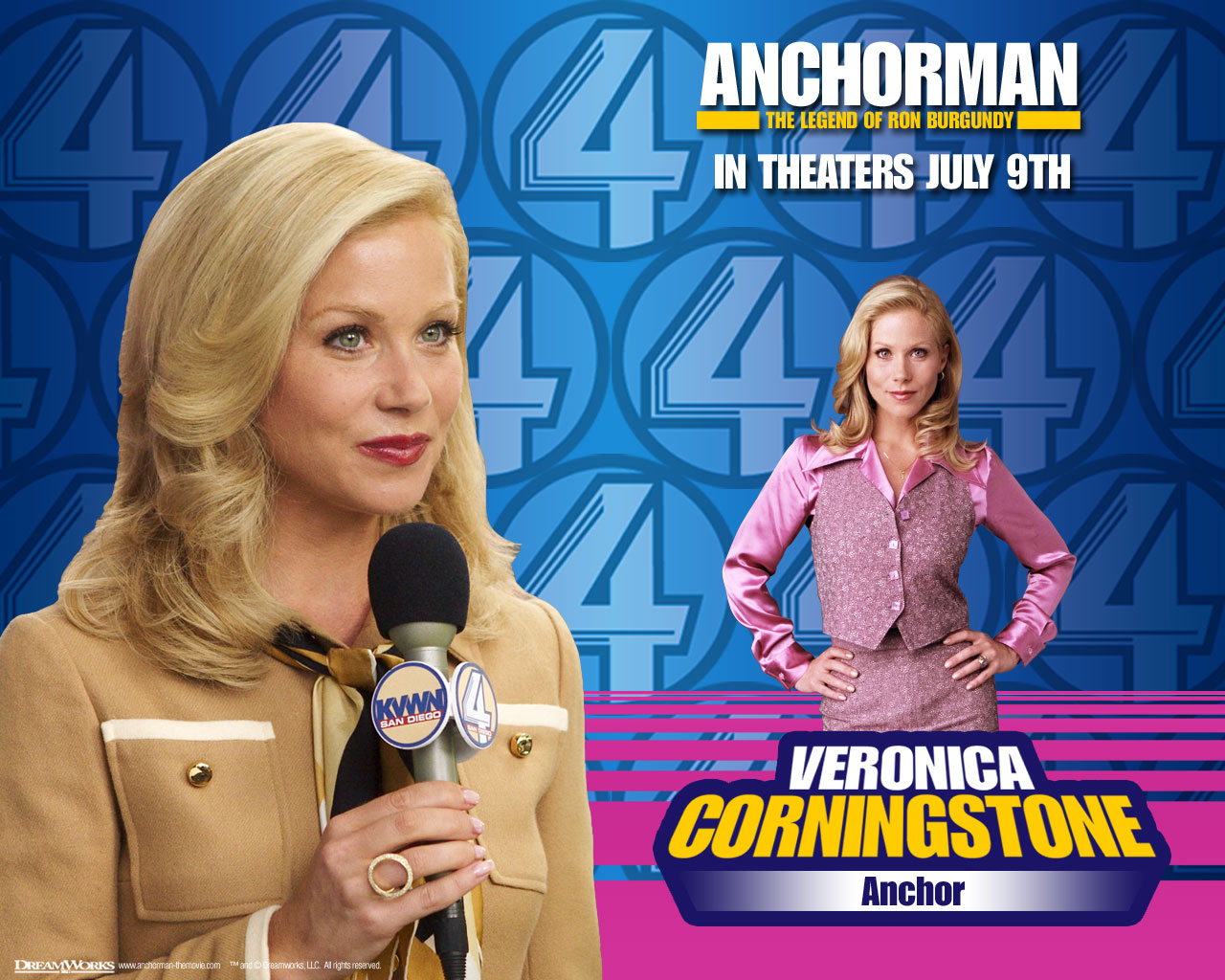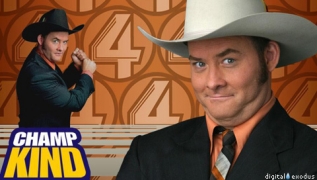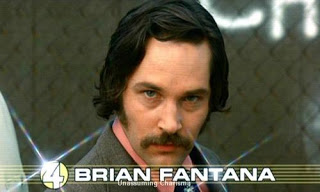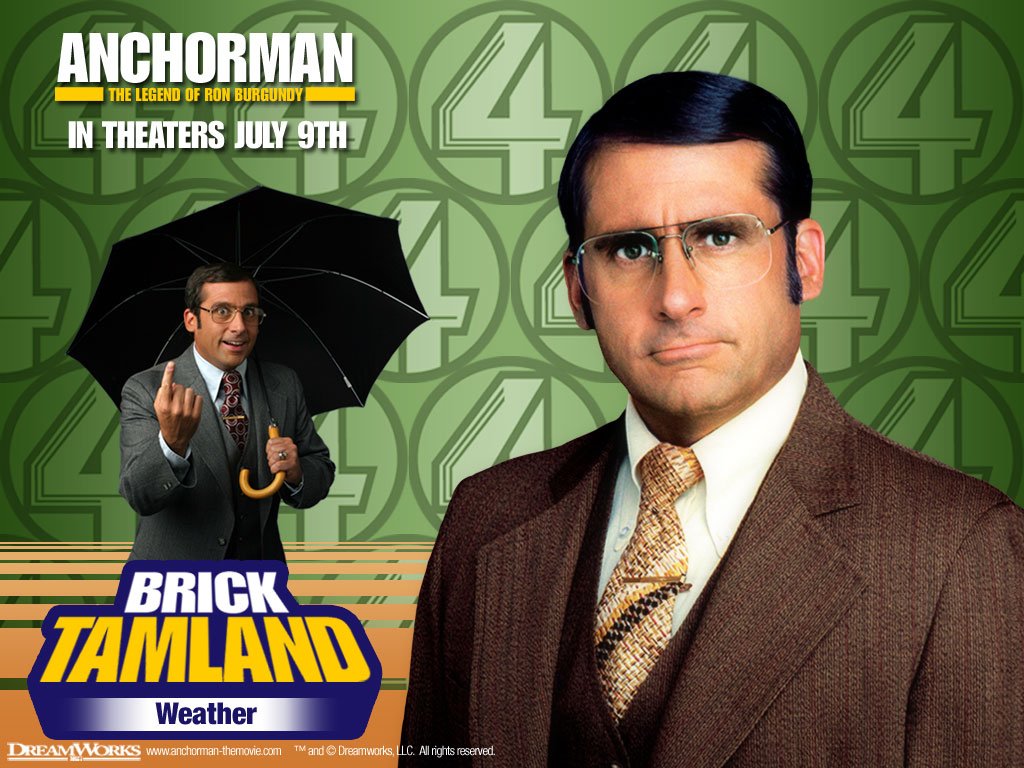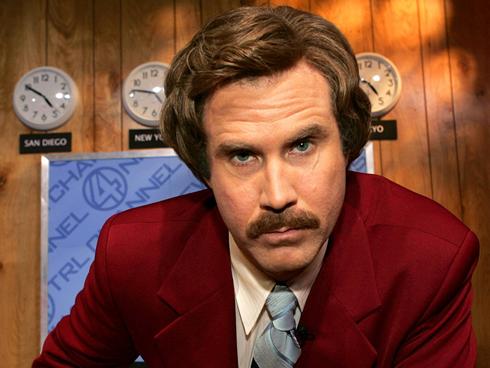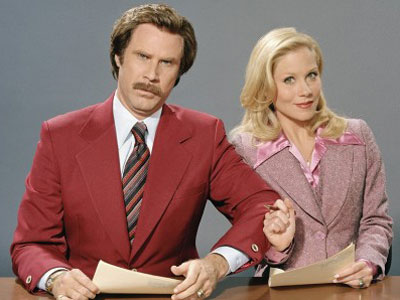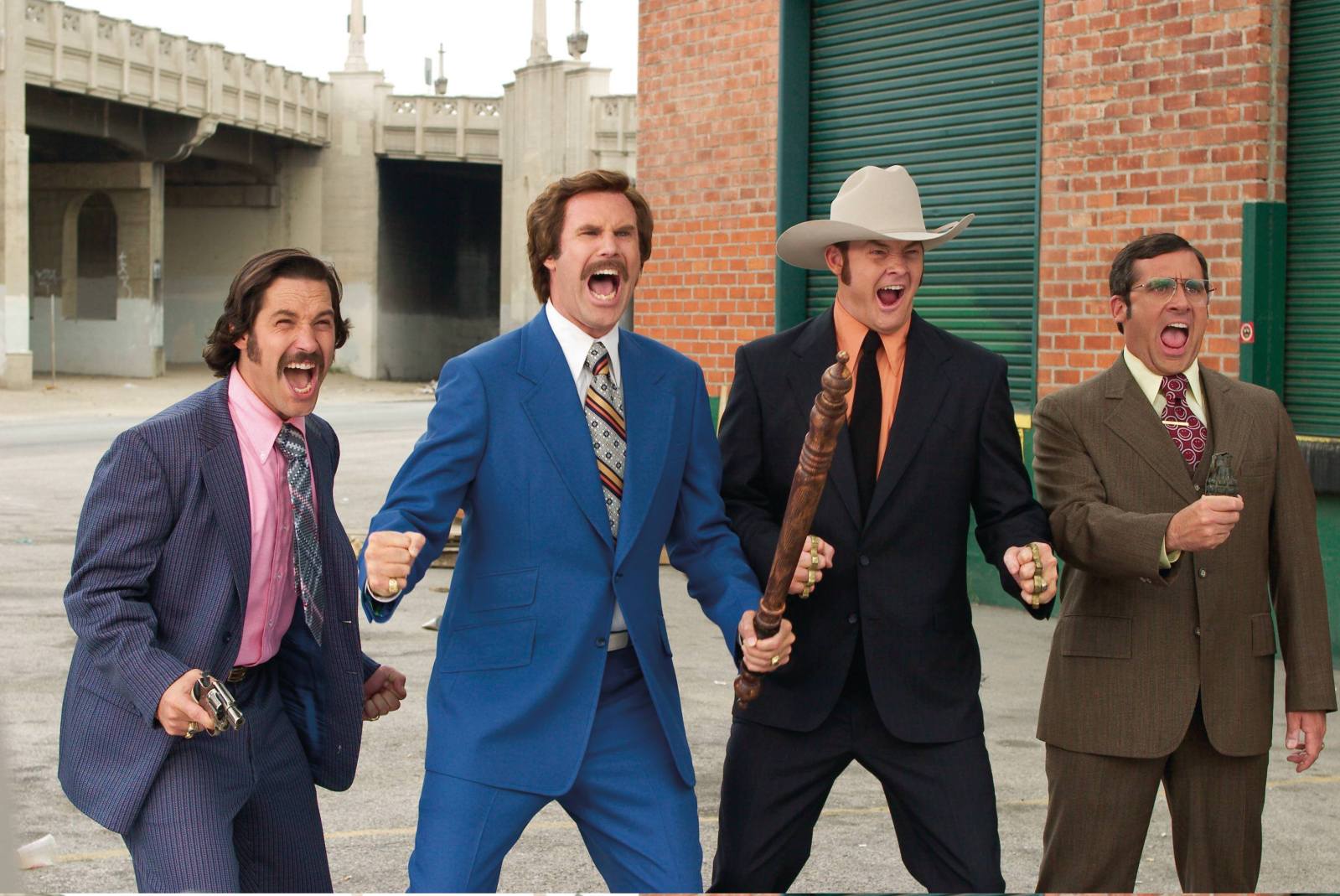 Anchorman: Legend of Ron Burgundy, The (2004)
TV Newscaster Ron Burgundy (Will Ferrell) of San Diego 1970s' Channel 4-KVWN News Team is the macho head of an all-male news team threatened by the arrival of an ambitious Newswoman Veronica Corningstone (Christina Applegate). Burgundy, with his perfect hair, moustache and sexist demeanor and his fellow newscasters Brian Fantana (Paul Rudd), Champ Kind (David Koechner) and Brick Tamland (Steven Carell) wage war against the plucky female journalist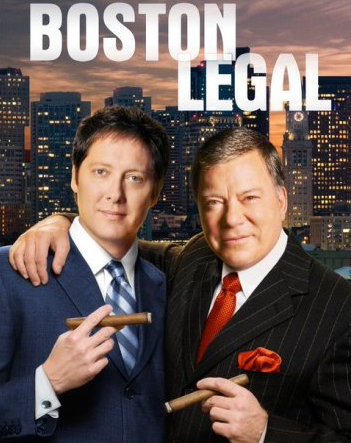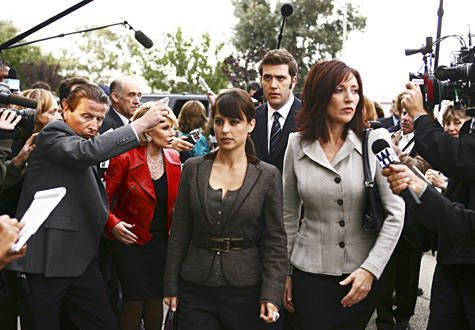 Boston Legal (2004)
Anonymous News Media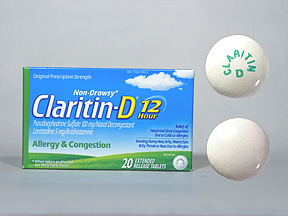 Commercial: Claritin D (2005)
TV Male Reporter talks about how Claritin D helps his allergies so he can cover all events including hot ballooning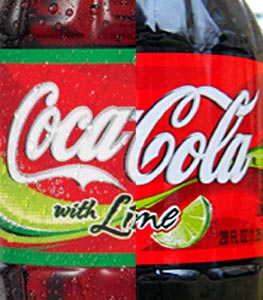 Commercial: Coke With Lime (2005)
Male Anchor drinking the new Coke with lime: "Wow, This is Coke...with Lime!"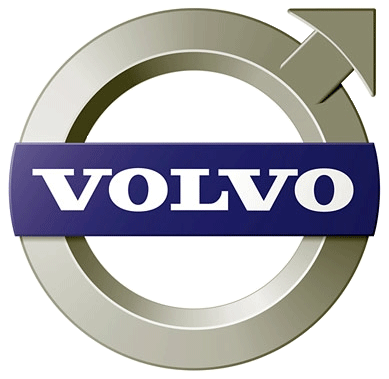 Commercial: Volvo (2005)
TV News Male Anchor. Crisis America: Overpopulation. Volvo's obsession with safety blamed for overpopulation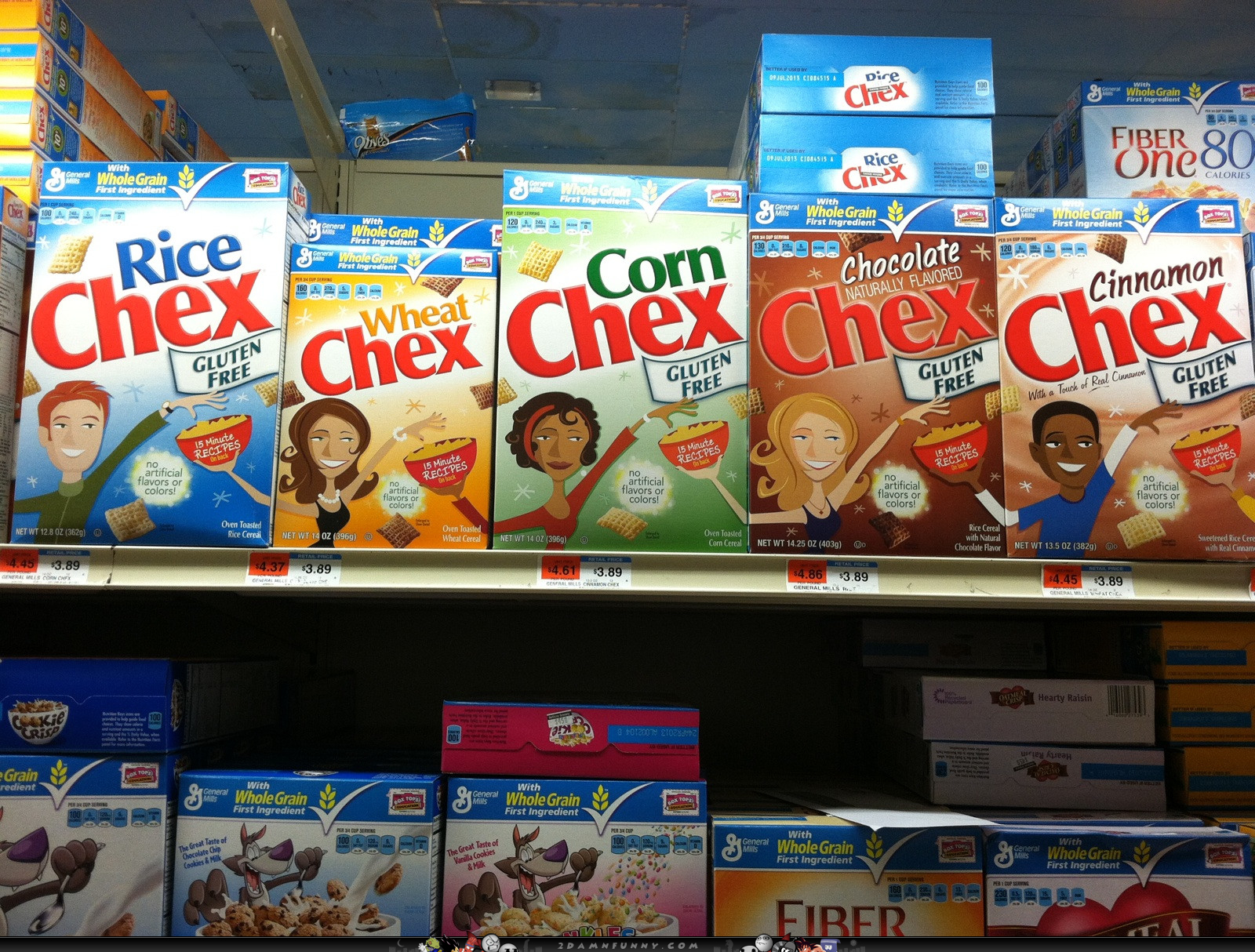 Commercial: Chex Cereal (2005)
Aggressive News Media at press conference with kids who like Chex Cereals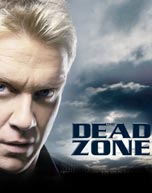 The Dead Zone: Broken Circle (2005)
Anonymous News Media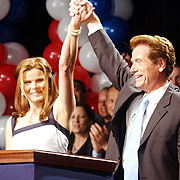 See Arnold Run (2005)
TV Correspondent Maria Shriver (Mariel Hemingway) marries Actor Arnold Schwarzenegger, bodybuilder and future governor of California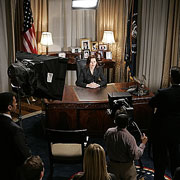 Commander in Chief (2005)
Anonymous News Media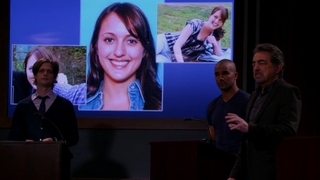 Criminal Minds: Won't Get Fooled Again (2005)
TV Reporter Rosalie Escobar of WORY-News is in the field reporting live in a News Alert when an explosion goes off behind her during her report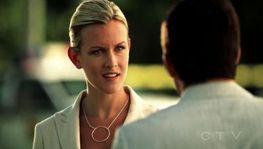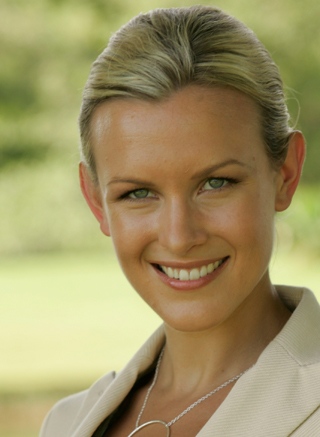 CSI: Miami: From the Grave (2005)
TV Reporter Erica Sykes from Channel 4 News puts CSI personnel on the news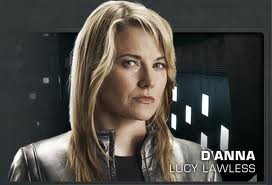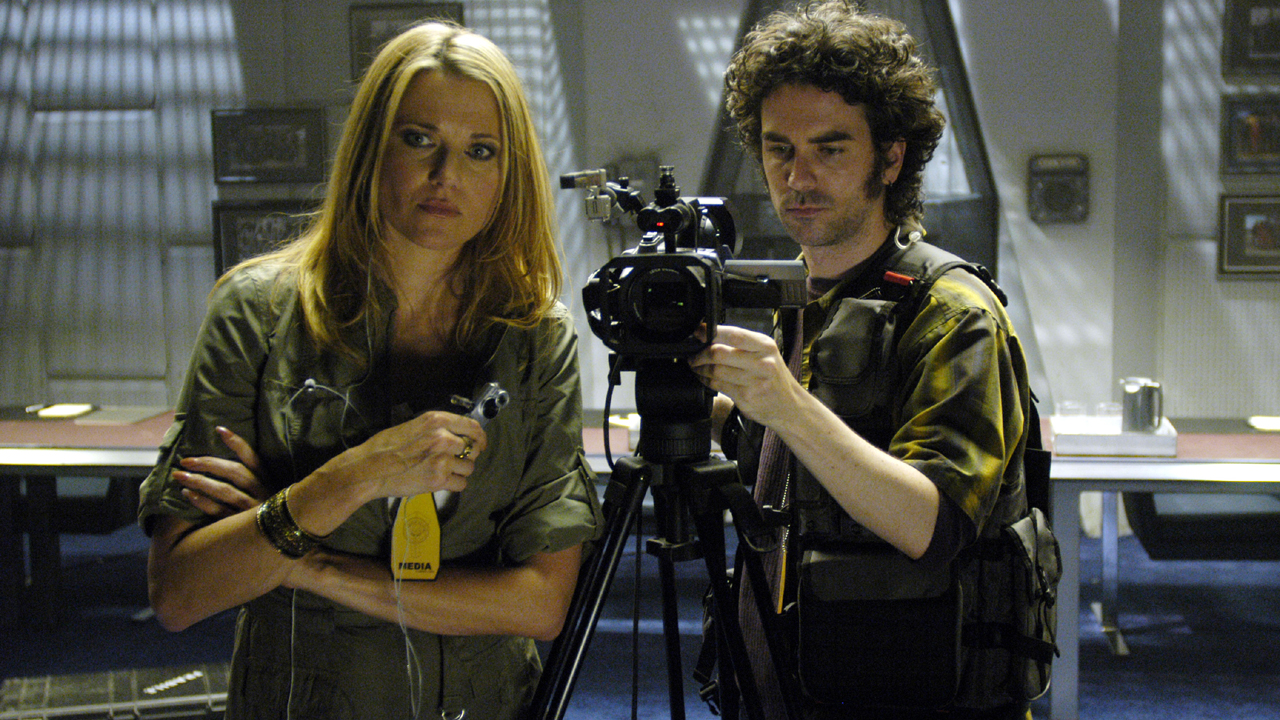 Battlestar Galitica: Final Cut (2005)
Reporter D'Anna Biers (Lucy Lawless) is a Christiane Amanpour-type journalist who is invited aboard Galactica to document the harsh, stressful realities of military life during wartime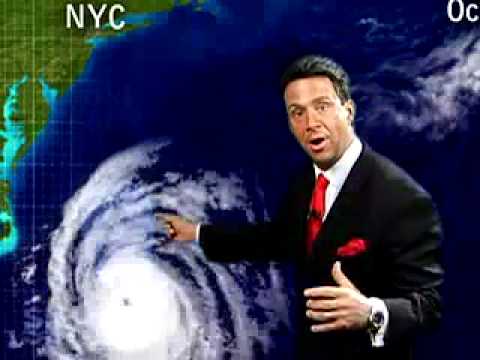 Category 7 (2005)
Anonymous News Media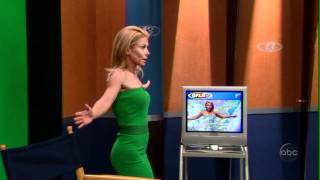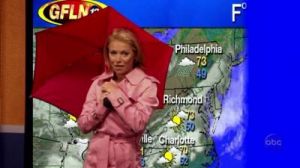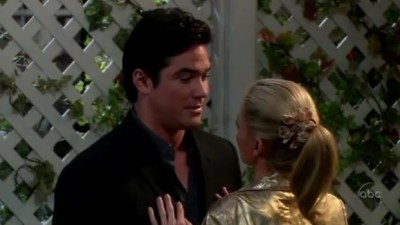 Hope & Faith: Weather or Not (2005)
TV Newscaster Larry Walker (Dean Cain) joins Faith Fairfield (Kelly Rippa) who finds a new career as a weather woman at a local TV station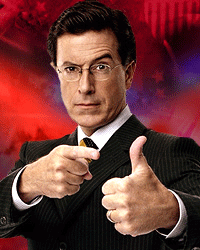 The Colbert Report (2005-
Commentator Stephen Colbert delivers the news, and his opinons, of the day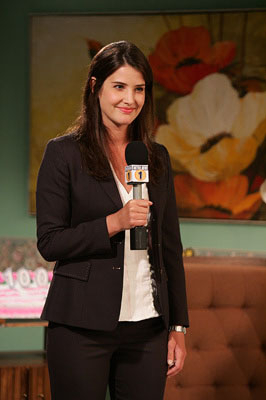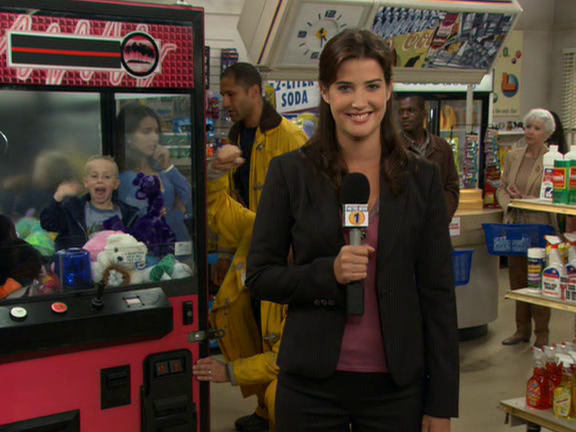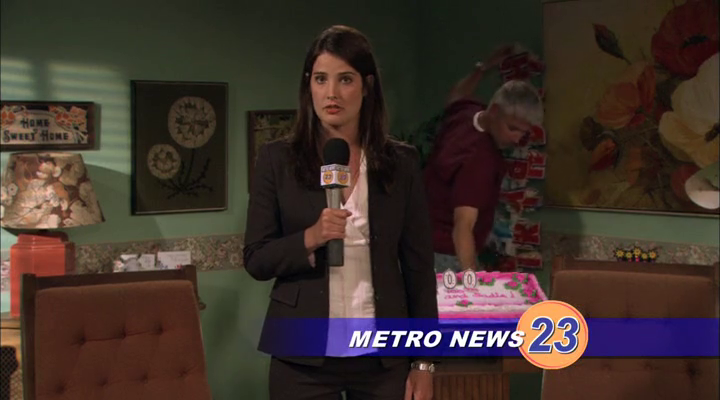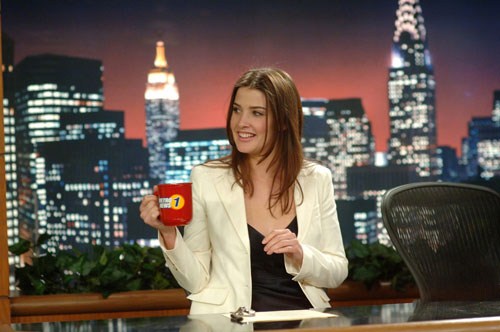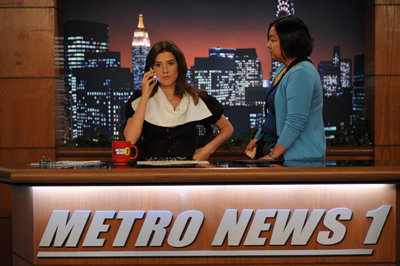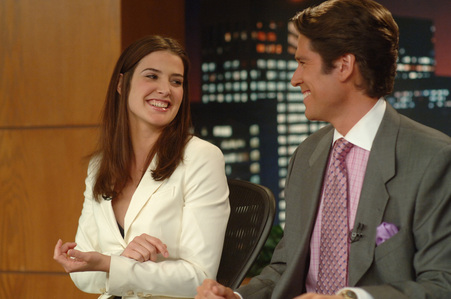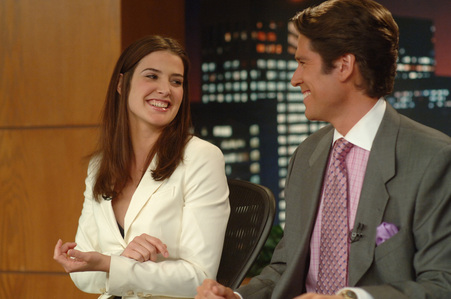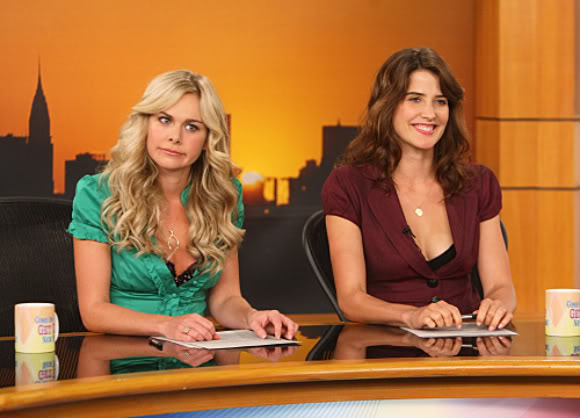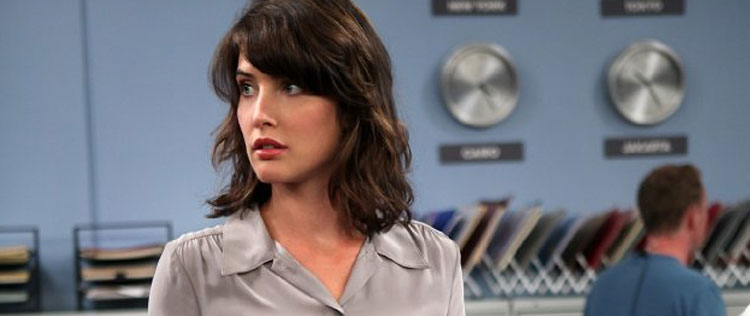 How I Met Your Mother (2005)
TV Reporter Robin Scherbatsky (Cobie Smulders)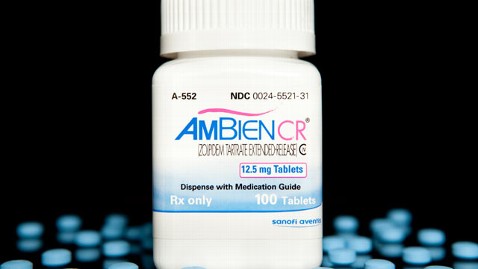 Commercial: Ambien (2006)
TV Female Reporter gives a report while man behind her in a tee-shirt reading "Free Ambien CR, 7-Day Free Trial" tries to get her audience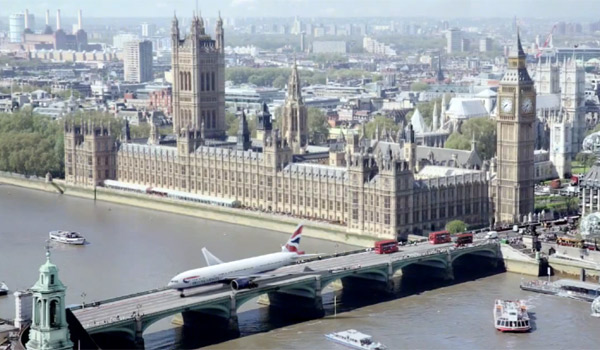 Commercial: British Airways (2006)
TV Male Reporter interviewing the wrong "Big Ben"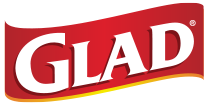 Commercial: Glad Commercial (2006)
Kid TV Anchors report on their family's trash problem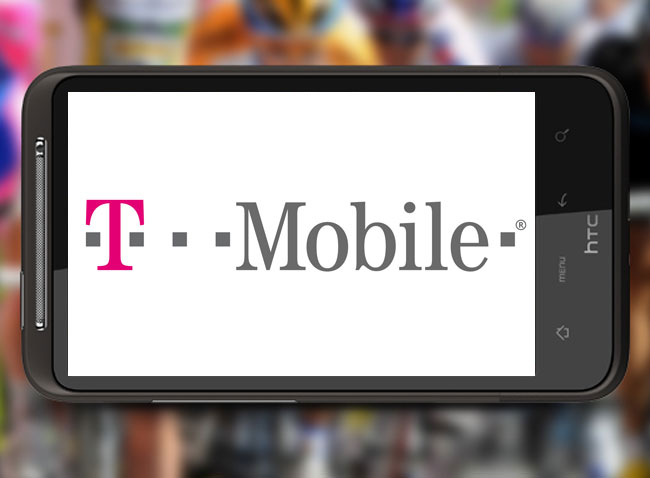 Commercial T-Mobile Commercial with Vince Carter (2006)
TV Male Reporter tries to interview NBC Basketball Star Vince Carter who is on the phone with a family plan and keeps talking to various relatives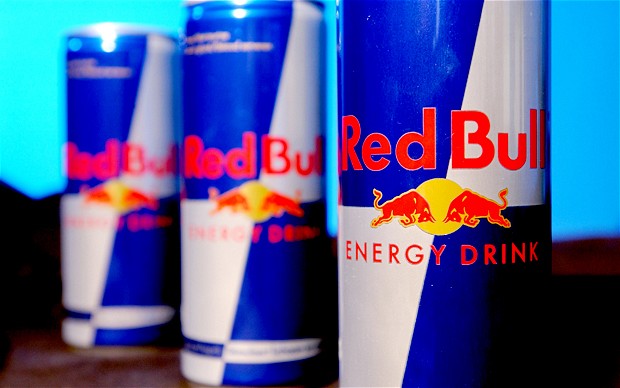 Commercial: Red Bull (2006)
TV Reporter interviews doctor about Red Bull and gets tangled up in the microphone cord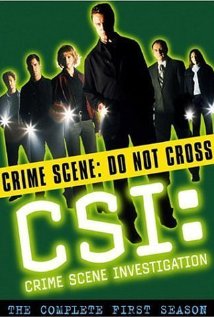 CSI: Crime Scene Investigation: Rashomama (2006)
Anonymous News Media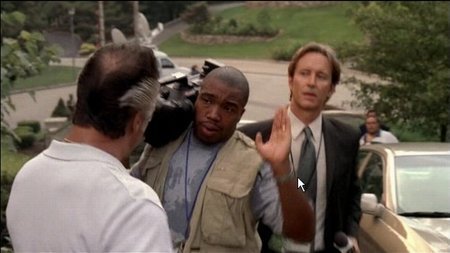 The Sopranos: Joining the Club (2006)
TV Reporter Amy Kean and anonymous news media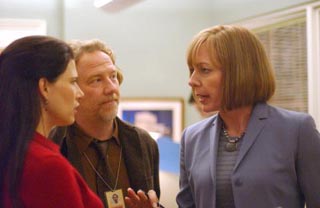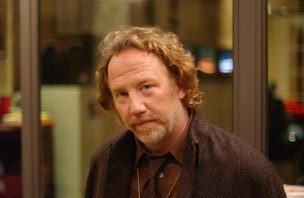 The West Wing: Election Day 2006 (2006)
Reporter Danny Concannon (Timothy Busfield) and the Washington Press Corps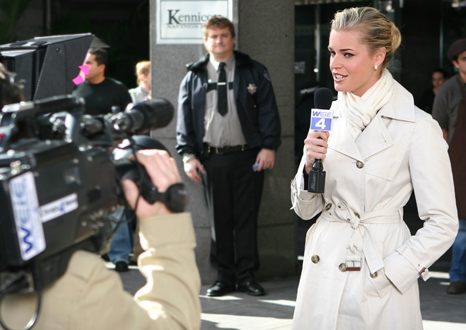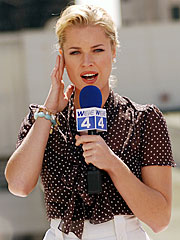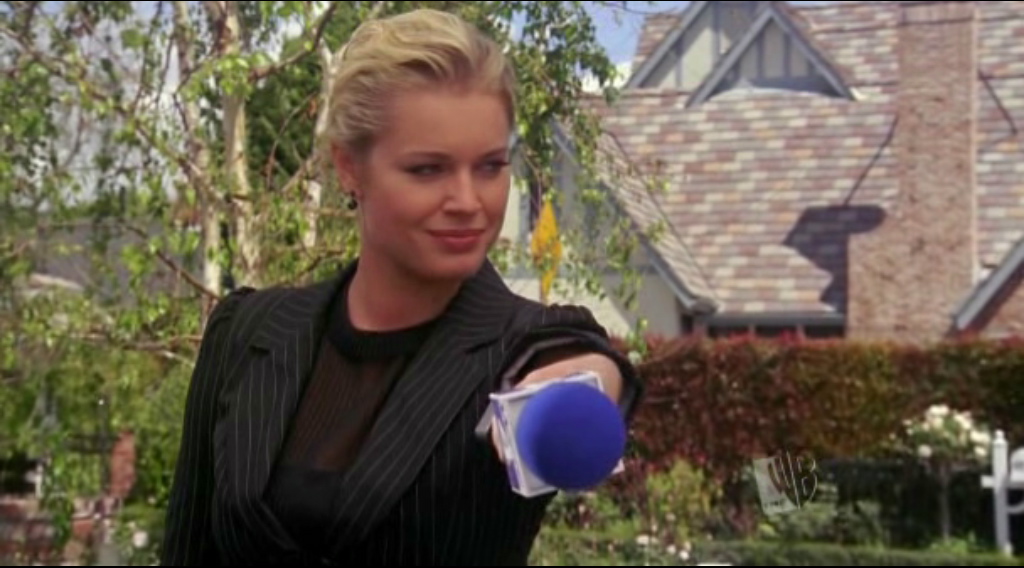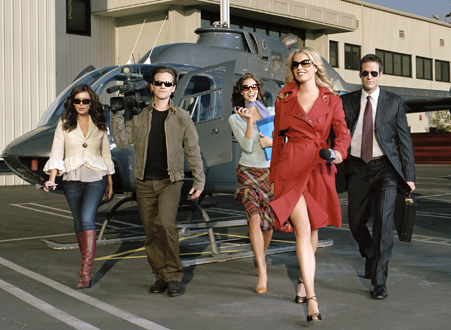 Pepper Dennis (2006)
TV News Reporter Pepper Dennis (Rebecca Romijn) of Chicago News Channel 4, WEIE. Anchor Charlie Babcock (Josh Hopkins). Cameraman Chick (Rider Strong). Weather Girl Blanca Martinez (Alexandra Barreto)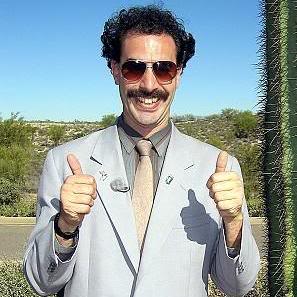 Borat (2006)
Reporter Borat Sagdiyev (Sacha Baron Cohen), a "TV Journalist from Kazakhstan" of Kazakh